Your DisplayPort 1.4 cable has been stuck collecting dust in your utility drawer for what seems like eons. However, when you discovered your monitor's DisplayPort 1.2 port, your mind instantly went to that DisplayPort 1.4 cable just begging to be put to use.
But, can you even use a DisplayPort 1.4 cable with a 1.2 monitor?
Yes, you can! All DisplayPort versions are both backward and forward-compatible, meaning they can be used with both older and newer versions. So, using a DisplayPort 1.4 cable will work just as well with a 1.2 monitor as it would with a 2.1 monitor.
That said, there are some limitations to consider. When using a lower DisplayPort version cable with a higher version port, the image's quality will be limited to the cable's maximum capacity. So, your monitor may display a slightly lower image quality than it's capable of.
For instance, if you connect a DisplayPort 1.4 cable to a DisplayPort 2.0 source and monitor, you will only be able to access content according to the DisplayPort 1.4's specifications (e.g. resolution, refresh rate, etc.).
But, what's the difference between all the DisplayPort versions and how can you know which one's right for your setup?
Keep reading to find out!
What Are the Differences Between DisplayPort Versions?
Refer to the table below to compare different DisplayPort versions' specifications.
| | | | | |
| --- | --- | --- | --- | --- |
| DisplayPort Version | Max Bandwidth (Gbps) | Max Data Rate (Gbps) | Max Resolution | HDCP |
| 1.0 | 10.80 | 8.64 | 5K @ 24Hz (*) | No |
| 1.1 – 1.1a | 10.80 | 8.64 | 5K @ 24Hz (*) | 1.3 |
| 1.2 – 1.2a | 21.60 | 17.28 | 5K @ 30 Hz | 1.3 |
| 1.3 | 32.40 | 25.92 | 8K @ 30 Hz | 2.2 |
| 1.4 – 1.4a | 32.40 | 25.92 | 8K @ 60 Hz | 2.2 |
| 2.0 – 2.1 | 80.0 | 77.37 | 16K @ 60 Hz | 2.2 |
(*): only with non-standard timing, not the CVT-R2 timing
Different DisplayPort Types: How to Choose the Correct DisplayPort Cable to Use?
The Video Electronics Standards Association (or VESA for short) ensures all products fitted with its label are standardized and compatible with one another.
So, if you're unsure if your DisplayPort cable will work with your monitor, it's best to use a VESA-certified DisplayPort cable that's been designed and tested for peak compatibility.
There are three different connector types found on DisplayPort cables. Naturally, different DisplayPort-compatible monitors will have different ports, so it's best to check which port your monitor has before investing in a compatible cable.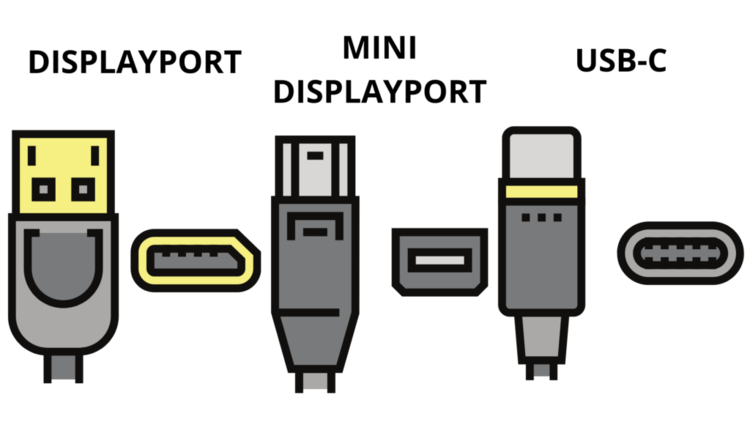 Standard DisplayPort
Should your monitor have a Standard DisplayPort, we recommend using the Maxonar VESA DP2.1 Cable . However, if you need a cable with lower specs, consider investing in the Ivanky VESA DP1.4 Cable .
The Standard DisplayPort is by far the most well-known connector type and is easily recognizable by its distinct trapezoid shape and locking mechanisms, making it only insertable in one orientation.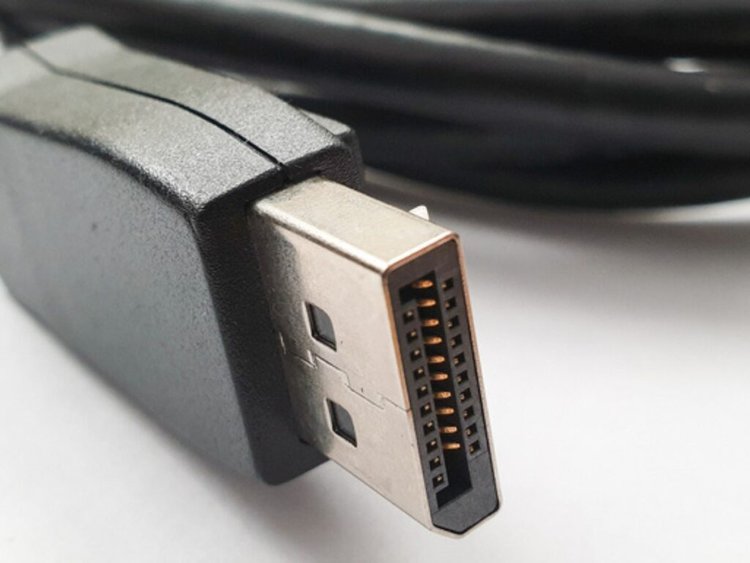 You'll usually find this classic connector on the following equipment:
Gaming/Desktop Monitors
External Graphics Card
Mini DisplayPort
If you're on the hunt for a Mini DisplayPort, check out the Cable Matters 4K Mini DisplayPort Cable (not Thunderbolt compatible) or the ConnBull Mini DisplayPort Cable (which includes Thunderbolt 2).
While Standard DisplayPorts do have their advantages, their large size makes them too big for most modern electronics.
So, the Mini DisplayPort was designed to bring these advantages to portable devices without compromising space.
However, like the Standard DisplayPort, its unique shape means it can only be inserted in one orientation.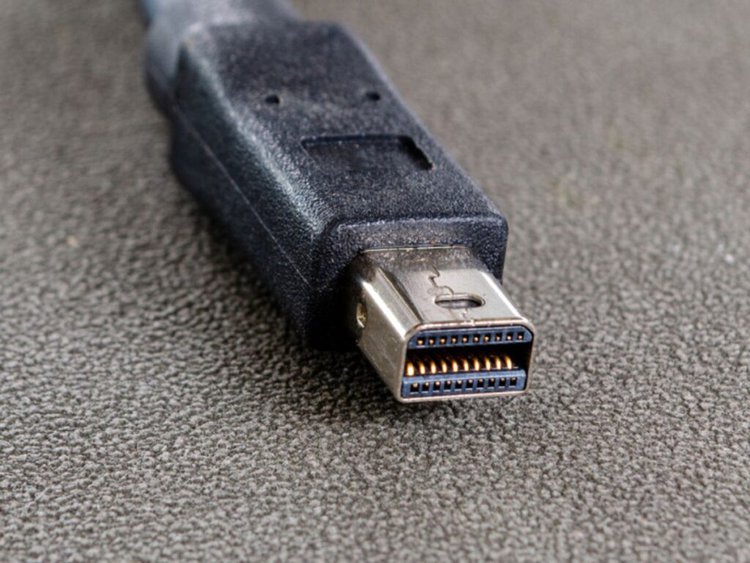 One significant advantage of the Mini DisplayPort connector is that it's compatible with MacBooks' Thunderbolt 1 and 2 ports.
So, if you're looking to connect your compatible MacBook to a monitor, consider using a Mini DisplayPort cable. I personally use my Mac's Mini DisplayPort to connect it to my TV and it works like a dream!
Mini DisplayPort can commonly be found on the following devices:
Mac devices that were released between 2008 to 2017
There are very few and rare Windows laptops using the Mini Displayport, one of which is the Lenovo ThinkPad Edge S430 (you can see more in the video below)
Lenovo ThinkPad Edge S430 Hands-On
USB-C with DP (DisplayPort) Alt Mode
Are you in the market for a USB-C with DP Alt Mode? If so, check out the Anker Thunderbolt 4 Cable.
Sale
Last update on 2023-09-14 / Affiliate links / Images from Amazon Product Advertising API.
This slim connector can be found on a variety of modern devices from laptops to smartphones. Not only is it discreet, but it's also dual-purpose since it can be used to both power the device as well as carry video and audio signals. Its parallel shape allows it to be inserted in any orientation.
You'll often see USB-C with DP Alt Mode ports on MacBooks with Thunderbolt 3 and 4 ports.
USB-C with DP Alt Mode connectors can be found on the following devices:
Gaming/Desktop Monitors
External Graphics Card
Most modern laptops use USB-C ports with the capabilities of DisplayPort for external displays, and they can also provide power and transfer data
Mac devices that use the USB-C port
Wrapping Things Up
Your DisplayPort cable may be a different version than your monitor's port, but that shouldn't stop you from using the two together!
Just remember that the image's quality and refresh rate will be limited to the lower version's capacity. So, if you want to take full advantage of your DisplayPort 2.1 monitor's capabilities, make sure to use a cable with appropriate specifications.
The main thing to keep an eye out for when shopping for a DisplayPort cable is its connector type, as it must be the same one your monitor is fitted with. If you have a MacBook, remember to verify which Thunderbolt port (1, 2, 3, or 4) it has, so you can purchase the correct connector type.
What's your experience using a lower version DisplayPort cable on a higher version monitor?
Let us know in the comments below!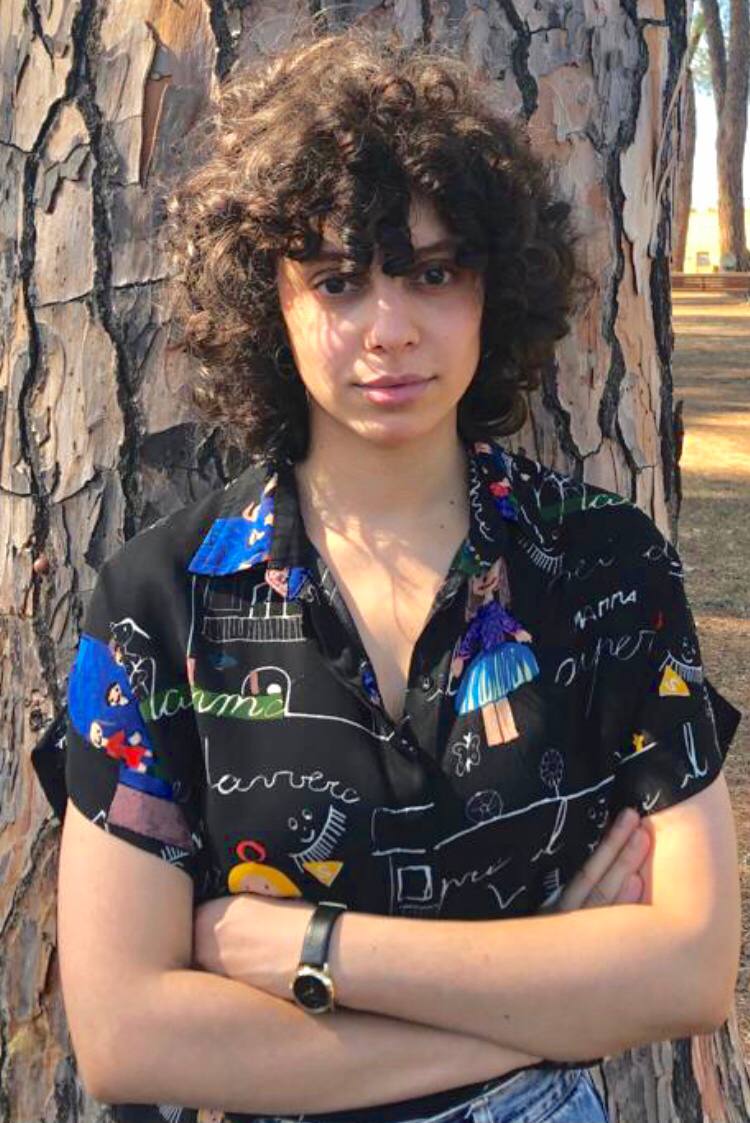 Yesenia Achlim is a technical copywriter and editor with a focus on AV equipment. She aims to break down complicated topics and make technology accessible, no matter your technical expertise. When she's not teaching you how to replace a projector lamp, you can find her reading and baking.