Short answer: yes, you can connect your Apple TV to a TV without HDMI.
But there's more to it than that.
Remember those memes that show Apple cables attached to multiple adapters just to connect to one non-Apple device? You know what we're talking about.
Anyways, while that is obviously an exaggeration, it has some truth to it.
Unless all of your electronic devices were created by Apple, chances are, you will need to invest in a few other adapters to make this work.
This may sound frustrating, and to be honest, it can be for newbies. But there are certainly ways for you to connect your Apple TV to a TV that does not support HDMI, and we're here to talk about exactly that!
What is Apple TV?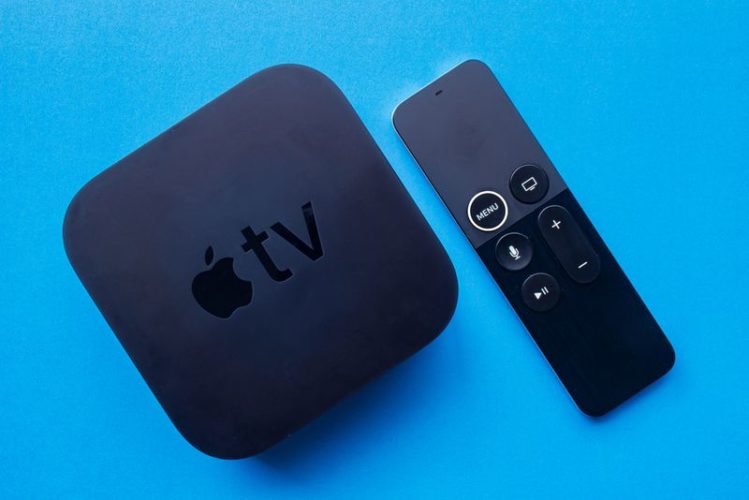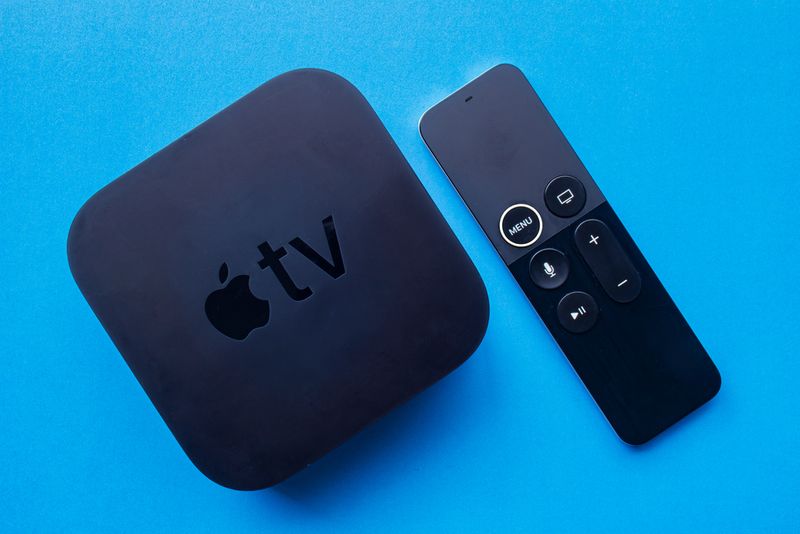 Before we get to how you can plug your Apple TV box into your TV without HDMI, let's talk about why you should get the box in the first place.
What is the Apple TV box? And what's with all the hype around it?
If you want to stream your favorite apps like Netflix and HBO Max in one place, then an Apple TV is the one for you.
This is a media box that you plug into your TV and it gives you access to a premium streaming experience.
You can watch the hottest and latest movies and TV series in the comfort of your home.
But all smart TVs can stream those. What's so special about Apple's box?
What's with the Apple TV Hype?
Almost every TV released nowadays is a smart TV. So what use would you have for the Apple TV box itself?
Perk #1: An Advantage for Apple Users
If you are using an Apple device like an iPhone, getting the Apple TV box will allow you to easily cast movies, music, and more to your TV without the need for adaptors and HDMI cords.
By getting the Apple TV box, you will also get unlimited access to their gaming and fitness services!
Perk #2: The Dolby Atmos Experience
Another big reason why so many people like the Apple TV box is the access to surround-sound features for their HomePods/HomePod minis.
Apple released a tvOS update last March 2021 making it possible for you to use your HomePod/HomePod minis as a surround-sound system.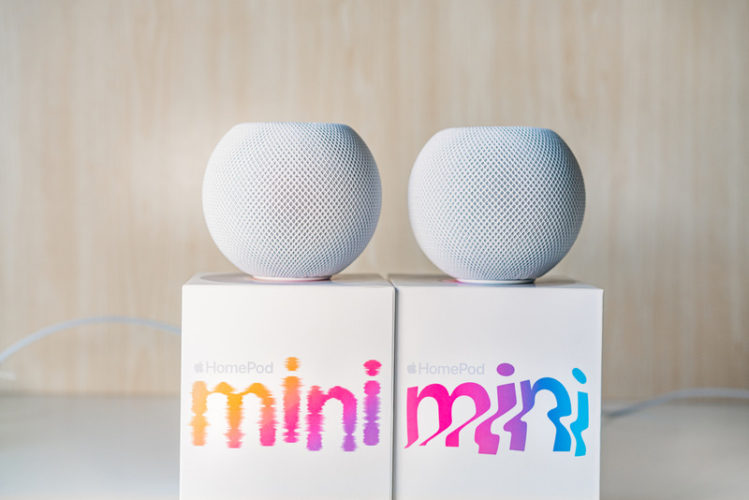 Imagine a premium home-theater experience without spending thousands of dollars just for the set-up!
Perk #3: The Privacy
Apple is well-known for its rigorous standards when it comes to protecting its users' privacy. With Apple, you don't have to worry about getting your private information leaked or your accounts hacked.
In rare cases involving hackers, Apple is incredibly quick in its response to clients' concerns. You will be hard-pressed to find companies that take their clients' privacy as seriously as Apple does!
Now that we've properly introduced you to Apple's TV box, let's answer the main questions of this article:
Can You Connect Your Apple TV to a TV Without HDMI?
The straight answer is, yes, you can connect your Apple TV box to your TV without HDMI. But you need a few adapters to achieve this.
We'll be recommending a few products that you can purchase, so don't worry.
What you will need are:
Yes, this is a lot of stuff for a single device, but what are you gonna do? This is the Apple life.
At least all these items can be easily bought from Amazon!
Now, let's talk about how you're going to connect these to your TV.
How Can You Connect Your Apple TV to a TV Without HDMI?
Once you've bought all the items we mentioned above, you will now be able to connect your Apple TV to your television.
Sidenote: Make sure that your TV has an AV port. You can find this at the back of your unit. There should be a small port labeled "AV."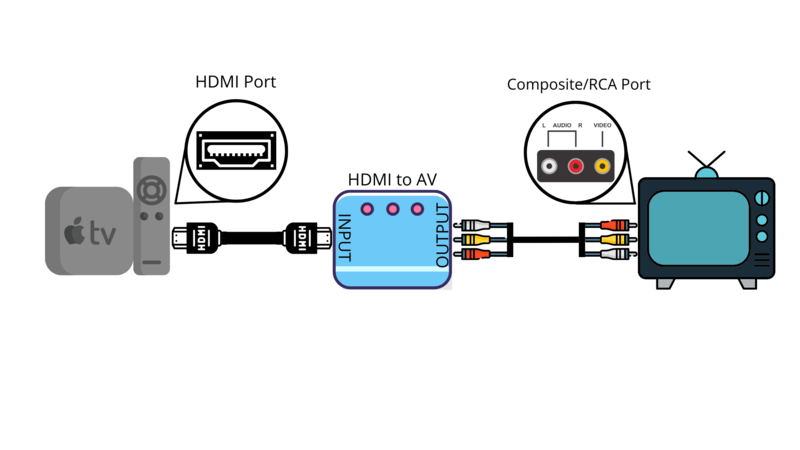 Here's how you do it:
Connect the converter to your Apple TV using an HDMI cable
Connect the converter to your TV using the RCA cable
Power the converter using the USB cable
Make sure that you'll have a power outlet near your HDMI converter for convenience. This is because the USB cable that comes with the converter tends to be short.
You can now activate your Apple TV – you only need to switch it to the correct input setting once you've turned on the TV.
FAQs
Now that you have an idea of how to set things up, let's tackle a few FAQs so you know what to do just in case you run into some problems.
Where Can I Buy All the Attachments?
You can get everything you need at almost any electronics store in your area or on Amazon.
What Can I Do with the Apple TV App?
The Apple TV app gives you access to premium movies, series, TV shows, and more.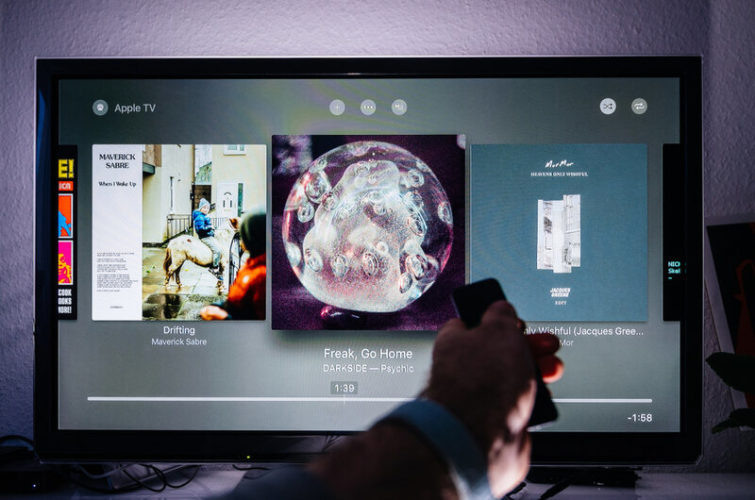 Through the app, you can:
Rent movies
Buy movies and TV shows
Subscribe to watch Apple TV+
Subscribe to Apple TV channels
Stream on your favorite sites like YouTube, Hulu, and Netflix
Do I Have to Buy the Apple TV Box if I Have a Smart TV?
No, you don't need to buy an Apple TV box if you already have a Smart TV. Most Smart TVs are able to download the Apple TV app, so you easily do away with the box.
If your Smart TV can't support the Apple TV app, that's when you need to start considering investing in the Apple TV box itself.
Can I Download Shows from Apple TV for Offline Viewing?
No, unfortunately, you won't be able to download any movies or TV series to your Apple TV.
You can, however, download an unlimited amount of TV shows/movies to other Apple devices such as your iPhone, iPad, or Mac then cast/mirror them to your TV.
Does Apple TV Come with Bluetooth?
Yes, your Apple TV comes with Bluetooth functionality. Here's how to find it:
Go to your Apple TV's settings
Choose 'Remotes and Devices'
Choose 'Bluetooth'
Find and select your device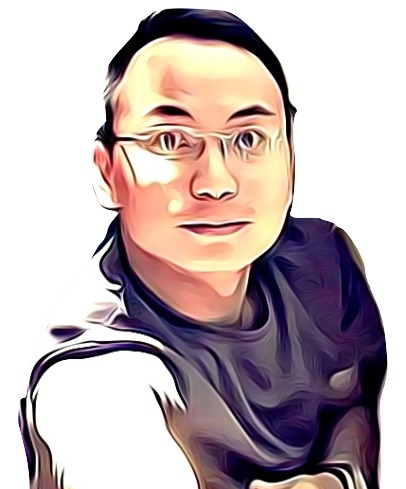 Vance is a dad, former software engineer, and tech lover. Knowing how a computer works becomes handy when he builds Pointer Clicker. His quest is to make tech more accessible for non-techie users. When not working with his team, you can find him caring for his son and gaming.