Most people will probably connect their PS4 to a TV that's HDMI compatible. But there are also a handful of people who want to try playing games on a VGA monitor.
This is a cost-effective option, especially when you don't want to buy a new monitor or TV. Besides, if you have a VGA monitor lying around, why not use it?
That's what we thought too. So if you have no idea how to connect a PS4 to an old VGA monitor, you're in the right place.
Not only are we going to tell you that it's possible, but we'll also show you how to set it up.
So let's begin.
Can You Use Monitors for PS4?
Yes, you can because most monitors manufactured in the last five years will have an HDMI port that will connect with your console.
For example, a modern gaming monitor will have HDMI, VGA, and DVI ports available for all kinds of connections. Since it's a lot easier to have both audio and video in one connection, we prefer to use an HDMI port.
Besides, a PS4 console will have HDMI as the only option for transmitting video.
What if your monitor doesn't have an HDMI port? What if your old monitor just has a VGA port?
This is where you rely on an older way of connecting analog video and audio – via VGA and a 3.5mm audio cable .
With these accessories and an HDMI switch , you can already play your PS4 on most monitors. Read on below.
Can My PS4 Connect to a VGA Monitor?
Your PS4 can connect to a VGA monitor. Although, it's not as straightforward as you think.
A PS4 uses HDMI as its main connectivity method, while a VGA monitor will use VGA.
Most people will think that connecting the HDMI cord of the PS4 to an HDMI to VGA cable will be enough. But if you try this, you'll see that it's not going to work.
This is because the monitor cannot read the connection of the HDMI to VGA cable (sometimes adapters). It might not also recognize the audio signal.
This is where the HDMI switch will become handy.
An HDMI switch placed in between the HDMI output source of the console and the adapter will signal the monitor that the signals are coming from a reliable source. (This can be weird but trust us and check the below out)
When you complete the setup, you'll notice that the monitor will automatically turn on and read your console.
How Do I Connect My PS4 to a VGA Monitor?
And now for the most important part, the step-by-step guide for connecting a PS4 to a VGA monitor.
Here's what you'll need:
An HDMI cable (usually comes with your PS4)
An HDMI switch with cable for connecting to a power source
A

phone charger

A

pair of speakers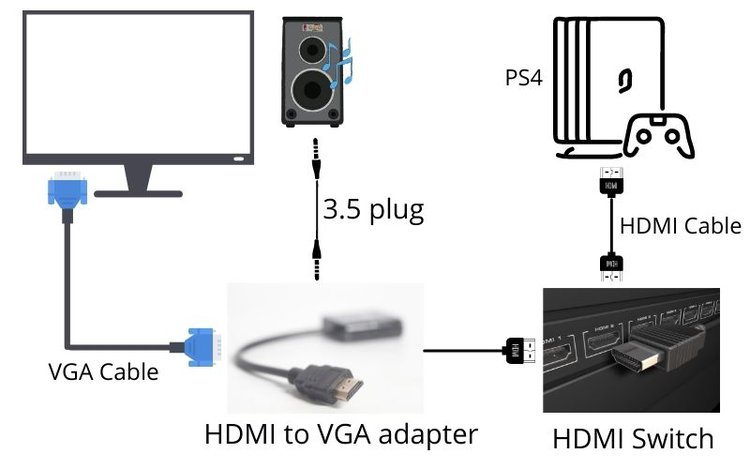 Some HDMI switches will not require a power source, but in this case, we recommend choosing an HDMI switch with one since your PS4 might not send enough power to transmit signals.
If you buy an HDMI switch that requires a power source, make sure that it already comes with a cable. If it doesn't, you can just use a USB cable (often included in phone chargers) that is compatible with the voltage port of your HDMI switch.
As for the speakers, if you have a VGA monitor, chances are that you'll have a pair of good old speakers at home too. Most speakers will have a 3.5mm cable with them, but if they don't, you can buy a cable here .
Once you have all the accessories that you need, follow these steps to create your setup:
Turn on your speakers, monitor, and PS4.
Using the HDMI cable that came with your PS4, plug one end into the output port of the console. Plug the other end into one of the input ports of the HDMI switch.
Get your USB cable or the power cable included with the HDMI switch. Plug this into a charger and plug the charger into a socket or extension cord.
You should see your HDMI switch lighting up to indicate that it's being fed the right amount of voltage.
Get your HDMI to VGA adapter and connect the HDMI plug that comes with it to the output port of your HDMI switch. Then get your VGA cable (male end) and attach it to the VGA port of the adapter.
When connecting the VGA cable to the adapter, make sure that it is securely fastened. You can do this by twisting the screws on both sides of the VGA cable until it isn't loose.
Connect the other end of the VGA cable to your monitor.
Now take the 3.5mm audio cable, connect it to the audio port of the HDMI to VGA adapter. Connect its other end to your speakers.
If all your accessories are connected well and all your devices are turned on, your monitor should display the PS4's homepage. It might show a video settings menu, so just choose the settings that you wish to have when you play.
To adjust the resolution of your screen, click the 'Sound and Screen' menu and you'll find a list of resolutions that your monitor is compatible with. If it's 1080p-supported, we suggest choosing that option for higher-quality videos.
And that's it! That's how you connect your PS4 to a VGA monitor.
How to Connect the PS4 Slim to a VGA Computer Monitor or VGA TV
Conclusion
If you have a spare VGA monitor lying around and you don't want to invest in a new TV just yet, you can use this monitor to play your PS4 games.
The downside of this is that you have to buy several accessories, from cables to adapters, but all of them are available on Amazon.
Connecting your monitor is a straightforward process, so you won't usually have any issues if you follow our step-by-step guide on this post.
Good luck playing!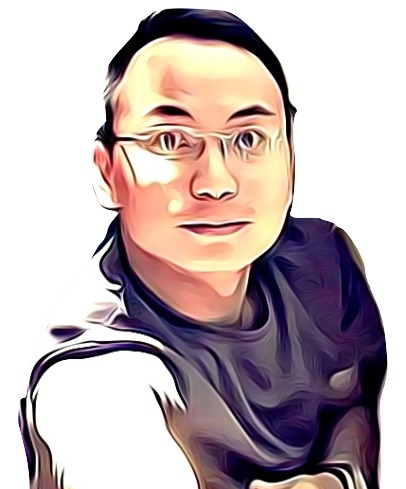 Vance is a dad, former software engineer, and tech lover. Knowing how a computer works becomes handy when he builds Pointer Clicker. His quest is to make tech more accessible for non-techie users. When not working with his team, you can find him caring for his son and gaming.