It's great that there are plenty of options to choose from when you want to connect your computer to your monitor. Most modern computers will at least have a DVI, VGA, Displayport, and an HDMI port.
With all these multiple ports that function almost similarly, it can be a bit confusing to know which connection is best for your needs.
To help you decide, we will zoom in on the VGA and the Displayport connections. We will take the two on a head-to-head battle to find out which is better and why.
What is VGA?
Video Graphics Array, VGA, was first introduced in 1980 in PCs, laptops, and other devices with a graphics card.
VGA transmits analog video signals from source devices like PCs to display devices like monitors. VGA has been widely used in the last decade, but people are slowly moving away from the high adoption of digital devices.
VGA works like the Displayport and other data transfer cables and can achieve higher resolution pictures. The quality, however, significantly varies with cable quality and cable length.
The VGA connector has uniformly fitted 15 pins, and the cable is either triple-shielded or double-shielded. It is available in a variety of sizes, from 0.75 feet to up to 30 feet. Perhaps this is the only variation VGA has since it is only available in one type, unlike the Displayport and HDMI that come in versions or if you prefer, standards.
VGA also goes by other names like the RGB connector, HDB-5, D15, HD 5, DB-15, and HD-15.
What is Displayport?
A Displayport is a digital interface created to send and receive digital video and audio signals from a source device to a display device. It is much more similar to the HDMI cable but is often used in PCs more than in TVs. It can send high-definition audio and video signals.
Compared to other ports, Displayport has a rather asymmetrical shape. Inside the connector are 20 pins that are fitted into an L-shape.
A common variant of the Displayport is the Mini Displayport that was first created in 2008 for Apple devices but has since been adopted by all devices.
Depending on the monitor you are using, you are most likely to be using either of these Displayport standards:
DisplayPort 1.2, which can support up to 4K resolution at 60Hz as well as AMD's FreeSync in some instances.
DisplayPort 1.3 which can support up to 4K resolution at 120Hz or the 8K resolution at 30Hz
DisplayPort 2.0 which can Support up to 16K resolution with HDR at 60Hz and up to 10K resolution at 80Hz (without HDR )
In addition to signal transmission, DisplayPort can be used in a few other ways. For starters, it supports AMD's FreeSync and Nvidia's G-Sync. This means a near-perfect gaming experience with no tears.
Secondly, you can use a Displayport to connect to multiple monitors without the need to use multiple Displayport connections. This can be quite handy for busy professionals.
Another impressive benefit of Display Ports is that they come with clips to keep the cables securely in your monitor. This helps significantly in reducing cable clutter and enhancing safety.
In addition, Displayport is license-free and royalty-free hence cheaper to produce and, consequently, more inexpensive to consumers.
It also has excellent compatibility with other digital visual interfaces such as HDMI and DVI. You will only need to use a simple adapter like this 4K DisplayPort to HDMI Cable Adapter from WARRKY or this DisplayPort to DVI Adapter from BENFEI. Displayport is also compatible with VGA, and there are plenty of good Displayport to VGA adapters you can use like this Morehead DisplayPort (DP) to VGA Adapter that we've been using for a while now.
Often you'll find DisplayPort on high-end PCs, selected laptops, and monitors that support very high resolutions and refresh rates.
VGA or Displayport: Comparison
To help you decide which is better between the two, let's make an in depth comparison.
How they work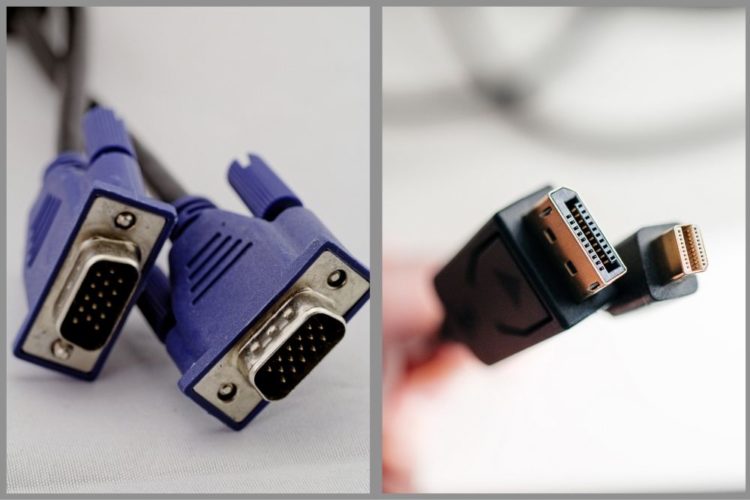 Both work pretty much the same way except for when using a VGA to connect digital devices. In both connections, the cable receives signals from the source and sends them to the display device.
The connection looks like this for each:
If you want to connect your digital devices but only have a VGA, conversion has to take place at both endpoints. This is what we mean:
Once you plug both ends of the VGA to the source and to the display, the transmission does not happen instantly, as is the case with a Displayport. This is because you want to send digital signals through an analog connection which is technologically impossible.
So what happens is that the digital signals will be converted to analog signals at the connection point. After which, the VGA will receive the converted signals and transmit them to the destination (display). And because your display device is also a digital device, conversion from analog to digital will also take place so that your TV or monitor can receive digital signals then finally display them.
Well, this may look like such a long process, but it actually isn't. You can hardly tell it's happening.
Signal quality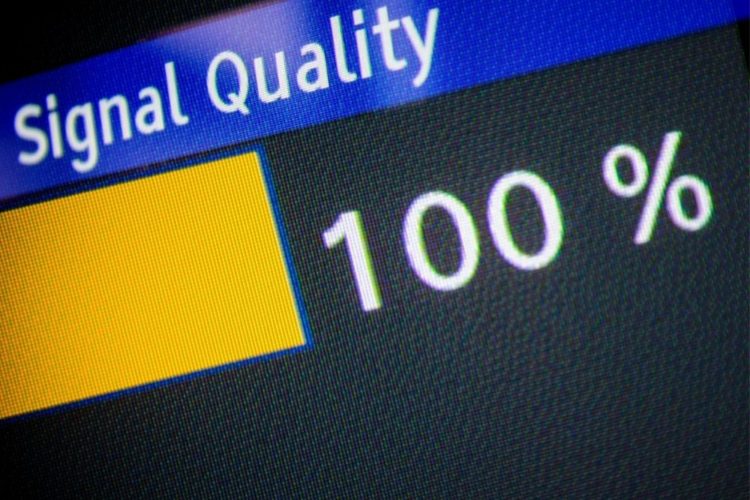 The image quality in both VGA and Displayport is pretty good. However, there is slightly more to it.
You see, graphic cards are ideally digital as well as LCD screens, so when using a VGA, the graphics card has to go an extra mile to convert the digital signals to analog for the VGA to be able to carry them to your display device.
Once they reach the destination, they have to be converted back to digital signals since your LCD screen can only accept digital signals.
This double-conversion can really take a toll on the signals and therefore impede the quality. In fact, what happens most is that some signals are lost during the conversion, which reduces the quality of the pictures and audio output. You are also likely to experience higher latency.
When using a Displayport, you don't experience any of these- high latency, signal degradation, or signal loss. Whatever signals are sent are similarly received and outputted.
Image quality
Because Displayport is a newer and more advanced interface, the output is much sharper and cleaner than the output produced when you use a VGA. However, the difference isn't much, and most people can hardly tell.
One key thing to remember is that image quality when using VGA is greatly dependant on the cable quality and the cable length.
Actually, if you use a substandard cable quality for both connections, you are likely to get substandard output quality. And when you use a longer VGA cable, the signals become more susceptible to signal interference and noise. The interference happens between wires that are adjacent to each other.
For high-quality cables, you want to always purchase certified cables from trusted dealers and sellers. Check out a listing of certified Displayport cables here.
For a good VGA cable, we'd recommend the SHD VGA to VGA HD15 Monitor Cable or the Rankie VGA to VGA Cable. We've had a great experience with both cables.
SHD VGA Cable, VGA to VGA HD15 Monitor Cable for PC Laptop TV Projector-3Feet
Rankie VGA to VGA Cable, 6 Feet
SHD VGA Cable, VGA to VGA HD15 Monitor Cable for PC Laptop TV Projector-3Feet
Rankie VGA to VGA Cable, 6 Feet
Last update on 2023-09-15 / Affiliate links / Images from Amazon Product Advertising API.
Audio signals
Displayport transmits both the video and audio signals whereas, VGA transmits video signals only. So should you opt to use a VGA, remember to get an additional audio cable, either a coaxial or an optical cable to receive audio signals.
Affordability
The prices range for both the VGA and the Displayport, but they are both generally fairly priced. However, a Displayport is much more economical since you won't need to incur additional costs buying an audio cable.
Compatibility
Both the VGA and Display are compatible with other digital interfaces. However, Displayport has greater compatibility than VGA because it is a digital visual and audio interface.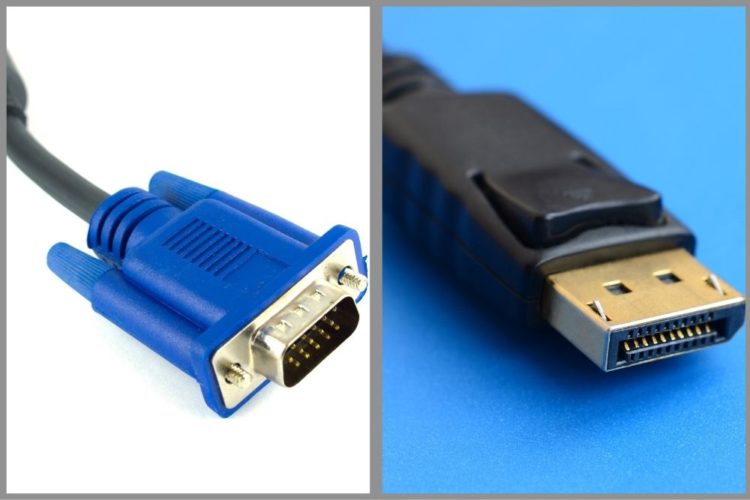 Summary table
| | | |
| --- | --- | --- |
| | VGA | Displayport |
| Signals | Analog video signals | Digital video and audio signals |
| Quality | Fair- prone to interference, noise, and degradation | Great- no degradation, noise, or interference |
| Affordability | Fairly priced but less economical | More economical |
| Audio | No audio | Audio transmitted |
Conclusion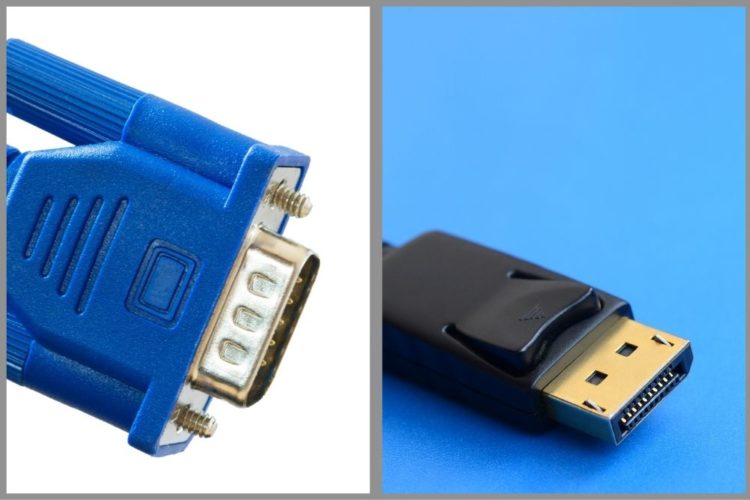 So, back to the elephant in the room- which is better between VGA and Displayport?
To be honest, both are great if you purchase good quality cables. A VGA will outdo a Displayport when using analog devices, and similarly, a Displayport will outdo a VGA when connecting digital devices.
But given that we are in the digital era, a Displayport is more useful than a VGA. It has robust features, greater compatibility, and high display performance.
Well, you can still use a VGA, but unless you have a monitor that auto-calibrates, you will have a horrible experience. The images and texts will appear darker, thicker and sort of smudgy.
But with an auto-calibrating monitor, you will hardly tell that you are using a VGA.
We'd recommend a Displayport anytime because then you won't need to hunt down a new cable.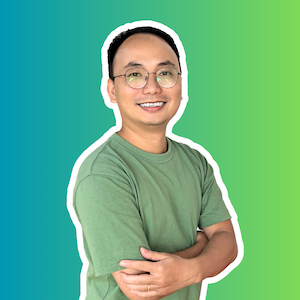 Vance is a dad, former software engineer, and tech lover. Knowing how a computer works becomes handy when he builds Pointer Clicker. His quest is to make tech more accessible for non-techie users. When not working with his team, you can find him caring for his son and gaming.