HDMI, VGA, and DVI are more than just cables and interfaces that connect your GPU to your monitor. They determine the video quality output, refresh rates which determine your games Frame Rate, or FPS, and even if audio gets outputted. So is HDMI, VGA, or DVI better for gaming?
VGA is an analog video interface and outputs about 2K video resolution for gaming at a subpar quality and low refresh rate. HDMI and DVI are digital interfaces, and both provide superior video resolution, at standard 4K, and high refresh rates. HDMI supports audio, unlike the others, and is overall superior.
What Is The VGA Interface?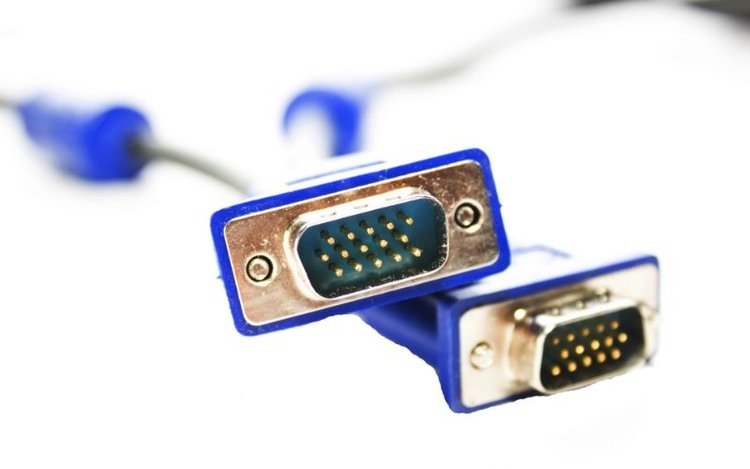 Video Graphics Array, or VGA, is an old analog video interface standard that first made its appearance in 1987. It is a video interface slowly dying out and of inferior quality to DVI and HDMI as the latter two are digital interfaces.
The VGA connector cable is commonly blue with three rows of pins screwed into the ports of your input, your GPU, and your output monitor. It carries an analog video signal of about 2K resolution, which may have visual errors, unlike digital, which does not have visual errors.
Because of the limitations of analog, like low bandwidth and potential for visual errors, it is a standard that is slowly dying out and getting replaced with digital interfaces.
It is also worth noting that VGA can only output video and not a good one at that.
Is VGA Good Enough For Gaming?
VGA might have been good enough back in the day on the older generations of games that were not of high-definition quality, but it is not good enough for gaming today.
It should be good enough for older games like Baldur's Gate 2, which does not rely heavily on excellent high-definition video quality and FPS.
Rankie VGA to VGA Cable, 6 Feet
6 Feet. Screw-in VGA cable with 15-pin male input and output
Supports resolutions at 800x600 (SVGA), 1024x768 (XGA), 1600x1200 (UXGA), 1080p (Full HD), 1920x1200...
The VGA cord engineered with molded strain relief connectors for durability, grip treads for easy...
Last update on 2023-03-31 / Affiliate links / Images from Amazon Product Advertising API.
For today's high-definition and FPS-dependent gaming standards, it is certainly not good enough.
Does VGA Affect Gaming?
VGA is suited for the older generation of games but not current and next-gen gaming.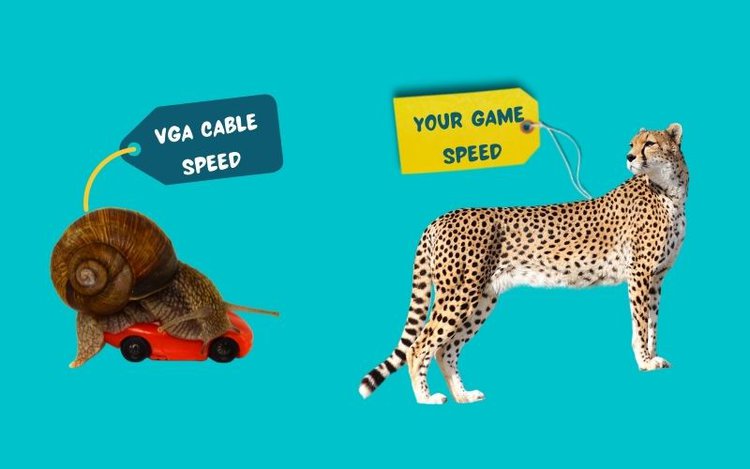 It has a low refresh rate of about 60 Hz max which means lower FPS for your games. Video Games such as Apex Legends demand that you have high FPS to get an accurate visual representation when competing against other players.
It also only supports up to 2K quality video resolution, which does not meet today and next-gen gaming standards. The standard for today is a resolution of 4K ultra-high-definition, which VGA cannot support, and VGA also has no audio output.
It is best to leave your VGA cable in the cupboard and move on to superior digital interfaces.
What Is The HDMI Interface Standard?
High-Definition Multimedia Interface, better known as HDMI, is a digital interface that replaces analog interfaces like VGA. HDMI first made its public appearance in 2003 and is the standard today for video and audio standard interfaces.
An HDMI cable has two similar input and output points to be connected to your GPU's input port and the output port of your monitor.
It is great for current and next-gen gaming as it supports video resolutions up to 4K and more and even outputs audio. Because HDMI is a digital interface, its video quality is uncompressed. In other words, much better video quality than an analog interface.
With the HDMI, you will get much superior and up to ultra-high-definition video quality. It is also the only interface between HDMI, VGA, and DVI that outputs audio.
HDMI also supports refresh rates up to about 144 Hz, but this depends on the type of HDMI cable used, but this means you get much higher FPS for your games.
The general HDMI variant is HDMI 1.4 and HDMI 2.0. HDMI 1.4. limits you to a 4K resolution with only 30 FPS in your games, while HDMI 2.0 goes above that in resolution and FPS.
Because HDMI has high video and audio quality and is a digital interface, it is one of the best for gaming.
Is HDMI Better Than VGA For Gaming?
HDMI is better than VGA for gaming by miles. Not only is it digital instead of analog, which provides you with much better and near-perfect picture quality, it also supports audio, unlike VGA.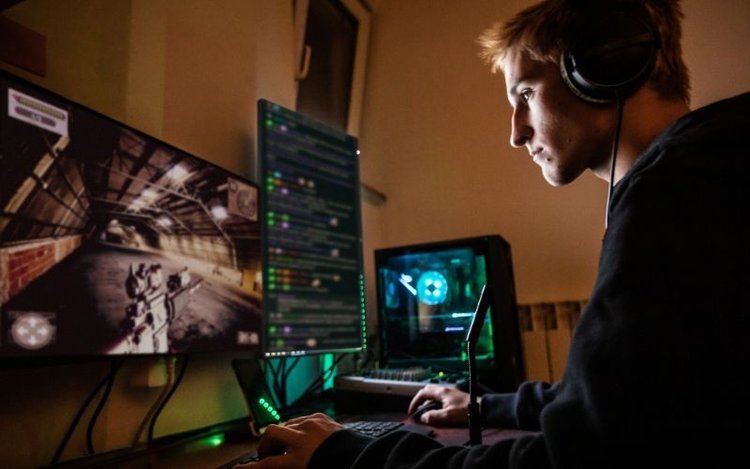 The HDMI digital interface supports video resolutions up to 4K and above, unlike VGA, which only supports a video resolution up to 2K. This factor means that your games will look much better on your monitor.
Where VGA was limited to just 60 Hz refresh rates, HDMI can go up to about 144 Hz, which means 60 fps or higher for your games. VGA very much limited your refresh rate, which meant much lower FPS for your games.
Having high FPS is great for competitive games like Overwatch, where the visual accuracy that comes with the quality of the video outputted to the screen could make or break the game for you.
Not to mention, no extra cables are needed to achieve an excellent audio output.
HDMI is far superior to VGA for gaming, without a doubt.
Last update on 2023-03-30 / Affiliate links / Images from Amazon Product Advertising API.
What Is The DVI Interface Standard?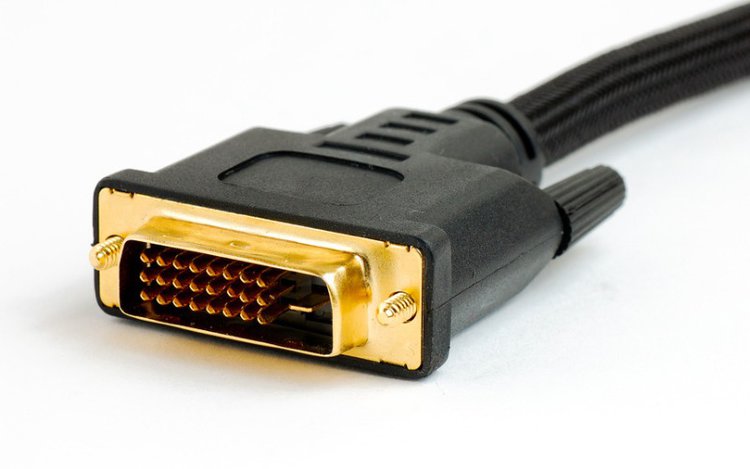 Digital Visual Interface, or DVI, was released in 1999 and is also a digital interface, like the HDMI. It is subpar compared to the HDMI. A DVI cable looks like an HDMI cable but with screws.
Although it supports a similar video resolution to HDMI, it has lower refresh rates which means you are generally limited to 4K at 30 FPS and 2K at 60 FPS. The colors it produces are also not as crisp and clear as what an HDMI would deliver.
It comes in two variants: the DVI single link, which can only display 2K at 60 FPS, and the DVI dual-link, which can display up to 4K and 60 FPS.
Because of the lower refresh rates of the DVI, compared to HDMI, you will not get as high FPS on a DVI and will only be limited to about 60 FPS if playing at 2K resolution.
DVI also does not support audio output.
Although HDMI and DVI are similar, HDMI is much superior in features and quality.
HDMI Or DVI: Which Is Better For Gaming?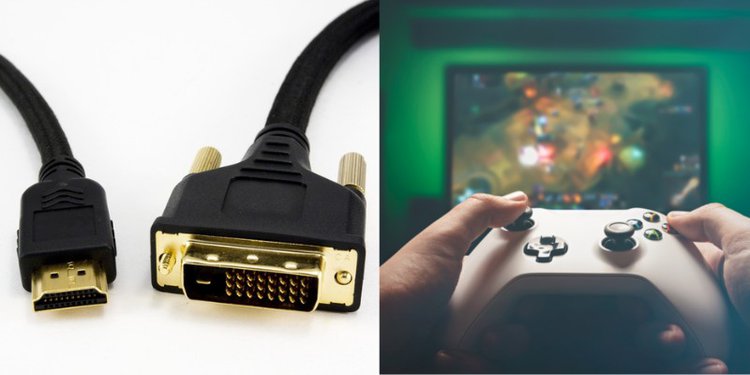 With that said above, HDMI and DVI are adequate for gaming, but I would go for the HDMI. Although both are digital interfaces, which means excellent video quality, HDMI supports better resolutions and refresh rates.
You are more likely to find an HDMI port in your monitor than a DVI, and HDMI wins in the compatibility department too.
As a bonus, HDMI also has support for audio in case your monitor supports audio.
With the higher refresh rates and crisper colors of the HDMI than the DVI, the picture quality and FPS that you will gain from HDMI are superior.
Use an HDMI instead of a DVI for gaming.
Conclusion
VGA is old analog technology compared to HDMI and DVI that are new digital interface technologies. VGA only supports a video resolution of up to 2k and low refresh rates, unlike HDMI and DVI, which supports video resolutions at standard 4K and have much higher refresh rates.
With the VGA definitely out of the picture, as a result, the two superior interfaces are HDMI and DVI for gaming. HDMI is much better than DVI for gaming, as it supports much better resolutions, crisper image quality, and much better refresh rates which means better FPS for your games.
HDMI wins the fight as the best standard interface between VGA and DVI for gaming.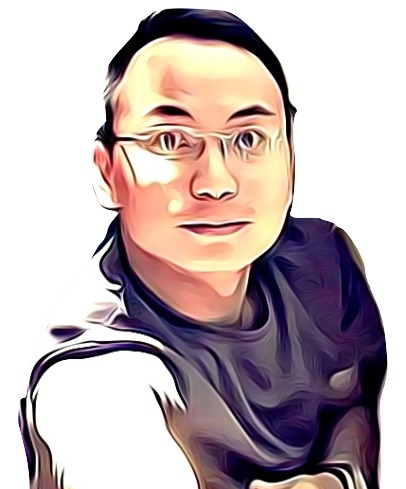 Vance is a dad, former software engineer, and tech lover. Knowing how a computer works becomes handy when he builds Pointer Clicker. His quest is to make tech more accessible for non-techie users. When not working with his team, you can find him caring for his son and gaming.