Whether you are going for a modern and contemporary look in your living room or simply want more space, going for a wall-mounted television is great. After all, it's clean, easy to do, and only needs two people and the right mount to complete.
With that said, what size toggle bolt do you need for a TV mount? And how can you mount it on your own?
Well, that depends on the weight of your TV. Usually, traditional drywall measures around ½ an inch, making toggle bolts with a ⅛-inch-diameter or Snaptoggles with a ¼-inch diameter ideal. The former can easily support 50 pounds, while the latter can support as much as 265 pounds.
Luckily for you, today's televisions are getting thinner and lighter, but we don't recommend cutting any corners when doing this.
If you wish to learn more, this article will go over toggle bolt sizes, TV mount kinds, steps to mount your TV, and everything in between.
All About Toggle Bolts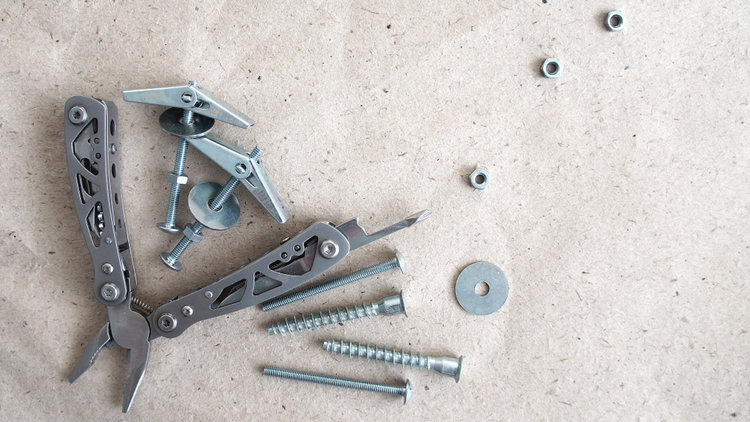 Toggle bolts are the way to go when mounting your TV on a wall without studs.
Also called "butterfly anchors," toggle bolts are specifically designed for hanging objects on hollow wall systems like drywall and plaster.
These are also made from metal and are easily the strongest type of drywall anchor you can buy today.
As for the size of toggle bolts you can use, traditional drywall measures around ½ an inch. This makes it ideal to use toggle bolts with a ⅛-inch-diameter or Snaptoggles with a ¼-inch diameter.
The former can easily support 50 pounds, while the latter can support as much as 265 pounds, given that they are heavy-duty toggle bolts.
A great example is the Toggler SnapToggle M5s , which are zinc-plated, very versatile, and exceptionally strong.
How Do I Know What Toggle Bolt Size I Need?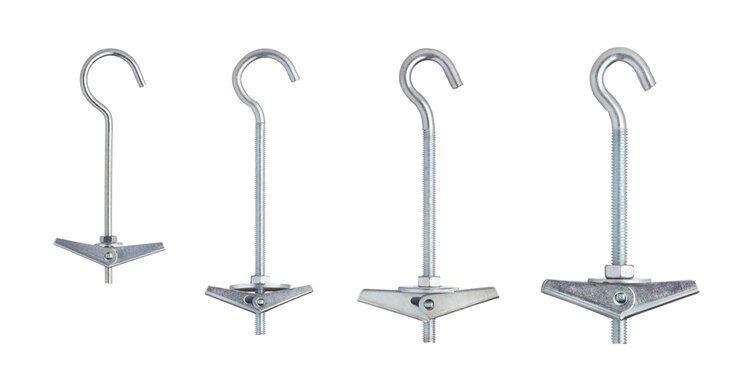 When choosing the toggle bolt size, there are two things to consider: the bolt's diameter and length. Naturally, with a thicker bolt, more weight can be held.
You should also consider the wallboard's thickness. A thicker wallboard can also support more weight.
Currently, you can get toggle bolts in these sizes:
⅛ inch
¼ inch
½ inch
⅜ inch
3/16 inch
5/16 inch
Of course, the ⅛-inch toggles are the ones that can hold the least weight, depending on the wall thickness.
For example, it can only hold about 30 pounds on a ⅜-inch wallboard, while that weight limit climbs up to 65-70 pounds on a ¾-inch wallboard.
Generally, it's ideal to choose thicker toggle bolts with thicker walls. You can also try using different toggle bolt sizes to increase the weight they can hold.
How to Mount Your TV On Any Wall Using Toggles
To help you, here's a step-by-step guide on how to securely mount a TV on your wall without any studs:
1. Pick a Spot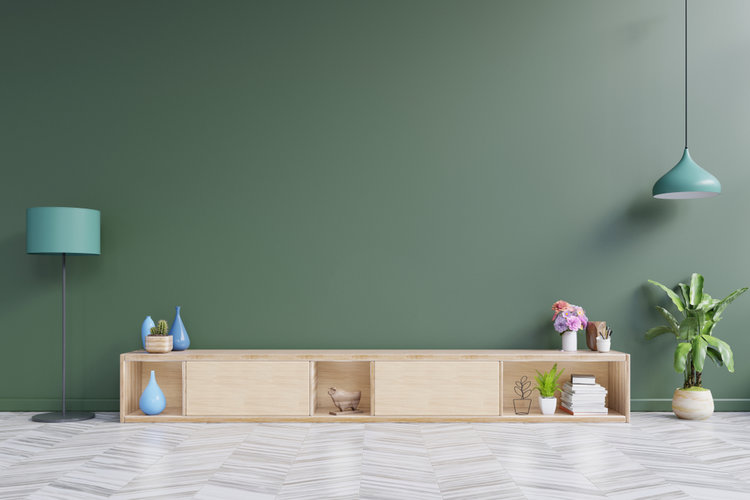 Before anything, pick a spot for your new TV set. After all, you don't want to go through the hassle of mounting your TV, taking a step back, and realizing you don't like where it is.
So make sure you plan by taking measurements and visualizing the best spot for your TV. In any case, choose a spot that will provide a good line of sight, regardless of your furniture arrangement.
Consider power outlet placement and whether the site you picked has easy access to these.
2. Pick a Mounting Bracket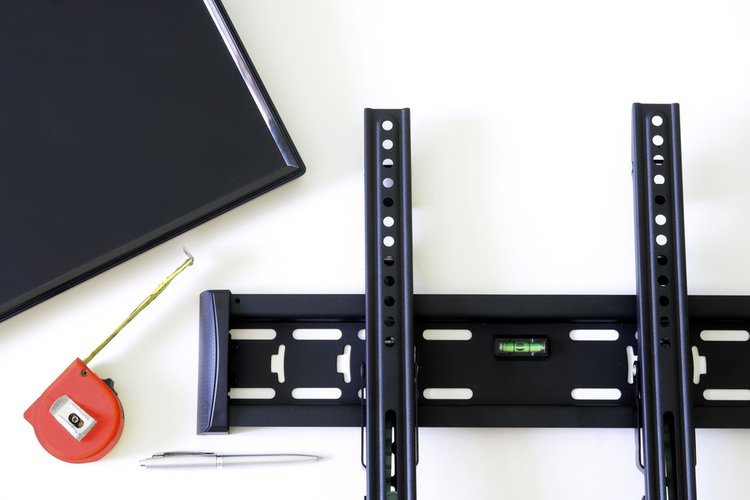 Once you finally decide on a spot, the next step is to pick the type of mounting bracket you will use on your TV. Luckily for you, there are plenty on the market. Some of the more common ones include:
Stationary mounts sit flush against your wall and secure your TV in a fixed place
Corner mounts allow your TV screen to pivot left or right, making it ideal for different viewing angles in the room
Tilting mounts let you angle the TV screen up and down to find the best viewing angle
Full-Motion mounts, like its name, let you adjust your TV in all directions to help you find the perfect angle
Mounts that let you move the TV screen in different angles and directions are much heavier than standard mounts and require a more secure wall connection.
3. Drill Holes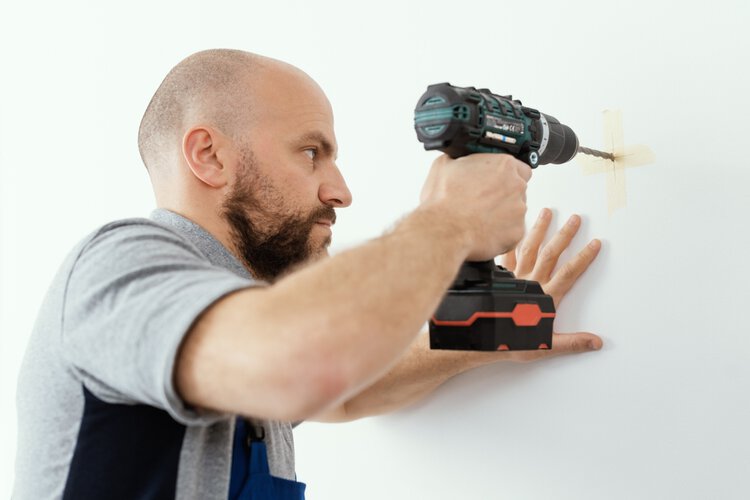 Using a tape measure and a pencil, mark the drill holes on your wall. If you have a paper template, use that against the wall to ensure all of your marks are correct. Then, use a hand drill to drill a ½-inch pilot holes in all marked locations.
Since you're using toggle bolts, remember the diameter is not the same as the bolt. Instead, it will be the diameter of the wing unit attached to the bolt itself.
So, for ½ toggle bolts, you may use a 1¼-inch drill bit. However, if you have a ⅛-inch toggle, you may use a 3/8 -inch bit.
4. Attach Toggle Bolts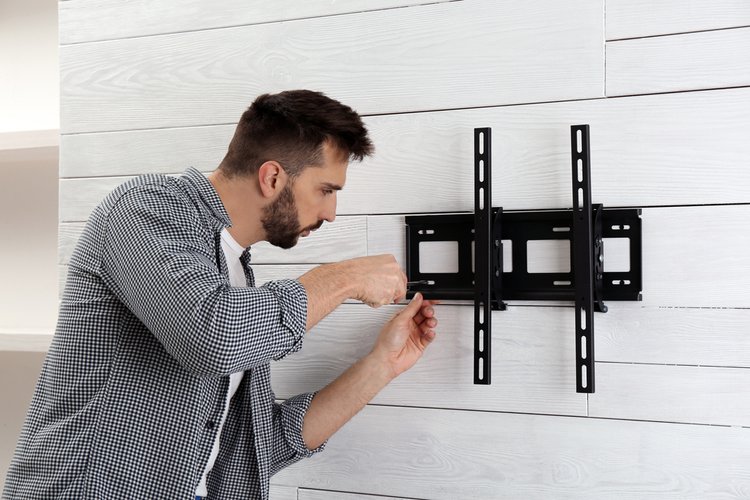 Next, slide the toggle bolts through the holes of the mounting plate. Then, thread the bolts into the wing units, ensuring their open sections face you.
Next, while someone is holding the mounting plate for you, insert the four toggle bolts into holes, shutting the wings as you push them inside.
Once the wings open up in the wall, ask your assistant to gently pull the mounting plate, turning the bolts clockwise with the drill until they are firm and solid.
5. Hang the TV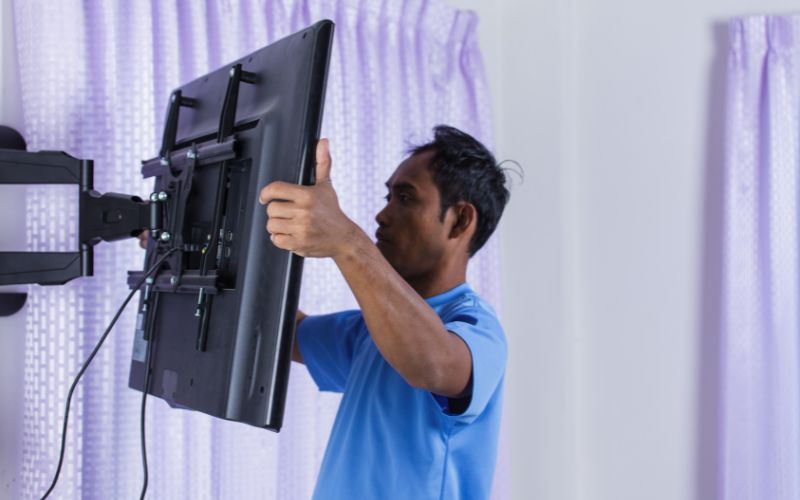 Make one final check to ensure the toggle bolts are level and firm, and then attach your TV (and its bracket) to the mounting plate, and you're done!Here's a video tutorial to give you a more detailed look at the process:
Toggle Bolts TV MOUNT | Flip Toggle Wall Anchor TV Mount on Drywall | Snaptoggle
What to Keep in Mind
1. The Weight of Your TV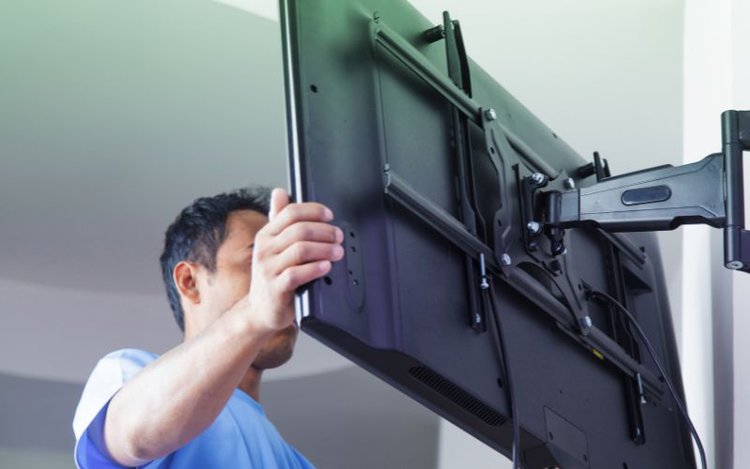 First off, ensure your wall and the toggle bolts can handle your TV's weight. While TV weight varies from model to model, a typical 32-inch weighs between 25 to 30 pounds.
Of course, bigger models weigh more, so it's a good idea to choose toggle bolts and mounts that can support this.
2. Wall Condition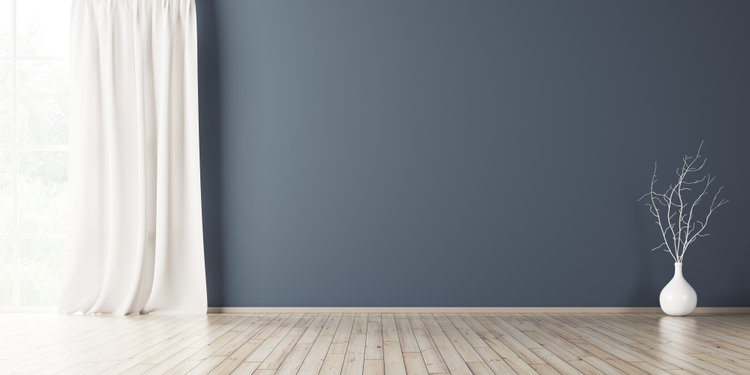 Next, make sure you thoroughly check the condition of the wall you're going to mount your TV on. If the wall needs repairs, do it beforehand, not while mounting the TV.
Remember that no matter how strong or secure your bolts are, a flimsy wall can still end up caving under your TV's weight, which results in even more damage and expenses.
3. Use the Right Type of Mount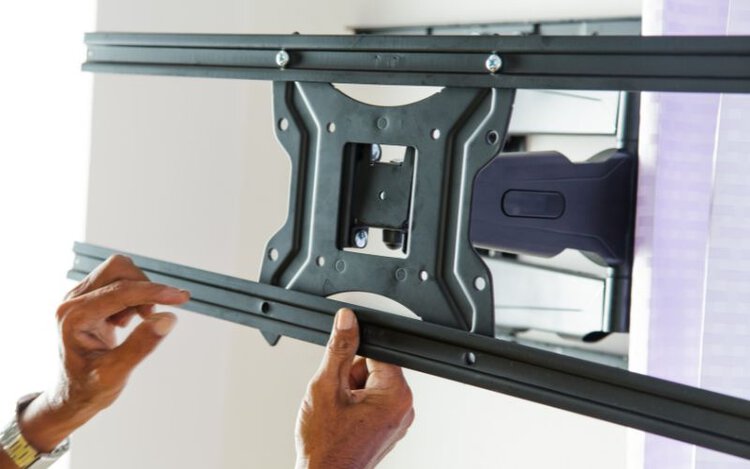 Standard wall mounts are designed to fit any TV. However, they're also rated to fit specific TV sizes and weights, so choosing the wrong mount can be dangerous for your TV.
There's also the mechanism that comes with your mount. For example, mounts that have arms and swivels are naturally heavier than standard static mounts.
Furthermore, mounts with arms usually have constant movements that can cause increased stress on your wall and anchor points.
4. Ask for Professional Assistance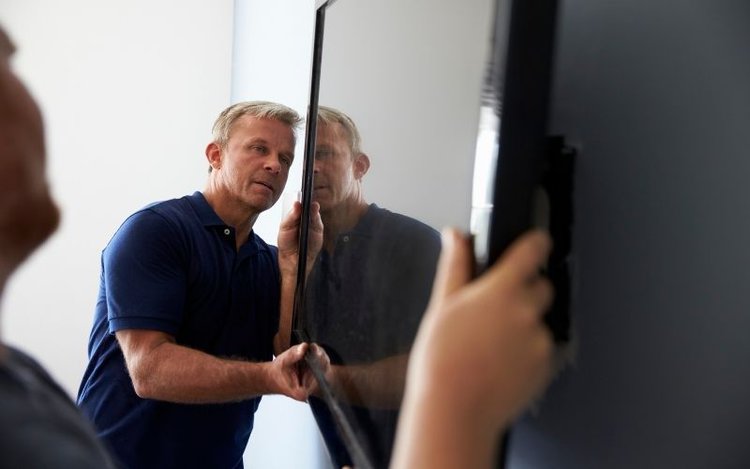 Lastly, ask for professional help if you really need it. While it's a good idea to learn DIY things, enlisting the help of a professional to ensure the best work is never a bad thing.
Luckily, mounting your TV on a wall is an easy task, so enlisting professional help shouldn't be that expensive.
Just remember to avoid cutting corners, and you'll find yourself enjoying shows on your wall-mounted TV in no time
Conclusion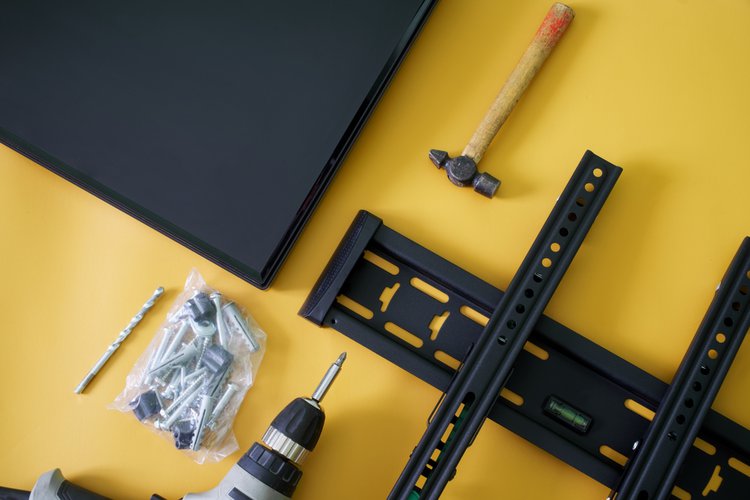 So that's just about everything you need to know about toggle bolt sizes and TV mounts.
Just exercise the necessary precautions before attempting to mount anything, and use only high-quality bolts from trusted manufacturers.
If you follow these instructions correctly, you should be able to enjoy your wall-mounted television set in no time.
Cheers!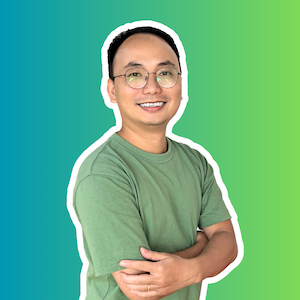 Vance is a dad, former software engineer, and tech lover. Knowing how a computer works becomes handy when he builds Pointer Clicker. His quest is to make tech more accessible for non-techie users. When not working with his team, you can find him caring for his son and gaming.