So you have seen all the mega churches and their massive projected song lyrics and verses displayed behind the pastor. You decided your congregation could benefit from the same technology, but don't know where to start. We're here to help!
Sadly, the answer to this question is "it depends." There are a plethora of factors to consider when deciding on exactly what projector and screen to use in a church setting. We have broken each thing down for you in simple terms below, so let's jump in and see exactly what you need to consider when buying and installing your church projector and screen.
What Projector Do I Need for my Church?
Most people jump straight to "how big of a screen do I need," but the first thing you should consider is the budget for the actual projector you will be buying. This is the largest expense you will incur, so buying something that fits your budget but still gives you flexibility is going to be ideal.
There are multiple different types of projectors to consider for your church. There are pros and cons to each different technology type, so do some research before buying the first projector you see for sale at your local big box store.
Below are some of the technologies you should be aware of, as well as the benefits of each. Ultimately the choice is yours which way you go, and every setting will have different needs.
Short-Throw Projector
If you have a smaller church with limited space, a nice short-throw projector is going to give you the same awesome visuals as a normal projector, but can sit inches away from the wall. This means you could have a small table against the wall and project a nice large image up the wall to give your congregation a pleasant experience.
While short-throw projectors normally will not produce super huge images (up to 120 inches is normally the max size), they are just as sharp and good looking as a traditional setup. If you have a smaller church and don't need an ultra massive screen so people in the back can still see, a short-throw projector will be an ideal solution to get you started.
DLP Projector
DLP is "old" projector technology, but you will still see a ton of them on the market today. Why? Because this older technology has many advantages when compared to the newer LCD and laser options.
One of the main upsides of DLP technology is it is almost entirely maintenance free. As long as one of the components does not get damaged, it will run for a very long time. The same can not be said for LCD projectors.
DLP is generally a more expensive option, but the saying "you get what you pay for" definitely applies here. You will be able to create nice large images out of a DLP projector that will be smooth and sharp for many years down the road.
LCD Projector
This is the most common projector type you will find for sale to consumers. It is a tried and true technology that is extremely affordable and allows the average person to have a cinema experience in their own home, business, church, etc.
Unlike DLP which uses color wheels to project an image, LCD projectors use powerful lamps to shine light through liquid crystals to project your movies. This technology is a bit more complex and requires more maintenance than the DLP option.
If you are on a budget and are looking to try out projection, this is more than likely your best option. But don't think that just because the "cheaper" models are LCD that the technology is not really good. There are plenty of high budget options for you to buy as well if you choose.
Laser Projector
The "new" technology for projectors is lasers, but these types of projectors have had quite a few years to mature and get better as well. While the technology is newer than the others, is it better for church use? The answer is generally yes.
These projectors are your best bet for a church because they get far brighter than the other projectors on the market. Since they don't shine light through colors to project a picture but rather produce the colors independently, they can blast them out far brighter without anything buffering it down.
This one main advantage is going to be great for churches that have high ambient light. So if you have a lot of windows or bright spotlights that will interfere with the projection, a laser projector is going to give your congregation the best viewing experience possible.
What Size Projector Screen for my Church?
The answer to this question is on a case-by-case basis. Not every church is built the same, and each will have their own needs for their church-goers.
There are two main sizes that projectors project at, so let's see them and what would make one or the other the best case scenario for your church and everyone in it.
100 Inches or Less
If you have a small church with a congregation of fifty or less, this will do. There will be a large enough screen area that everyone will be able to see in a smaller church, even if they are sat on the back pews.
You may also want to consider starting with just an LCD television if your congregation is this small. You will get a more crisp image and ambient light will not be as much of an issue.
However, if you are set on getting a projector, with a screen size at less than 100 inches, you can go for a budget option as long as the brightness is decent. This would be the perfect place to pick up a school or business class projector, if your main use will be projecting verses and written word vs. movies and videos.
Greater than 100 Inches
If you have a very large congregation and a church building that seats hundreds, you will need a projector that is capable of projecting an image over 100 inches in size. Anything smaller than that and the people seated in the back will not see words on the projection clearly.
Also, with this large of a projection, make sure you are buying a 4k projector. Anything less than that is not going to give you good visual fidelity at such a large size. If you go down to 1080p, the image will look much more "fuzzy" or "pixelated."
Does the Screen Make a Difference?
The screen you use is often just as useful as the projector itself. Getting this wrong is something many churches struggle with, so let's see what makes a good surface and what are some downfalls you should avoid.
Painted Wall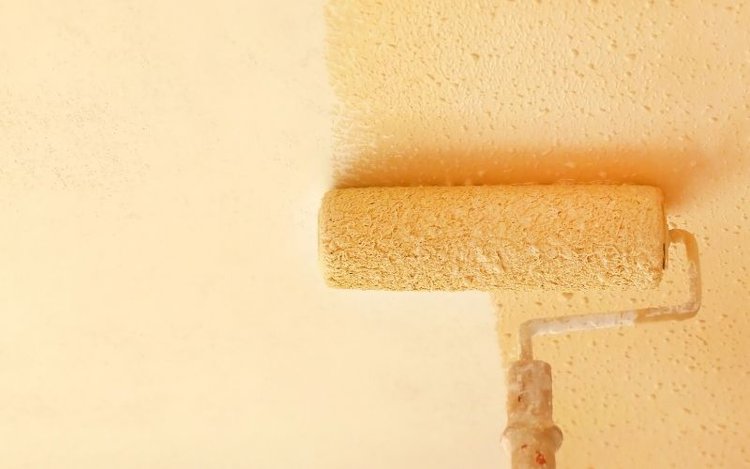 The color of the wall you are projecting on will influence the colors of the images and videos you play on it. So if you are projecting on a yellow wall, you will see a shift to the yellow colorspace in your image (though some projectors handle different colors better than others).
If you are set on projecting on a painted wall or don't have the budget for a high quality screen, make sure you paint the wall white in a satin finish. This will give you the best possible results when it comes to brightness and color reproduction.
If you pick a paint that is too glossy you will run into glare issues where the projected image will be hard to see. A matte finish can lead to an image that is too dull, so stick to the satin finish for the best possible quality.
Projector Screen
The absolute best option is to get a high quality projector screen. A white screen made for school and office use will give you the most clear text that your congregation will enjoy when taking notes.
If you mainly use your projector to show video or effects, a high quality cinema screen (generally grey) is going to give you the most pleasant experience. It will give more dynamic range and a cinematic feel, but will be a bit worse for text and ambient light conditions.
If you have a smaller church you can get away with a cheaper screen, or even a small pull down retractable screen. This will allow you to go ahead and buy a projector to future proof your church, while still working for a smaller congregation.
Conclusion
So, then, the question remains: which projector screen size is best for your church? The answer is simple, the one that allows everyone in the venue to see the screen clearly. Be that over 100 inches or under, you will have to decide just how large it is by sitting in the back and seeing what is adequate.