With an HDMI cable, a port can send theatre-quality sound, high-resolution video, and device commands through a single cable.
There are different kinds of HDMI cables, and each of them supports different video resolutions and has varying HDMI specifications.
Since several people prefer hiding the wires from their TV or computer, the question "what size hole for an HDMI cable?" is pretty common.
The answer to this question depends on the kind of HDMI cable you're using.
Are HDMI Cords All the Same?
No, HDMI cables have different capabilities, depending on the version of the HDMI cable and bandwidth.
Listed below are the different kinds of HDMI cables.
1. Standard HDMI Cable
This cable is designed for the standard cable, satellite, and HDTV broadcast resolutions.
The resolution can vary between 720p to 1080i, and it has a bandwidth limit of 5GBps (gigabytes per second).
This cable is optimized for versions 1.0 and 1.2a.
2. Standard Automotive HDMI Cable
This cable has the same features as a standard HDMI cable, but it is used for DVD players and in-car video screens.
Hence, this cable also has extra shielding to reduce interference from wiring and a car's electrical systems.
3. High-Speed HDMI Cable
This cable can handle video resolutions like 4K (30Hz) and 1080. Moreover, it can also support Deep Color and 3D.
For high performance, it can support a bandwidth of up to 10GBps and can work with versions 1.3 and 1.4a.
4. High-Speed Automotive HDMI Cable
This cable supports the same features as other high-speed cables, but it is optimized for car usage.
5. Premium High Bandwidth HDMI Cable
This cable is used for transfers that have UltraHD resolution video or 4K.
Moreover, it can transfer videos with high resolution and a high refresh rate (i.e., 4K videos with a 60Hz refresh rate).
Also, it can support an extensive color range and has a bandwidth of up to 18GBps and works with versions 2.0a and 2.0b.
6. Ultra-High Bandwidth HDMI Cable
This cable has every feature with added support for 8K video and 10K resolution.
It can support a bandwidth of up to 48GBps and is less vulnerable to electromagnetic interference (EMI) that a few wireless devices can cause.
It is optimized for version 2.1.
7. Cables With Built-in Ethernet
While all other cables can support HDMI Ethernet Channel (HEC), these cables let several HDMI-connected devices share a single Ethernet connection.
This happens via a broadband router that usually has a speed of up to 100MBps. That said, this feature isn't normally implemented on many devices.
How Wide Is an HDMI Head?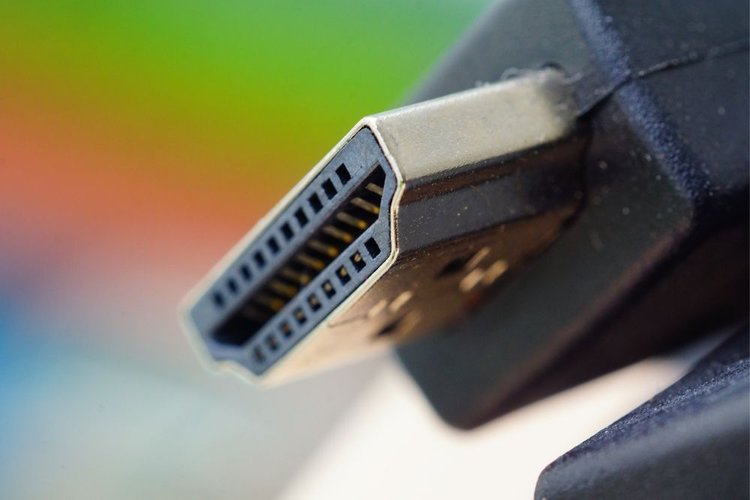 To answer "what size hole for HDMI cable," we first need to determine the width of an HDMI cable.
An HDMI cable's width depends on the kind of connector on the cable you're using.
Type A: a standard HDMI connector has dimensions 13.9 mm x 4.45 mm. The female port is 14 mm x 4.55 mm.
Type B: a type B connector has the dimensions 21.2 mm x 4.45 mm. Unlike other HDMI cables that have three differential pairs, this one has six.
Mini (Type C): this connector is significantly smaller than type A. It has dimensions 10.42 mm x 2.42mm. While it has the same 19-pin configuration, its size is smaller.
Micro (Type D): often called Micro HDMI, this cable is 6.4 mm x 2.8 mm. Unlike other HDMI cables, the pin assortment on type D cables is different. It only has five pins aligned in one row.
How to Drill a Hole Through My Wall to Get an HDMI Cable Through?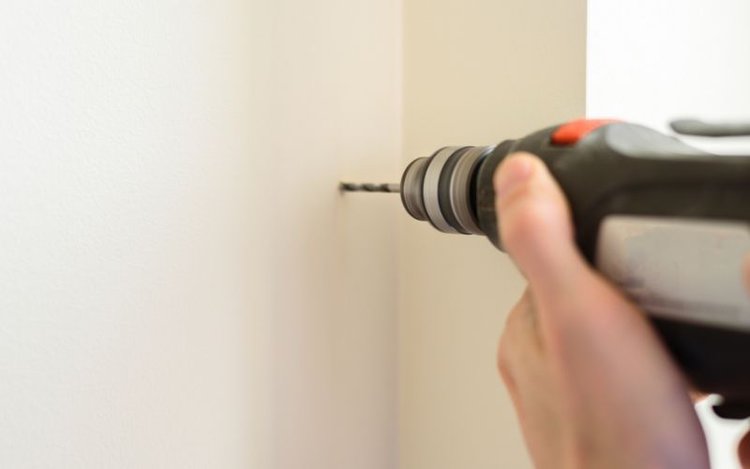 To do this, you'll need the following list of tools:
Drywall Saw
Two construction gang boxes
A Sharpie
Electrical tape
Two wall plates
Fish Tape
Two screwdrivers (a standard and a Phillips)
Cables
Step 1: Pick up the sharpie, and put the construction gang box against the wall. Now trace the inside of the box with the sharpie to get an idea of the general size of rectangular cut-out you'll make into your wall.
Step 2: You'll have to do this twice, once near the T.V's wall mount and once near the baseboard. Make sure these holes align with each other on the stud bay. If they don't, it's going to be impossible to run the cables through.
Step 3: Now, take your drywall saw and cut out rectangular holes in the wall. Wiggle the saw in but try not to go deeper than the wall (about half an inch). After you've cut out the hole, see if the gang box can fit. It's possible that it won't fit, so you'll have to shave the edges around and do some fine-tuning to make it fit.
Step 4: Feed the fish tape in the top hole, carry it down through the wall, and take it out of the bottom hole. That said, this is easier said than done. Ensure you have a helper when you're going through this process.
Step 5: Once you have the fish tape gaping out of the bottom hole, take your HDMI cable and attach it to the fish tape with electric tape. The wire must be aerodynamic, so ensure you don't tighten it too much to become bulky. Since you're pulling the wire through a wall with other wiring and insulation, the wire needs to be sleek, so it doesn't get caught up.
Step 6: Run the wire through and ensure you get all of it.
Step 7: Take the screwdrivers and screw in the screws on the gang box. The edges of the box must squeeze tight against the drywall.
Step 8: Thread the HDMI cable through the small squares in the faceplates.
Step 9: Finally, screw in the faceplates onto the gang boxes.
If this process seems unclear, here's a YouTube video that explains carrying out a similar process:
How to Run/Fish Electrical Wire Through Walls & Ceilings | The Home Depot
Final Words
After the process is complete, your HDMI cables will be ready to be plugged into a T.V. All in all, fishing an HDMI cable through a wall can let you hide the wire and improve cable management. But if you ever decide to upgrade to a cable with increased bandwidth, you may have to repeat this process. So, before you fish an HDMI cable through drywall, consider whether you need an upgrade or not.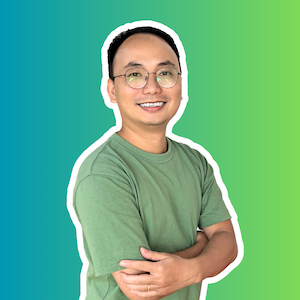 Vance is a dad, former software engineer, and tech lover. Knowing how a computer works becomes handy when he builds Pointer Clicker. His quest is to make tech more accessible for non-techie users. When not working with his team, you can find him caring for his son and gaming.