Halloween is fast approaching, and you want to know how to use your projector for spooky decorations. But how do you do it? And more importantly, what can I use for a Halloween projector screen?
We've all seen those spooky apparitions only projectors can display against our windows, and now it's a fabulous trend. But what if I told you creating that it's as easy as using a white sheet?
Today we're going to explain and expand upon a few Halloween projector screen ideas, so your house is the spookiest in the neighborhood this Halloween. So, let's get to it.
Do it Yourself See-Through Projector Screen
Since Halloween is all about spooking your neighbors, you may want a scary see-through projector image that makes your house seem haunted. So let's talk about how you can do an easy DIY see-through projector screen to give your neighbors the chills.
Our projector screen must be partially see-through because the projected image must be seen from the other side. This allows your neighbors to see what "spooktacular" images you'll show them.
You have a couple of options for this. You can either use a shower curtain (more on this later) or white printed paper. And most of us have a printer with white paper. Awesome, right?
Here's how to set it up. First, you'll need many sheets of white paper. Depending on your window size, the amount of paper you'll need will differ.
Next, let's grab some see-through tape.
Begin taping sheets on your window together. Try not to overlap the pages. Overlapping will create weird dark spots in your image, and we don't want that. If you have mullions on your window, you might want to make one bigger sheet to cover your window as a whole.
That's pretty much it. Now you've created your first Halloween projector screen.
But what about that shower curtain we mentioned earlier?
If you're interested in learning more about using white sheets of paper or other materials, check out this forum here.
Use a White Shower Curtain
A white shower curtain is created with similar materials as a Halloween see-through projector screen. In other words, there's no reason to purchase an expensive Halloween projector screen if you have a white shower curtain.
If you don't have a white shower curtain, you can always get a reasonably budget-friendly one.
One of the great things about a shower curtain is that it already has perforations on one side for hooks.
Although the tough part will be attaching it to your window, on one side, you can use a rope to attach it to your window. Make sure it's stretched tightly to avoid any wrinkles.
On the other end, you can use double-sided tape. But if that gets too complicated for you, a better solution is to ditch the side with the shower perforations.
A simple way to do this is to cut the shower curtain to a slightly bigger size than your window.
Now you can use double-sided tape on all sides. It's a straightforward and effective way to get a great-looking Halloween projector screen.
Here is a video that shows you how to use a white curtain.
DIY - Halloween Projection using shower curtain = Mega spooky hologram effect!!
All the options above have been cheap and easy. But what if I told you there's an easier and cheaper way to do this?
Let's read on and find out.
A Cheap and Easy White Bed Sheet
Using simple home materials you already have as a projector screen is another great option. For example, for this idea, we're going to use a white bed sheet.
Now, if you don't have any white bed sheets, don't worry. They're very affordable and useful all year round, not just Halloween.
Now that you know you can use a white bedsheet let's install it.
It's an easy install as well. Therefore this idea is perfect for busy parents.
If you're in a rental apartment and want to avoid creating holes in the walls, clothespins will save you the hassle.
Okay, so how do you install it? Now that you have your materials (clothespins and white sheets), you can continue building your Halloween projector screen.
The first step is to get our white sheet. We're going to install it in between the window and your curtains.
Now, grab a clothespin and pin one side of the sheet to your curtain or curtain rod.
We want to make sure it's as tight as possible, so your projection looks good.
That's it. You've created your easy and reasonable Halloween projector screen.
Now all you have to do is turn on your projector and point it towards your new screen.
That's it. Those are three cheap and easy ideas you can use for Halloween projector screens.
Here is a video that compares different fabrics so you can see the difference in quality.
Halloween Hollusion fabric comparisons
But now that you have your screen up, what's next? How do you get those spooky images on there? And most importantly, is it expensive?
Now What?
So, you've decided on one of the above ideas. You've created a Halloween projector screen and placed it on your window accurately. Now what? How do you get those fantastic spooky video displays?
It's very simple, and you don't even need to purchase anything new. Using your own projector, you have everything you need.
Now, head to YouTube and search for "projector Halloween scenes." You'll notice a plethora of Halloween scenes to display onto your window via your projector.
The best part is that YouTube is free.
With this information, you can turn on your projector, point it towards your window. Make sure your projector and your window are correctly aligned to avoid any weird shadows.
Turn on your projector and pick your favorite YouTube videos.
It's that simple.
And there You Have It
Those are a few ideas you can use for Halloween projector screens. As you can see, most options are quick, easy, and relatively inexpensive.
Regardless of which idea you go with, the shower curtain idea, the white sheet idea, or the paper sheet idea, you'll have the ability to do it yourself in a non-time-consuming or expensive way.
All you need to do now is head to YouTube and look for some spooky videos to play on a loop. Now, let's go scare our neighbors!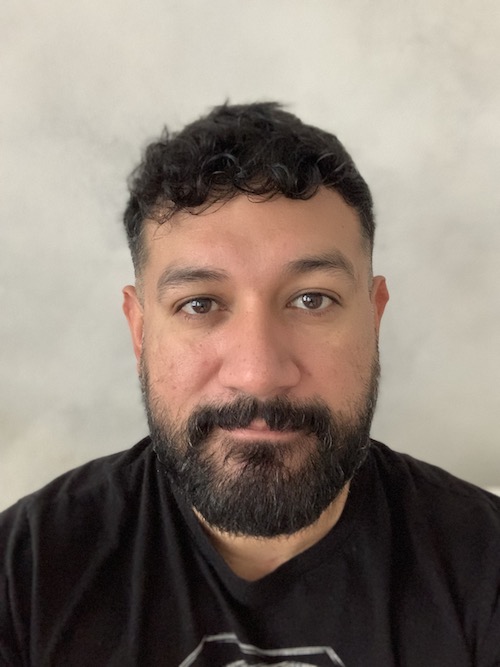 James Quintanilla is a technical copywriter. Although his experience allows him to write on many topics, he loves to focus on tech and travel. As a freelancer, James has worked on projects with Pointer Clicker, Lonely Planet, and the Travel Channel. When he's not writing or planning his next adventure, he's watching a scary movie.