Does the thought of mounting a new TV leave you feeling dispirited?
Because let's face it, there's a whole bucketload of screw types and sizes to choose from.
And if you're not conversant with them, mounting a TV can seem impossible.
Well, I have just the treat for you: A complete guide to wall-mount screws for TVs that will teach you everything about TV screw sizes and give you the confidence to mount any TV.
Keep reading.
Are TV Mount Screws Universal?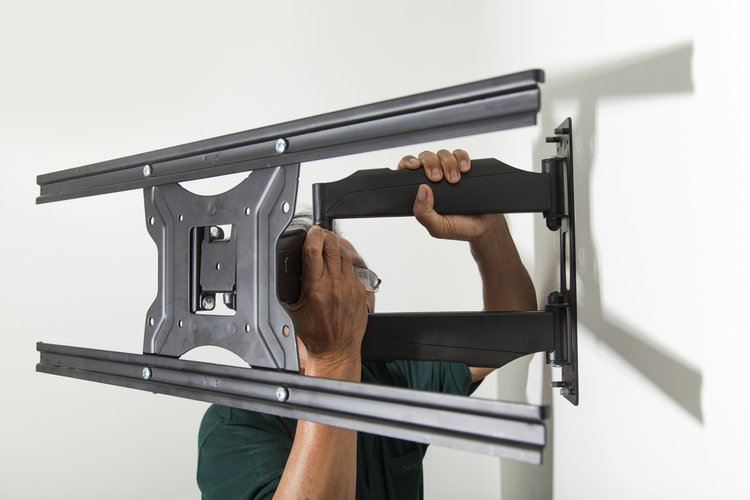 No, TV mount screws are not universal. However, each screw size only works with a distinct group of TVs and will not fit TVs outside this group.
For example, a VESA M4 mounting screw will fit all 24-inch TV mount holes but will not fit 32-inch TV mount holes.
Conversely, a VESA M6 screw will fit all 32-inch TV mount holes but not 24-inch TV mount holes.
Therefore, TV mount screws can only be used with compatible TVs, which means the screws and TV meet the same VESA standards.
The standard for TV mounting interfaces is the Flat Display Mounting Interface (FDMI), a brainchild of the Video Electronics Standards Association (VESA).
The standard outlines specifications that manufacturers must follow when making flat display mounts.
They issue guidelines on:
The design of the mounting pad
Mounting interface compliance and labeling
Cable and cable connector location
Screw mounting interface dimensions, including screw hole size and pattern
Mounting screw specifications
Other guidelines cover:
Weight limit specifications
Alternate mounting interface options
Check your user manual to find out the VESA specifications for your TV. Then shop for a mounting kit that matches those specifications.
Often, manufacturers of non-VESA screws set out to make the bolts compatible with different TVs. So, they fashion most of the screws after the VESA recommended sizes.
But sometimes, you'll come across TVs that are not compatible with any of the standard screw sizes. In this case, you'll have to check the screw measurements given by the manufacturer and buy those.
A good way to ensure you're never in a fix when it comes to finding TV screws that fit is by buying a universal TV mounting screw kit
These universal kits come with screws of all sizes, from M4 to M8.
Confirm that the screws are compatible with your TV design, whether flat or curved, since some may not work with both.
What Type of Screws for TV Mount?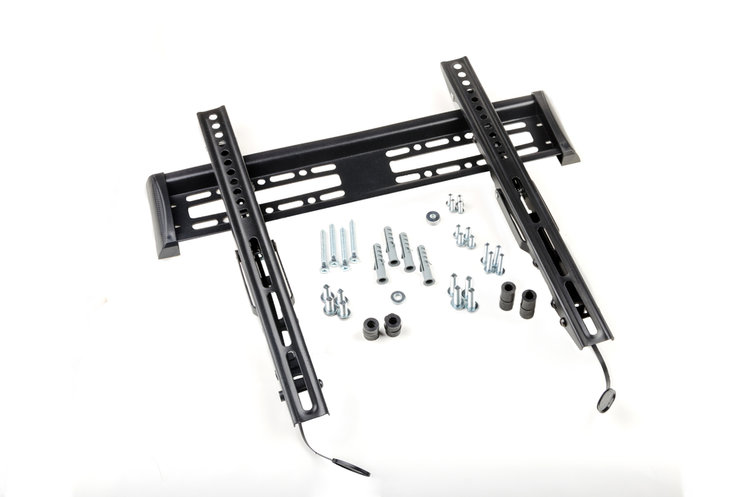 All TVs measuring 31-inch or more use M6 screws, and all TVs that weigh more than 110 lbs. use M8 screws.
TVs smaller than 31 inches use M4 screws.
Because most TVs either measure 31 inches or weigh more than 110 lbs, it's fair to say that most TVs use M8 and M6 screws.
All TV mount screws within the same size grouping have a similar diameter, but they can be of varying lengths.
Standard TV Mount Screw Sizes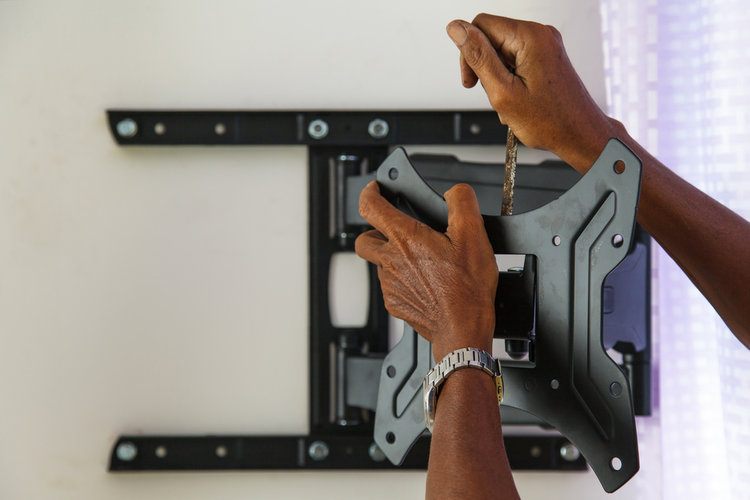 VESA classifies TV mount screw sizes according to TV size and weight.
The regulatory body came up with six standard screw sizes for each of the VESA mounting standards. VESA identifies the standards as Parts B to F of FDMI.
Part B and Part C apply to screens smaller than 12 inches, so devices like tablets, phones, small monitors, etc.
TV mount screw sizes fall under Part D to Part F.
Below, we outline the screw sizes for the VESA standards applicable to TVs and the TV sizes compatible with them.
Number of screws
Screw size
Screw Diameter
Screw Length
Hole spacing
TV Size

(diagonal)

Max TV weight

Part D 100mm – preferred

4
M4 x 10mm
4mm
10mm
100mm x 50mm
12″ to 22.9″
30.8 lbs

Part D 75mm – alternate

4
M4 x 10mm
4mm
10mm
75mm x 50mm
12″ to 22.9″
< 17.6 lbs

Part E

6
M4 x 10mm
4mm
10mm
200mm x 100mm (center pattern)

200mm x 50mm (edge-located pattern)

23″ to 30.9″
50 lbs

Part F (M6)

Manufacturer determined
M6
6mm
Varies, manufacturer determined
200mm x 200mm and above
31″ and above
< 110 lbs

Part F (M8)

Manufacturer determined
M8
8mm
12mm to 15mm (manufacturer determined)
200mm x 200mm and above
31″and above
> 110 lbs. (up to 250 lbs.)
To find out your TV's VESA standard, place your TV on a flat surface with the front side facing down.
Locate the mounting holes at the back of the TV.
Measure the horizontal distance between the holes. This gives you horizontal spacing (pattern). Then do the same for the vertical distance to get the vertical spacing.
VESA uses the metric system of measurements. If your tape measure has both imperial and metric units, use the metric (centimeters and millimeters) side.
If you have an imperial tape measure, you'll need to convert the values you get into millimeters. One inch equals 25.4mm, so multiply each value by 25.4.
Please note:
Each hole spacing in parts D & E has a 0.25mm (0.01″) tolerance
Each hole in Part F has a 0.5mm (0.02″) tolerance.
Don't worry if the dimension is slightly lower or higher than the standard value.
Manufacturers can design TVs that take longer mounting screws than stipulated in the VESA standards.
When that happens, the manufacturer will state the recommended screw length. In some cases, they may include the screws when you buy the TV.
But if the TV doesn't come with the screws, check the screw length indicated in the product specs and buy them separately.
Do TVs Come with a Mount and Screws?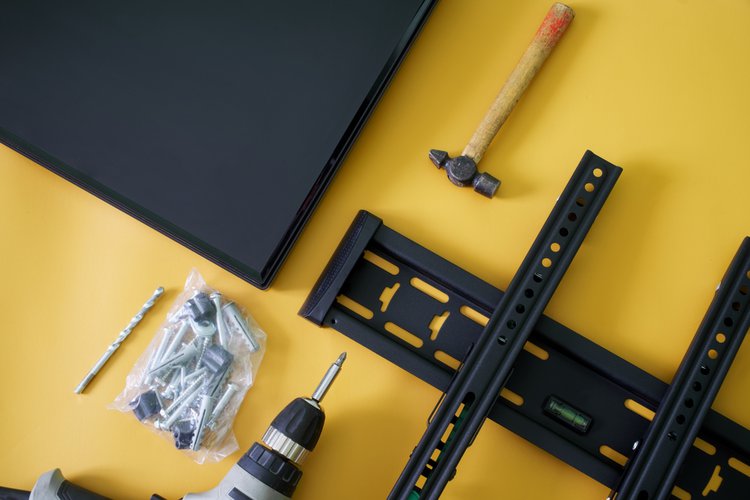 Most TVs come with simple, complimentary mounts and mounting screws.
The mounts offered with the TV are usually flat , which allows the TV to be mounted close to the wall.
This type is easy to install. You only need to attach the TV to the mount using clips or bolts, then attach the TV mount to the wall bracket.
The mount is a fixed installation. Once you install it, you can't adjust the viewing angle or reposition it. You would have to unmount and remount it in a new position.
TV manufacturers provide mounts compatible with each TV's weight. So, you'll know that it will hold your TV's weight.
Even so, some TVs do not come with free mounts and screws. If you end up with such a TV and wish to mount it, you will have to buy the mounting kit separately.
Fortunately, TV mounts are readily available and come with different screw sizes that are compatible with most TVs.
Most are made to VESA specifications and can be used on any TV with matching VESA mount specifications.
Are There Ways To Mount a TV Without Screws?
There are several ways you can mount your TV without using screws. Let's look at some of them:
Use Brick Clip-On Hangers or Clamps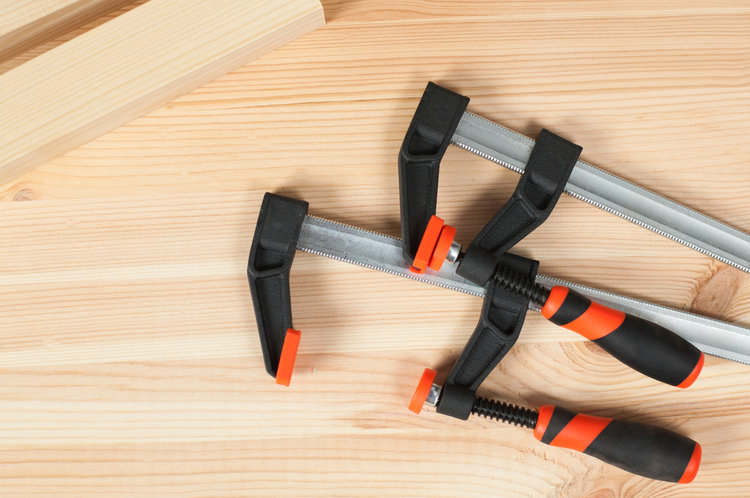 Brick clamps and clip-on hangers work best on brick walls where the bricks protrude at least 0.125 inches from the mortar.
The clip-on has a serrated top and a spring at the bottom.
Attach the clip-on to the wall, ensuring that the teeth clasp the top of the brick.
Then adjust the spring as needed to ensure it clings to the bottom of the brick.
Choose clip-on fasteners that are heavy enough to support a TV. One probably won't be enough unless you intend to mount a small TV that weighs less than 20 pounds .
If your TV is heavier, you'll probably need to use a few of these. Many come with information about the maximum weight they can support. If you can't find this information in the product description, contact the manufacturer or dealer's customer service.
Although brick clamps are heavy-duty, they are not specifically made for TVs. Even if you were to engage the manufacturer, they likely wouldn't recommend using it to support the TV.
So, as you consider this method, be aware of the risk involved: the clamp could give way. This is why you should use several clips to hold the TV mount.
Here's a great video tutorial to guide you better on how to use brick clamps and clip-on hangers.
Use Wedge Anchors
Wedge anchors are a permanent fixture best used on concrete walls. Once you drill them in, you can't take them out.
So use this only if you're comfortable with embedding the wedge into your wall permanently.
To remove the mount in the future, you'll push the anchor further into the wall and fill the space with plaster.
Use a hammer drill to make your pilot holes on the wall. Be careful not to drill past the concrete.
The anchors should latch onto the concrete, so if the hole extends beyond the concrete, there will be nothing for them to grasp.
Attach a bracket to the anchors, and then mount your TV.
Albany County Fasteners on YouTube has a great video tutorial on wedge anchors and how to use them. Watch it below!
Beginner's Guide To Wedge Anchors: What you need to Know | Fasteners 101
Use Adhesive
Use self-adhesive tape or glue to support the TV. This method works best on smaller TVs that aren't heavy.
Ensure that the adhesive can support the weight of the TV. It's even better if the tape or glue you choose is designed to hold electronics, including TVs.
Choose an adhesive that works on your wall surface, as some only work on specific surfaces.
Wipe down the wall to ensure the surface is clean and dry, apply the adhesive as instructed by the manufacturer, then stick the TV onto the adhesive.
The main problem with adhesive is that it could weaken with time or following heat exposure. When the grip is gone, your TV could come crashing down.
So you may want to use this as a temporary solution unless you're sure the glue is long-lasting. As a precaution, consider adding TV straps for reinforcement in case the adhesive loses its grip.
TV straps attach the TV to the furniture and wall, ensuring that nothing can knock down the screen. However, to fix the straps to the wall, TV, and stand, you will need to use lag screws.
Use a Hybrid TV Stand
Hybrid TV stands come with built-in mounts. So all you have to do is attach the TV to the mount.
Look for options with clips instead of bolts.
You can choose a stand with shelves or cabinets to take advantage of the extra storage space.
Some hybrid stands are portable, making it easy to move the TV to a different room.
Most are also adjustable, allowing you to change the viewing angle and TV height.
Many also come with hidden cable management, which gives the TV area a neat look.
What's cool about most integrated stands is that when you place them next to the wall, anyone walking into the room might think the TV is wall-mounted.
Use VESA Mount Adapters
VESA's mounting standard includes specifications for TVs that don't have VESA mounting holes. They also involve using a VESA mount adapter.
These adapters are made to VESA mounting standards. So, they are compatible with different VESA-approved mounts.
Some are universal , while others work with specific mounting standards and TVs.
Before buying the adapter, confirm that it supports your VESA standard so that you don't end up with an adapter that's not compatible with your TV.
VESA mount adapters work in one of two ways:
They connect the TV to the mount
They mount directly to the wall or table
Most of these need assembling and come with instructions.
Choose an adapter with hooks or clips that attach to the TV instead of screws.
Attach the arms to the mounting plate as instructed. You'll need screws for this.
Attach the adapter hooks to the TV.
The adapter has four hooks—two to secure the top of the TV and two for the bottom.
Attach the adapter to the TV mount.
Vivo on YouTube has a great video tutorial that can guide you better on how to assemble the VESA mount adapter.
STAND-VAD1B VESA Adapter Bracket Kit Assembly by VIVO
Conclusion
TV mounting screws come in a variety of sizes.
Each screw size is made to a specific VESA standard and is compatible with TVs that meet that particular standard.
Many TVs come with mounts and corresponding mounting screws. If your TV doesn't come with a mount and screws, you can buy them at home improvement/hardware stores.
Just ensure that you choose a mount that's compatible with your TV.
To find out your TV's VESA standard:
Measure the vertical and horizontal distance between the mounting holes at the back of the TV.
Check the standard that matches those measurements.
Buy a mount and screws that match that standard.
You can also buy a universal screw mounting kit, which comes with sets of all TV screws in all their different sizes.
Last update on 2022-08-07 / Affiliate links / Images from Amazon Product Advertising API.