Picture this: you're striding onto campus, not just armed with textbooks, but with a tech toolkit that's about to turn your college life into an epic adventure.
From gadgets that transform your dorm into a command center to smart study buddies that have your back through exams, we've handpicked 20+ tech treasures that'll help you unleash a new era of productivity, organization, and jaw-dropping coolness that'll leave your peers asking, "How'd they do that?"
Brace yourself for a semester where innovation meets organization—with these 20 cutting-edge gadgets for $100 or less that are primed to rock your college world like never before!
1. SOUNDANCE Laptop Stand

CHECK LATEST PRICE ON AMAZON.COM
Let's check out something awesome for your back-to-school tech gear: the SOUNDANCE Laptop Stand.
If you're tired of craning your neck or slouching over your laptop screen during those marathon study sessions, this ergonomic marvel is here to save the day.
Imagine a lightweight laptop stand that's as easy to set up as making a cup of instant noodles – no tools required! You can even swivel it a full 360 degrees to find your perfect screen view.
With a bunch of stylish colors to choose from (10 to be exact), it's like adding a pop of personality to your study space.
Oh, and did I mention there are nearly 50,000 reviews for this gadget and only a tiny 1% are less than stellar? So, trust me on this one.
2. CeSunlight Clip-on LED Desk Lamp

CHECK LATEST PRICE ON AMAZON.COM
Introducing the CeSunlight Clip-on LED Desk Lamp—a must-have back-to-school tech gadget for college students!
With its long and flexible gooseneck, boasting a 360° adjustable long arm and a 14-inch lamp head, this dimmable task lamp effortlessly brightens up any nook you need.
It's a game-changer with its 3 color modes—warm, daylight, and cool light—each with 10 brightness levels, giving you a whopping 30 lighting options to suit your mood.
Don't worry about losing your preferred settings; this USB clip light has a power-off memory function that remembers your chosen modes even after clicking the "power button."
The best part? It's compact enough to light up your space without taking up too much desk real estate.
3. Logitech Wireless Ergonomic Mouse

CHECK LATEST PRICE ON AMAZON.COM
Discover the Logitech Wireless Ergonomic Mouse—a life-saving tech tool addition for students who spend long hours working at a computer or laptop.
This mouse is all about comfort and support, with its natural handshake position that reduces muscle strain by 10% compared to standard mice, all without sacrificing performance.
With a unique 57° vertical angle, it promotes a better wrist posture and provides a cozy thumb rest.
MX Vertical has earned the stamp of approval from ergonomists and users alike, designed to enhance posture, reduce muscle strain, and ease wrist pressure.
It comes in versions for both left-handed and right-handed users, boasts a rechargeable battery, and features 4 customizable buttons.
While this gadget might not fit every budget, its long-term benefits make it an investment in the well-being of your wrist and hand.
4. Logitech Wireless Ergonomic Keyboard

CHECK LATEST PRICE ON AMAZON.COM
Seamlessly complementing the previously mentioned ergonomic Logitech mouse is the Logitech Wireless Ergonomic Keyboard.
This keyboard goes beyond the ordinary, fostering improved typing habits and comfort. With its curved, split keyframe and uniquely sloping design, it encourages a more natural typing posture, significantly reducing strain on your wrists and forearms.
The pillowed wrist rest, layered with memory foam, offers 54% more wrist support and a remarkable 25% less wrist bending compared to standard keyboards.
You can further customize your comfort with the adjustable palm lift, featuring ergonomic tilt legs for seating or standing positions.
Its quiet typing ensures seamless focus, allowing you to conquer your academic tasks with ease.
Once again, even though this Logitech combo comes with a higher cost, they're definitely smart additions that are worth having in your college tech collection.
5. OontZ Bluetooth Speaker

CHECK LATEST PRICE ON AMAZON.COM
For college freshmen who adore both technology and music, meet the OontZ Angle 3 Bluetooth Speaker!
This compact speaker is a true game-changer, offering portability and a splash-proof design. You can take the music anywhere, even to the shower, worry-free!
And the best part? The battery life is seriously impressive, and with its incredible connectivity range of up to 100 feet, it's like having a personal concert or main character background music wherever you roam all day long.
6. Miady 2-Pack Portable Charger

CHECK LATEST PRICE ON AMAZON.COM
If you're searching for the must-have tech gadget for a college student who's diving into a busy campus life, allow me to introduce you to the Miady Portable Charger.
This nifty powerhouse comes in a set of two, ensuring they'll always have a reliable backup when those crucial moments arise.
Featuring the latest USB C In/Out innovation, it effortlessly connects with all their devices—no more fretting about compatibility concerns.
Sleek and compact, this charger slips easily into your hand or fits snugly into your pocket, making it a hassle-free addition to your daily routine.
What's more, it's approved for air travel, granting you the freedom to take it along on your academic journey wherever you go.
7. FYY Electronic Accessories Organizer

CHECK LATEST PRICE ON AMAZON.COM
Level up your back-to-school game with the FYY Electronic Accessories Organizer—it's a total game-changer for college students on the move.
Don't let its small size fool you; this organizer packs a punch. It effortlessly slides into your backpack, handbag, or laptop bag, leaving you ample space for all your other essentials.
Made from premium waterproof Oxford fabric available in more than ten colors, this travel case for electronic accessories ensures your devices are held securely and easily accessible.
And the inside? It's like a plush fortress for your gadgets, thanks to the soft sponge interior that keeps everything snug and ready for action.
Featuring two spacious sections, this bag for organizing electronics works like magic in keeping your cables, USB drives, phone, charger, mouse, flash drive, and additional accessories neatly in place.
8. Ticktime Pomodoro Timer

CHECK LATEST PRICE ON AMAZON.COM
Ever heard of the Pomodoro Technique? It's an incredible method to enhance productivity by dividing work into concentrated periods, followed by brief pauses.
Introducing the Ticktime Pomodoro Timer—a true game-changer for college students looking to supercharge their study sessions.
This little gem is incredibly user-friendly. Just flip it to start the countdown—no fiddling with buttons required. With 6 preset times (ranging from 3 to 30 minutes), simply flip the timer to the corresponding number for your desired interval.
It's as portable as it gets, easily fitting in your pocket or bag, and it even has a magnetic base for hands-free use.
The best part? It's rechargeable, boasting a long-lasting lithium battery and USB-C charging. With just 4 hours of charging, you can enjoy 20 hours to nearly a month of use.
Plus, you can customize the sound alerts to your preference, including mute or adjustable volume, so you can take it everywhere without any worries!
9. S'well Stainless Steel Water Bottle

CHECK LATEST PRICE ON AMAZON.COM
Introducing the S'well Stainless Steel Water Bottle—our ultimate hydration companion to quench your thirst with style!
This bottle is like a magical time capsule for your beverages, keeping them refreshingly cold for a jaw-dropping 36 hours or satisfyingly hot for a cozy 18 hours.
And that's not all—it does this while ensuring your hands and bag stay free from those pesky condensation drops, thanks to its clever copper wall layer.
Crafted from premium 18/8 food-grade stainless steel, this bottle is not only your hydration hero but also your planet-friendly ally as it's BPA-free.
Worried about cleaning up after that intense coffee kick or sugary indulgence? Fret not! This S'well bottle is a breeze to clean.
And the style factor? Oh boy, you've got nearly 40 stunning colors and styles to choose from, making it more than just a water bottle—it's a fashion statement.
10. Soundcore Anker Noise Canceling Bluetooth Headphones

CHECK LATEST PRICE ON AMAZON.COM
Seeking to enhance your focus during study sessions without breaking the bank on expensive brands? Look no further than the Soundcore Anker Noise Canceling Bluetooth Headphones.
Picture this: you have the ability to choose from 3 noise cancellation modes—'Transport' to hush airplane engines, 'Outdoor' to calm traffic and wind, and 'Indoor' to soothe the hubbub of school life. These headphones have garnered rave reviews for offering outstanding value for the price, making them an investment that truly pays off.
But that's not all—its long working hours help you immerse in a generous 40 hours of music in noise canceling mode, or switch to Standard mode for an incredible 60-hour playtime. A mere 5-minute charge rewards you with 4 hours of uninterrupted listening joy.
These headphones are also equipped with a top-notch microphone, perfect for those lengthy online meetings with your study group.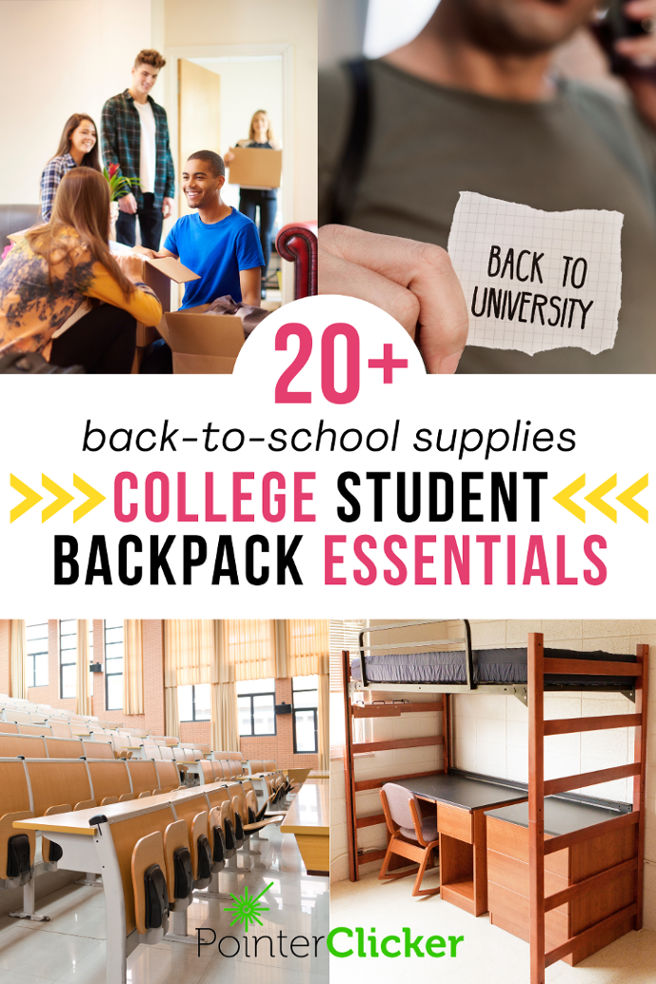 11. Shiatsu Neck and Back Massager

CHECK LATEST PRICE ON AMAZON.COM
Introducing the Shiatsu Neck and Back Massager—an absolute must-have for college students. Ever wished you could escape muscle soreness and neck stiffness after a long day at school? Well, this neck massager is your answer!
It's designed to ease your neck's burdens and upper back tension, eliminate fatigue, and offer you improved blood circulation thanks to eight soft, springy massage heads with a built-in heating function.
And that's not all! With three-speed strength levels to take control of the pressure and clever long handle straps to adjust the massage's position and strength, you can tailor your massage experience to alleviate muscle pain effectively.
12. Rocketbook Core Reusable Smart Notebook

CHECK LATEST PRICE ON AMAZON.COM
Discover the true game-changer back-to-school companion: the Rocketbook Core Reusable Smart Notebook.
This ingenious tech gadget lets you fill its pages with handwritten notes that can be effortlessly sent to all your favorite cloud storage platforms like Google Drive and iCloud in the blink of an eye.
When you're ready to start anew, a quick wipe with the provided cloth erases the pages clean, giving you an endlessly reusable notebook that can last for years, if not a lifetime. This notebook isn't just eco-friendly; it also saves you money on journals, notebooks, and all those pens.
Not only does this smart notebook help you organize your thoughts for easy reference, but it also enables you to share notes with friends who may have missed class before a big exam.
13. PHILIPS Computer Monitor

CHECK LATEST PRICE ON AMAZON.COM
Introducing the PHILIPS Computer Monitor—your key to expanding your screen real estate and skyrocketing your productivity as a busy college student. Need more room for those research tabs and assignments? This monitor has got your back.
But it's not just about space—it's about comfort too. Say hello to EasyRead mode, your new best friend for reading lengthy documents with a paper-like feel.
And let's talk about your eyes—LowBlue Mode is here to reduce harmful blue light, and flicker-free technology steps in to save you from dreaded eye fatigue during those marathon study sessions.
What's even more awesome? This monitor is a breeze to set up—no screws, no complicated hardware.
And here's the cherry on top: it's budget-friendly and comes with a fantastic 4-year warranty, as reliable as your college years.
14. AUOPLUS Mountable Power Strip

CHECK LATEST PRICE ON AMAZON.COM
Get ready to supercharge your dorm room with the AUOPLUS Mountable Power Strip—an absolute essential for any college student.
Say goodbye to the struggle of limited wall outlets and those pesky bulky adapters that hog precious space. Whether you're trying to charge your phone while lounging on your bed or your friends need to power up their gadgets, this power strip has got you covered with six surge protector outlets and four USB ports.
But wait, there's more! Its wide-spaced design trumps those narrow, ineffective socket panels.
And guess what? The 10 ft. heavy-duty extension cord provides the perfect length to reach those adapters without fuss.
Installing this power strip is a breeze too, thanks to the two back holes that let you mount it on the wall, either vertically or horizontally.
With over 90% positive reviews, it's a student favorite that's about to transform your charging game.
15. Perilogics Handsfree Phone Holder

CHECK LATEST PRICE ON AMAZON.COM
Say hello to the Perilogics Handsfree Phone Holder—a game-changer that's about to rock your multitasking world!
Imagine having your phone right where you need it, whether you're jet-setting, tackling your work at the desk, or breaking a sweat at the gym.
This holder is all about hands-free convenience. The super-strong clamp doesn't discriminate—it'll latch onto tables, luggage handles, gym gear, and more, up to a whopping 1.5 inches wide.
And let's talk views—those dual joints mean a 360-degree rotation, giving you the best angle, whether you're all about portrait or landscape mode.
Worried about phone compatibility? Don't be! This holder caters to a wide range of phone sizes, from the dainty iPhone Mini to the impressive Samsung Note 20 Plus.
16. MATEIN Anti-Theft Laptop Backpack

CHECK LATEST PRICE ON AMAZON.COM
Get ready to level up your Back To School game with the awesome MATEIN Anti-Theft Laptop Backpack. Think of it as more than a backpack – it's your personal organizer, style statement, and tech buddy all rolled into one.
From a snug spot for your laptop (up to a spacious 15.6 inches) to a roomy compartment for all your daily must-haves and gadgets, this backpack is the master of organization. And those front pockets? They're like a treasure chest for pens, keys, and whatever else you need easy access to.
But wait, there's more! The comfort game is strong with this one. Padded back? Check. Adjustable shoulder straps? Check. You'll be carrying your world in comfort.
And guess what? There's a hidden trick up its sleeve – an anti-theft pocket that's like a secret vault for your valuables.
Plus, let's talk charging – the built-in USB charger and cable are like your personal power-up station for your devices while you're on the move. Just a heads-up, though: the backpack won't power itself, but it's all about making your life easier.
And because life happens, it's even water-resistant, so your gear stays safe and dry.
17. ODISTAR Mini Table Dust Sweeper

CHECK LATEST PRICE ON AMAZON.COM
Buckle up because I've got a genius addition for your college toolkit – the ODISTAR Mini Table Dust Sweeper.
Imagine a world where those pesky cords are a thing of the past – well, say hello to this little wonder that brings you cordless magic. All it takes is a quick grab and glide – voilà!
But wait, there's more goodness. This pint-sized hero can spin a full 360º, reaching every nook and cranny like a boss.
Those annoying corners and tight spots? Consider them handled.
And the kicker? It's like a ninja in the silence department, so you can sneak in some Netflix or a power nap while it does its thing.
No more pesky paper scraps, sneaky dust, or unwanted ash cramping your study vibes. This mini champ's got your back.
Oh, and guess what? It's super portable, so keeping your laptop space spick and span is a piece of cake.
18. VersionTECH Mini Handheld Fan

CHECK LATEST PRICE ON AMAZON.COM
Embrace the upcoming school year with the VersionTECH Mini Handheld Fan—an essential tech gadget for summer travels, outdoor activities, or those scorching hot days.
With 3 adjustable speed levels—low, medium, and high—this fan delivers a refreshing breeze that reaches up to 3 meters, keeping you cool wherever you are with low noise.
The fan's extended working time, ranging from 3 to 8 hours depending on the speed level, ensures you stay comfortable throughout the day.
Its built-in rechargeable battery eliminates the need for replacements, and with a mere 3-hour charge time, it's ready to go.
What sets this fan apart is its versatility: it can be folded up to 180°, allowing you to hold it, place it on a table, hang it on a sun umbrella, or clip it to other objects, all while basking in its cooling breeze.
19. LapGear Lap Desk

CHECK LATEST PRICE ON AMAZON.COM
Introducing your college sidekick—the LapGear Lap Desk!
Picture this: a perfect-size haven for laptops up to 15.6 inches, where your devices and accessories cozy up together.
No more laptop acrobatics thanks to the built-in device ledge, holding your laptop, tablet, or notepad steady.
And the cherry on top? A nifty patented mouse pad that's like an extra hand, plus a designated phone slot that keeps your smartphone always in reach.
But wait, there's more! The dual bolster microbead cushion not only offers a comfy workspace but also keeps your lap cool, whether you're hustling indoors or outdoors.
And when it's time to switch study spots, this lap desk is your lightweight, compact companion. Just whisk it from your couch to your shelf like a breeze.
20. Aothia Desk Mat

CHECK LATEST PRICE ON AMAZON.COM
Aothia Desk Mat might be your new must-have tech accessory this school year! If you want a large mouse pad to move your hands freely, why not get an all-in-one desk mat?
Available in 4 convenient sizes, this mat is perfect for your laptop, mouse, keyboard, and even your coffee cup.
With over 20 vibrant colors to choose from, it's the ideal way to infuse a pop of personality into your study routine.
Beyond style, this mat offers practicality: it shields your desk from scratches, stains, spills, heat, and scuffs, ensuring your workspace stays pristine. The sleek surface adds to your comfort while writing, typing, and browsing.
The special non-slip backing design guarantees stability, while its waterproof feature makes cleaning a breeze—just wipe it with a wet cloth or paper.
21. Tile Key Finder and Tracker

CHECK LATEST PRICE ON AMAZON.COM
The ultimate gadget for a college student who's known to misplace their stuff is undoubtedly the Tile Pro Bluetooth Tracker!
This nifty gadget proves to be a real lifesaver in keeping tabs on your everyday essentials, whether it's your wallet, keys, or even your phone set to silent mode.
And here's the kicker—this tracker seamlessly syncs with all Android, iOS, and smart home devices, allowing easy tracking of your misplaced items using your phone or tablet.
You can also personalize the Tile with your contact details, so if someone happens to stumble upon it, they can swiftly get in touch.
22. Phomemo Portable Bluetooth Label Printer

CHECK LATEST PRICE ON AMAZON.COM
Say hello to the Phomemo Portable Bluetooth Label Printer—your college life's secret to ultimate organization and creativity! Whether you're sorting out your dorm room, classifying study materials, or adding a personal touch to your belongings, the Phomemo D30 label maker is your go-to.
With a ton of pre-designed templates featuring over 1000 symbols, 60+ frames, and cool fonts, labeling has never been this fun and efficient. Say goodbye to messy stuff and hello to organized chaos!
Get ready to dive into a world of icons, barcodes, QR codes, images, and even voice recognition—yep, it's a label design party!
Plus, it's wireless and pocket-sized, perfect for students on the move. Connect it to your smartphone via Bluetooth, and let the creativity flow.
Thanks to the sturdy rechargeable battery, you'll be labeling like a champ without worrying about power.
Wrapping Things Up
As you gear up for another exciting semester, I've got a lineup of over 20 tech goodies that are going to elevate your college journey to a whole new level.
Imagine breezing through classes with ergonomic accessories, transforming your dorm into a smart haven, and staying in the zone with epic headphones.
Whether you're hustling on campus or chilling at your favorite study spot, these tech companions are here to amplify your potential.
So, explore, pick your favorites, and dive headfirst into a tech-infused semester that's bound to be a game-changer. Let's make this year one for the books, shall we?
How was content created? This piece is created collaboratively, with tech editors generating ideas, conducting testing, and proofreading meticulously, while AI assists in fine-tuning.