SDI and HDMI are both video transmission interfaces. However, one appeals more to the video consumer population while the other is more popular with producers.
HDMI is the industry standard for video transmission between media devices. It is common in consumer devices like TVs, projectors, cable boxes, and laptops.
On the other hand, SDI is more common with production devices like vision mixers, video recorders, and RF equipment.
The question is: what makes each demographic choose one and not the other?
This article explores the unique characteristics of HDMI and SDI. You'll find a detailed comparison featuring the pros and cons of each interface.
What is SDI?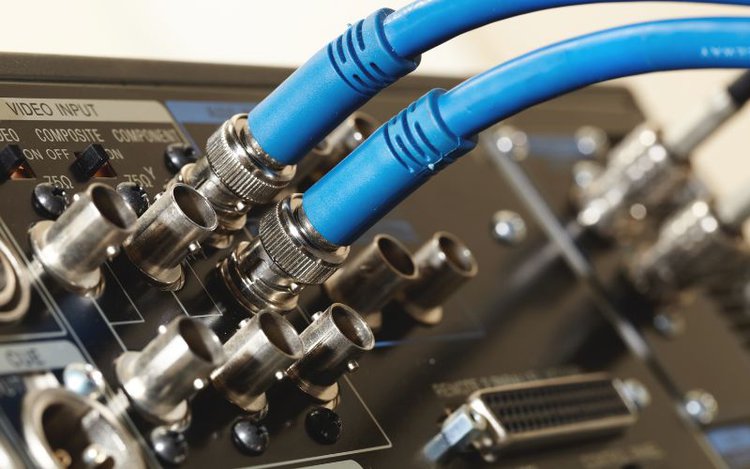 SDI (Serial Digital Interface) is a format for digital video transmission. It was released in 1989 by SMPTE (The Society of Motion Picture and Television Engineers).
SDI sends uncompressed video and audio signals from one device to another using coaxial cables. It is in professional video broadcast equipment, TV studios, and other production settings.
Producers and professionals favor SDI because its signals do not lose quality during transmission. It also uses coaxial cables, which are strong and flexible enough for outdoor use.
The SDI standard uses BNC connectors to transmit signals between devices. Hence, the coaxial cables for SDI terminate in BNC plugs, which fit into BNC ports on the transmitting and receiving devices.
BNC connectors are ideal for SDI due to their large bandwidth capacity. They can accommodate signal transmissions at high data rates.
One remarkable quality of the BNC connectors is their coupling mechanism. Male and female BNC connectors are coupled with lugs and a rotating ring that makes them hard to detach.
The SDI standard comes in different versions with varying data rates. The earliest version (SD-SDI) has a data rate of 270 Mbps and can only transmit SD resolutions up to 576i. Subsequent versions support much higher data rates and can transmit high-resolution images (HD, 4K, and 8K) seamlessly.
Common versions of the SDI standard include the following:
| | | | |
| --- | --- | --- | --- |
| Standard | Year | Bitrate | Max Resolution & FPS |
| SD-SDI | 1989 | 177-270 Mbps | 576i @24FPS |
| ED-SDI | 2000 | 540 Mbps | 576p @60FPS |
| HD-SDI | 1998 | 1.485 Gbps | 1080i @24FPS |
| Dual Link HD-SDI | 2002 | 2.970 Gbps | 1080p @60FPS |
| 3G-SDI | 2006 | 2.970 Gbps | 1080p @60FPS |
| 6G-SDI | 2015 | 6 Gbps | 4K @30FPS |
| 12G-SDI | 2015 | 12 Gbps | 4K @60FPS |
| 24G-SDI | 2020 | 24 Gbps | 8K @60FPS |
How Does SDI Work?
The SDI encrypts video signals into data packets known as "cells" and sends the cells down a coaxial cable one after another.
The video signals are uncompressed; hence, the signal does not change during transmission. There is no signal degradation or quality loss, no matter the transmission distance — it preserves accurate color information for video signals.
SDI signals are also unidirectional; they travel in only one direction from the beginning to the end of a transmission process. This means that connected devices cannot transmit simultaneously; the interface will only transmit a single signal at a time.
When SDI signals reach a receiving device, the device has to decrypt the signals before it can display the video information.
What is HDMI?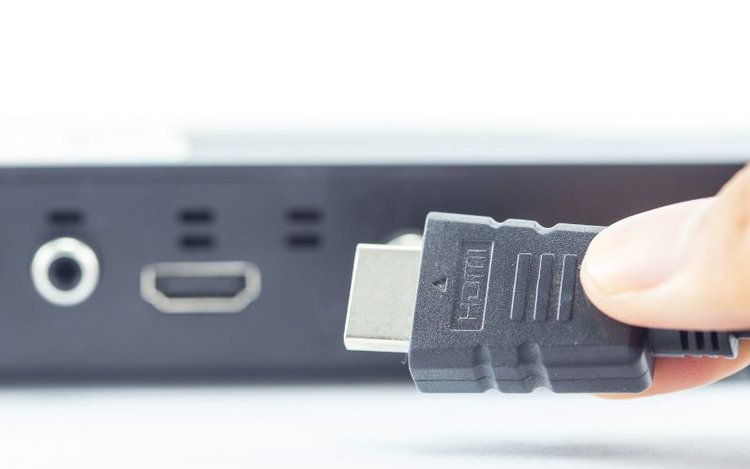 HDMI (High-Definition Multimedia Interface) is a digital interface for data transmission between media devices. It supports transmitting high-quality audio and video signals, among other things.
The HDMI Founders invented HDMI in 2002. Since then, it has become more popular than other analog and digital connectors.
Due to its popularity, display devices often come with multiple HDMI ports to help them connect with multiple HDMI-supported devices.
"What exactly sets HDMI apart from other consumer video interfaces?" Well…
HDMI can transmit HD resolution signals (up to 8K) and supports various functions that improve the viewing experience. These features include 3D video, HDMI ARC, Ethernet data, eARC, and CEC.
The HDMI connector looks like the letter "D." It is wider than a USB port and transmits signals over 19 pins.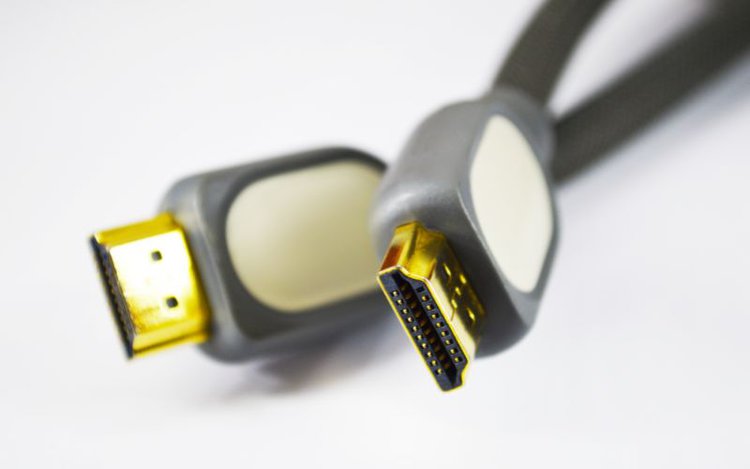 The HDMI connector has different versions: 1.3, 1.4, 2.0, and 2.1. Each version has a higher data capacity than its predecessors and supports more functions of HDMI. Versions 2.0 and 2.1 support high data rates for transmitting 4K/8K resolution videos.
There are also four main groups of HDMI cables based on transmission speed. They include:
Standard Cables: These were the first cables designed, and they can transfer limited HD resolutions like 720p and 1080i.
High-Speed Cables: High-speed cables transmit high-resolution signals up to 4K at 30 fps. They also support 3D videos and deeper colors.
Premium High-Speed Cables: Cables with a "Premium" certification have an 18 Gbps capacity, transmitting 4K and 8K videos at 60 fps. They also support ARC, HDR, and 3D functions.
Ultra-High-Speed Cables: These bad boys support 8K and 10K resolutions at 120 fps. They support all functions of HDMI and have a 48 Gbps transmission speed — gamers' definition of paradise.
The best HDMI cable for you depends on the size of the data you're transmitting.
How Does HDMI Work?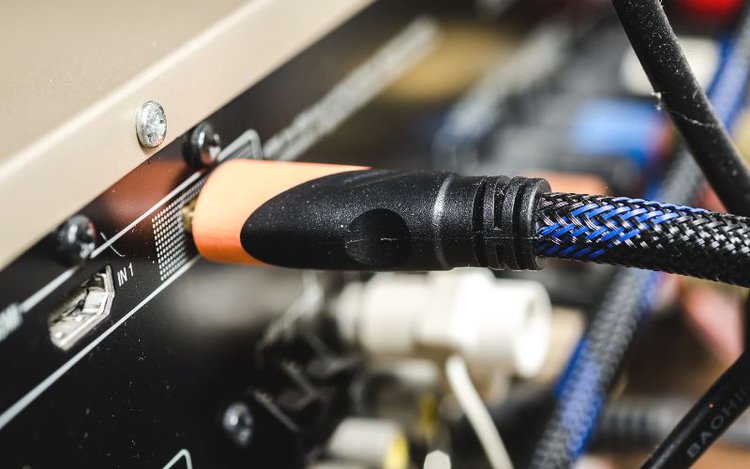 HDMI cables transmit uncompressed signals using TMDS (Transition-Minimized Differential Signaling), which preserves the data quality from the source to the receiving device.
The source device encodes the video signal to reduce the number of transitions during its journey. Each transition is a chance for signal degradation.
The HDMI cable carries the original signal and an inverse copy to the receiving device, which decodes the signal. The receiving device computes the difference between the original and inverse signals and uses its result to make up for any signal degradation.
HDMI is bidirectional; it allows connected devices to transmit simultaneously in both directions. Hence, an HDMI cable can transmit two video signals at the same time.
Comparison: SDI vs. HDMI
HDMI vs. SDI Video Connections
1. Bandwidth Capacity
4K and UHD resolutions are becoming prevalent among video producers, hence the need for transmission interfaces that can support their large sizes.
SDI is known for its high bandwidth capacity. From the standard 270 Mbps, its capacity has increased across subsequent versions to match evolving video production standards.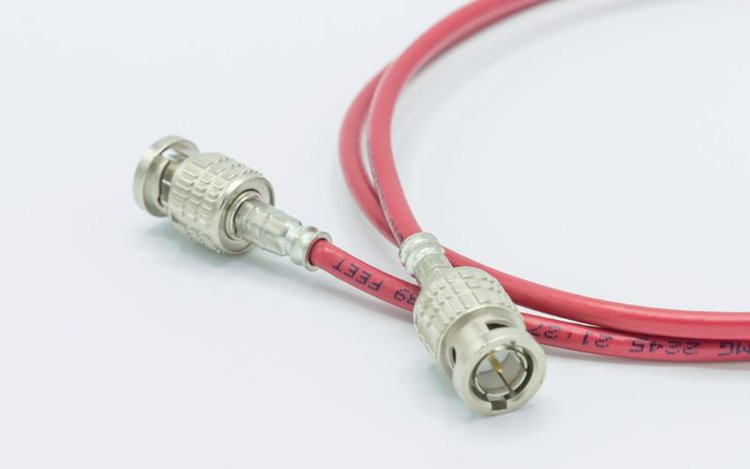 Versions 3G – 12G (released between 2006 – 2015) support high data rates — as their names suggest. This data transmission speed is ideal for high-resolution broadcasts up to 4K at 60 fps. The most recent SDI version (24G-SDI) can transmit 8K videos at 60 fps.
On the other hand, HDMI also has an impressive bandwidth capacity. HDMI 2.0 and 2.1 have maximum bandwidth capacities of 18 and 48 Gbps, respectively. Version 2.1 is becoming popular amongst new devices and supports 4K, 8K, and 10K resolutions at 120 fps.
HDMI is leading on the subject of bandwidth capacity. However, most video producers use HDR and 4K, which SDI can perfectly support.
2. Transmission Range and Interference
High-definition SDI signals are transmitted over coaxial cables, known for low-loss transmission due to their internal electromagnetic shield.
Coaxial cables carry internet data, cable TV signals, radio transmissions, and other high-frequency signals. Their internal shield protects signals against interference; hence SDI cables can run distances of up to 100m (300 feet).
SDI is also transmitted over fiber-optic cables, which have 20 times the range of coaxial cables. However, for this transmission, you'll need a converter like the E-Link 12G 4K SDI to Fiber Converter.
Last update on 2023-10-01 / Affiliate links / Images from Amazon Product Advertising API.
Comparatively, the design of HDMI cables limits their range. Depending on the manufacturer, HDMI cables may have poor internal shielding, which makes them susceptible to signal degradation over long-distance transmissions.
An HDMI transmission is best under 17m/55ft, but you can use an HDMI repeater to boost signals onto another cable and increase transmission distance. With an HDMI repeater, your connection can extend to 60m/196ft.
Last update on 2023-10-01 / Affiliate links / Images from Amazon Product Advertising API.
3. HDCP Support
Manufacturers of consumer media devices widely accept HDMI. This is because it employs an anti-piracy protocol apart from its high-speed transmission and special functions.
HDMI uses an authentication custom known as HDCP (High-bandwidth Digital Copy Protection) to prevent the piracy of digital HD content during transmission. HDMI devices have to be HDCP-compliant to transmit HD signals.
HDCP-compliant devices have special encryption and identification keys. Upon connection, they exchange keys to confirm compliance.
After this, the source device encrypts that data and sends it to the receiving device for decryption. The whole process is called a "handshake."
An error message appears on the display screen if one of the connected HDMI devices is not HDCP-compliant. However, most device manufacturers are now licensed to adopt HDCP.
On the other hand, SDI does not employ the HDCP protocol. This means that people can copy content over SDI transmissions. This is one of the reasons SDI is mostly limited to professional equipment.
4. Ease of Use
HDMI cables come with certain limitations that do not favor professional use. One of these limitations is bulk.
Long HDMI cables are usually bulky; you'll find them hard to manipulate when connecting multiple pieces of equipment outdoors. To support long-range transmission and reduce interference, these cables contain several levels of internal shielding.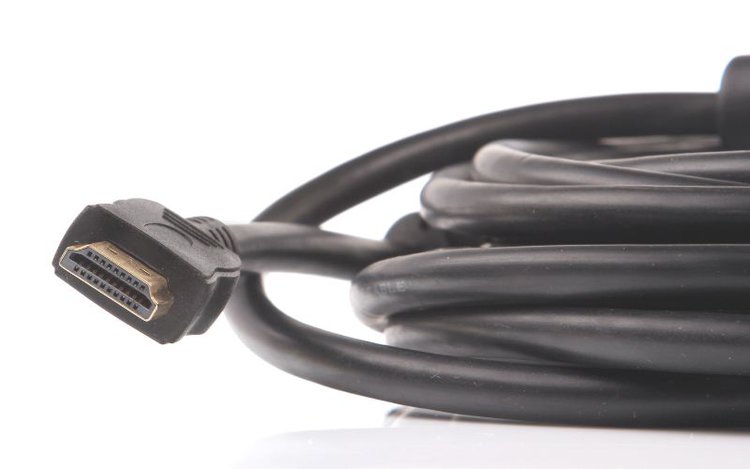 Another limitation of HDMI cables is their lack of a lock mechanism. The plug simply fits into the port and can come unplugged if the cable is pulled on — In the event of a live broadcast, the video feed will be abruptly cut off.
In contrast, the smaller design of SDI cables allows for flexibility and easy manipulation. The BNC connectors also have a special lock mechanism that allows them to stay coupled even when something pulls on the cable.
5. Cost
Coaxial cables are less expensive than HDMI cables. You spend less on getting your desired cable length with coaxial cables than HDMI cables.
Also, high-speed HDMI cables cost relatively more than standard HDMI cables.
6. Ideal Environment
HDMI is best used in environments where traffic is controlled. It is ideal for indoor connections with TVs, DVD players, and other AV devices.
SDI is ideal for outdoor connections, video production, and live broadcasts. It is the connector of choice if human traffic is constant and you have to move devices (camera, switcher, etc.) from time to time.
Table: Pros and Cons of SDI Vs. HDMI
Pros
Cons
SDI

High bandwidth capacity
SDI connectors can be found on professional equipment
Maintains signal quality over long distances
Flexible and smaller cable
Efficient lock mechanism
Affordable cable

The lock mechanism can cause damage to equipment in certain situations.
No HDCP support
Not available on most consumer devices

HDMI

High bandwidth capacity
Common among most consumer devices
Supports up to 10K resolution images (HDMI 2.1)
Lossless transmission (over short distances)
Supports the HDCP protocol
Supports functions like HDMI ARC, eARC, and CEC.

Cables are relatively expensive
No lock mechanism
Long cables are bulky and hard to manipulate.
Experiences signal degradation over long distances
FAQ
Can You Convert HDMI to SDI?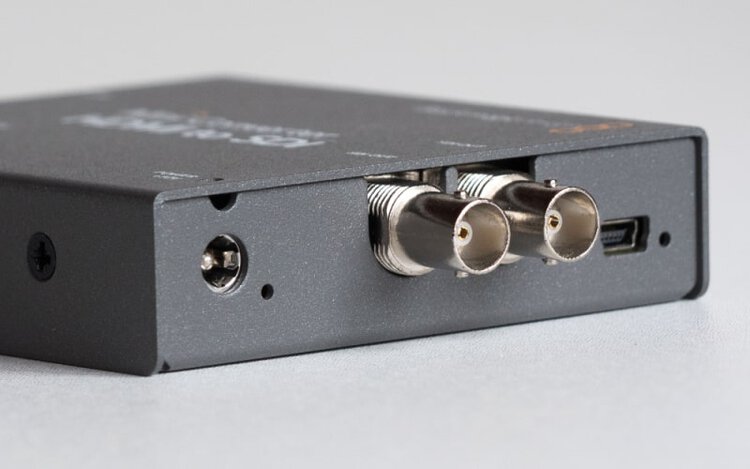 Yes, you can. Considering the user gap between HDMI and SDI interfaces, both connectors are hardly present on the same device. In light of this, converters ensure that users can transmit from HDMI (consumer) devices to SDI (professional) devices and vice versa.
You can check out the Blackmagic Design HDMI to SDI 3G Micro Converter and Blackmagic Design SDI to HDMI 3G SDI Micro Converter if you're in the market for a converter. You can purchase them online or seek out other options at hardware stores.
Conclusion
HDMI and SDI are both interfaces that transmit high-quality digital signals. They are similar in their function but have different properties and features.
While HDMI serves a mostly consumer demographic, SDI has evolved to keep up with professional production standards. HDMI is ideal for indoor use, while SDI is ideal for production setups, live broadcasts, and other outdoor events.
Both interfaces have their advantages and disadvantages. However, I'm sure this article makes it easier to choose the most suitable one for you at any point.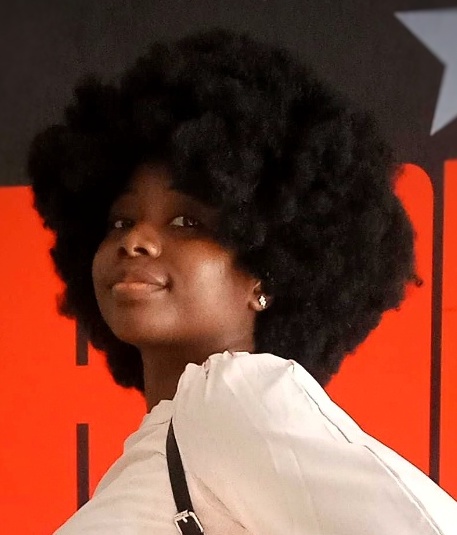 Gabriella 'Diogo is a content writer with a vested interest in tech hardware and equipment. She shares her knowledge and processes in an easy-to-grasp, lighthearted style. When she's not testing or researching device performance, you'll find her writing short stories or rewatching episodes of her favorite sitcoms.