A smart TV is primarily an entertainment device. It's not meant for work or used as a workstation, even though it could manage that to an extent.
Besides installing a host of streaming apps, games, and other services, smart TVs also let you browse the web.
Web browsing, however, is not the most intuitive experience on smart televisions or something to look forward to, especially if you don't have a wireless keyboard handy.
But TVs come with a web browser nonetheless, perhaps to tick off an item of its feature set. Samsung TVs, unsurprisingly, have a web browser also.
So, what kind of web browser does your Samsung TV have? Is it different from traditional desktop browsers? Do Samsung HDTVs allow external browsers?
Read on to find the answers to these questions and more.
Do Samsung TVs Have a Built-in Web Browser?
Yes, Samsung TVs come with an integrated web browser.
The browser works like traditional browsers but might look different compared to those found on a computer and may have certain limitations.
Do note that some Samsung TVs may not have the browser preinstalled. In that case, you can install the browser from your Samsung TV's built-in app store, Smart Hub.
You can either manually search for the app or browse the apps featured in the app store's Apps section.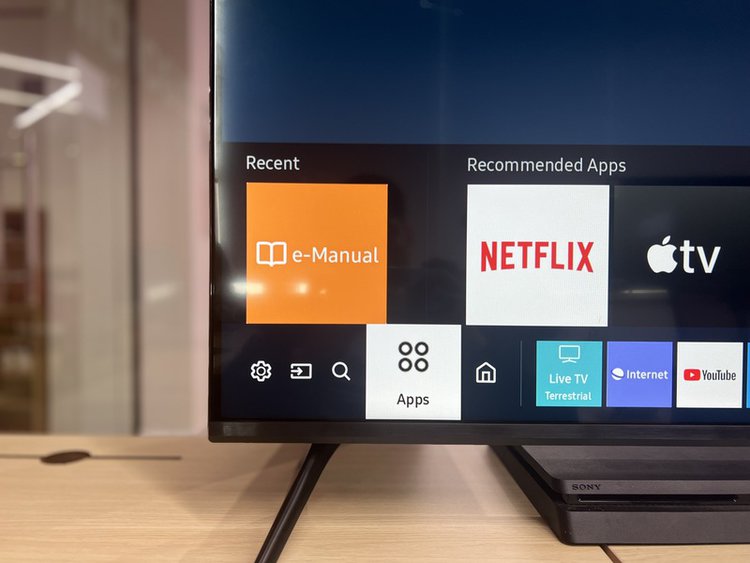 Samsung TV Web Browser – Features and Limitations
Samsung TV browsers are not feature-rich, but they have quite a few handy built-in functionalities to enhance the browsing experience.
There is the bookmark feature, a history page, and various security aspects (such as built-in malware and phishing protection) for shelter against unsafe websites.
You can reset and clear the browser's cache. There's also a pop-up ad blocker built-in to prevent pop-up windows and unwanted ads from showing up on the screen.
Possibly, the biggest knock against the Samsung TV web browser is its performance. It's awfully slow, primarily due to the HDTV's limited processing power.
And if you have multiple processes running simultaneously, the browser performance dips further.
Also, you cannot use the browser to download images and specific files. Certain website features like audio and video streaming, plug-ins, and interactive elements won't work as well.
The browser doesn't support multiple tabs. You may have two or three browser tabs open at once, but they won't function as desired. Certain website elements, such as HTML5 features, will not work properly too.
Tizen OS is WebKit-engine based. It primarily focuses on offering a simple web browsing experience instead of tabbed browsing and other advanced features.
Since Tizen OS is found on Samsung smart TVs, wearables, etc., that have limited hardware capabilities, it's clear why the Samsung TV browser is so barebone.
Do Samsung TVs Support Third-Party Web Browsers?
No, Samsung televisions do not support third-party web browsers.
Samsung's Tizen OS doesn't support third-party apps. Your app choices are limited to the applications available for download in the built-in app store, and there's just one browser app there.
But a few workarounds help use third-party applications on your Samsung TV—more on that below.
How to Use Third-Party Web Browsers on Your Samsung TV
You can use third-party web browsers on your Samsung TV if you throw another device into the mix.
Plug a Fire TV Stick into your Samsung TV, switch to the Fire TV OS, and use the Amazon Silk or Firefox browser available on the platform instead.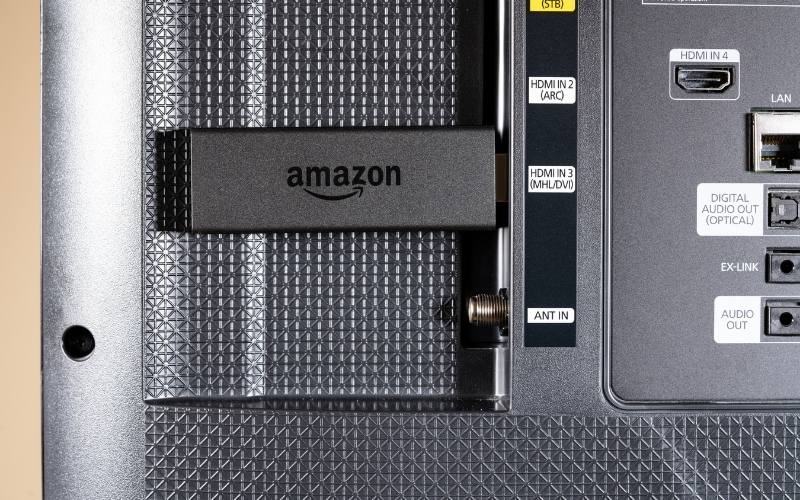 If you want to use Chrome and other browsers built using the Chromium Project, use streaming devices that support them, such as Chromecast with Google TV.
These browsers, although not identical to their desktop versions, are more capable than the Samsung TV browser.
Note: Apple TV doesn't support the Safari browser or third-party browsers. If you want to use a web browser with Apple TV, mirror content on your Mac, iPad, or iPhone to the TV.
By the way, if the inclination to use your Samsung TV browser is purely the large field of view, connect your laptop to your TV and launch any browser you like on your computer.
Not to mention, the laptop keyboard and trackpad will make using the browser a much smoother experience.
You'll need an HDMI cable to connect the two devices, most likely a lengthy one, such as this 75-feet long Postta HDMI Cable . There are shorter versions of the cable available too.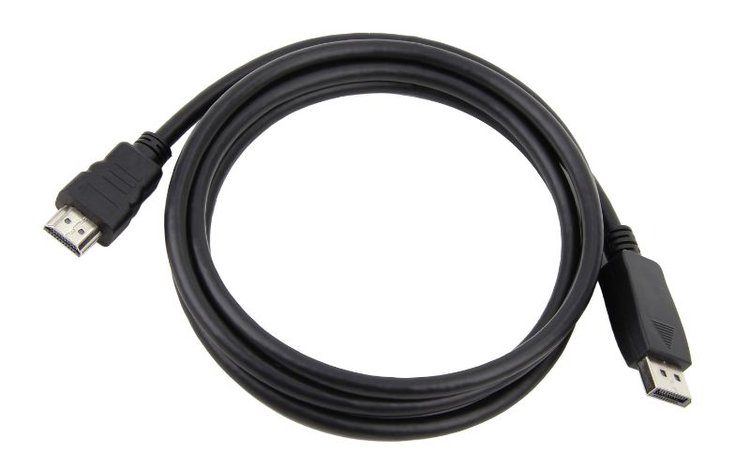 If you don't like cables, you can screen mirror content from your laptop or smartphone to your Samsung TV. You only need a strong and stable Wi-Fi connection for this.
The screen mirroring option is available on the latest Samsung TVs. Enable the Screen Mirroring or Wi-Fi Direct option under the Network settings on your Samsung TV.
Do note that the screen mirroring option will work only if both your Samsung TV and the connected PC support the feature and have it enabled.
Here is how you enable screen mirroring on your Windows PC:
Step 1: Open the Settings app on your computer.
Step 2: Select Bluetooth & other devices and then the Add Bluetooth or other device option. You should then be directed to the Add a device page.
Step 3: Click on the Wireless display or dock option. Your computer will then start scanning for available devices.
Step 4: Select your Samsung TV after it appears on the list of devices available for connection. Once the link's established, your computer screen will appear on your TV.
Another way to enable screen mirroring in your Windows laptop is to select System on the Settings page. Choose Display and then Multiple displays under Scale & layout.
Next, click on Connect to the right of the Connect to a wireless display option.
Your Samsung TV will show up in the small Available displays pop-up window. Click on your TV name to establish the link.
Here's a video demonstrating the above:
How to Connect & Mirror Laptop Screen on Any Smart TV Wirelessly (No App)
If your TV doesn't support screen mirroring natively, you can always cast from your source device (laptop or smartphone).
For example, if you use the Chrome browser on your laptop, choose the Cast option found under the three vertical dots or "kebab menu" at the top-right corner to screen-mirror the browser to your Samsung TV.
Check the video above to see how it's done.
Accessing and Using Your Samsung TV Web Browser
Your Samsung TV's web browser can be found in the main menu, which you can access by pressing the Home or Smart hub button on your remote.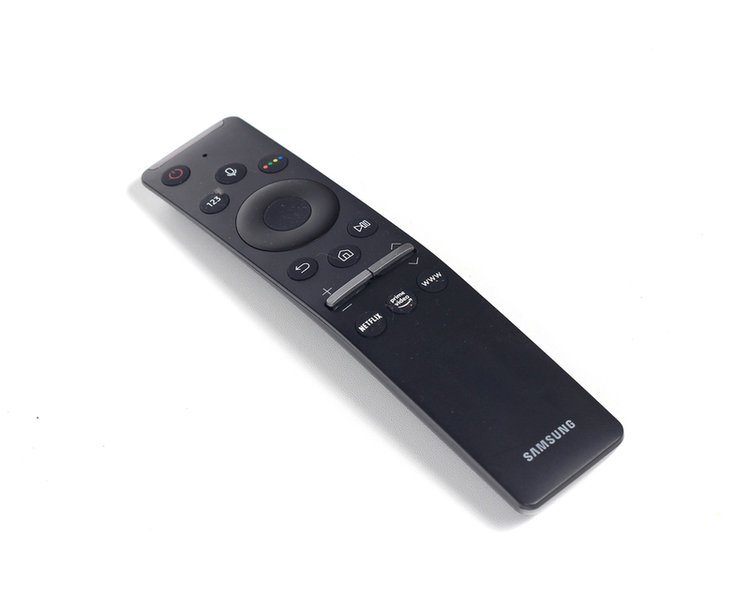 The browser is represented using a globe-like icon and is titled "Web." If you don't see the globe icon on the home screen, look for it in the Apps section.
You may use the web browser with your remote or a wireless mouse and keyboard.
Inputting letters and other information using just the TV remote can be limiting, cumbersome, and tiring. If your TV remote supports voice inputs, use this feature.
Some keyboards have built-in trackpads and are great to use with a smart TV, particularly when you don't have a table or desk to rest your wireless keyboard and mouse on.
A wireless keyboard like the Arteck 2.4G Wireless Touch TV Keyboard can easily rest on your lap and you won't need a mouse with it.
The Samsung TV browser has three primary tabs: Featured, Bookmarks, and Most Visited.
The Featured tab helps quickly access the most visited sites, such as Google, YouTube, Facebook, etc. The Bookmarks and Most Visited tabs are comparatively not as useful, particularly if you don't use the browser a lot.
The URL bar can be used to enter website URLs or search for a keyword. There's a Settings menu at the top-right, which you can access to customize the appearance of tabs and toolbars, enable PIP (picture-in-picture) mode, etc.
FAQs
Which Search Engine Does the Samsung TV Web Browser Use?
The Samsung TV built-in browser may use the Google or Bing search engine. It doesn't have a preference, and the default can vary with the TV model.
Not to mention, you can always change the browser's default search engine in the browser Settings under the Search Engines section.
Can I Delete the Default Samsung TV Web Browser?
No, you cannot uninstall the default Samsung TV web browser. But, you can always ignore it and use another browser app using the steps mentioned above.
If you don't want your kids or anyone else to use the browser, you may block it using the Parental Controls feature.
Select Settings under Apps and choose your browser. Select Lock to mitigate use.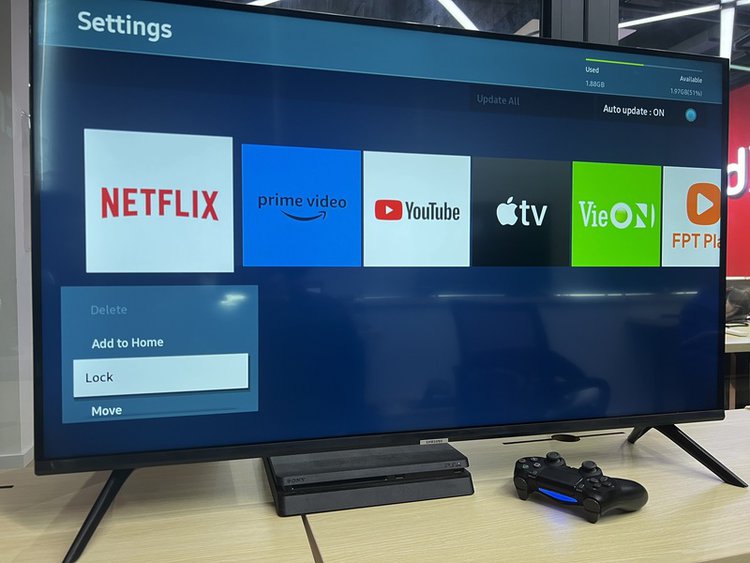 Conclusion
The Samsung TV browser is a functional application but is not something you'd prodigiously use.
You can use it like any other web browser, but the user experience will be far from great. This isn't necessarily the browser's fault since the TV platform is not conducive to web browsing.
There's a reason Apple doesn't support a web browsing functionality on its Apple TV streaming hardware.
Even popular web browsers such as Chrome and Firefox will not perform significantly better on your Samsung TV, but they'll fare well compared to your preloaded Samsung TV browser.
Since smart TV platforms are more app-based, use the app versions of your favorite websites. For instance, use the YouTube app instead of its browser variant.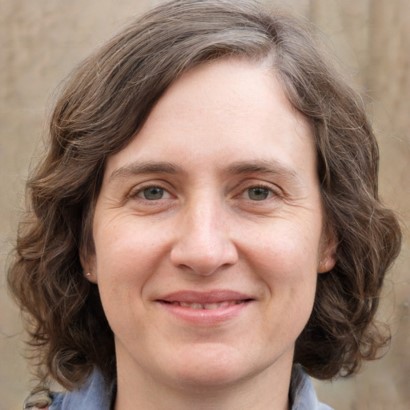 Catherine Tramell has been covering technology as a freelance writer for over a decade. She has been writing for Pointer Clicker for over a year, further expanding her expertise as a tech columnist. Catherine likes spending time with her family and friends and her pastimes are reading books and news articles.