Samsung is by far one of the most popular TV brands, and their constant developments make them highly competitive.
It seems like they're coming out with clearer, faster, and better TVs with exciting features every other week, and it's keeping us on the edge of our seats.
So, when deciding which one to get, you can quickly become confused by all the specs and features.
Don't worry. We're here to break it down for you.
What's the difference between Samsung Series 6, 7, and 8?
Keep reading to find out!
Samsung Series 6
Samsung Series 6 TVs are smart TVs with a 4K UHD resolution.
This means you can expect amazing picture quality while streaming all of your favorite shows from the TV's built-in apps. If you don't like scrolling through your TV's apps with a remote, then you'll love this TV series' voice control, which supports Alexa, Google Assistant, and more!
Samsung Series 6 TVs also have micro dimming, which allows you to experience great picture contrast. You'll also love the even and dark black levels.
This TV is also great for gamers with a low input lag, so you can play fast multiplayer games without lagging. Its 120Hz response rate only adds to the great gaming experience!
Something specific to the Samsung Series 6 TVs is the multimedia support, so you can play your favorite games or show your friends pictures from your latest vacation on your flash drive without stopping your show!
The TV's processor allows you to multitask while maintaining a fast and seamless response rate.
In terms of design, these TVs boast a very thin bezel, allowing you to take advantage of the large screen size.
The screen features great anti-glare technology, though the screen's brightness makes this TV ideal for use in a dark room with little ambient lighting. This isn't a good choice if you're looking for TVs to use on your patio or in your sunroom.
Most Samsung series 6 TVs have two USB ports, two to three HDMI ports, and an Ethernet port, so you can connect your router directly to your TV via an Ethernet cable.
It also supports Bluetooth, screen mirroring, and motion plus.
Samsung Series 7
Samsung Series 7 TVs are similar to Samsung series 6 TVs in the sense that they also support voice command, screen mirroring, and Bluetooth. Their screens are also 4K and support HDR.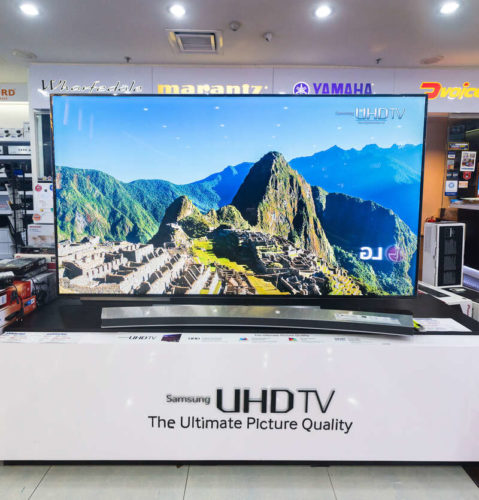 Unfortunately, another similarity to the Samsung Series 6 is that there's no local dimming, which helps to enhance black levels.
The TV's contrast levels are superb, and you'll be astonished by the TV's brightness in dim lighting. However, it is difficult to enjoy this amazing picture quality when sitting at the side of the TV. So, you may only want this series if you plan to host relatively small watch parties.
But the TV's brightness does make it ideal to use in bright rooms.
Samsung Series 7 TV's input lag is competitively low, and all its numerous ports give you several options when connecting a video game console.
It has three USB ports, three to four HDMI ports, an Ethernet port, and an RF coax port.
This allows you to connect several devices to your TV at once, including a wireless keyboard and mouse, as well as other accessories.
Samsung Series 8
Samsung Series 8 TVs are the latest models in the Samsung series. They combine all the best components of other TVs to give you the smoothest and clearest watching experience.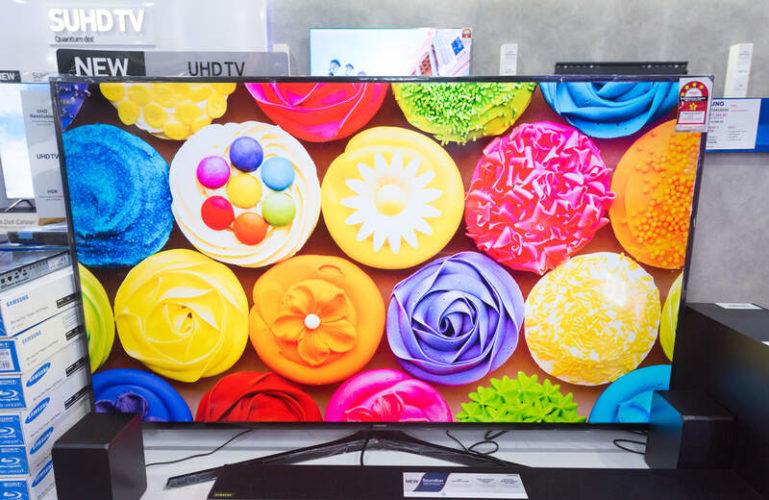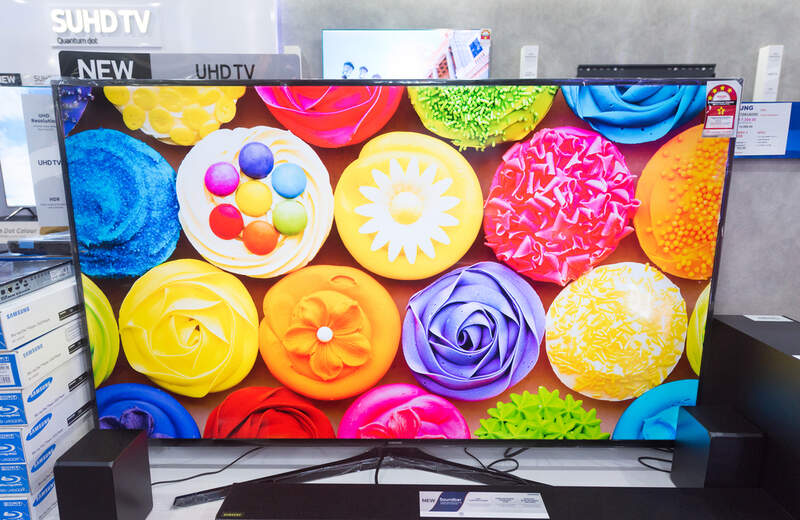 The TV's wonderful color accuracy and brightness will blow you away. The darks are darker, and the whites are brighter, producing an amazing image on-screen.
This TV is great for watching live sports and playing games as it has a refresh rate of 240Hz and Auto Motion Plus. Combined, this gets rid of any ghosting and makes fast-moving images on-screen look seamless.
However, it can sometimes produce what's known as a "Soap Opera Effect" (or when some images seem to be moving very slowly). Luckily, you can adjust this in your TV's settings.
One thing that sets the Samsung Series 8 apart from the Series 6 and 7 is the local dimming, which creates competitively dark blacks on-screen.
Of course, these TVs also have voice command and screen mirroring, so you can browse content freely through the TV's apps or on your phone or tablet.
These TVs have two USB ports and at least three HDMI ports. They also have an RF coax port and a composite in port.
Side-By-Side Comparison
The Samsung Series 6, 7, and 8 have several similar base functions that make any of them a good choice for someone looking to buy a new TV.
They're all LED smart TVs with 4K picture resolution, but a few subtle differences set them apart.
Such as, how many ports they have and their contrast. Samsung 8 has, by far, the best contrast due to its local dimming capabilities. It also has the best color accuracy, so things like human skin and nature documentaries will look almost lifelike.
They all have low input lags, but the Samsung Series 6 TVs have a slightly lower response rate, which can result in ghosting.
The Samsung Series 8 TVs have the quickest refresh rate at 240Hz. While all three series have auto motion plus, the Series 8 TV's fast refresh rate gives them a clear advantage as far as preventing ghosting and producing smooth images.
While all three TVs have USB and HDMI ports, the major difference between them is the extra ports they have and how many of them.
For instance, Samsung Series 8 TVs have the most ports out of all three.
Meanwhile, Samsung series 6 TVs have multimedia functions. While, at times, useful, this feature often proves to be headache-inducing for many customers.
The biggest difference between these models is the cost, with Samsung Series 6 TVs being the cheapest and Series 8 TVs being the most expensive. Samsung Series 7 TVs are priced between the 6 and 8 models.
Specs
Series 6
Series 7
Series 8
Screen Type and Resolution
LED 4K UHD
LED 4K UHD
LED 4K UHD
Smart Remote with Voice Command
Yes
Yes
Yes
Multimedia Functions
Yes
No
No
Refresh Rate
120Hz
120Hz
240Hz
Screen Mirroring & Bluetooth
Yes
Yes
Yes
Ports

3 USB
3-4 HDMI
Ethernet
RF Coax

2-3 USB
3-4 HDMI
Ethernet
RF Coax
Composite IN

Local Dimming
No
No
Yes
Price
The Cheapest
Moderately Priced
The Most Expensive
Wrapping Things Up
All three of these TV series are pretty similar, but if you're a TV connoisseur and have a keen eye for detail, you'll notice the differences between them.
Each new series is meant to be brighter and bolder than the last, but it comes at a price.
It depends on what you're going to use this TV for. If you're a gamer, we'd recommend the Series 7 or 8. For film buffs who pay extra attention to contrast and black levels, we'd point you in the direction of the Samsung Series 8.
Do you want several screens open at the same time? Check out the Samsung Series 6.
If ports matter the most to you, see the Samsung Series 8.
Whatever your choice is, you'll know you'll be met with a low input lag and great image quality.
So, which one will it be? Let us know in the comments below!