In 1987, S-video was released as a game changer in the TV industry. It was featured on VCRs, computers, and certain video game consoles throughout the '90s.
Wired connectivity can be a little complicated, depending on how much you know. You've probably seen an S-video cable in that drawer where you keep old cables, but don't know what you can use it for.
The S-video (Y/C) connector often comes in yellow, so you might confuse it with composite connectors — but they are not the same. In some ways, S-video is an improvement on the composite analog connector.
What does an S-video cable do? When should you use one?
This article provides answers to these questions and more. Keep reading!
What is The S-Video Connector?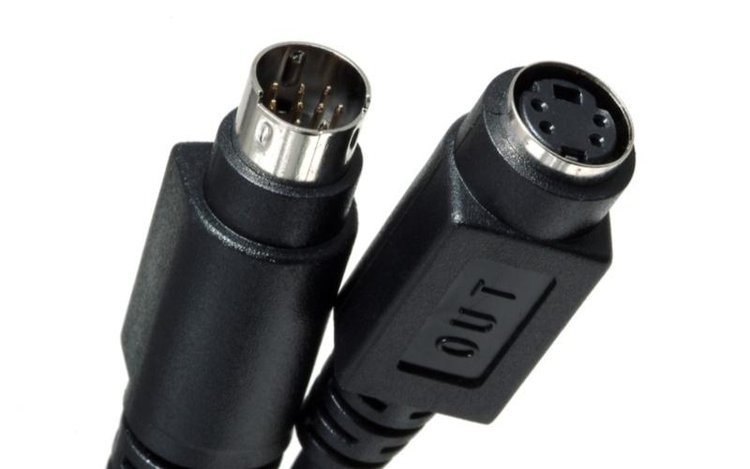 The S-video connector used to be a popular analog connector for transmitting SD video. Now, it is quite outdated.
S-video cables were popular in the 1990s because when SD resolutions are your only option, you want the best picture quality that you can get. It was the best method to connect your VCR to your large analog SD TV.
S-video is short for separate or super video — it transmits medium-quality video streams using special cables but cannot transmit audio. The transmission carries analog video signals with SD resolutions of 480i or 576i.
One limitation of S-video is the fact that it only transmits video signals. To use this connector, you must transmit audio separately on an audio connector like the 3.5mm audio jack.
Last update on 2023-09-19 / Affiliate links / Images from Amazon Product Advertising API.
You can still find the S-video connector on some AV equipment like video cameras, DVD players, and gaming consoles. However, it is no longer common with modern TVs.
You can convert S-video signals to other analog signals [i.e., S-video to Composite, Component, or DVI]. Using a converter, S-video signals may also be up-converted to digital signals like HDMI.
How Does S-Video Work?
The best way to transmit high-quality video signals is to separate the signals for various color components. This separation erases the need for decoding, which reduces image distortion risk, maintains clarity, and improves color accuracy.
S-video separates analog video signals into brightness (Y) and color (C) components, then carries each on a separate line. It keeps both signals in sync to maintain the video stream's quality.
S-video transmissions have higher brightness and color accuracy than composite videos, which carry signals on only one channel.
It utilizes a minimum of four lines: one line for brightness, one for color, and two lines for a ground pair.
Because S-video separates brightness and chrominance, it is not susceptible to dot crawl distortion, which is common with composite video transmissions.
The dot crawl refers to a moving dotted pattern that appears at the horizontal area between two colors on the screen. It occurs when the receiving device cannot correctly separate luminance and color signals.
What Do The S-Video Port and Cable Look Like?
The Port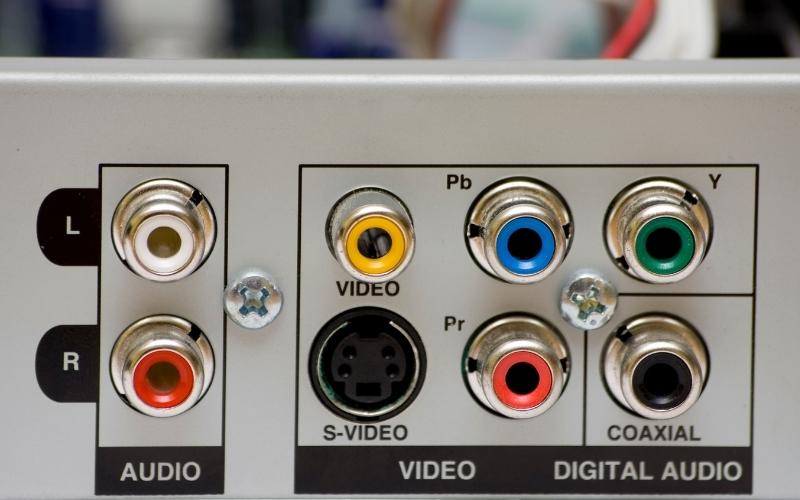 S-video uses mini-DIN ports, which are round with multiple pinholes. The 4-pin S-video connector is the most common (on DVD players, VCR players, and Video Cameras), while the 7-pin connectors are more common on computers.
The pinholes are for each separate line of signal:
Pin 1: Ground Y
Pin 2: Ground C
Pin 3: Brightness (Y)
Pin 4: Color (C)
The 7-pin connectors have four pinholes that match those on the 4-pin connectors in position and function, and three extra pinholes. These extra pinholes carry signals that are not part of S-video and their function may vary depending on the device.
The 4-pin connector can only work with a 4-pin cable, but the 7-pin connector can work with both 7-pin and 4-pin cables.
There are older and less popular variants of the mini-DIN connector. They include the Atari 800, Commodore 64, 8-pin mini-DIN, and 9-pin mini-DIN.
Atari 800
Atari Inc. developed the output of separate luma and chroma video signals in 1979 and introduced a 5-pin mini-DIN connector with their Atari 800 computers.
Commodore 64
This mini-DIN connector was released in 1982 by Commodore Group. It featured in their monitors as 8-pin LCA jacks which transmitted luma, chroma, and audio signals.
8-Pin Mini-DIN
The ATI Radeon brand uses the 8-pin connector in some of its video cards.
9-Pin Mini-DIN
It is found on graphics systems (i.e., ATI Radeon video cards) that both input and output signals. The 9-pin mini-DIN cannot use regular 4-pin cables because it doesn't have designated pinholes for the S-video signals; the function of each pinhole depends on individual manufacturers.
Not all of the mini-DIN connectors support S-video signals. It depends on the device they are located on.
The Cable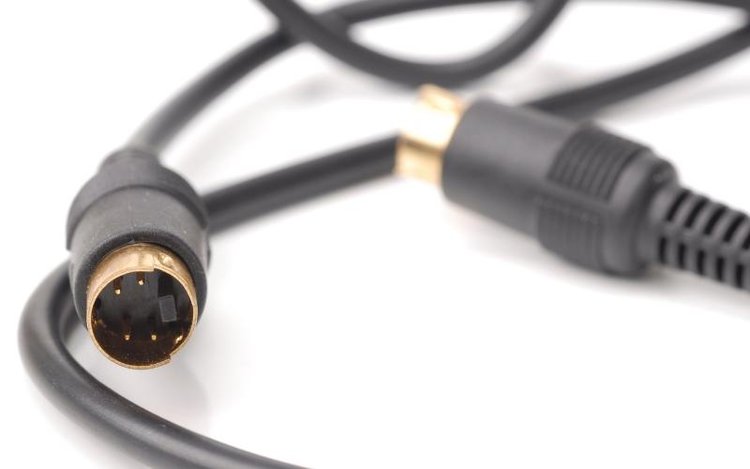 S-video cables are the male versions of the connector with a 4-pin or 7-pin plug. There are also 9-pin cables and other variants to match the mini-DIN connectors above. They come in various lengths, from three feet to 100 feet.
Last update on 2023-09-18 / Affiliate links / Images from Amazon Product Advertising API.
Although the connectors are circular, an S-video cable will only fit into the port in one direction. This is because of the positions of their protruding pins and pinholes.
When you want to plug in an S-video cable, ensure it is aligned with the pinholes in the port, and don't apply too much pressure to avoid damaging the cable. Be gentle until the holes and pins are lined up.
Can I Convert S-Video To Composite?
Yes, you can convert S-video signals to composite signals. You can transmit media using a converter if you have an S-video source device and a composite receiver.
Video converters can process signals from a video connector and convert them to the signal type for another connector.
There are many S-video to Composite converters in the market. Some come as cables with two male plugs so you can connect both ends directly to your devices.
Others may have a male S-video plug and a female composite port. You must plug the S-video connector into your source device and connect your receiver to the other end of the converter with a composite cable.
Because the signals have been converted to the composite video, which transmits them on one line, the image won't look as good as an S-video input.
What is the Highest Resolution S-Video Can Handle?
The highest resolutions S-video standard can transmit are 480i and 576i SD resolutions. It is analog video technology, hence it is limited in its performance.
S-video cannot transmit digital signals. It also cannot transmit HD resolutions (720p, 1080p, etc.) because they require high bandwidth, which makes them a function of digital connectors.
FAQs
1. Can S-Video Handle HD?
No. S-video cannot handle HD because S-video only separates the color data from the black-and-white signal. It transmits image data on two lines.
On the other hand, HD resolutions require that the color data be split into, at least, R, B, and G signals.
2. Can I Connect S-Video to HDMI?
Yes, you can. This is one of the most common S-video conversions in modern times. People with older DVD players and computers often need to connect to an HDTV or other HDMI displays.
All you need is an S-video to HDMI converter. Ensure you buy a converter that can support (scale up to) the screen resolution of your HD display device.
Last update on 2023-09-18 / Affiliate links / Images from Amazon Product Advertising API.
Most S-video to HDMI converters in the market can also convert composite to HDMI.
For S-video conversions, they only send video, so you have to send audio separately from your source device to the HD display.
How to Use an S-Video to HDMI Converter with Your TV:
RCA and S-Video to HDMI Converter - Save Older Video Equipment by Converting to HDMI #47-300-001
The converter has a 4-pin S-video input (male or female) and a female HDMI output. It also has a switch for S-video/Composite and another for image resolution.
Step 1: Turn off your TV.
Step 2: Use the power cable to connect the converter to a power source.
Step 3: Use a 4-pin S-video cable to connect the converter to your source device. Ensure the pins on the plug align with the port's pinholes.
Step 4: Take an HDMI cable and connect it from the converter to your HDTV.
Step 5: Turn on the TV.
Step 6: Choose your screen resolution (720p or 1080p) using the button on the converter.
Step 7: Set the input source on your TV to HDMI 1, 2, etc., depending on which HDMI port you're using.
Step 8: Connect an audio cable from your source device to the TV or an external speaker.
Conclusion
Although it is phasing out, the S-video connector is not entirely irrelevant. As long as analog display devices exist, it will remain a valid connector option.
S-video only transmits video signals which it separates into color and brightness. This separation gives it an edge over composite video in terms of picture quality.
You can convert S-video to other analog connector types using a converter. You can also convert S-video to HDMI, the current standard for modern television.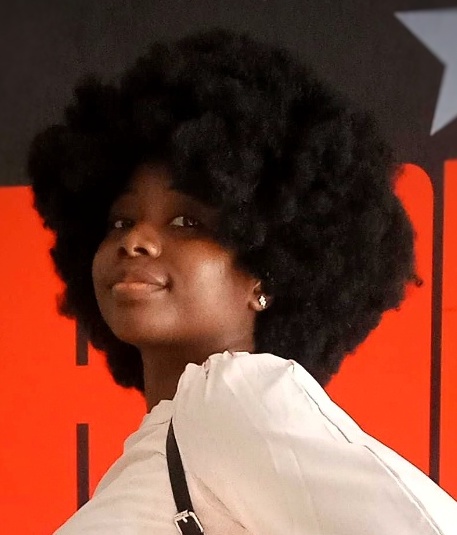 Gabriella 'Diogo is a content writer with a vested interest in tech hardware and equipment. She shares her knowledge and processes in an easy-to-grasp, lighthearted style. When she's not testing or researching device performance, you'll find her writing short stories or rewatching episodes of her favorite sitcoms.