Is your ViewSonic projector not working the way it should? Are you experiencing connection problems more often? Restoring your projector's factory settings might solve the issue.
Unfortunately, most people don't know how the process should go.
If you're asking yourself, "how do I reset my ViewSonic projector?" – you've come to the right place for answers.
In this article, we guide you through the process of resetting the ViewSonic projector. But before that, let's take a look at why someone would need to restore their projector factory settings.
Why Would I Need to Restore Projector Factory Settings?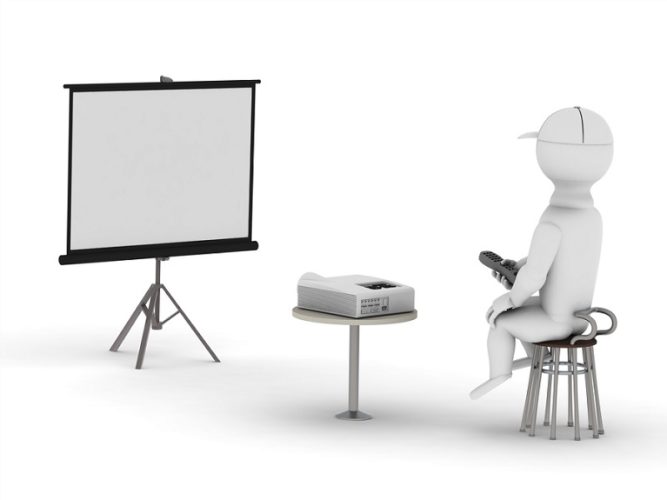 Factory resets are typically done to solve technical software issues that simple troubleshooting techniques can't settle. It puts everything back to where it originally was. So, you have a fresh slate to work with once again.
Please note that a factory reset removes all information and settings you've stored in the unit. If you don't want to lose any of your data, it's wise to keep a second copy with you in a flash drive or on a handwritten note.
How Do I Reset My ViewSonic Projector to Its Factory Settings?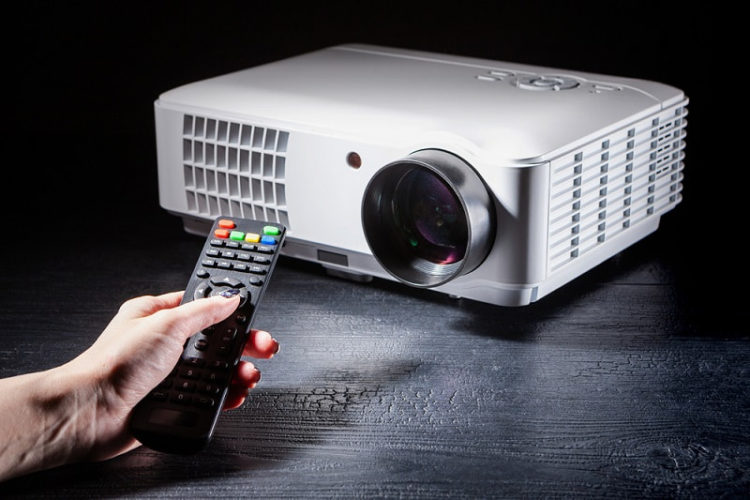 Resetting the ViewSonic projector is pretty simple. You only need to perform the following steps:
Press the "Menu" button on the remote or control panel.
Navigate to "System Settings: Advanced" using the arrow keys.
Look for the option that says "Restore Factory Default Settings."
A confirmation message will appear – select "Yes" to proceed with the reset.
The reset option may be placed in a slightly different location for other ViewSonic models. Review the projector manual to determine where the reset option is located. You may also contact ViewSonic customer care for further assistance.
Note: Don't turn off your unit while the reset process is ongoing. Otherwise, errors may occur.
How Do I Reset the Lamp Timer on My ViewSonic Projector?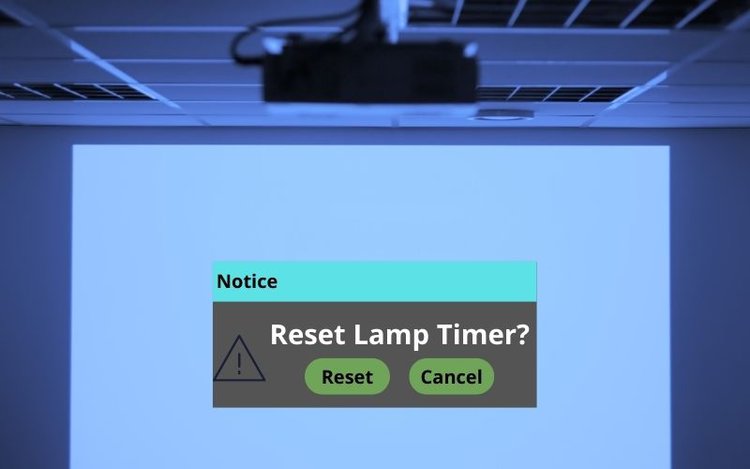 Lamp timers measure the longevity of projector lamps. They display reminders for users to know when to replace their projector lamps.
Users need to reset their lamp timers after they replace their projector lamps. This helps them keep track of a lamp's lifespan. They don't have to wait until the lamp is entirely useless before getting a replacement.
The process of resetting the ViewSonic lamp timer will vary between models. Generally, the steps may look something like this:
Go to "Display OSD" on your projector.
Look for "System Setting: Advanced" and select "Lamp Settings" from the options.
Press "Enter" on the remote or "Mode/Enter" on the projector control panel.
Press the "down" arrow to highlight the "Reset Lamp Timer" option.
Press "Enter" or "Mode/Enter" to begin the process.
A "Notice" message will pop up, asking you to confirm the lamp timer reset.
Use the arrow keys to highlight "Reset" and press "Enter"
Wait for the entire reset process to finish before you do anything else.
Note: Never reset the lamp timer unless the lamp is brand new. Doing otherwise may cause irreparable damage to your unit.
How Do I Reset the Filter Timer on My ViewSonic Projector?
A filter timer measures the time elapsed between each filter cleaning. This feature reminds users when it's time to clean the projector filter.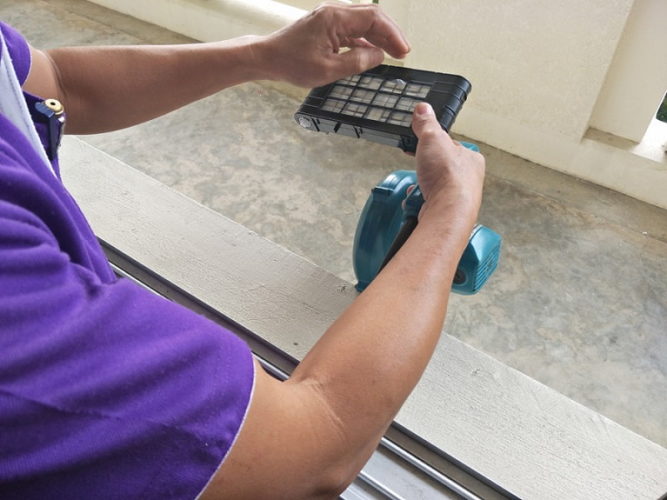 Skipping cleanings can cause errors and dysfunctions in your equipment. So, your timer must always be up-to-date. Otherwise, it won't remind you when it's time for the next cleaning.
It's recommended you reset the filter timer every time you replace it. To do that, simply:
Press "Reset" on the remote or the ▶ button on the control panel until a dialog box with the options "Reset" and "Cancel" pop up
Use the arrow keys to highlight the "Reset" option
Press "Enter" or "Mode/Enter" to confirm your selection
Wait for the process to end before doing anything else
Make sure to reset the filter timer only if the filter is freshly cleaned or replaced. Otherwise, it may result in irreparable damage. It may also forfeit your warranty from ViewSonic.
How Do I Reset the Password on My Viewsonic Projector?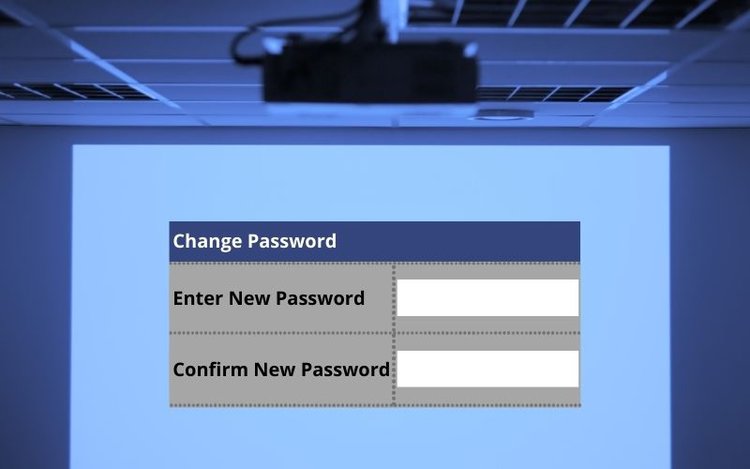 If you want to reset your password to something new, the process is pretty straightforward.
Perform the following steps:
Press "Menu" on the remote.
Go to "System" then "Security Settings."
Look for the "Change Password" option.
Press "Enter" – a dialog box saying "Input New Password" will appear.
Input your old password and press "Enter."
Next, input your new password.
Re-enter the new password to confirm your changes.
Press "Enter" to save your changes.
Keep note of your new password. You can do this by typing it in "Notes" on your phone or writing it down on paper.
Will a Factory Reset Affect All the Settings on My ViewSonic Projector?
A factory reset on the ViewSonic projector will erase all the information you have stored on your unit. However, several functions are exempted: filter time, lamp time, language, password, username, and filter message. Since that is the case, you will have to reset all these features manually.
Will Doing a Factory Reset on My ViewSonic Projector Revoke Its Warranty?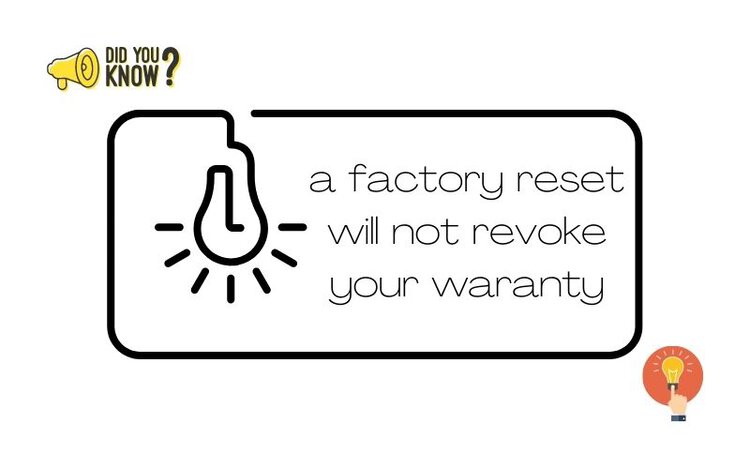 Your ViewSonic projector comes with a warranty that makes it eligible for the manufacturer's free parts or repair services. If you ignore the terms and conditions of this warranty policy, it is within ViewSonic's rights to revoke your warranty privileges.
Attempted repairs, misuse, or any other cause that doesn't relate to a product defect will not be covered by the warranty and may be cause for the revocation of your warranty.
Luckily, running a factory reset is normal and will not revoke your warranty privileges.
Final Thoughts
Restoring a device to its factory settings can stop issues that simple troubleshooting methods can't solve. If your ViewSonic projector isn't working the way it used to, doing a reset might help your situation.
Since resets can permanently erase the information stored in a device, copying these details can help you replicate the data after the reset process is done.
We hope this article has helped you figure out how to reset your ViewSonic projector.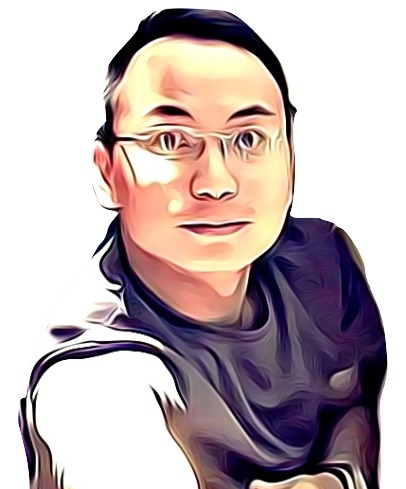 Vance is a dad, former software engineer, and tech lover. Knowing how a computer works becomes handy when he builds Pointer Clicker. His quest is to make tech more accessible for non-techie users. When not working with his team, you can find him caring for his son and gaming.