So you are thinking of starting, remodeling, or upgrading a church. One of the most important pieces of technology in the modern church is a screen that allows church-goers to view song lyrics, bible passages, and videos to enhance the sermon that is being taught.
So the real question becomes, would a television or a projector work better for this specific use case. In the passages below we will break down everything you need to consider, as well as the pros and cons of going with either solution.
Let's first look at projectors and what they bring to the table.
What kind of projector do I need for church?
The projector market is saturated with a ton of different types of projectors. There are short-throw, business class, home theater, and many other types of projectors. How exactly do you know what kind to use in a church?
While any projector is capable of being used in a church environment, not all will be ideal. Certain specs are going to matter a lot here, so let's see which ones you need to be looking for when buying a new projector for your church.
Brightness
Given that most church environments are going to have bright lights on, at least part of the time, you are going to want to look for a projector with a high brightness level. If you skimp here, your images will be washed out and hard to see for the congregation.
You want to look for the highest amount of ANSI lumens possible, and for the church, we would suggest going with over 3,000. Anything under that is not going to look good when all the lights come on.
The other thing to take into consideration here is the color of the screen/wall that you are going to use. You should highly consider using a proper projector screen that is made to reflect the projector image more brightly. This will allow you to maximize your projectors output to keep everyone in the church happy.
Resolution
Second to brightness, the thing you want to consider high priority is the resolution of the image the projector can produce. Given that most church use is going to require a very large screen size, if you go with a 1080p or lower resolution you will not get a very sharp image.
It is hard for us to recommend a projector with a resolution lower than 4k, so we won't. Given the price drop of 4k projectors in recent times, there is no real reason not to give yourself the extra resolution and get the most detail out of your projector possible.
Throw Distance
This is going to completely depend on the size of your church. The larger the screen size you plan to project (to make sure those in the back can see), the further from the wall or screen the projector will need to be. That is called the "throw distance."
Given this, you need to make sure you have enough room to place the projector to fill up the screen you will be projecting on. There is the option of a short-throw projector if your screen is going to be lower to the ground, but they will not work for screens projected higher up on the wall.
What kind of TV do I need for church?
Like projectors, there are tons of different televisions on the market. Picking the right television is not as complex as picking the right projector. However, there are still a few things you need to keep in mind when choosing the one that is right for your space.
LCD, LED, or OLED?
These three choices are the main technologies currently used in modern-day flat screen televisions. While LED TVs also use LCD technology, not all LCDs have LEDs inside. This means if you want the best LCD screen possible, make sure it is backlit with LEDs.
OLED is the "new kid on the block," and definitely has the best image quality of them all. It is also more expensive, but if price is not a factor, you will love the crispness of the image you get out of one. There is a burn-in worry with this technology, but only if it is used for long periods of time (which should not be an issue for church use).
What size TV do I need for my church?
This is probably the biggest question on your mind when it comes to TVs for the church. However, the answer is not cut-and-dry. There are multiple different factors that are going to decide just how large of a screen you will need.
Square Footage
The size of your church is going to be the biggest factor in how big of a screen you need. If you have a rather large church, you will need as large of a TV as possible. Right now, 85-inch TVs are available.
However, even buying an 85-inch TV may not be enough. What if you have a long church with pews or chairs that span all the way back? Can the people in the back see your verses on an 85-inch TV? Probably not.
In this case, you will need to buy multiple televisions. Putting one on each side in the front, or multiple along the length will allow you to give everyone the best viewing experience possible.
Screen Size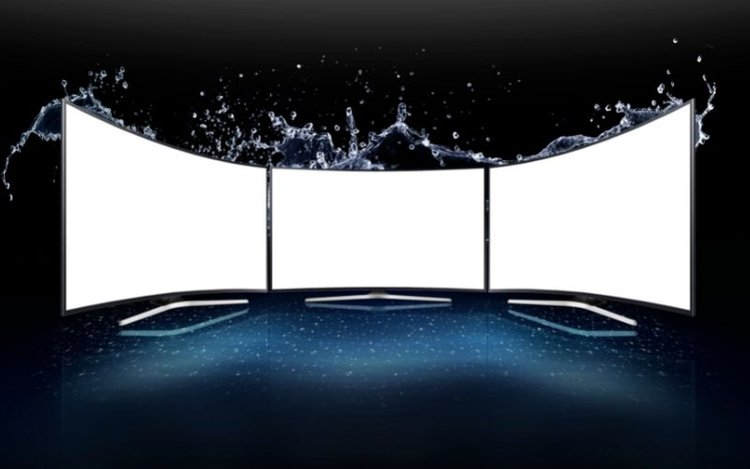 So we now know you can easily buy a television up to 85-inches for large churches. But what about a smaller venue? Maybe your church is new and just gaining members, do you need such a big screen?
The answer is yes, and no. It definitely will not hurt to buy a screen that is "too big." However, it would be a massive mistake to buy one that is too little.
We suggest cutting out different sizes of screens on cardboard and putting them in the church where you want the permanent television to go. Then go sit in the back row, and see if it is good enough for the average church-goer to see.
Seats and Arrangement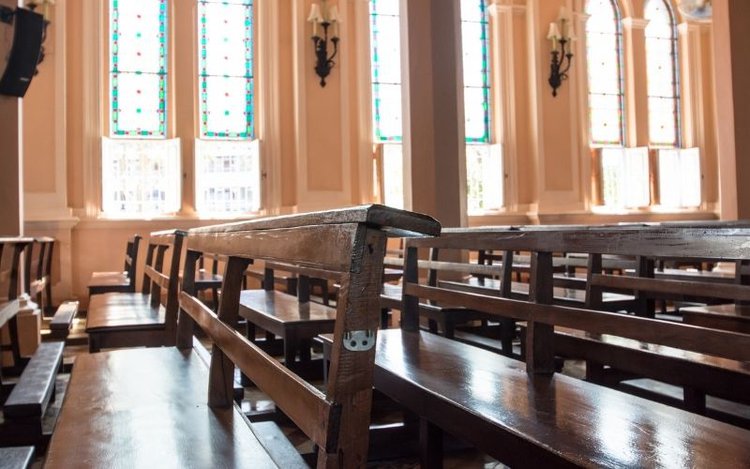 The last thing to keep in mind is something we touched on a tiny bit a moment ago. How the seats in the church are arranged is going to make a large impact on exactly what kind of TV you need to purchase.
If you have a very wide arrangement, having TVs that face both ways and even one facing forward could be an option. If you have a more narrow yet long church, putting multiple screens back through lengthways is your best bet.
Doing the cardboard trick mentioned in the last section will help you know exactly how you need to lay out your screens in your church. Make multiples, and see how many you will need in order for the entire congregation to see what is going on.
Pros and Cons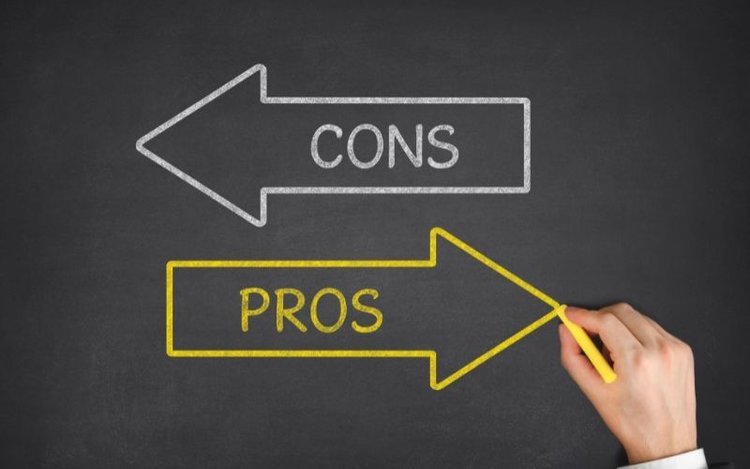 As you have read above, each type of solution has its positives and negatives. But there are many more things about each you need to think about. Let's break them both down the pros and cons and give you a clearer picture of exactly what you may need.
Projectors
| | |
| --- | --- |
| Pros | Cons |
| The screen size you can get out of a projector is going to be significantly larger than a television. | Projectors are less bright than televisions, so high ambient light will make a less clear image. |
| At 4K resolution, even large screen sizes are going to be sharp and clear. | There can be fan noise which could irritate those close to the actual projector (not the screen). |
| The larger screen size makes it easier to see from the back of the room. | Bulb life on projectors is something you will have to think about. They burn out after a while and will need to be replaced. |
TVs
| | |
| --- | --- |
| Pros | Cons |
| Ambient light is not a factor with a television, as long as there is no glare. | You will not find a reasonably priced television that is over 80-inches. |
| Text can appear more clear on a television, given that it is not "stretched" to be large like a projector. | They are heavier and require more mechanical know-how to mount firmly on the wall. |
| You can buy multiple televisions and place them strategically around the church (this would be much more difficult with a projector). | Televisions are just large screens, and they can be broken by accident much more easily. |
Conclusion
At the end of the day, the choice is yours. There is no right or wrong answer, but the size limitation when it comes to televisions could be what moves most towards projectors instead.
A high-end 4k projector is the best-case scenario for almost all situations. Grabbing one such as the BenQ TK800M is the way to go. It will give you great results, no matter how much light you have in the room.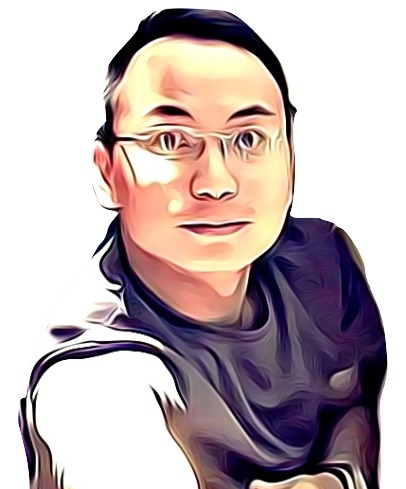 Vance is a dad, former software engineer, and tech lover. Knowing how a computer works becomes handy when he builds Pointer Clicker. His quest is to make tech more accessible for non-techie users. When not working with his team, you can find him caring for his son and gaming.