A mural is an artwork on a wall – usually found inside people's houses or in public places, such as on the walls adjacent to busy city streets and highways.
Murals can be of different sizes. They could be as huge as a tall building, and then there are frescoes adorning confined spaces, like the inner walls of a private area.
There are different methods or techniques to paint a mural, of which using a projector is quite popular among newbie artists. If you are a budding mural artist, a projector is an excellent tool to help you take those baby steps.
But in the sea of projectors, it can be tough to zero in on the ideal projector for the job – particularly if you've never bought one before.
Thankfully, this article introduces you to the best projectors out there for painting murals. Read on to learn about them and other information that'll help you during your hunt for the right projector.
(If you'd like to learn how to use a projector to paint a mural and why to use one in the first place or the advantages of it, click here.)
IN A HURRY? HERE ARE OUR TOP PICKS
Artograph EZ Tracer Art Projector
BenQ MH535FHD 1080P Home Theater Projector | 3600 Lumens for Lights on Enjoyment | High Contrast Ratio for Darker Blacks| Keystone and 1.2x Zoom for...
Artograph Tracer® Opaque Art Projector for Wall or Canvas Reproduction (Not Digital) 25360
Artograph EZ Tracer Art Projector
BenQ MH535FHD 1080P Home Theater Projector | 3600 Lumens for Lights on Enjoyment | High Contrast Ratio for Darker Blacks| Keystone and 1.2x Zoom for...
Artograph Tracer® Opaque Art Projector for Wall or Canvas Reproduction (Not Digital) 25360
Last update on 2022-12-09 / Affiliate links / Images from Amazon Product Advertising API.
How to Choose the Best Projector for Painting a Mural
Before listing out the projectors ideal for mural painting, it's essential to understand how projectors help with mural painting in the first place or the aspects to look for in the device before making a purchase.
While the projectors mentioned below could be bought with your eyes closed, wanting to know the reasoning behind the list is critical.
And if you have your eyes set on a projector that isn't among our recommendations, or the projectors linked below are not available in your region due to availability concerns, knowing a few basic things about projectors in general will help your cause better.
Here are some of the aspects to know or consider when shopping for a projector for artwork:
Magnification Capability
Be it a digital or physical art projector, know the maximum magnification capability of the projector beforehand so you know how large your paintings could get. With a digital projector, you can blow up an image by up to 300 inches or even more.
But not all may be capable of that. Some may only do up to 100 inches, for instance.
Kindly note, the bigger the image, the lower will be the screen brightness. Therefore, do not always seek the biggest picture possible and strike a balance between size and luminescence.
Resolution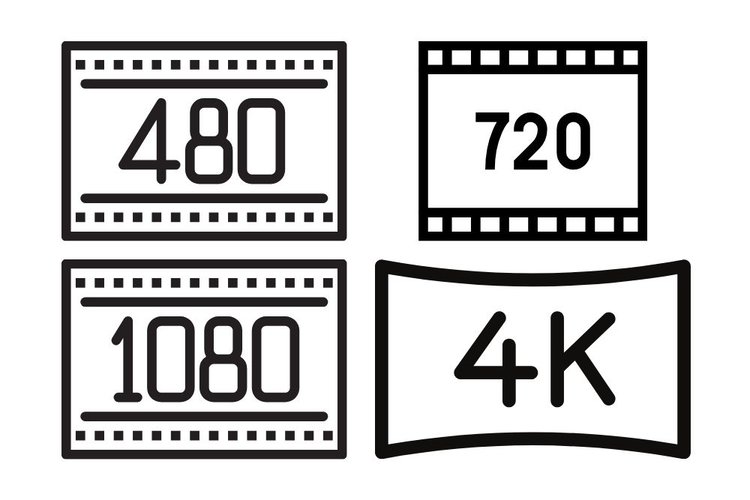 The projector's resolution matters for the accuracy or being able to recreate pictures to their tiniest details. A projector with 1080p resolution is not mandatory for artwork but is recommended.
Compared to watching movies and shows using a projector, painting murals entails getting a lot closer to the wall or canvas. If the projection is not ample sharp, the pixels will be visible and, as a result, hamper the experience.
Also, a high-resolution projector will not just afford you sharp, crisper images but also highly detailed hues. Because 1080p or higher resolution projectors are premium devices, and for the higher price, manufacturers cannot afford to get the color calibration wrong.
A low-resolution projector is not out of the question if you are using it for tracing only. You can remedy the "pixelated image" issue with some manual defocusing, but that could also lead to low-quality, blurry images.
Colors and Brightness
Accurate colors and a wide color gamut are among the essential features to have in an art projector (duh!) – especially if you're using the device professionally.
For instance, the blacks in the picture projected should look black and not dark grey.
The significance of high contrast ratios and increased brightness is why the BenQ MH535FHD and the likes made our list, despite the premium price.
Also, look for LED-based projectors as they are significantly brighter than their lamp counterparts and help produce clearer images.
The brightness of 3,600 lumens is terrific to have at your disposal, but luminescence lesser than that is also serviceable. Make sure the number is 1,500 at the minimum.
Projector Throw
The projected image's size is dependent on the distance between the wall and the projector itself. Projector throw is of the three types:
Short: A short-throw projector can do 100-inch visuals from around 7 to 8 feet away from the canvas.
Long: The projector must be at least 10 feet away from the wall for a 100-inch projection.
Ultra-short: Ultra-short throw projectors can also do 100-inch images, but they can do it from just a foot or two away from the wall.
Kindly note, the numbers mentioned above may vary across projector brands and models.
Connectivity
The projector must plug into your desktop or laptop computer and a smartphone if you're not carrying your laptop. Bluetooth connectivity is excellent to have but not necessary as it could suck out the battery out of your projector and the source device.
Eliminate "Extraneousness"
If you are looking to buy a projector for artwork only and not watch movies or play games, buy a projector that perfectly fits the bill, such as the Artograph line of projectors.
Identify functions you won't need – such as built-in speakers, entirely noiseless operation (unless you need total silence to focus), etc. – and eliminate them so that your cost comes down.
The 5 Best Projectors for Mural Painting
Here are the best projectors (digital and opaque) for mural painting at different price points (in no particular order):
1. Artograph EZ Tracer
Artograph EZ Tracer Art Projector
Enlarges flat artwork and small 3-D objects to any vertical surface
163mm lens enlarges up to 2.5 to 5 times original size
Lightweight, portable, silent operation
Last update on 2022-12-09 / Affiliate links / Images from Amazon Product Advertising API.
The Artograph EZ Tracer is the de facto mural painting projector for indoors. The opaque projector is simple in operation, within reach (affordability) of pretty much every buyer, and has a sole purpose: artwork.
Like a standard opaque projector, the EZ Tracer sits atop the artwork to magnify and transfer the image to a wall.
The square opening at the bottom is 4x4 inches. It may not be big enough for some of your pictures, and you'll, therefore, have to resort to moving the projector for tracing/painting in sections.
The projector is not meant for highly detailed or professional artwork. That said, the image quality is more than decent for loose painting styles – certainly not blurry, or reading texts off of the projection won't be a problem.
The projector needs a 15W LED (much cooler operation) or 23W CFL bulb to operate or create murals, signs, paintings, and banners. The brighter the bulb (must adhere to product requirements), the clearer the image would be.
The EZ Tracer can blow up your piece of art up to 10 times its original size. For most people painting murals indoors, the magnified size should be good enough.
If you'd like to see how the projector works or how to use it, here is a video demonstrating that:
Artograph Tracer and Inspire 800 projectors w/ Lachri
Pros
Does what it's supposed to do with flying colors
Lightweight, portable, and relatively silent
Easy to set up and operate – requires only the power cable to roll
Value for the money
Cons
Needs a dark room for a more precise projection
Bulb not included in the package
Can run hot
2. QKK 2021 Mini LED Projector
Last update on 2022-12-09 / Affiliate links / Images from Amazon Product Advertising API.
The QKK 2021 mini-LED projector is the successor to the 2020 version. The 2021 version is not a massive improvement (it need not be) over the earlier model, but still a noteworthy upgrade.
If you have the 2020 version, you need not buy the 2021 variant. But if you don't own a projector already and are stuck between the two, the latest version is undoubtedly a better purchase. It could even set you back less money than the previous model.
The QKK 2021 is a full-fledged, feature-packed digital projector. It's equipped with all ports you need (HDMI, USB, AV, etc.) to connect it to various devices, such as laptops, television, streaming sticks, SD cards, smartphones, etc.
For a digital art projector, the QKK 2021 is overkill. But if it's going to be your only projector, it's worth it. Moreover, the price isn't too bad even if you're going to use the device for artwork only.
The native 720p resolution is a decent feature to have for the price. Most projectors that support 1080p projection are just 480p at the hardware level. That means the QKK 2021 can only do better than those projectors in the resolution department.
The bundled-in stand will help with positioning the device at pretty much any angle. With a lamp life of up to 50,000 hours, the projector will last a relatively long time, especially if you don't use it to stream content.
Pros
Durable and long-lasting
Ports galore
Bright and colorful projections
720p resolution should be sufficient for artwork
Relatively inexpensive for what it offers
Cons
Not loud, but noticeable fan noise
Not the best image quality
3. BenQ MH535FHD
Last update on 2022-12-09 / Affiliate links / Images from Amazon Product Advertising API.
The BenQ MH535FHD is the most expensive projector on this list. We would like to say this right off the bat – if you're looking for just an art projector to paint murals, look elsewhere and save your money.
But if you are curious to know what the MH535FHD brings to the table for the hefty premium it charges, read on.
BenQ projectors are known for their sharp and clear picture quality, and the MH535 more than lives up to that name, thanks to the class-leading DLP (digital light processing) technology it comes equipped with. As a mural artist, you'll have nothing to complain about in this regard.
The use of DLP also means greater portability and an overall lighter and reliable package. If the projector had used LCD instead, it would have most likely been on the bulkier side.
The 3,600 lumens it packs in affords more-than-enough brightness in all environments. Unlike a few other projectors on this list, you are not restricted to working in a dimly lit space.
Moreover, the high 15,000:1 contrast ratio means life-like, contrasty visuals without the need to compress or downscale.
The projector is so feature-rich, it could be egregiously excessive even for a high-end projector, let alone an art projector.
Pros
A great projector for mural artwork, and much, much more
Astonishingly bright and detailed images
Intuitive, easy-to-use menu interface
Excellent zoom functionality
Relatively quiet fan operation
Cons
Sub-par built-in speakers
No lens cover
4. Artograph Tracer Projector
Last update on 2022-12-09 / Affiliate links / Images from Amazon Product Advertising API.
The Artograph Tracer is a budget-friendly opaque projector best suited for budding artists.
It may not be your go-to device for massive murals. Still, it should be more than suitable for everything else – including artwork sketches, posters, signs, outlining, quilt patterns, home wall decoration and décor, and, of course, small murals.
The projector helps enlarge smaller illustrations, and it's pretty good at that. The capability to magnify an image anywhere between two to 14 times the original size is certainly nothing to scoff at.
The 23W fluorescent bulb produces 1600 lumens of brightness, which isn't the most luminous but still sharp enough for tracing images.
Perhaps the best thing about the projector is its small form factor. The Tracer is pretty light for a projector at 1.5 kilograms (3.3 pounds), i.e. when comparing it to digital projectors.
And the projector is not just packing-friendly but is also well-built. Accidental drops won't lead to cracks in the body or impair the internal components.
The projector's simplicity is its biggest draw. If you need a projector only for mural painting, the Artograph Tracer is near-perfect. You'll encounter roadblocks only if you expect anything more than that.
Pros
No setup required – simple to operate
Helps magnify images accurately
Extremely compact and portable
Ideal for students, hobbyists, small businesses
Cons
Not the brightest, and needs a dark room
May run too hot at times
5. ViewSonic PX701HD
Last update on 2022-12-09 / Affiliate links / Images from Amazon Product Advertising API.
The ViewSonic PX701HD is yet another "expensive" digital projector on this list. But then, like the MH535FHD, the projector helps you accomplish a lot more than just mural paintings.
The rich colors and Full HD visuals not just shine when watching movies and sports, but the accurate color reproduction helps with getting your mural painting colors right as well. And thanks to the 3,500 lumens at your disposal, you could use the projector in bright environments with relative ease.
The super brightness coupled with sharp pictures means an excellent tracing experience. There would certainly not be any fuzzy lines or blurriness with the projector.
And because the projector can work effortlessly in brightly lit environments, you can even take this thing outdoors and paint on walls. When the environment you're working in is not dark or dimly lit, your eyes would thank you.
The ample brightness on offer and the 1080p resolution make a perfect combination.
Then there are the usual bells and whistles most digital projectors in this price range are equipped with – including HDMI and USB ports, integrated speaker (10W), long lamp life (up to 20,000 hours), etc.
Besides mural paintings, the PX701HD is excellent for content consumption. If you watch movies and shows on your TV, you'll not miss your traditional screen using this projector. The projector is good enough for gaming too, but not ideal.
Though not related to the projector itself, the around 90-page user manual is exhaustively informative. Besides signaling the machine's capabilities, the manual also helps if you are a mural painting artist who would like to learn more about their digital projector.
Pros
Solid performance and feature set
Rich, immersive colors
Capable of highly bright visuals
Handy remote control
SuperEco feature (helps extend the lamp's longevity)
Cons
Blacks could have been "blacker"
Some aspect ratio niggles
Honorable Mentions
Some of the projectors that were considered but didn't make it to the top five include the DBPower T20 , Artograph Flare 150 , Epson Home Cinema 2150 and ViewSonic M1 .
A few important reasons the above didn't make it through is the availability of newer and improved products and/or their non-availability.
If you want a more capable art projector and are willing to pay more for that, check out the Artograph Prism Art Projector . It helps project small 3D objects, besides being capable of a few other things that regular opaque projectors cannot accomplish.
Digital Projector or Opaque Projector – Which One?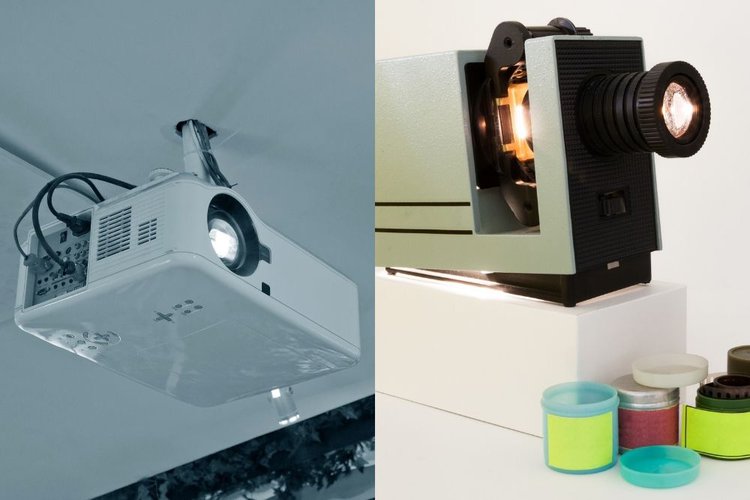 As alluded to multiple times above, projectors used for painting murals can be broadly classified as:
Digital projector (conventional projector)
Opaque projector (de facto art projector)
A digital art projector connects to your desktop or laptop computer and projects the image from the device onto a wall or canvas of your choice.
An opaque projector works with a physical art piece. In other words, the artwork, drawing, or sketch goes beneath an opening under the projector. The projector then magnifies the image and casts it on the wall.
A slide projector is also an option, but it's outdated and is a lot of work to get rolling with in the first place – making the physical slide of a design is actual work that you can eliminate with a digital or opaque projector.
Which projector type is the right fit for mural paintings?
A digital projector is pretty much always ideal because it can do what an opaque projector can accomplish (albeit in a different way) and much more. An opaque projector, on the other hand, is not as sophisticated and, therefore, limiting.
If you have physical art that you don't want to convert into digital because you are just not feeling like it or don't have a scanning machine handy, an opaque projector makes sense.
But for pretty much everything else, a digital art projector it is.
With a digital projector, you need not print anything or have hard copies of designs handy. Also, you can modify digital images at the source level. You could play with the colors, for instance. In short, digital art projectors are a lot more versatile and user-friendly.
But all that convenience and flexibility come at a cost. The price premium, as a result, renders most capable digital projectors out of reach of students and people on a budget.
Opaque projectors are not just relatively inexpensive but also a lot less technical or more straightforward to implement. Due to their simpler design, repair and maintenance is easier too.
In the end, the digital projector's multipurpose nature and ease of use weigh the scale heavily in its favor and make it the clear winner of the two.
An inexpensive digital projector may not be ideal for watching content but would still be more than workable for mural artistry.
Conclusion
If you are a budding artist, a projector isn't the equipment that'll first come to your mind. But once you get to know the projector, you'd be amazed to learn how simple it becomes to paint murals and get done similar pieces of art with it.
Because it's just tracing and painting, you need not be a proper artist to make your own, hand-made art pieces. If you believe the projector will be of immense help, go ahead and take the plunge.
Whether you are an artist or have two left (wrong) hands, you don't need the fanciest projector – unless you'll use the equipment for more than just mural painting. Save the money and buy equipment and tools that could help your hobby or profession in other ways.
Artograph EZ Tracer Art Projector
BenQ MH535FHD 1080P Home Theater Projector | 3600 Lumens for Lights on Enjoyment | High Contrast Ratio for Darker Blacks| Keystone and 1.2x Zoom for...
Artograph Tracer® Opaque Art Projector for Wall or Canvas Reproduction (Not Digital) 25360
Artograph EZ Tracer Art Projector
BenQ MH535FHD 1080P Home Theater Projector | 3600 Lumens for Lights on Enjoyment | High Contrast Ratio for Darker Blacks| Keystone and 1.2x Zoom for...
Artograph Tracer® Opaque Art Projector for Wall or Canvas Reproduction (Not Digital) 25360
Last update on 2022-12-09 / Affiliate links / Images from Amazon Product Advertising API.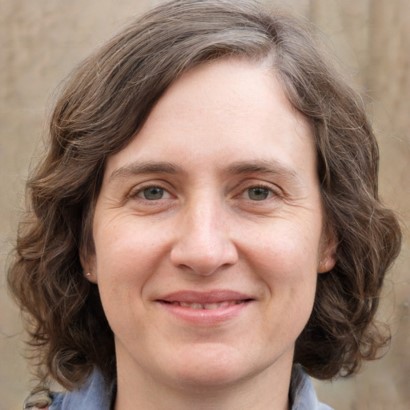 Catherine Tramell has been covering technology as a freelance writer for over a decade. She has been writing for Pointer Clicker for over a year, further expanding her expertise as a tech columnist. Catherine likes spending time with her family and friends and her pastimes are reading books and news articles.