"Do I really need a projector screen?" If you're struggling with this question, don't miss out on the answers in this article.
Many surfaces can serve as makeshift projection backgrounds. The surfaces are often painted white i.e. walls.
However, these surfaces do not show the projections at their best brightness and qualities. Projector screens are best for projection.
Choosing a projector screen out of the many options can be difficult. Your choice should depend on the purpose of the projector and your budget.
In this article, we will examine different types of projectors. They are grouped on the basis of structure, mechanism, mounting and material.
Based on Structure and Operating Mechanism
Projector screens come in different forms. They also work in different ways. Here are the various types available:
1. Portable Projector Screens
Portable screens are easily folded and carried around. They are designed high quality and lightweight fabric.
Portable projector screens come in moderate sizes. Some can be up to 40″ in length if they are designed for 4K HD projections.
These screens are mostly used in conference rooms. They are used by people who make presentations on the go, like salespeople. They can be used for outdoor viewing.
Pros:
They are easy to transport.
They usually come with screen stands to prop them up anywhere.
The stands are lightweight and easy to transport along with the screen.
Con:
The stand may sink into grass or sand during outdoor viewing.
Example: Vamvo M2120 Outdoor Projector Screen
2. Fixed-Frame Projector Screens
Like the name implies, these frames cannot be manipulated. These projectors cannot be rolled up or folded.
Fixed-Frame screens have high commercial viability. They come in a range of sizes. There are even curved fixed-frame projector screens.
There are very large sizes for large audiences because they don't have to be carried around.
You will most likely find a fixed-frame screen permanently installed in a large conference room. They're also common in home cinemas and movie theaters.
Pros:
They are durable because of the low rate of manipulation.
Creases do not form easily on them.
They focus on good picture display.
They are very common and readily obtainable.
Con:
They are not easy to store or transport.
Example: Da-Lite Parallax Stratos 1.0 Fixed-Frame Projector Screen
3. Manual Control Screens
Manual projection screens make use of a pulley or spring system. Their screens can be pulled out of its casing and retracted like a window blind.
Retraction is usually slow to prevent damage to the screen. Find out how to pull up your retractable screen properly.
The retractable mechanism is manually controlled. So, they can be set up by hand at any time.
Manual projection screens are commonly used for temporary conference setups. They're also a common feature of classrooms.
Pros:
They can be mounted on walls or ceilings.
They are easy to store.
Manual screens are lighter than electric screens because they have no electrical parts.
They make up some of the most affordable screens.
Cons:
Over time, frequent pulling out and retraction can damage the screen.
The spring can lose tension after some time. (Here's how to fix it)
4. Electric Control Screens
This is also a pulley screen. The only difference is that it is remote controlled.
It is electronically designed to pull down from its casing or retract when you press a button.
This type of projector screen is often used by individuals who want to be professional. It is used for PowerPoint presentations.
You can also use it in home cinemas. There are casing designs that help camouflage it on walls or ceilings when it's not in use.
Pros:
It lends a professional air to presentations.
It caters to convenient storage.
Its mechanical design is easy to use.
Con:
It is heavier than its manual counterpart because of its electronic parts.
5. Inflatable Projector Screens
These screens are set up by inflation. They're made of light, foldable polyester material.
These screens can be filled and made taut with air.
Inflatable screens work well for personal outdoor theaters or movie setups. You can have good picture quality combined with convenience.
Pros:
They don't use detachable stands that can sink into outdoor grass or sand.
They are easy to set up.
They're convenient to transport.
Inflatable screens can be easily adjusted to fit many viewing angles.
Con:
Example: Outtoy 14ft Inflatable Outdoor Projector Screen
6. Rear Projector Screens
Rear projector screens can display images projected from behind them. The projector is placed behind the screen.
The rear projection screen displays bright images due to the position of the projector behind it.
The position of the projector makes the display similar to a TV because brightness seems to be coming from behind the screen.
It is a great projector option for lit up spaces or bright rooms.
Pros:
The projector is positioned behind and out of the way.
It combats the effects of ambient light.
This kind of projector screen eliminates the need for keystone corrections, multiple adjustments and shifts, or throw ratios.
Cons:
Rear projection screens cost more than front projection screens.
Their projectors hold up a lot of valuable space behind the screen.
7. DIY Projector Screens
Everybody loves a good DIY. There are simple DIY alternatives to projector screens that you can make.
There are different materials for making DIY screens. All you need is a suitable canvas and a frame on which to stretch it out.
The idea is often to keep it white so that the image can be bright.
Alternatively, you can make a screen using projector screen paint. Choose a background like a wall or a board and simply paint over it.
The projector screen paint gives your DIY screen the reflective property of regular projector screens.
Pros:
DIY projector screens are cheap to set up.
They are easy to set up.
Cons:
Images projected on DIY canvas are not as sharp as those on regular screens.
If you're not careful, projector screen paint can be messy.
Based on Mounting or Installation
1. Ceiling Mounted Screens
These are projector screens that you install on the ceiling. They are often of the pulley and retractable design.
Ceiling mounted projector screens can be manually or remote controlled. However, for convenience, most ceiling mounts are for electronic screens.
The casing for this screen is permanently installed in the ceiling. When it is not in use, it can be easily recessed and hidden from view.
These types are often used in multi-purpose meeting rooms. Follow a guide on how to mount your ceiling projector screen.
Pros:
It is convenient for daily use after the initial installation.
The electronic ones are easy to control.
Con:
When there is a problem with the projector screen, you have to remove the mount completely.
Example: Elite Screens Manual B 100-INCH Pull Down Projector Screen
2. Wall Mounted Screens
So many TVs come with wall mounts, and projector screens are not left out.
Usually, wall mounted screens are fixed-frame projector screens. They are mounted permanently onto a wall. Manual screens can also be wall mounted.
Most wall mounted projectors are large. They're either intended for a large audience, or they're a replacement for regular TVs.
Wall mounted screens are common in movie cinemas, home theatres and large conference rooms.
Pros:
Once fixed, they can be used at any time without hassle.
They can be easily taken down and fixed if they develop faults.
You can install them exactly where you want them.
Con:
While rear projection is possible, it is hard to pull off with wall mounted screens.
Example: P-JING Double-Sided Indoor And Outdoor Projector Screen
3. Floor Mounted Screens
Floor projector screens are often electronic. They use a system similar to that of the ceiling mounted screens.
Floor projector screens rise from the floor at the press of a button. When not in use, they are easily hidden.
They come in a one-piece design. From the handle on the screen to the feet, nothing needs assembling.
You only have to set it on the floor by its feet and pull the screen up. They can be used in gaming rooms or home theatres.
Pros:
They're less bulky than screens that come with stands.
They are simple and lightweight.
Con:
Due to their low position, they're not ideal for large audiences.
Example: Elite Screens ezCinema 2 Projection Screen
4. Tabletop Projector Screens
This is a smaller variant of the floor mounted projector screens. To use this one, you simply have to place it on the table.
It comes in handy for on-the-go presentations. It is also used at home as an extra screen for computers.
The screen sacrifices some size to be able to fit on a table top and into a suitcase for easy transport.
Once the casing/feet is placed properly on the table, the projector screen can be pulled up and used.
Pros:
It is foldable and has a portable design.
It is very convenient to set-up.
A tabletop screen does not take up a lot of space.
Con:
It is not ideal for large audiences.
Example: Pyle Portable Projector Screen
5. Tripod Mounted Screens
These are mostly fixed frame screens that come with a tripod for easy mounting. They're not to be fixed on a wall.
The tripod supports the weight of the projector screen. Tripod mounted screens come in many portable sizes, so they can be a good travel option.
Tripod mounted screens are good for classroom projections and other presentations.
Pros:
You can set up your screen anywhere you want.
There is little need for keystone corrections.
It is easy to set up and disassemble.
Con:
Tripods may sink into the grass or sand outdoors.
Example: PropVue Indoor/Outdoor Projector Screen
Based on the Type of Screen Material
1. Matte White Screens
This is a screen made with matte finish. It is the most common type of screen material available.
Most projectors are built to work with matte white material. The 1.0 gain material gives the best images in dark rooms. Some can also perform well when there is a little ambient light.
The screens you see in cinemas are most often matte white screens. They're also common in homes for gaming and movies.
Pros:
They display high-quality images in low ambient light.
They have well-balanced contrast ratios.
They are common and easy to acquire.
Con:
They do not perform as well as grey screens in lit-up spaces.
Example: Elitescreens Yard Master 2 projection screen
2. Silver Projection Screens
They are projection screens made of matte silver material. They are used to display darker and more vivid images.
They come in handy for daytime projection. Their ability to darken the images makes the display sharper even in a bright room.
Silver screens are common in big auditoriums, convention centers and meeting rooms where light is barely controlled.
A lower variant of silver screens is known as grey screens. They serve the same purpose but silver screens give a more cinematic experience.
They are used in combination with high lumen projectors. They have to project images bright enough to keep whites looking white on the silver material.
Pros:
They are great projector screens for daytime viewing.
Grey screens have a 1.5 gain value and can brighten dark images.
They are great for projecting 3D images.
Con:
They are not compatible with all projectors. For best results, do not use short-throw projectors.
Example: Silver Ticket Curved Frame Projector Screen (STC-125-G)
3. Acoustically Transparent Screens
As the name implies, these screens are transparent to sound. This means that sound can pass through them easily.
These types of projector screens come in two forms. They're either woven or perforated.
Woven projection screens are created on a loom. The weave pattern provides natural spacing on the screen.
Perforated screens are made of a strong material (usually PVC). They have thousands of tiny holes punctured into the material.
Sound passes better through woven screens than perforated ones. These screens remain impervious to light while allowing sound to pass through.
Pros:
Acoustically transparent screens are convenient for large audiences.
Cons:
A low-quality woven screen may have poor color temperature and double imaging.
Poor-quality perforated screens may not be effectively transparent.
They are susceptible to the moiré effect.
Example: Elite Screen Sable Frame AcousticPro
FAQs
1. How to fix retractable projector screens
Retractable projector screens make use of a spring. The screen is wrapped around a tensioned spring.
The tension is the reason it rolls back up when you release the handle. If the spring loses its tension, retraction may slow down or even stop.
There are two ways to re-tension this spring; the wrist flick and the spring tensioner (Read more).
2. How to hang a projector screen from a ceiling or wall
Some projector screens are designed to be mounted on ceilings or walls. There are guides to follow before installing these screens.
You have to make use of attaching materials like screwdrivers, screws, hooks and others to hang the screens securely (Read more).
Conclusion
Screens are designed to enhance every detail of a projection display. This is especially true for HD or UltraHD pictures.
Projector screens have unique coatings. These coatings have reflective qualities which can make the display as clear as HDTV.
Your choice of projector screen is unlimited. Consider why you want a projector screen, and then go ahead to find the most fitting type within your budget.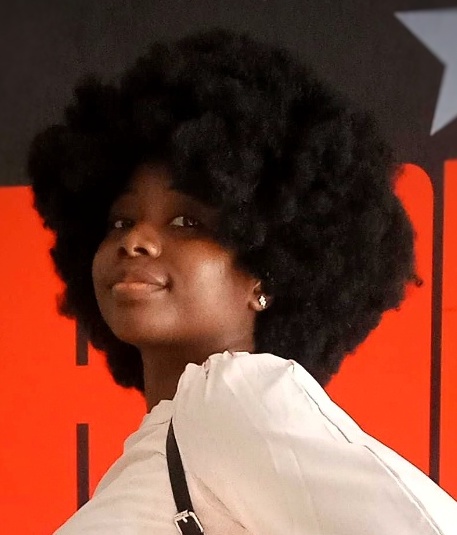 Gabriella 'Diogo is a content writer with a vested interest in tech hardware and equipment. She shares her knowledge and processes in an easy-to-grasp, lighthearted style. When she's not testing or researching device performance, you'll find her writing short stories or rewatching episodes of her favorite sitcoms.