Your home doesn't have any bare walls large enough to accommodate a projector screen, but you're displeased with the way the picture looks when projected onto a white wall.
You may be wondering if there's a way to use your limited space as a home theater, without sacrificing the picture quality.
Is it possible to hang a projector screen in front of a window? Or would it damage the projector screen and be a waste of money?
What are the risks of installing a projector screen in front of a window?
Keep reading to find out!
Is It a Good Idea to Install a Manual Pull-Down Projector Screen in Front of a Window?
Yes, you can install a projector screen in front of a window.
You can certainly install a pull-down projector screen in front of a window! Not only is it a good use of space since you don't have to have a dedicated screen wall, but it also allows you to hide the screen when not in use.
Theater Screen Covering Windows! Home Theatre 7.1.2 Dolby Atmos
This gives you flexibility when deciding where to position your screen in accordance with your furniture layout and personal preferences.
Additionally, unlike motorized screens, manual pull-down projector screens are easy to install since they don't need to be hooked up to electricity.
This is a great option for mounting projector screens in museums, greenhouses, sun rooms, and many other places that have unique layouts.
Are There Any Risks of Installing a Projector Screen in Front of a Window?
Yes, there are a few risks involved in installing a projector screen in front of a window.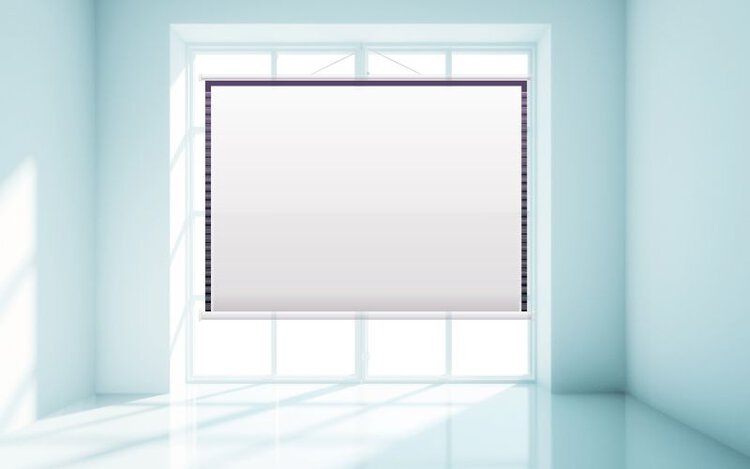 Although putting a manual pull-down projector screen atop a window is generally a good idea, there are a few risks.
When designing your home theater you want to consider longevity and picture quality, so you'll have the brightest, clearest image for the longest period possible.
Let's take a look at how the light from a window could interfere with your home theater setup.
The Screen May Warp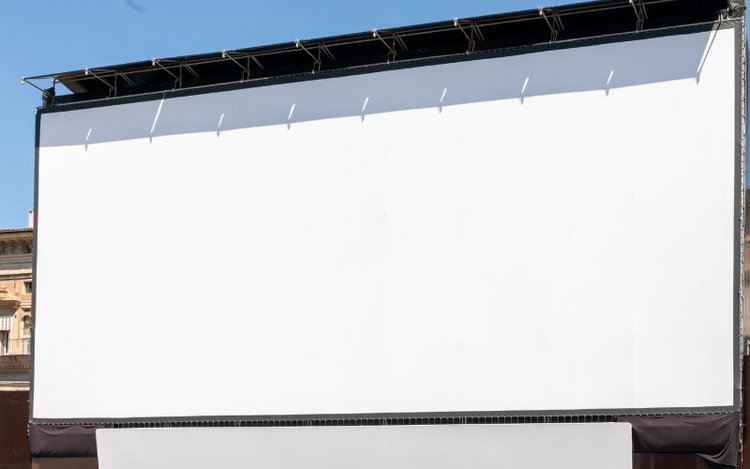 Having your projector screen pulled down during daylight could cause the sun's warmth to warp the screen.
This is especially common for PVC screens, as the heat will cause the plastic to contract and become uneven.
Projector screens must be completely flat and smooth to display a bright, high-resolution image, so with a warped screen, you may quickly find yourself watching your 4K projector in 720p.
The screen warping may also prevent it from properly retracting into its case, making it impossible to put away.
The Projector's Image May Appear Dim
Even the brightest projectors function best in dark settings. Sunlight is also much brighter than any projector.
The light coming through the window may make the image look dim and difficult to see.
Although there are ways to avoid this, the image will never be as sharp and bright as it would be if projected in total darkness.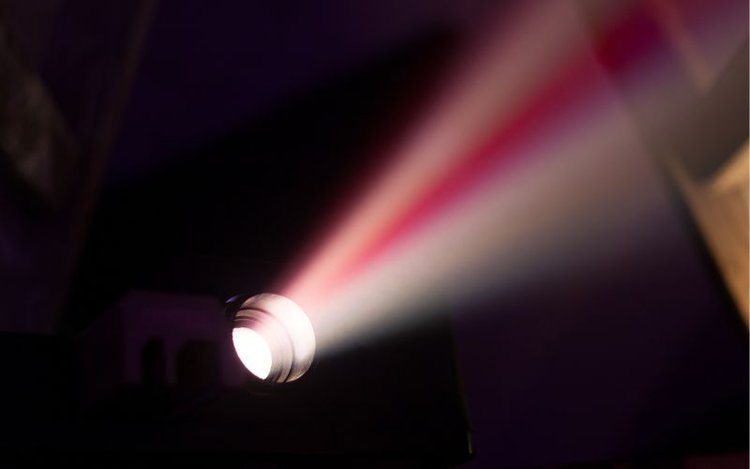 You may need to only use your projector at night, close the shutters, or use blackout curtains every time you want to watch something during the day.
This also means that you will be unable to lower your projector's brightness settings or use eco-mode, which will cause the lamp to burn out quicker.
Tips for Mounting a Pull Down Projector Screen in Front of a Window
Follow our tips and tricks for mounting a projector screen in front of any window!
When mounting a projector screen in front of a window, it's important to maintain image quality, protect the screen from the sun's heat, and prevent any sloping.
Let's go over the ways you can achieve the best results when mounting a projector screen!
Buy a Screen with Black Backing
Any amount of light risks completely washing out your projector's image. This makes watching content very challenging whenever there is any light behind the screen, be it sunlight, street lights, etc.
Luckily, there is a solution.
Invest in a screen with a black backing. The black layer will absorb any light and prevent it from shining through the screen. You'll notice that the image is much clearer and brighter.
If you're interested in buying a projector screen with a black backing, check out the Nierbo 100-inch Double Layer Projector Screen on Amazon.
Allow Space for Curtains or Blinds
While many projector screens will allow you to screw the screen straight into the wall, it's important to allow space to hang curtains or blinds to block out as much sun as possible.
Depending on how your curtains or blinds are installed, you may want to consider using L-brackets to distance the screen from the wall.
While mounting a projector screen on L-brackets may be slightly more time-consuming, they will ensure that you still have ample room to open and close your curtains.
You should also consider the height at which you mount your projector screen so that it sits comfortably in the middle of the wall while giving you free rein to open and close your windows.
If you plan on leaving your projector screen pulled down most of the time, consider using black-out window film. Simply apply the adhesive film to your windows and you're good to go!
Don't worry. The film won't leave any sticky residue or streaks on your windows when you peel it off.
See the VELIMAX Static Cling Total Blackout Window Film for an affordable window film available online.
Make Sure the Projector Screen Hangs Straight
When hanging your projector screen from an L-bracket, you must make sure that it's hung straight.
If the projector screen is tilted backward or forwards, it will be difficult to use your unit's keystone correction feature. This means that the picture could look slanted or wonky.
You may also experience screen glare, making certain areas of the screen challenging to see.
If you do find that your screen is mounted at an angle, adjusting it by tightening or loosening screws will only take a few minutes, but can drastically change your viewing experience.
See the video below demonstrating the dos and don'ts of hanging a projector screen in front of a window.
hanging a projector screen over a window - Elite Screens' Manual B Series
Wrapping Things Up
Installing a pull-down projector screen in front of a window is a good idea if you're willing to invest some extra time and money into doing it correctly.
For best results, purchase a screen with a black backing, and experiment with what works best for you.
Ensure to properly cover your windows to protect your screen from light and heat exposure, and make sure your projector screen isn't tilted.
What's your experience installing a manual pull-down screen in front of a window? Let us know in the comments below!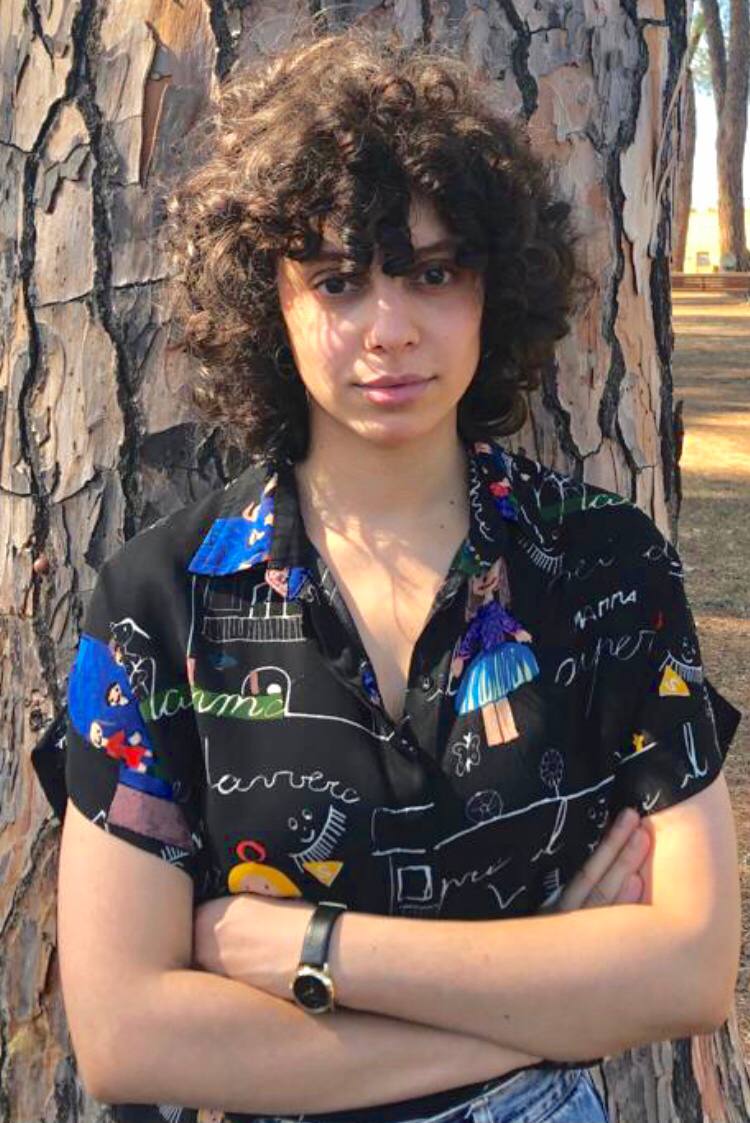 Yesenia Achlim is a technical copywriter and editor with a focus on AV equipment. She aims to break down complicated topics and make technology accessible, no matter your technical expertise. When she's not teaching you how to replace a projector lamp, you can find her reading and baking.