The concept of projector paint vs regular paint is interesting because people starting their home theater might not know the difference. In other words, what is projector paint, and how does it differ from regular paint? Can we use either for our new projector?
How do these two different types of paints differ, and how are they used?
To keep it simple, projector paint is used when you're trying to use your wall as a screen. Regular paint is used for walls in general, but does that mean it's suitable for projecting high definition movies? What about video games? Let's break it down and find out.
Breaking it Down Some More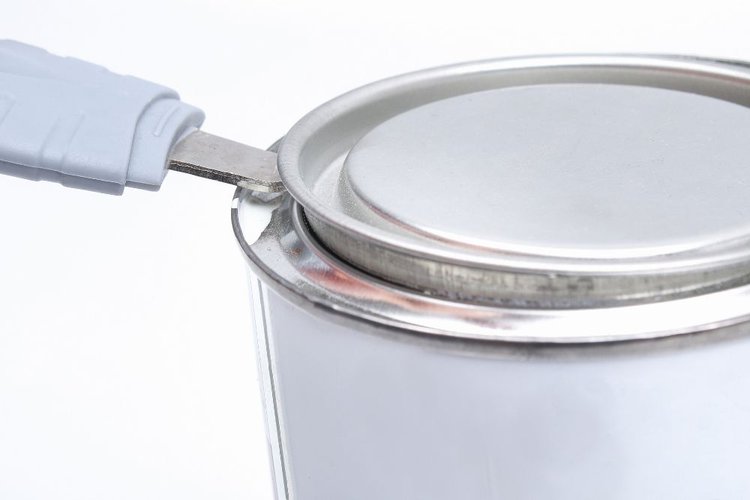 As we continue, we will weigh the differences between projector paint vs regular paint.
Afterwards, let's see how they are used. Then, it's vital to discuss why we need to use projector paint instead of regular paint for your wall. For example, there are two different projector paint colors. Next let's talk about the pros and cons and highlight how each affects your viewing experience.
Finally, we should mention a few factors that determine the projector paint you need, so you know how you use it.
But first, here's a simple chart to help you see the differences before we go in-depth.
Projector Paint

Regular Paint

Paint Brightness

Optimized for bright projectors
Works with lumens

Home Theater Lighting

Not good with ambient light

Individual Media

Grey Paint

Great for dark scenes and video games
Specifically made
Projector Paint
Projector paint is a great way to minimize the look and space of your home theater. It enables you to use a wall instead of purchasing a physical screen. Although regular screens are flat, screens take up a lot more space than choosing to use your wall instead.
It's a good idea to use projector paint if you have limited space. However, you can also use this wall as an accent wall. Its form and function in a bucket of paint. And everyone loves efficiency.
Do you need special paint for a projector?
In short, yes. It would help if you had special paint for a projector.
So, what is projector paint? Projector paint is a specific type of paint you use for the wall you want to project your movies on.
Technically, projector paint is the optimal paint used for this occasion because it will allow you to see all those shiny details on those HD movies you're going to watch.
However, there's more to projector paint than just painting your wall.
There is one key specification you need to know about your projector when using projector paint. For instance, the type of paint you use directly corresponds to your projector's lumens (or how bright the lamp is.)
The brightness of your room also determines the projector paint you need. And lastly, the type of media you watch determines which kind of paint you need to purchase.
Projector paint and projector lumens
It's essential to understand the type of projector you've purchased. Some projectors have very high lumens, while others have incredibly low lumens.
The lumens of each projector determine how bright the image is on your wall. For example, the Nebula Mars II only has 500 lumens which means it's not very bright.
Determining how many lumens your projector throws out allows you to pick the proper projector paint for your wall.
For example, projectors with lumens less than 1500 need a more reflective projector paint. Reflective paint will maintain the vibrant colors your projector is throwing onto your wall.
Projector paint and ambient light
The same goes for home theaters with more ambient lighting systems. The amount of ambient light your home theater contains directly determines if you need a projector paint with more or less reflectiveness.
In other words, the higher the lumens in your projector and the lower the ambient lighting in your room, the less reflective your projector paint should be. Less reflectiveness means less glare in this case.
Choose your media
Now, let's determine your primary choice of media. Are you an avid movie-watcher? Or are you a hardcore gamer who needs a big screen to play those awesome video games?
Determining your media of choice is important because the brighter your media, the less reflective paint you'll need. Therefore the darker movies require more reflective paint.
If you're a gamer, using highly reflective paint is better because it creates the perfect contrast for the intense colors a game has. However, we should also mention that HD movies also require highly reflective paint.
As you can see, many factors determine the image quality of your projector when projecting onto your wall. However, one of the negative sides of projector paint is that it's very pricey.
Grey projector paint
Generally speaking, a projector with over 3500 lumens is considered very bright. In this case, you might want to use grey projector paint.
Why use grey projector paint? Grey projector paint is great because, unlike white projector paint that dulls dark colors, grey paint keeps darker colors dark, which gives you better contrast.
The grey paint gives your bright images better definition along with remarkable contrast.
Gaming, for example, often has bright colors and dark scenes. Gamers will benefit from grey projector paint.
All of these factors make it seem as if projector paint is too complicated to use, but in reality, it's not. However, this begs the question, what about regular paint? What's the difference?
Regular Paint
Sometimes we want a simple, cheaper answer. In this case, does regular paint for a projector screen work just as well? What's the difference? Let's delve into regular paint and see how good or bad it is for a "do-it-yourself" projector screen.
What are the differences between regular paint and projector screen paint?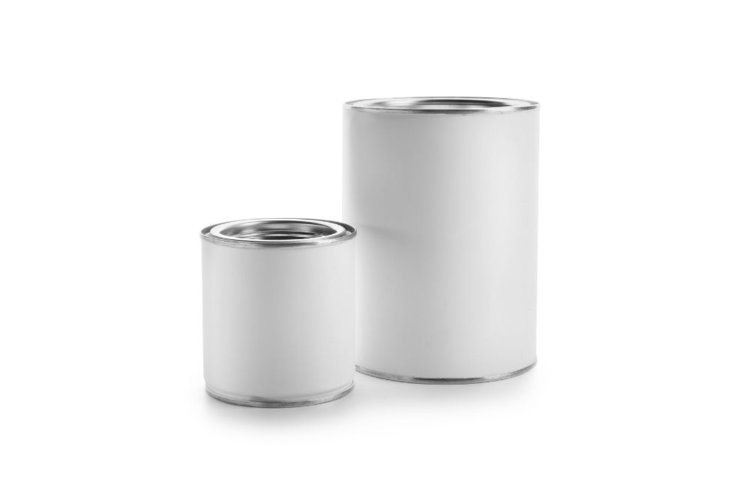 You've purchased a great projector, and now you want to save money by creating a projector screen. You've seen the high prices of projector paint, so now you're wondering if regular house paint is a good solution. Here are the main differences.
Can you use regular white paint instead of projector paint? Yes, you can. However, there are a few key differences you need to know before you use regular paint.
Regular paint does not have image quality in mind. The paint is either not reflective enough or too shiny. In other words, using regular paint will cause a significant reduction in the quality of your image.
Therefore, you'll lose the contrast you get with projector paint. The color saturation is reduced. And any texture in the wall will significantly reduce the sharpness of the image.
With all that said, regular paint still does the trick, but are you willing to compromise a pristine picture?
Regular paint and ambient light
As we saw above, projector paint is good, especially when you know how many lumens your projector has. However, since regular paint is not optimized for projectors, knowing how many lumens your projector has makes no difference.
Considering projector paint has specific reflective properties for projectors, regular paint doesn't compare.
In this case, it doesn't matter how bright your projector is. Regular paint will not reflect the color as well as projector paint.
Choose your media for regular paint
As we saw earlier, we need to determine our media of choice to decide how reflective or how flat we need to paint our wall.
Regular house paint also has different flatness and glossiness. You can purchase a flat, a matte, a semigloss, or even a high gloss paint.
However, let's say you've determined you're only going to use your projector for gaming. Games have bright colors and saturated scenes. They also have a lot of dark scenarios. This means you'll need paint that's very reflective for optimum picture clarity.
Any regular paint with a glossy finish will suffice. However, since regular paint does not have projectors in mind, you risk reducing picture quality.
Therefore regular paint is not a good option, even if you've determined your media of choice and how bright your projector is.
But there is one more type of regular paint to consider. How does regular grey paint compare to grey projector paint?
Let's find out.
Grey regular paint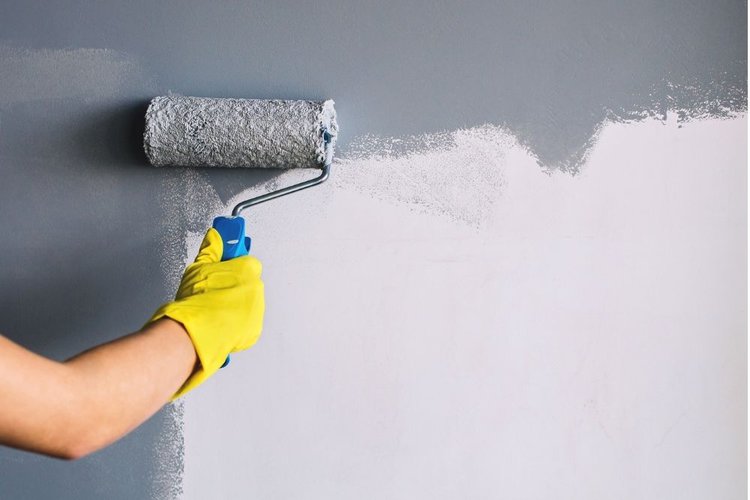 As you read above, projector paint is good. Even grey projector paint works well. But how does regular grey paint compare?
Keep in mind that regular paint doesn't have the same properties as projector paint. In other words, regular paint is not created the same.
So, when we think of regular paint, it's important to think of white as the reflection of all colors. Therefore white paint will reflect any color your projector throws at it, giving it the best outcome, even with regular paint.
However, with grey paint, you'll get a reduction of many colors. Not only is regular grey paint not optimized for projectors, but you'll desaturate all colors. Essentially a grey wall shows the color grey the best. But all other colors suffer.
Don't even think about using black paint. In this case, you'll get no picture at all. Black is the absorption of all colors.
So, it's clear that projector paint is the better choice for your projector wall.
And the Winner Is
Pros

Cons

Projector paint

Created specifically for projectors
Takes all media into account
Great for dark scenes, video games and intense colors
Takes ambient lighting into account
Uses proper reflective properties for optimal use
Grey paint is also optimized for maximum visualizations

Regular paint

Does not take media into account
Does not take ambient light into account
Does not contain proper reflective properties for projectors
Dulls all colors
Reduces image quality
Grey paint doesn't work well with projectors
It's easy to confuse projector paint vs regular paint. Projector paint is specially made with reflective properties that regular paint doesn't have. Therefore choosing projector paint for your projector wall is best.
Projector paint takes into account the lumens your projector has. Regular paint does not.
The formula used in projector paint is made to give you better contrast and high color output. Regular paint doesn't contain these qualities.
Even grey projector paint has excellent properties for optimum clarity. Regular grey paint doesn't compare when used for gaming or movies with darker scenes or intense colors.
So when it comes to projector paint vs regular paint, projector paint is superior on all accounts.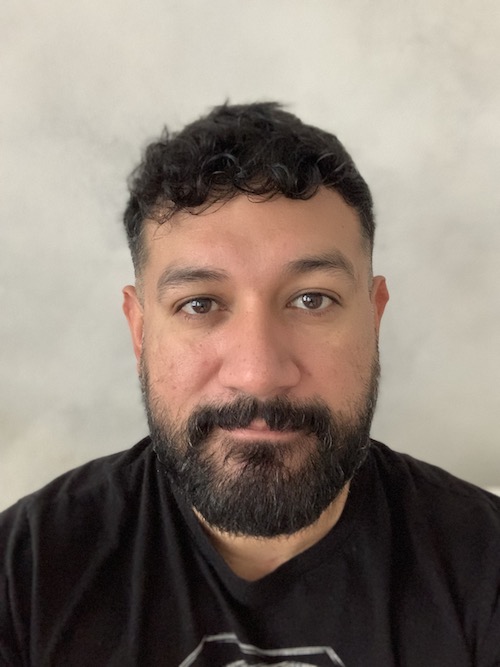 James Quintanilla is a technical copywriter. Although his experience allows him to write on many topics, he loves to focus on tech and travel. As a freelancer, James has worked on projects with Pointer Clicker, Lonely Planet, and the Travel Channel. When he's not writing or planning his next adventure, he's watching a scary movie.