Nebula and BenQ both make portable and immobile projectors, so choosing between the two can be difficult. Looking at the unit's specs when projector shopping can become mind-boggling, and it may be difficult to sift through all the measurements and terms to find what's most important to you.
What makes a projector brand superior? What should you be on the lookout for when projector shopping, and why?
Which brand makes better projectors: Nebula or BenQ?
Keep reading to find out!
Comparison Table
| | | |
| --- | --- | --- |
| | Nebula | BenQ |
| Who They Cater To | Anyone who wants a projector | People who want projectors for homes, offices, schools, gaming, or to use on-the-go |
| Features | Built-in battery, auto-keystone correction, and a compact design | Built-in speakers, HDR10, and color accuracy |
| User Experience | Mediocre brightness, crisp picture, and a good built-in touchpad | Great picture quality, loud speakers, and a sufficient battery life |
| Customer Service | Good customer service for projectors | It May be difficult to get in touch with someone, but overall helpful |
| Safety | Eye guard sensor | Motion sensor |
A Brief Overview
Knowing which projector is right for you isn't always easy, especially when brands have various products that offer similar features, which is why we'll begin with who each brand caters to. This should help you pinpoint their target audience as a consumer.
Then, we'll move on to what each brand's projectors offer in terms of image quality, design, and other important features. Afterward, you'll be able to hear what real customers have to say about the brands' products and their customer service.
Lastly, we'll discuss the added safety features the projectors have and how they'll help keep you and your family's eye health in peak condition.
By the end of our comparison, you'll have a better idea about which brand is best for you, and why.
Who They Cater To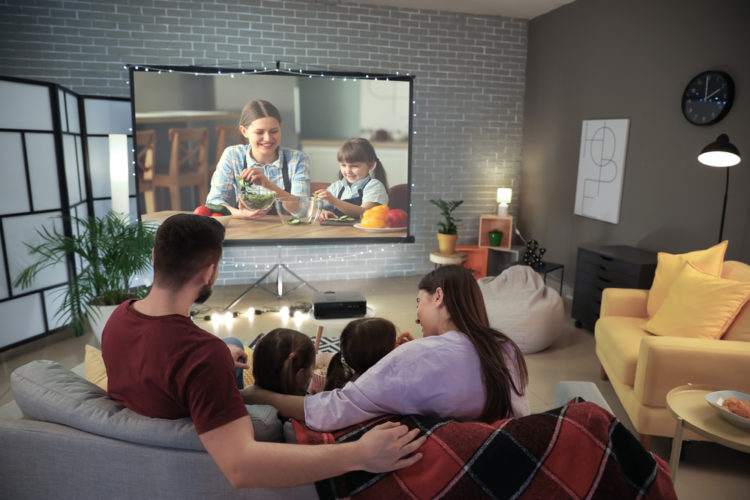 Every brand has a target audience that they keep in mind when designing their projectors, and Nebula and BenQ are no exception.
Everyone is looking for something different in a projector. While some people want a project that can fit in their pocket to take on the go, others are looking for a unit that will transform their home theater.
Even the best projector won't fit an individual's needs if it wasn't designed to suit their lifestyle and viewing preferences.
Nebula
Nebula specializes in portable projectors, which can fit easily into your bag and go with you anywhere. Their units are competitively compact and lightweight, so you won't have to worry about clearing extra space in your rucksack if you plan on projecting anything at your destination.
They also have three larger units in their Around the Home Series, which are specifically made to accompany your home theater. As you can probably guess from the title, these projectors are meant to be immobile.
Ultimately, Nebula makes projectors for both the active and more sedentary consumer, so you get to decide where you're going to take your projector, not the other way around.
BenQ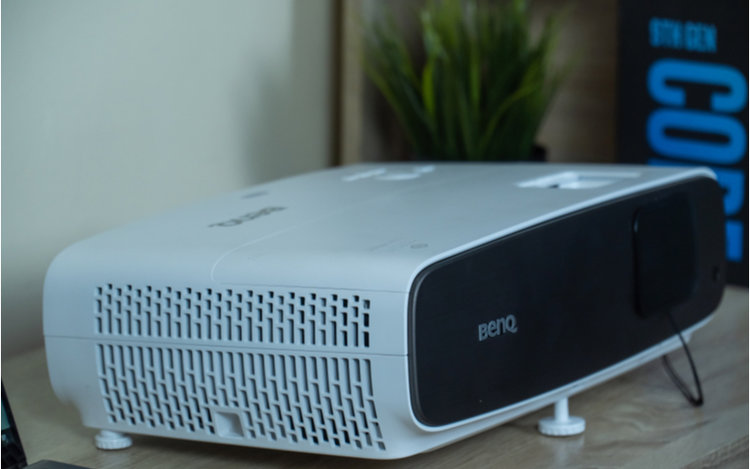 BenQ has one of the most diverse target audiences since they make projectors for almost every scenario or occasion. They have gaming projectors with a low input lag, interactive units for classrooms, extra-bright devices for big venues, and even units for executive conference rooms.
BenQ also designs home theater projectors and portable units compact enough to take with you wherever adventure calls.
Different situations call for different solutions, and BenQ has got you covered for a wide array of events and preferences.
Winner: BenQ for their units specifically designed to fit every consumers' needs.
Features
What a projector can do and how it performs is incredibly important. The design also has to be considered, since our technology is no longer just a useful appliance in our home, but part of our aesthetic.
Let's take a look at Nebula and BenQ's picture and sound quality, battery life, autofocus, keystone, and the unit's overall design.
Nebula
Nebula projectors have an auto-focus feature that you can engage either by lightly shaking the device or clicking a button, meaning you won't have to spend time trying to get a clear picture. They also have an auto keystone feature, which is fantastic since the unit will automatically straighten and flatten the image against a wall without further calibration.
The portable projector's battery life varies depending on the unit's size but is usually between two and a half to four hours, giving you ample time to watch a feature-length film. Additionally, some projectors can be charged using a power bank.
Their picture solution is pretty good and has bold colors, especially in their 4K projector. The lamp life is very long, going up to 30,000 hours, so you won't worry about replacing the bulb.
You can also control the projector with your phone through the Nebula Connect app, so you won't have to worry about losing your remote.
Nebula projectors are incredibly light and compact, with their smallest unit only about the size of an orange. They are cleverly designed with a sleek and futuristic style.
However, the portable units are not very bright because of their size and definitely must be used in complete darkness. Only immobile units have an option to adjust the brightness.
BenQ
BenQ projectors have a low input lag, making gaming easy and fun. They have made 4K projectors with beautiful color contrast and color accuracy. Although their portable units only have an HD resolution, they do have HDR 10.
All BenQ projectors come with an Android TV, which you can place in a carefully hidden compartment, so it won't affect the device's overall appearance.
The built-in speakers on all projectors can become quite loud, but you cannot connect an external speaker if needed.
There is an auto-focus button on the remote, but you will have to calibrate the keystone manually using the remote.
Several BenQ projectors also use a 4-LED system, which makes it brighter while producing less heat.
Some of their projectors are drop and splash-proof, which is useful if you like to project outdoors or have kids.
You can change between image settings easily and without experiencing much lag. They also have a wide range of image settings, so you can choose what picture looks best to you.
BenQ portable projectors are not as compact as Nebula's, but they are several times brighter, have a higher resolution, and are more durable.
The projectors are all carefully designed, but the portable units stand out the most with their unique cube or disc-like shape that stands out rather than blending into the background.
They also come with carrying cases, so you can take them anywhere without worrying about damaging them along the way.
Winner: BenQ for their distinctive design and brightness.
BenQ HT2050A Review - Is It The Best Projector Under $1000?
User Experience
Reviews can be helpful when finding out how products function in real life. Nebula and BenQ users may have complaints or praise about how the units fit in their day-to-day life, and how the projector's features work to fit their needs.
Let's take a look at what Nebula and BenQ customers have to say about their user experience, what they love, and what they would change.
Nebula
Most users are impressed they're able to get such a clear picture out of such a small device and love how they can take it with them and set it up wherever they go. Users also like that you can download streaming apps (e.g. Netflix, Google Plus, etc.) directly onto the projector, or use AirPlay to connect your iPhone, iPad, or Macbook.
Reviews appreciate Nebula's pricing and love how perfectly the Nebula works in small spaces or outdoors. You don't need a fancy home theater to enjoy these miniature units!
However, a common complaint is that portable Nebula projectors are not bright enough, and must be used in complete darkness for best results.
BenQ
BenQ users are raving about the projector's color accuracy and boldness. They also love the portable units' quirky design and surprisingly clear picture, considering their size. However, like the Nebula projectors, it's best to use them only in dark settings.
Users also like how loud the built-in speakers are, and how the units have several different ports to accommodate various accessories
They say that the remote is easy and intuitive to use, though some would prefer that instead of an Android TV stick, it has a built-in OS.
The black levels aren't as dark as they could be, but the HDR feature makes shadows more visible, which is great for gaming.
Winner: Tie since users have mostly positive reviews for both brands.
Customer Support
We've all been in a situation where we have to contact customer support to ask a question or address a problem with our appliances. A brand's customer service is an integral part of the user experience.
Let's examine how Nebula and BenQ respond to and help their customers regarding questions, support, and refunds.
Nebula
Nebula, which is owned by Anker, has generally positive customer support reviews for their projectors. Agents are responsive and can be reached easily over email, phone, or live chat.
Moreover, they have a website dedicated to Nebula customer support, which answers many commonly asked questions about their products. This is great since you don't have to wait until their operating hours to have your queries answered.
BenQ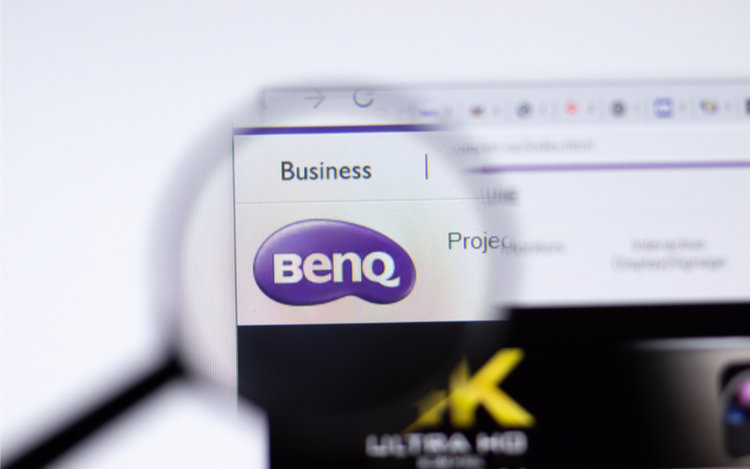 BenQ's customer support is helpful, though they can be hard to reach and many users report having to call multiple times before being put through to an agent. Overall, their customer service is responsive and supportive when answering questions and troubleshooting their products.
However, it may be challenging to receive a refund, so read the warranty policy carefully and don't lose it!
Winner: Nebula for their responsive and actionable customer support team.
Safety
Projectors are usually quite safe, but looking directly into their bright LED or laser lamplights can damage your eyesight. You probably know it's never a wise idea to stare straight into any light source, but children are often curious about where the light is coming from and may try to look directly into the lens.
For this reason, many projector brands install safety features into their products.
Nebula
Most Nebula projectors do not come with any added safety features. However, the Nebula Astro projector, which is marketed for kids, does come with an eye guard sensor. This sensor turns the projector off as soon as it identifies something in front of it.
Now you can leave your little ones alone to watch content without worrying that they'll accidentally damage their developing eyes. The Nebula Astro projector also comes with parental controls and a timer, so you can moderate what they're watching, and for how long.
BenQ
BenQ projectors feature a motion sensor, which will power your projector off if someone is in front of it.
Although the projectors themselves don't have any parental controls, you can adjust the streaming apps' settings to ensure your children are only watching age-appropriate content.
Winner: BenQ since only one Nebula projector model features eye-guard technology.
BenQ LED Mini Projector GV30, unique EYE CARE monitor GW2485TC & ScreenBar for WFH Setup and the
Final Recount:
Nebula: 1/4
BenQ: 3/4
Tie: 1/4
Pros
Cons
Nebula

Competitively compact design
Clear picture resolution
Long lamp life
Responsive customer support

Does not specifically cater to a diverse audience
Moderate brightness
Only one model has an eye-guard sensor

BenQ

Makes projectors for a wide range of consumers
Very bright portable units
Low input lag for gaming
Loud built-in speakers

Moderate black levels
No auto keystone correction
Customer support can be hard to reach
Final Verdict
Nebula and BenQ both produce exceptional projectors that make projecting on the go easier (and more fun!) than ever before.
Which projector brand is right for you depends on how lightweight you want your unit to be and how much you're willing to compromise on other features, like brightness.
Portable projectors are designed to go with you anywhere, so you must find one that fits your aesthetic and lifestyle. If it's that size that matters to you, you may want to look at what Nebula has to offer. If you're looking for a statement piece, head over to BenQ.
At the end of the day, you know you'll be getting a durable and high-quality projector regardless of which brand you go with.
What's your experience with Nebula and BenQ projectors?
Let us know in the comments below!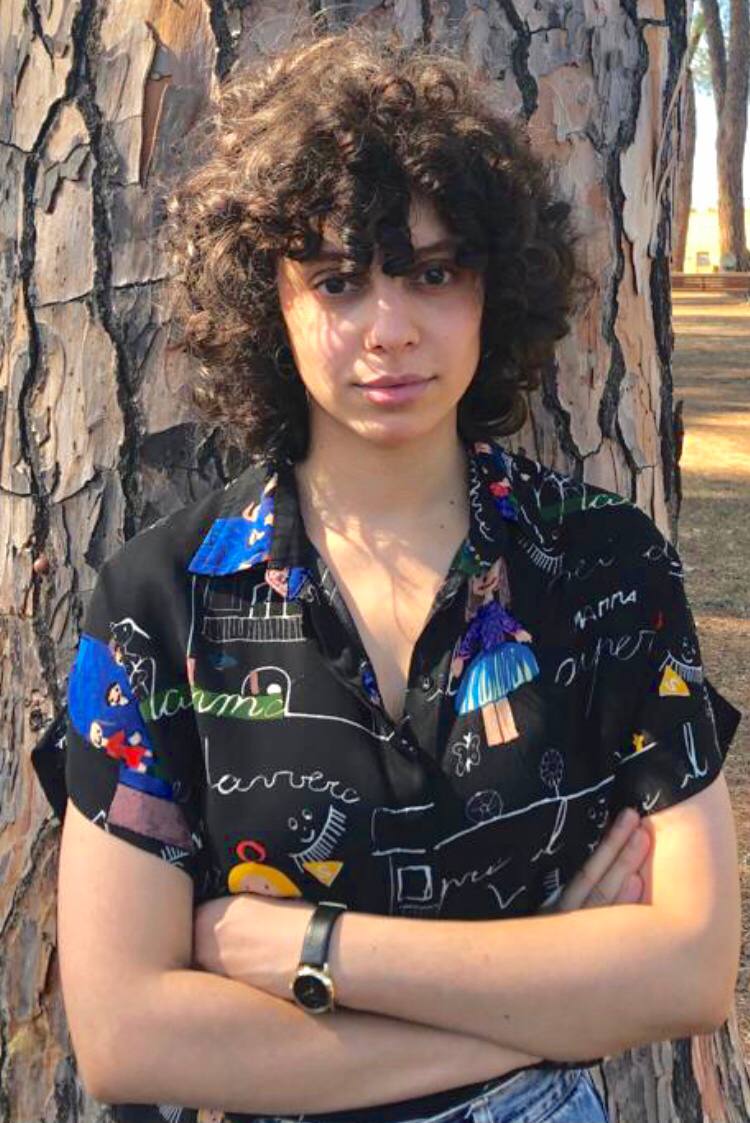 Yesenia Achlim is a technical copywriter and editor with a focus on AV equipment. She aims to break down complicated topics and make technology accessible, no matter your technical expertise. When she's not teaching you how to replace a projector lamp, you can find her reading and baking.