Dust and dirt build-up is known to damage electronics, and yes, this also includes projectors.
But you've kept the lens cover on and stored it in a clean and secure space. How can dust develop in the first place?
Days, weeks, and months of being stashed in one location can still lead to dust build-up. While you may be consistently dusting the surroundings of your projector, it won't be enough to stop it from entering the lens cover and "gunking up" the lens.
And no one likes a dirty lens!
Not only will that damage your projector, but it also gets in the way of enjoying your favorite movies and Netflix series.
But you can't just use any cleaning agents to get rid of the dusty gunk covering your lens. It'll get all scratched up!
Don't worry, we're going to talk about our top 5 best lens cleaners!
Our Top 5 Projector Lens Cleaners
We don't want you to scratch your projector's lens while cleaning it accidentally. So, here are a few awesome lens cleaners for projector lenses!
Oh, by the way, you will notice some of these kits are labeled "camera" or "phone" lens cleaners.
But don't worry, the ingredients in their lens cleaners can also be used to clean your projector lens too!
1. iKanzi Cleaning Kit
Starting this list off strong is the iKanzi Cleaning Kit. This stuff is for people with more than one type of lens to clean. If you're a photographer, videographer, or anyone using cameras and projectors for work, this is the kit for you.
The kit includes microfiber cleaning cloths, lens-safe cleaning water spray, lense brushes, dust blower, Q-tips, and cleaning gel.
Last update on 2023-09-27 / Affiliate links / Images from Amazon Product Advertising API.
What we like:
Lens-cleaning water comes in a spray bottle for better application.
Free microfiber lens wipes are included to avoid scratches on the lens during cleaning.
The kit also has a cleaning gel to eliminate dust and dirt in nooks and crannies.
What we don't like:
The items included in the kit are not of the best quality.
2. Vexko Cleaning Kit
Next up, we have Vexko Cleaning Kit! Now, don't let the product label fool you. The cleaning tools, wipes, and cleaning solutions you get are all compatible with projector lenses too!
This seemingly small kit comes with nine lens-saving items such as the professional-grade cleaning solution, white cotton swabs, lens cleaning wipes, microfiber cleaning cloths, a cleaning brush, and more!
Last update on 2023-09-27 / Affiliate links / Images from Amazon Product Advertising API.
What we like:
A variety of tools are included for different cleaning needs.
The set comes in a compact water-tight container.
It's a great price for the number of items included in the package.
What we don't like:
Some buyers don't find the cleaning brush soft enough to clean their lenses.
3. Koala Eyeglass Lens Cleaner Kit
The third on our list is another fantastic deal you shouldn't miss out on. This is the Koala Eyeglass Lens Cleaner Kit. It's listed as an eye-glass lens cleaner, but you can also use the materials to clean other lenses, and yes, your projector's lens fits the bill!
This listing is simpler than the first two we talked about, but you still get a bang for your buck because they include three cleaning sprays and three ultra-fine microfiber cleaning cloths.
Sale
Last update on 2023-09-27 / Affiliate links / Images from Amazon Product Advertising API.
What we like:
Three spray bottles of lens-cleaning liquid are included.
Buyers also get three great-quality ultra-fine microfiber cloths.
Perfectly cleans off fingerprints, oily smudges, and dust particles.
What we don't like:
Streaks and smudges get left on the lens if you do not follow the cleaning instructions provided in the kit.
4. REFLYING Lens Cleaning Kit
The fourth listing we found is the REFLYING Lens Cleaning Kit. Like the kits mentioned above, this product also includes various components to help you care for your lenses.
If you buy this lens-cleaning kit, you will get two cleaning brushes, lens-cleaning tissue, fabric gloves, lens-cleaning liquid, and a dust blower.
Sale
Last update on 2023-09-27 / Affiliate links / Images from Amazon Product Advertising API.
What we like:
The anti-static fabric gloves make cleaning so much easier as you won't have to worry about smudging your lens right after wiping it clean.
Pointed swabs are great tools to remove dirt and dust from tiny crevices surrounding your projector's lens.
A cleaning liquid dropper makes it easier to control the amount you put on your cleaning tools.
What we don't like:
Some fibers may stick to your lens if you're not careful.
5. UES Lens Cleaning Travel Kit
Last but not least is the UES Lens Cleaning Travel Kit. This is a great lens-cleaning kit if you're looking for something you can take with you.
This lens cleaner kit may be smaller than most of the kits we mentioned before, but it provides just the same amount of value!
It includes a non-alcoholic, ammonia-free lens and sensor cleaner, ultra-micro fiber lens cleaners, a lens brush, air blower, and flexible full-frame cleaning swabs!
Sale
Last update on 2023-09-27 / Affiliate links / Images from Amazon Product Advertising API.
What we like:
This pocket-sized kit is easy to store and bring around.
You get most of what you need to keep your projector's lens clean while you're on the go.
It is affordable and great for first-time projector owners.
What we don't like:
The air pump is not very effective in removing dust particles.
We know we gave you a lot of options for your lens cleaner, and you may feel overwhelmed.
You may even think you should just make do with dishwashing soap and a soft shirt. But don't do that!
There is a very good reason why lens cleaners were created in the first place. Let's talk about that!
Buyer Guide
Now, you may still be wondering why anyone would go through all the trouble of choosing a good lens cleaner for their projector. The one good reason for that is damage or avoiding damage.
When we use cleaning materials such as an old toothbrush and a bowl of soapy water to clean projector lenses, we risk stripping away the protective layer and scratching up the surface.
On the other hand, when we use proper lens cleaning materials and solutions, we efficiently get rid of the gunk that covers it without the risk of causing damage to the lens.
But how can you make sure you are getting the right type of lens cleaning kit? Here are a few tips!
What to Look for In a Lens Cleaning Kit: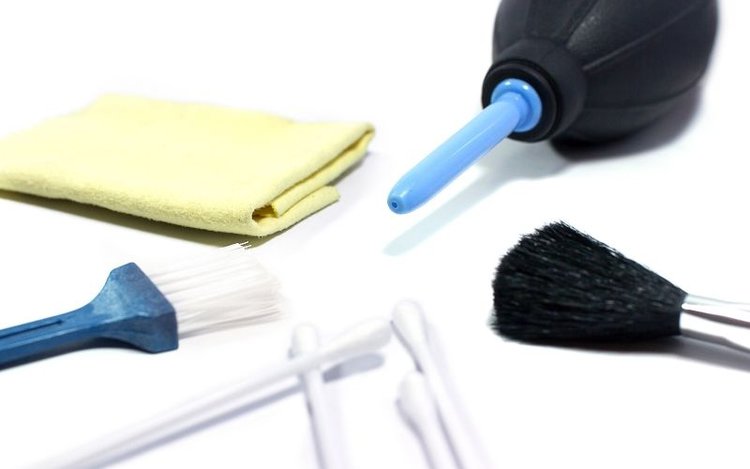 When browsing for a lens-cleaning kit, keep a sharp eye for deals that have the following items:
Microfiber cloth/lens wipes
Lens-safe cleaning fluid
Lens brush
Air blower
Let's talk about them:
Microfiber cloth/lens wipes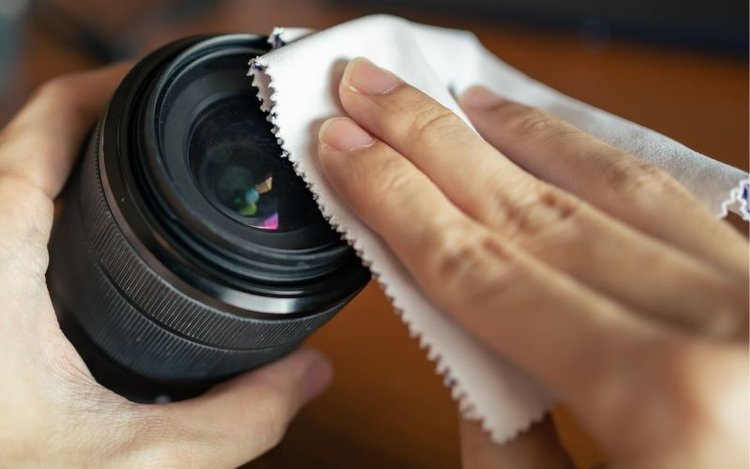 Notice that we said "microfiber cloth," not cotton or silk/satin. This is because microfiber cloths do not leave scratches on lens surfaces.
These are also very absorbent. So you have a lower chance of damaging the interior of your lens if you ever accidentally apply too much of the cleaning solutions. Just take your microfiber cloth and wipe it off!
Another must-have is lens-safe cleaning fluid. Other cleaning solutions can contain harsh chemicals that may strip away the protective coating of your projector's lens.
Using a solution specially made for lenses will help you easily remove smudges, fingerprints, and dirt without leaving any streaks behind.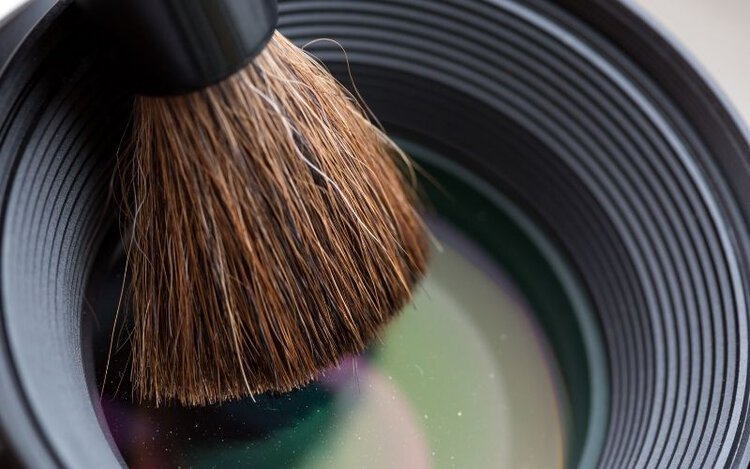 Lense brushes are great tools when your projector's lens only needs a quick dusting. It has soft bristles that are perfect for cleaning lenses without the risk of leaving scratches.
It is also recommended that you dust your lens surface before proceeding with your lens cleaning solution and microfiber cloth.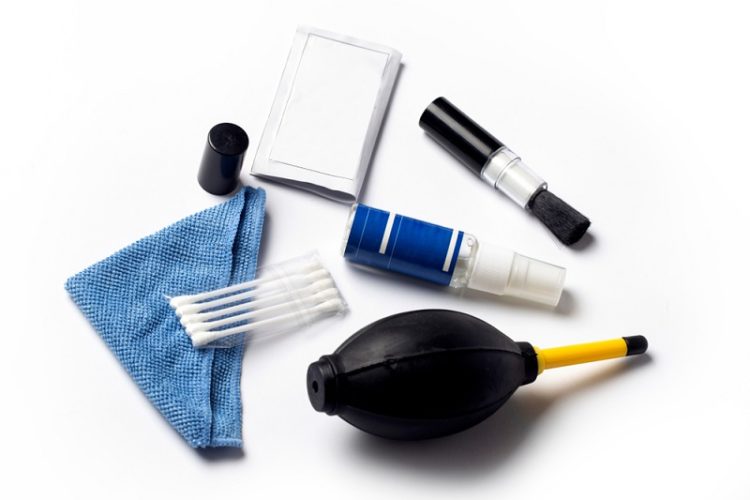 Finally, we have the air blower. This is also another way to safely get rid of dust from the surface and crevices of your projector's lens.
As we mentioned above, using your breath to blow away dust particles can also damage your lens' protective coating due to the natural acidity produced by our mouths.
These are all the items you want to look out for when selecting a lens-cleaning kit for your projector!
You don't need to pay an arm and a leg to get the right projector lens cleaning items. Just look for these items in cleaning kits you come across and choose one that fits your budget the best.
FAQs
Why Can't You Use "Normal" Cleaning Materials On Your Projector's Lens?
If the projector lenses are made out of glass, can't we just use soapy water or rubbing alcohol to remove the dust?
No, and don't even try!
Using the wrong type of cleaning liquid on a projector's lens will strip off the protective coating and lead to scratches on your lens.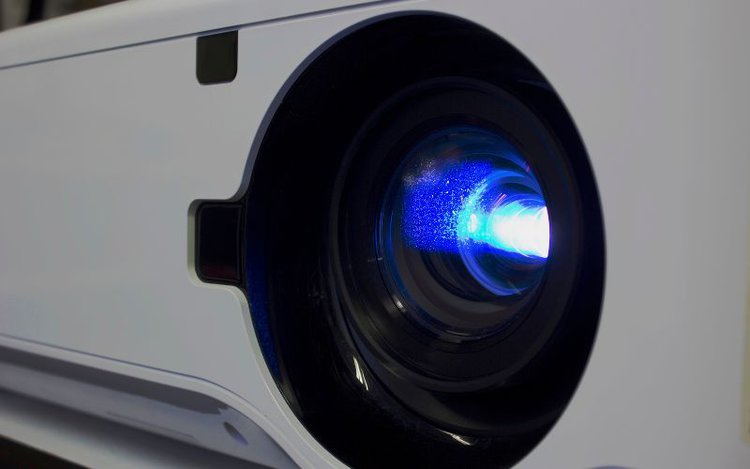 Your best bet is to stick to cleaning liquids and materials created explicitly for projector lenses.
Don't worry. They're quite easy to find!
All you have to do is type in "lens cleaners" on Amazon, and you'll get hundreds of great results.
Substitute Cleaning Agents for Your Projector's Lens
While we discourage using cleaning agents that are not specifically made for lenses, you can use mild soaps mixed with water as a temporary substitute.
But only do this if you have no other lens cleaning agents available and you need to clean your projector's lens ASAP.
Can You Use a Soft Cotton Shirt to Clean Your Projector's Lens?
It's not that you can't use a cotton shirt to clean your lense, it's more of you shouldn't.
Look, we all love a soft T-shirt. It feels great to wear a soft shirt all day, but it's not a suitable material for cleaning lenses.
Yes, even the softest cotton shirts can scratch up your projector's lens. So please stick to microfiber cloths!
Can You Use Tissue Paper to Wipe Your Projector's Lens?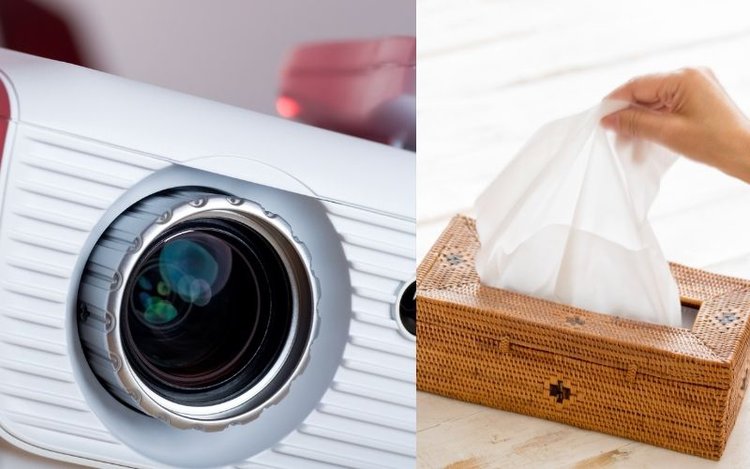 It may be tempting to use a piece of tissue paper to quickly dust off a light film of dust on your projector's lens, but don't do it.
Even if it's a one-time swipe, it can leave scratches on your lens.
If you can, look for a cleaning cloth or a microfiber towel. You can also use cleaning cloths to keep glasses clean and smudge-free.
How Much Cleaning Agent Do You Need when Cleaning Your Projector's Lens?
Another frequently asked question is how much cleaning fluid you need when cleaning your projector's lens.
To answer this, you only need a very small amount on your cleaning cloth. Your projector's lens is tiny and does not require a lot of product to clean up.
A good way to measure is to use your microfiber cleaning cloth. Spray or drop just enough product to dampen the surface of the cleaning cloth.
Don't apply the cleaning liquid directly to your projector's lens. The product might seep into the crevices of your lens and come in contact with the circuitry.
Conclusion
Having a lot of lens-cleaner options available to you can be overwhelming. But no matter how confused you are, please refrain from using the "normal" cleaning materials you have lying at home. Doing so can damage your projector's lens.
While we did talk about the best lens cleaner options we could find, you don't have to follow the list.
If you were able to find a brand that you are curious to use, go for it! You can always switch up if that one doesn't work for you.
Plus, we gave you a simplified list of items to look for in a lens-cleaning kit. Just keep those in mind, and you'll be golden!
Don't forget to let us know which one you went for in the comments section below!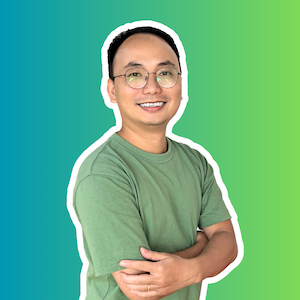 Vance is a dad, former software engineer, and tech lover. Knowing how a computer works becomes handy when he builds Pointer Clicker. His quest is to make tech more accessible for non-techie users. When not working with his team, you can find him caring for his son and gaming.