Laser pointers are great, no doubt. They help make presentations interactive and keep pets active when you are not in the mood for an evening walk. However, they can be unsafe.
If not properly filtered for InfraRed (IR), laser pointers can cause severe eye damage, among other effects.
If this is a concern for you, considering non-laser pointers might be the best decision.
Don't know what alternatives are out there? Don't worry. In this post, we will explore six laser pointer alternatives for you to choose from. We will cover options for pets as well as for making presentations.
Let's jump right in.
Laser Pointer Alternatives for presentation
Here are excellent non-laser alternatives for making interactive presentations:
1. Pointer Stick
The good old-fashioned teacher's pointer stick is still a great alternative to the laser pointers. Pointing sticks are safe except for when you accidentally poke someone's eye.
They have evolved from the long sticks you knew of back in school and now come in a variety of lengths, materials, and designs. Some are even electric, while a majority are telescopic.
You will love that they are super long, sturdy, and durable and when not in use, you can collapse them into a compact size to easily fit into your purse and backpack.
For instance, this SANDAO Telescopic Teachers Pointer is electric, can be used on all types of boards and screens, is portable, and can be extended from 8.3 inches to a length of 39.4 inches.
Pretty amazing, huh?
The best part is that you don't have to buy a pointing stick. You can make one yourself. Check out this tutorial to learn how to.
How To Make Classroom Pointer Sticks
Perhaps the biggest downside with pointer sticks is the fact that you have to be closer to the screen or board to point or demonstrate to your audience.
Another downside is that you may strain to reach the top of the screen if you are short.
2. Virtual pointers
Lots of presentation software and applications have their own virtual pointers that you can use to emphasize and highlight data or text for your audience. They function just like laser pointers.
In PowerPoint, for instance, you can use the emphasis animations to highlight specific data, or you can use arrow points.
Emphasis Animations in PowerPoint 2010
Another good presentation application that is available for both Mac and Windows is the Presentation Pointer.
The presentation pointer allows you to zoom in and out, draw on a live screen, and display your keystrokes.
In addition, you can use Presentation Pointer's cursor to highlight and point-specific points on the screen while dimming the rest of the screen.
Apart from these presentation applications, you can also use your computer's built-in mouse to conduct an interactive presentation.
Even though this alternative has some obvious drawbacks, like having to be next to your laptop the entire time, turning your mouse into a presentation pointer is a viable option.
3. Non-laser digital pointers
Similar to laser pointers are non-laser wireless presentation slide changers, also known as non-laser digital pointers.
They are easy to use, just outright plug and play, and work pretty much on any screen. They are compatible with projectors, TVs, LED, and LCD screens.
You can use digital pointers to highlight, magnify, and emphasize your important points. They work well with mainstream presentation Apps like Google slides, Prezi, PowerPoint, among others.
Similar to laser pointers, they make the presentations seamless and interactive.
There are plenty of non-laser remote pointers, but two that come highly recommended by most professionals are the Logitech Spotlight Presentation Remote .
Logitech Spotlight comes with convenient features like highlighting or magnifying content, presentation timer, and support up to a range of 30m. Some digital pointers have a range of up to 50m.
Laser Pointer Alternatives for pets
You've heard plenty of times that laser pointers are not safe for a pet's mental health. That the pointers provoke their wild innate characteristics.
While that is not further from the truth, overuse causes agitation and anxiety to your pet.
To minimize the overdependence of laser pointers, there are plenty of safe alternatives that you can use at home to keep your pets active and entertained.
Today, we will go over three alternatives.
1. Flirt Pole
Well, the flirt pole had to be top of the list as it so much resembles the chase of a laser pointer. Only in this case does the pet find closure once they catch a toy or treat tied at the end of the pole.
There is, therefore, no chance of agitation or behavioral problems that come with laser pointers.
2. Automatic Ball Throwers
An automatic ball thrower is another excellent alternative to laser pointers. It will keep your pet fit, happy and stress-free.
However, these interactive ball throwers, such as the IDOGMATE Interactive Ball Launchers for small dogs or the PetSafe Automatic Tennis Ball Launcher for big dogs, need you to be present to supervise. The balls can unexpectedly become a safety hazard.
3. DIY Pointer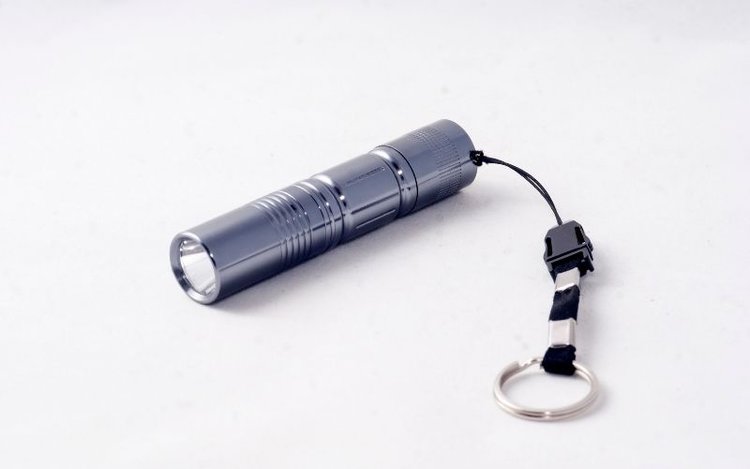 If you like the idea of your dog chasing around a light spot, how about DIYing your own.
Get a super small LED flashlight, wrap tape over it and leave just a tiny hole for the light. This will narrow the beam and give you a result similar to that of a laser pointer.
Point to the wall or floor just as you would a laser pointer and let your pet enjoy the chase. Remember to keep the chase to a short period and reward your pet at the end of the activity.
Conclusion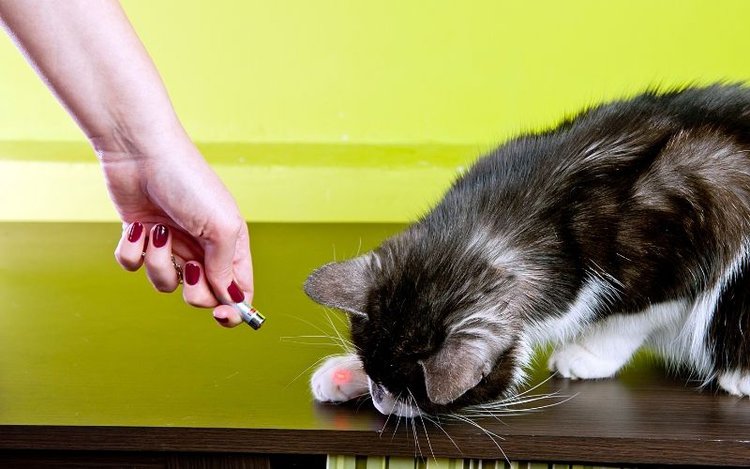 Laser pointers are usually not dangerous, at least if you don't go for the cheap ones that operate with DPSS modules and have no IR filter.
They are safe to use for your presentations, training and even for your pets.
However, try and switch to the above laser pointer alternatives every so often. This is necessary, especially for pets, if you are particular about minimizing any chance of behavioral and psychological problems.
A good practice when using laser pointers with pets is to reward them after the activity so that they can have closure.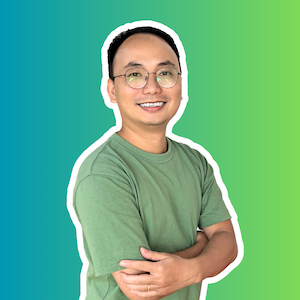 Vance is a dad, former software engineer, and tech lover. Knowing how a computer works becomes handy when he builds Pointer Clicker. His quest is to make tech more accessible for non-techie users. When not working with his team, you can find him caring for his son and gaming.