What To Know
Sansui TVs offer good value for money in the budget market, featuring 4K resolution on larger models and built-in smart capabilities across all models.
While Sansui TVs are cost-effective and feature-rich for their price, they may not match the build quality and advanced features of higher-end, more expensive brands.
This article will dissect Sansui's offerings, comparing them to the industry's leading brands to clarify your purchasing decision.
With a focus on Sansui's performance and value, you'll find the information you need to choose your next television wisely.
Let's delve into the details.
Is Sansui a Good TV Brand?
Yes. Sansui makes reliable and decent televisions for the budget market. While they may not have the same build quality as some of their expensive counterparts, they are still extremely good for their price bracket.
Below are the areas which Sansui excels against the competition. They certainly are not going to outperform a multi-thousand-dollar display, but they often do get close to matching their fidelity.
Resolution
Most TVs in the ultra-budget category still only offer 1080p as their highest resolution. Sansui has one-upped this and made their larger displays with a nice 4K panel. The 32-inch model is only 720p, but for a small screen size like that, it is more than sufficient.
Smart Capabilities
Even the lowest model from Sansui features smart apps built-in. That is a huge improvement over budget TVs from only a few short years ago.
Price
How can we talk about Sansui without touching on their incredible prices? The TVs they put out are insanely affordable, so much so that it may blow your mind when looking at their different models.
Who are Sansui TVs For?
Sansui TVs are perfect for a secondary television in a bedroom or elsewhere in your home. They are super affordable, thus they make great additions throughout a house.
While most people will not opt for them as their main television, they are perfectly acceptable in bedrooms, kitchens, outside barbecue areas, and more. These are the areas in which Sansui is going to be a top choice.
Also, if you have a vacation home that you only visit in short bursts throughout the year, these TVs would make great additions there as well. They are great because you could buy a whole house full of them for the price of one top-name brand TV.
The Best Sansui TVs on the Market
While there are a few different models out there at your local shops and online, there are two here that fit their respective categories very well. Feel free to browse the other selections, but if you are looking for a TV in one of these categories, the models listed below are going to be your best option.
Best Budget TV
SANSUI S32V1HA
Last update on 2023-11-29 / Paid Link.
The Sansui S32V1HA is one of the most budget-friendly televisions on the market. It's perfect for the super budget-conscious buyer.
Here you get a 32-inch 720p screen that is definitely not going to blow you away with its visual fidelity. However, the colors are decent and the sound is good enough for a kid's room if that is what you are looking for.
This television offers built-in Android TV, giving you access to streaming apps right out of the box. This makes setting up and watching your favorite shows a breeze with this small unit.
The TV also features voice control via the included remote control. You can have total control over your entire entertainment library only with the power of your voice.
Pros:
Extremely budget-friendly.
Android TV for all your streaming media.
Voice control remote gives you total freedom.
Cons:
Best Entertainment TV
SANSUI ES50V1UA
If you are looking for a larger TV that is a better option for all rooms in your house, the Sansui ES50V1UA is a great choice. This 50-inch TV is more than enough for basic entertainment needs, and much like the previous model is extremely affordable.
One of the most notable upgrades when going from the previous television to this model is the resolution jumping to 4K. This is going to give you a much clearer, sharper image that will please anyone.
Again, Sansui chose to go with Android TV for this model, which is a decent way to get the major streaming apps right there on your television. Some may opt for a Roku streaming device or a Fire Stick, but having the option to simply use what is built into the TV is a nice touch.
One thing that this TV features, which is often a weakness of budget displays, is the viewing angle. Often they will feature some color shift that makes it almost impossible to watch TV from the side. However, this television offers a whopping 178-degree viewing angle, which is phenomenal.
Pros:
Affordable price.
4K resolution is sharp.
Great viewing angles.
Cons:
Processing power is subpar.
How to Get the Most Out of Your Sansui TV
Budget televisions have a few drawbacks that their higher-end siblings do not. Sansui falls into this category, and it is something you should consider when looking to get the most out of your brand-new TV.
The first thing you should consider is whether your television has a VESA mount and if you are going to mount it on a wall or simply set it in an entertainment center. Putting the television at eye level and moving your couch or bed to the appropriate distance is going to make your TV quality that much nicer.
Luckily, many Sansui TVs are VESA mount-compatible.
Also, manually setting the color profiles and settings to your liking is essential.
Just pulling the television out of the box, turning it on, and using it that way is not optimal by any means. Take the time to go through and adjust the picture settings to your preferences.
Another thing to factor in is the amount of direct sunlight or artificial light that is going to be on your TV.
If a window is reflecting on the surface of the screen or an overhead light is too bright, it can drastically reduce the image quality. Be sure to watch in a dimly lit room for the best experience possible.
User Reviews
Here we have accrued some customer reviews for the two models of Sansui televisions listed above. This should be another tool in your toolbelt when trying to decide if you are going to pull the trigger on a Sansui set or not.
SANSUI S32V1HA
Users report the speakers are loud even on low settings.
The ease of use of Android TV is loved by users.
Some have reported the remote feels cheap but works well.
SANSUI ES50V1UA
Parents are raving about this television being great for a kid's room.
Users say the remote's shortcut button for Netflix is easy and convenient to use.
The sound leaves something to be desired according to multiple users.
Other TV Brands to Consider
Hisense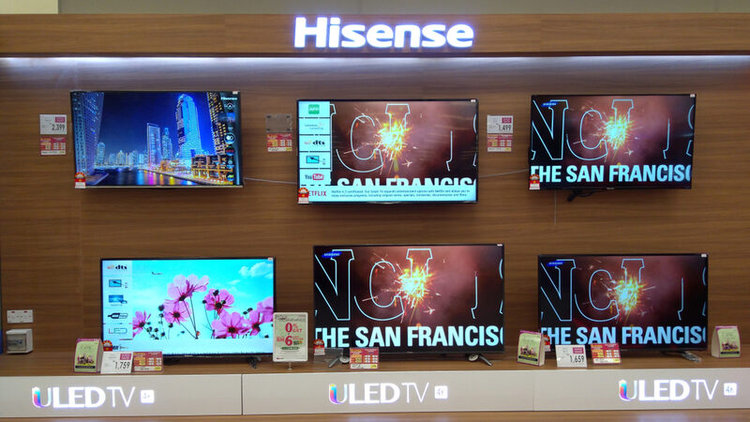 Hisense is the single brand that sets the bar for all budget televisions.
They make extremely high-quality televisions that rival those that are five times the price, all while still delivering a quality-built TV. It is extremely impressive just how feature-rich they are.
Insignia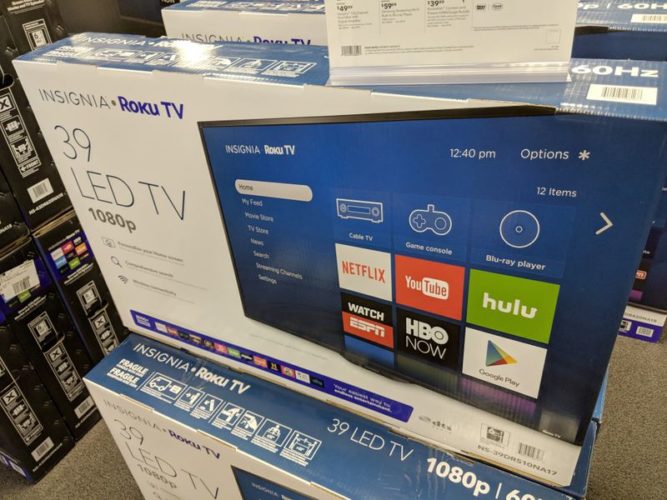 This is Best Buy's house brand. They have been around for a long time now and offer some very affordable televisions that compare favorably to other budget brands.
Plus, you don't just have to buy them in a store, they are available online as well.
Sceptre
While Sceptre is more well-known for its monitors than its TVs, they do offer budget options for those seeking a bit of a home theater upgrade.
Sceptre tends to lower the build quality of its products while keeping high-quality panels to give you exceptional image fidelity. This seems like the best place to cut corners if a brand is going to.
Conclusion
There you have it, Sansui TVs are all out there for you to review.
What they offer is extreme value to go along with a decent feature set, which is a match made in heaven. Don't be afraid to go out of your normal brand allegiance here, Sansui may just surprise you.
Meet Vance. He's a proud dad, a seasoned Electronics Engineer, and an avid tech lover. His proficiency in electronics and troubleshooting skills were instrumental in crafting Pointer Clicker. Vance is passionate about simplifying tech for those who aren't well-versed in it.