Zeroing in on a TV that suits your budget, domicile, and specific requirements can be a time-consuming, exhausting process.
Once you've narrowed down an option, other processes such as buying the TV and getting it shipped to your house are relatively straightforward.
But the perennial question remains: Should you mount the TV or set it on a stand?
During the CRT (cathode-ray tube) TV days, mounting was not an option. But with the current breed of smart TVs that are flat both at their front and rear, mounting is not just viable, but also the better choice.
But does that mean a TV stand is no longer relevant? Not necessarily.
If you're split between mounting and using a TV stand, this article will help you decide. Keep reading to learn more.
Pros of Mounting Your TV
Most people mount their TVs to their walls, and there are legitimate reasons for that.
Space-Saving
A TV attached to the wall doesn't require a separate table or stand, thereby saving physical space. The saved area would be particularly beneficial in a small room.
A TV or entertainment stand could be significantly big and negatively impact the space's airiness. With the stand out of the way, you can perhaps add an essential piece of furniture, like a couch.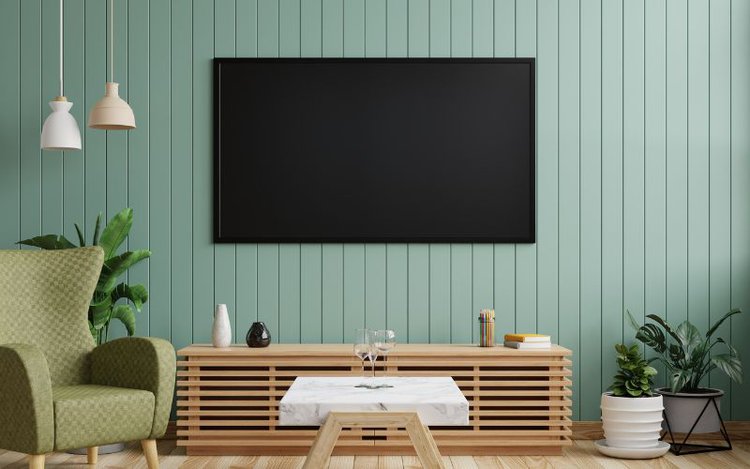 If you already have an entertainment center, mount the TV to the wall in the unit's center and use the available space to place your tchotchkes, small plants, or any item that looks aesthetically pleasing.
Looks Sleek
A TV mounted to a wall looks sleek and modern as there's one less protruding object in the room. Not to mention, a TV mount will best suit the minimalism approach.
And if it's a TV that can double up as a piece of wall art, such as the Frame TV by Samsung, that's added aesthetics.
Sale
Last update on 2023-05-28 / Affiliate links / Images from Amazon Product Advertising API.
Accident-Proof
If you have active kids and pets who run around in the house, a TV securely mounted to the wall will help prevent accidents or decrease the likelihood of your children/pets getting hurt or the TV crashing down to the floor.
Television screens have gotten big over the years, but their weight and dimensions have decreased. As a result, it doesn't take much effort to nudge and tip the TV over.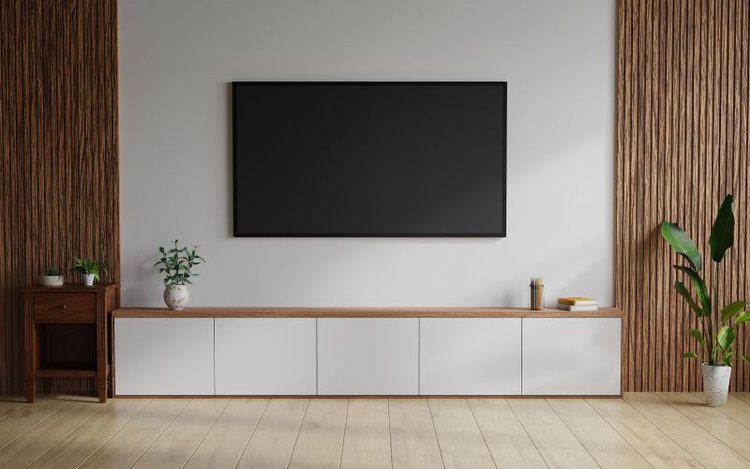 Even if accidentally tipping over the television is not a possibility in your house, a TV placed on a stand is usually a lot easier to access for kids, who could feel inclined to grab onto the TV when climbing up the table. And you can only imagine what could happen next.
Long story short, if you've got children and cute animal companions in the house, mounting the TV could save you a lot of potential headaches.
Also, if your place is prone to natural calamities, like earthquakes, a few minor tremors won't knock your securely mounted TV off the wall, unlike it could to a pedestal television.
The Manufacturer Wants It
If you look at the back of your TV, you'd see provisions to mount it on a wall. Also, modern flat-screen TVs come with mounting tools in the box.
They may not be the best quality, and you may likely buy a third-party wall mount, such as this ELIVED TV Wall Mount (37 to 75-inch TVs).
Sale
ELIVED TV Wall Mount for Most 37-82 Inch Flat Screen TVs, Swivel and Tilt Full Motion TV Mount Bracket with Articulating Dual Arms, Max VESA...
Universal TV Wall Mount - This universal TV mount fits most 37,42,46,50,55,60,65,70,75,82 inch TVs...
The Optimal Viewing Angle - This full motion TV mounts can swivel +/- 45° to cover more viewing...
Solid as A Tank - ELIVED TV wall mount swivel and tilt designed with 6 articulating arms to ensures...
Last update on 2023-05-28 / Affiliate links / Images from Amazon Product Advertising API.
But if you could keep the bundled-in mounting equipment aside and focus on the subliminal messaging, you'll realize the company is tacitly saying: Mount the TV.
Offers Flexibility
There are different types of TV wall mounts. Some are fixed and hold the TV flat to the wall, like this Mounting Dream Fixed TV Mount.
Sale
Last update on 2023-05-28 / Affiliate links / Images from Amazon Product Advertising API.
Most TV mounts, however, are articulate, like this USX Mount Full Motion TV Wall Mount (47 to 84 inches) with arms that extend, swivel, tilt, etc.
Sale
Last update on 2023-05-28 / Affiliate links / Images from Amazon Product Advertising API.
The ability to move the TV while it's affixed to its wall mount offers several conveniences. For example, you could change the TV's angle to avoid glare from the sunlight coming through the window.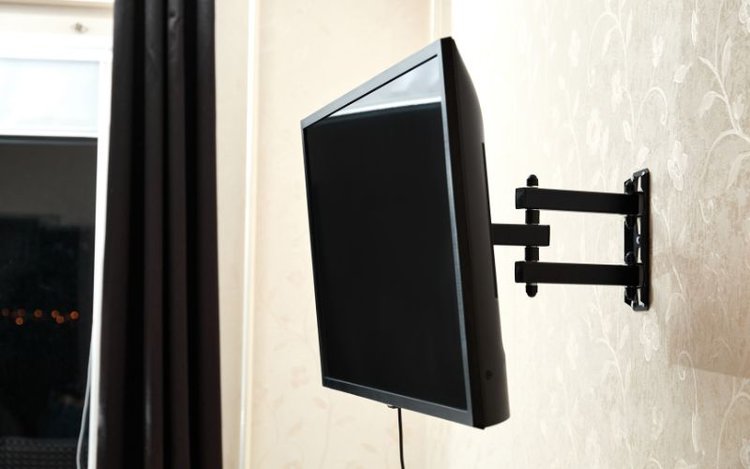 Some spaces may not have the perfect layout or geometry to set the TV in the correct position. In those scenarios, an articulating mount would let you pull the TV out and position it the way you want it for optimal viewing or to cater to your vantage point.
Cons of Mounting a TV
Now that you know what's good about mounting a TV, here are a few negative aspects of the setup.
Complicated to Set Up
Setting up a TV mount is complex. You may need a technician to put it up.
Even if you know how to measure up and screw in the mount, you may two people to pick the TV up and set it in place. Big televisions can be particularly tricky to secure and align without assistance.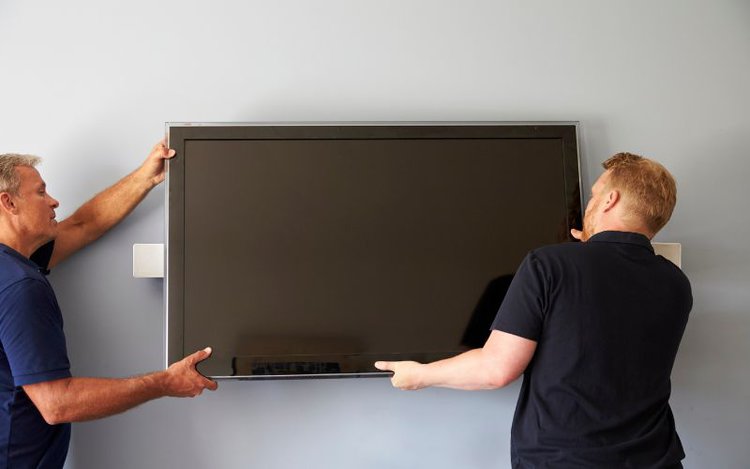 Not to mention, a variety of tools would be required for the job, including a level, drill, adequately sized drill bits, socket set, a stud finder (to make holes in wood-framed walls), etc.
Cost
You can choose to mount the TV yourself or seek professional installation. The latter route saves you time and hassle but also costs more money.
Prices invariably begin at around $100 for a standard drywall installation. For stone, brick, or plaster walls, the costs would increase. Setting the television over a fireplace could also attract higher prices.
Pros of Using a TV Stand
TV stands are not as intuitive as they used to be. But they are still available as an option to set a TV up, and the following are the reasons why.
Straightforward Setup
TV stands are pretty easy to set up. They don't require mounting tools, drilling and screwing, and other complexities attached to mounting. Depending on the unit's size and weight, putting up a TV stand could be as simple as setting up a couch.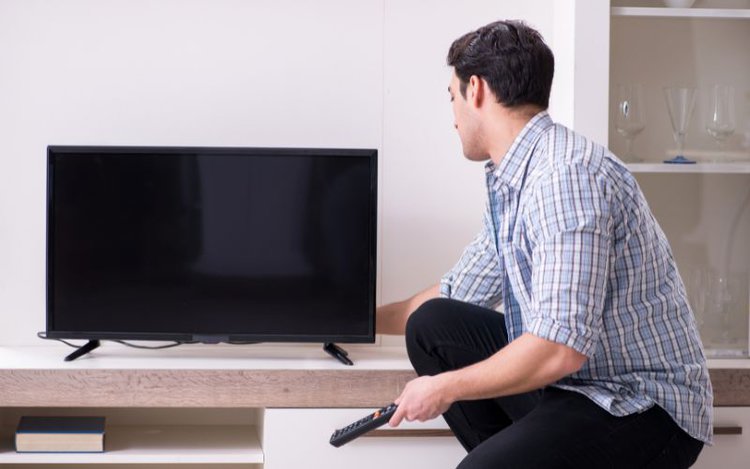 Due to its non-fixed position, your TV can be moved whenever you want (for instance, to another room). On the other hand, a TV mount is fixed in place, and it could take effort and time to remove it and put it up elsewhere.
Easy Accessibility
A television stand also provides easy cable and socket access. A television stand will be more practical if you consistently plug in and unplug different devices from your TV.
Moving TV mounts also make it easier to access the ports and cables at the back of the TV. But then you need to be very strategic with lining up the cables.
If the cords are not long enough or do not provide sufficient leeway, they could come unplugged when the TV is pulled to the front each time you need to access the ports.
Offers Versatility
Because wall-mounting is becoming an increasingly popular option for setting up a TV, TV stands cannot afford to do just one thing.
To attract more people toward it, it has to be a more wholesome package, and most TV stands do that. For instance, storage spaces and a host of other utilities are now almost a given with a TV stand.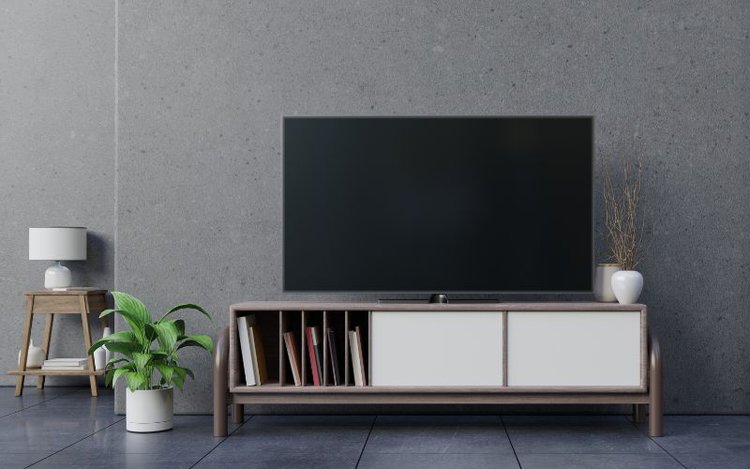 If you have a large media or gear collection, a TV stand will offer properly segregated spaces for your DVD player, gaming console, cable box, and more. Not to mention, hiding the wires behind the TV will be much easier with a stand.
Most TV stand units also have open spaces to place showcase pieces.
Ideal for Rented Spaces
If you live in a rented house, the landlord may not like holes drilled into their house's walls. Wall-mounting a TV, as a result, may not be an option or would require due permission.
If you drill holes into the wall without informing your landlord or going against their instructions, you risk losing the security deposit on the house. There are no such concerns with using a TV stand.
Attractive Designs
TV stands have come a long way, in terms of both design and functionality. They are no longer the drab, boring table stands they once were.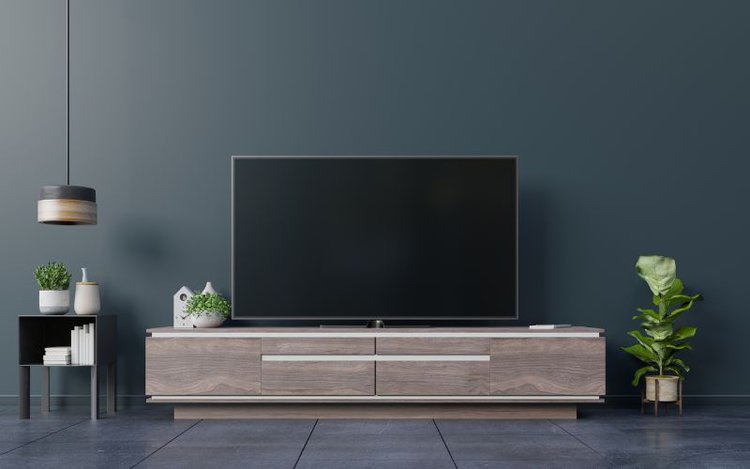 These TV stands are now more holistic and come in various designs that can tie together any living room or make a statement. They can be the focal points in any room.
The WLIVE Modern TV Stand, and Walker Edison Richmond TV Stand (below) can offer a unique look to any space.
WLIVE Modern TV Stand for 55 60 inch TV, Entertainment Center TV Console with Storage Cabinets & Open Shelf, Media Console for Living Room, Black
Walker Edison Richmond Modern Farmhouse Sliding Barn Door TV Stand for TVs up to 65 Inches, 58 Inch, White and Rustic Oak
WLIVE Modern TV Stand for 55 60 inch TV, Entertainment Center TV Console with Storage Cabinets & Open Shelf, Media Console for Living Room, Black
Walker Edison Richmond Modern Farmhouse Sliding Barn Door TV Stand for TVs up to 65 Inches, 58 Inch, White and Rustic Oak
Last update on 2023-05-28 / Affiliate links / Images from Amazon Product Advertising API.
If your space is short on furniture, a TV entertainment center unit should be one of the first few pieces to adorn your house.
Cons of Using a TV Stand
Although the TV stand or entertainment unit has many positives, it's becoming an afterthought for most people wanting to set up a TV in their house. And the following could be the reasons why.
Space-Consuming
Perhaps, the biggest drawback with a TV stand is its physical footprint.
The space-hogging nature of the stand will be more apparent if your house is relatively compact or has quite a bit of furniture already.
Not Very Customizable
A TV stand may offer a lot of amenities, but it could be limiting with its primary purpose. In other words, it may not provide the ability or option to set the height of the TV to your liking.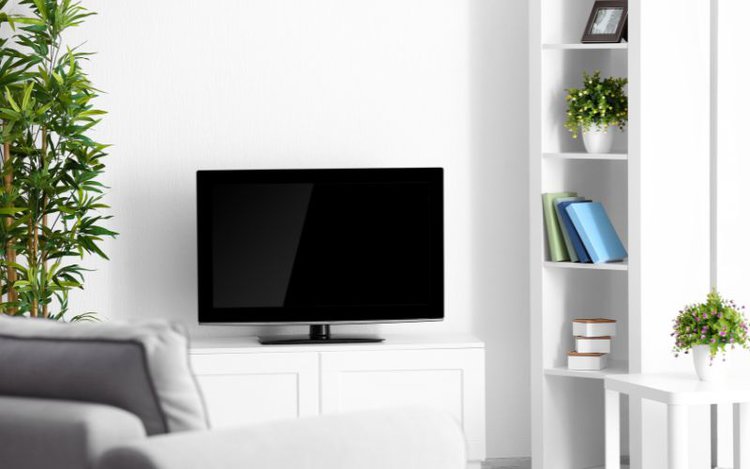 How high the TV could be from the floor primarily depends on the height of the stand. You cannot move the platform up or down to suit specific vantage points. Also, the TV's built-in legs are usually fixed and cannot be adjusted for height.
Luckily, height adjustable TV base stands, such as this PERLESMITH Universal TV Stand , offer some respite. Here's another option: ELIVED Universal TV Stand .
FAQs
Can I Mount a TV on a Stand?
Yes, you can.
There are instances when you may want the best of both worlds.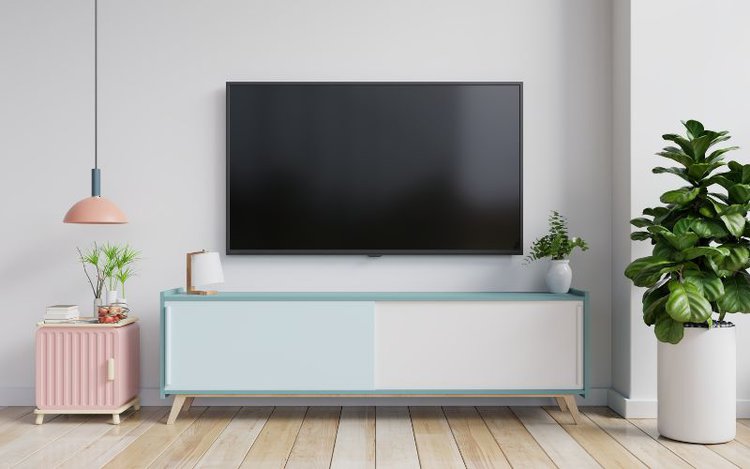 For instance, if you like how safe and secure the TV is attached to the wall and also fancy the utilities offered by a TV stand/entertainment center, you can certainly have your cake and eat it too.
You can place a mounting setup on a TV stand, like the PERLESMITH TV Stand . But if you want a TV stand with a mounting unit attached to it, look at these options:
Considering a detached wall mount and storage unit setup? Look at the Catrimown Floating TV Stand . The Aheaplus Floating Wall Mounted Entertainment Center and the WAMPAT Floating TV Stand are solid options too.
Not to mention, you can always have a regular table with storage compartments positioned underneath a wall-mounted TV.
Conclusion
Considering the pros and cons of mounting a TV or placing it on a stand, it's safe to conclude that wall-mounting is the better option for most people and use-case scenarios.
It would have been a split decision if it hadn't been for flexible TV wall mounts that solve some of the pain points of a fixed wall unit, such as the inability to access the ports on the back of the TV.
There's, of course, the complexity attached to setting up the mount and hooking the TV up to it. But that is a one-time ordeal, not tilting the balance in the TV stand's favor.
With that said, if you want the TV stand because you like how it adds to the décor of a space, go ahead. And, as mentioned above, you need not pick between the two. Instead, you can incorporate them both!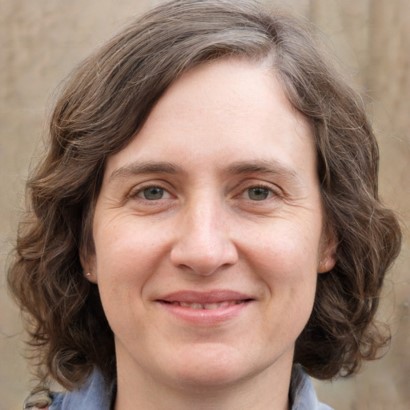 Catherine Tramell has been covering technology as a freelance writer for over a decade. She has been writing for Pointer Clicker for over a year, further expanding her expertise as a tech columnist. Catherine likes spending time with her family and friends and her pastimes are reading books and news articles.