The world of high-end 4K projectors is quickly expanding, but not everyone can afford to spend thousands of dollars on a fancy unit.
If you have a cheap projector producing slightly underwhelming results, have no fear! You can make your low-quality projector look brighter and more vibrant in no time.
How can you make a cheap projector better?
Are there any accessories you can buy to make your cheap projector look better?
Keep reading to find out!
1. Keep Your Room Cool
Cheap projectors often tend to regularly overheat and produce a loud whirring sound.
Keeping your room cool will help your projector maintain a low internal temperature. Your unit overheating will cause the lamp to quickly dim and burn out quickly. It will also make the fan work overtime, which may damage your projector's internal hardware.
The fan's loud humming sound could also drown out the projector's speakers, making it difficult to hear whatever you're watching.
Try keeping your room's temperature around 27 degrees Celsius (or 80 degrees Fahrenheit).
Since projectors produce heat when turned on, occasionally open a window or door to let out the warm air. You may also turn on the air conditioning or a fan. Just make sure they're not pointed directly at your unit.
2. Regularly Clean the Projector Lens
An easy way to increase your cheap projector's lumen output is by keeping the lens clean.
Similar to how the world looks blurry when your glasses are grimy, a dirty projector lens will produce a dim, fuzzy picture.
Projector lenses are extremely delicate and need to be kept pristine to deliver the clearest possible picture. Incorrectly cleaning the lens could create microabrasions, which lower the picture resolution and are irreparable.
To clean your projector lens, you will need a can of compressed air, a soft microfiber cloth, and a non-abrasive lens cleaner solution.
Falcon Dust, Off Compressed Gas (152a) Disposable Cleaning Duster, 1, Count, 3.5 oz Can (DPSJB),Black
Elite Tech Gear - 4-Pack Blue Oversized 12" x 12" Microfiber Cloths, The Most Amazing Microfiber Cleaning Cloths - Perfect for Cleaning All Electronic...
Koala Eyeglass Lens Cleaner Spray Kit | American Made | 18 Ounces + 3 Koala Cloths | Streak and Alcohol Free | Carefully Engineered Glasses Cleaner |...
Falcon Dust, Off Compressed Gas (152a) Disposable Cleaning Duster, 1, Count, 3.5 oz Can (DPSJB),Black
Elite Tech Gear - 4-Pack Blue Oversized 12" x 12" Microfiber Cloths, The Most Amazing Microfiber Cleaning Cloths - Perfect for Cleaning All Electronic...
Koala Eyeglass Lens Cleaner Spray Kit | American Made | 18 Ounces + 3 Koala Cloths | Streak and Alcohol Free | Carefully Engineered Glasses Cleaner |...
Before cleaning your projector, unplug it and let it rest until it's completely cooled.
If your lens is dusty, use compressed air to remove the dust before wiping off the screen.
Point the compressed air 18 centimeters (or seven inches) away from the lens and gently pulse the air at the lens. Holding the compressed air too close to the lens could cause it to crack, so be careful!
Warning: Compressed air is extremely flammable, so keep it away from any heat sources, including warm electrical appliances.
Now that the dust has been blown off the lens, you're ready to wipe away any grime.
Dot a small amount of non-abrasive lens cleaner onto a soft microfiber cloth and clean the projector lens using circular motions. To prevent microabrasions, only wipe in one direction.
Our article How To Clean A Projector Lens Properly? 7 Lens-Cleaning Tips explains exactly how to properly clean your projector lens without scratching it.
You can also check out the video below to see how to clean a projector lens with the supplies listed above.
Clean Your Projector Lens
3. Keep the Filters Clean
Keeping your projector filters clean will prevent overheating and help keep the lamp unit bright. It only takes a few minutes but it can drastically change how your projector operates.
First, locate your unit's filters, which usually look like small grills and are located on the top or sides of the projector.
Check for any damage and confirm that they're in good condition.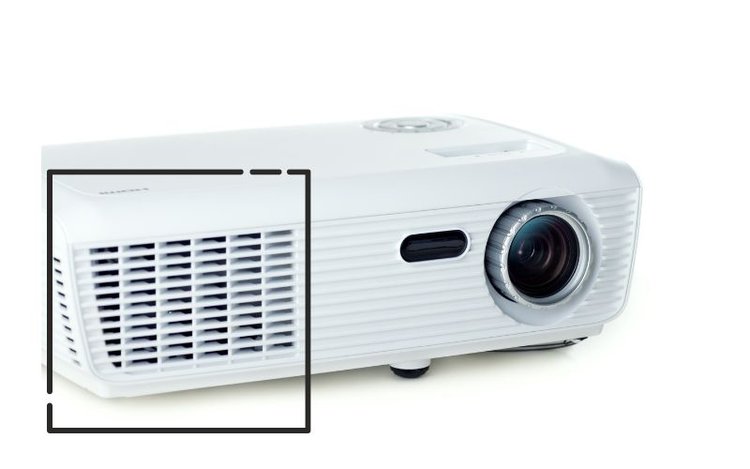 Use a vacuum cleaner nozzle to suck away any grime. If you don't have a vacuum, use a damp cloth instead.
If your filters are filthy, you may see chunks of dust inside the grate. Do not stick anything inside the filters to try and retrieve them. It's better that your projector is slightly dusty than damaged.
Some projector models have removable filter units that must be replaced. Check if your projector's filter unit can be replaced by consulting the manual.
A dirty filter may also cause your projector to shut down completely until it's replaced.
Filter replacements can usually be purchased online, but consult the manufacturer's customer service first to ensure you're ordering the correct parts.
4. Make the Room as Dark as Possible
Cheap projectors usually have a lower lumen output than their costly counterparts, so making the projector appear as bright as possible is a must.
Reduce the room's ambient lighting by closing the curtains/shutters and turning off all lights. Consider investing in black-out curtains, like the Joydeco 84-Inch Blackout Curtains.
If you're planning on using the projector outside, wait until it's completely dark to have the best visibility.
If you're renting and can't drill holes into the wall for a curtain rod, try using black-out or white-out film. This is a thin layer of non-adhesive plastic that sticks directly to your window. No nails required!
It blocks up to 100% of outside light and can be easily peeled off the window when you move.
Check out the Window Whirl Total Blackout Window Film for an affordable alternative to blackout curtains.
5. Sit Close to the Screen
Although it may sound simple, sitting close to the screen can make a huge difference.
While ultra-bright, high-resolution projectors can be watched from a distance, cheap projectors are less powerful and are designed to accommodate a small audience sitting close to the unit.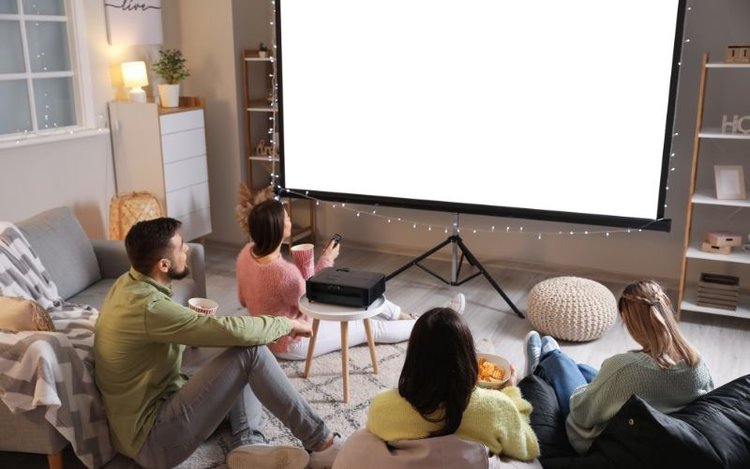 Experiment with a distance that works best for you and consider rearranging the room so that you can comfortably sit at a close distance.
6. Make the Screen Size Smaller
Huge projector screens can look incredible, but only if you have the unit to match.
If your projector is dim and fuzzy, making the screen smaller is an easy way to make the picture resolution higher and brighter.
Depending on the model, your projector's screen size can be altered in two different ways.
Look for a dial on the top of your projector, which can be used to adjust the screen size. Rotating the dial will make the screen larger or smaller.
You can also physically move your projector closer to the screen.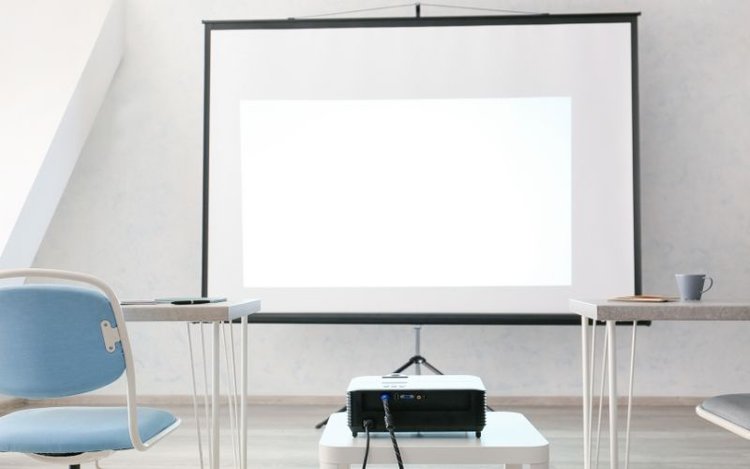 When a screen is smaller, the projector's light will become more concentrated and brighter.
If you want to achieve a certain screen size but don't know how far away to place your projector, try using a projector throw distance calculator. Enter your projector model and desired screen size to calculate exactly how far away you'll need to place your unit.
This tool is also great for planning how you'll need to design your space to accommodate your projector's throw distance.
Watch the video below demonstrating the two methods used to alter a projector's screen size.
How To Adjust Projector Screen Size-Tutorial
7. Connect to an External Speaker
While many cheap projectors often have built-in speakers, they are usually low-quality and difficult to hear.
Connecting your projector to an external speaker will allow you to enjoy your unit's full spectrum of sound.
You can either connect a speaker to your projector via Bluetooth or an AUX port.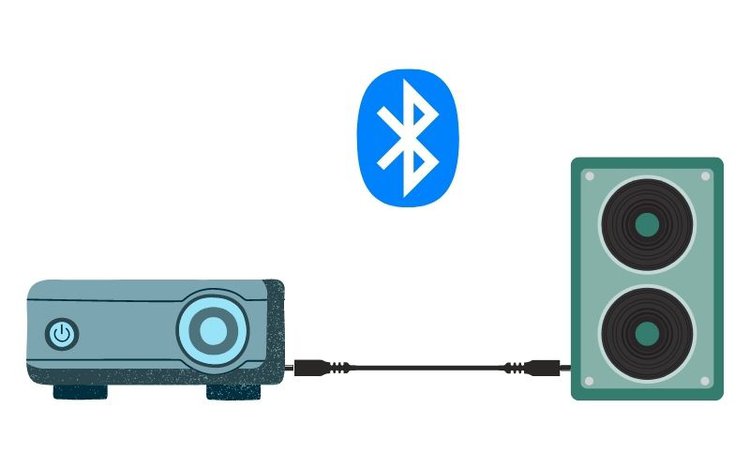 How to Connect a Speaker to a Projector via Bluetooth
Not all projectors support Bluetooth, so make sure that your projector does before connecting a speaker this way.
Turn on your Bluetooth speakers and activate Bluetooth pairing mode (some brands will do this automatically).
Use your projector's remote or control panel to open the settings and select Bluetooth or Audio Output (depending on the model). Click on your speaker's name from the list of available devices, and you're all set!
How to Connect a Speaker to a Projector with an AUX Port
Ensure your projector has an AUX port by looking for a small circular port labeled "AUX IN."
Once you've found the "AUX IN" port, plug the AUX cable into your projector and speakers.
If you don't have an AUX cable, see the Amazon Basics 3.5 mm Male to Male Stereo Audio Aux Cable, which is available in five different lengths.
8. Invest in a Projector Screen
While the projector's image will be visible when projected onto a white wall, it's always best to use a projector screen.
Your white wall may look smooth, but if you look closely, you'll be able to see it's covered in tiny marks, dents, and streaks. These flaws will make your projector appear dim and dull its colors.
A projector screen will not only make your home theater look more professional, but it will also make your unit's image look crisper.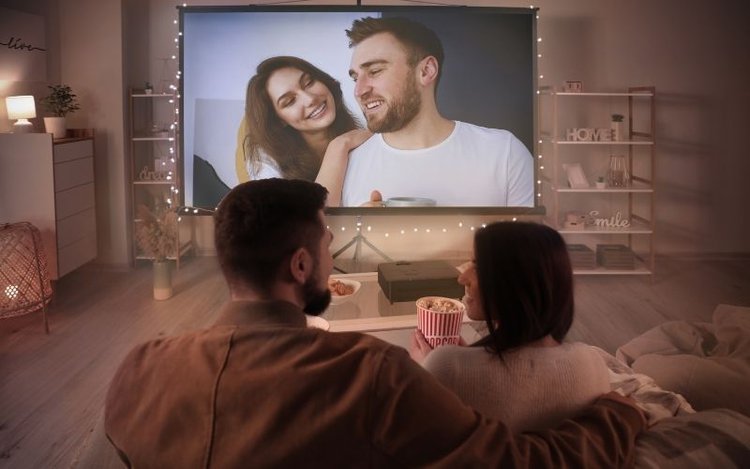 There are many pricey projector screens on the market, but these are designed to cater to high-end 4K units.
Remember that using a smaller screen size is recommended, so a 200-inch screen isn't necessary.
All you need is a simple screen that can be anchored to the wall or a stand.
Check out the Taotique 120-inch Projector Screen for a budget-friendly option.
Sale
If you're renting and can't mount the screen by drilling holes in the wall, buy a projector with built-in loops. Use adhesive hooks to anchor the projector to the wall.
If you don't have any hooks at home, see FACURY Large Adhesive Hooks on Amazon.
Last update on 2022-08-14 / Affiliate links / Images from Amazon Product Advertising API.