Do you want to hang your projector from a drop ceiling but don't know how?
The truth is, if you know how it's done, it's as simple as making a few attachments.
If you don't, you'll have to go through trial and error, which could damage your projector or ceiling.
Don't worry.
We've got you covered.
In this article, we'll show you the best ways on how to hang a projector from a drop ceiling.
So are you ready? Let's begin!
Where to Install Ceiling Projectors? Finding the Right Spot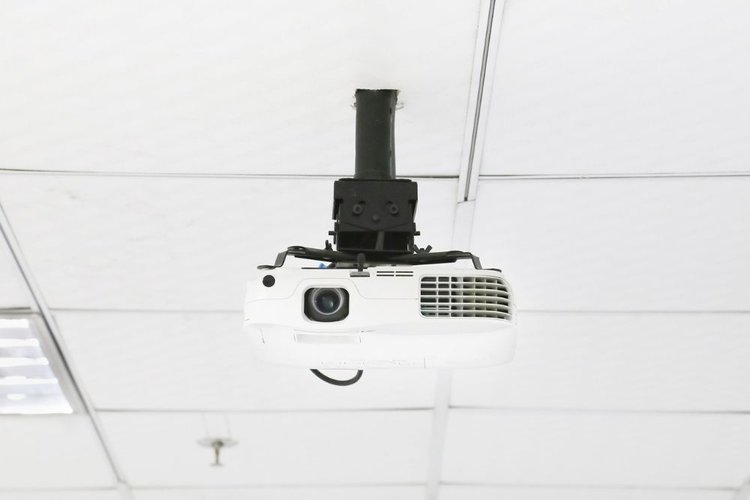 Before we even get to that, it's important to first determine the correct spot for your projector.
Why?
If it isn't in the right spot, the images won't fit into the screen/wall. In turn, this will ruin the display quality.
Now, to find that spot, you need to know the projector's throw distance (throw distance is how far back the projector should be to fill the screen/wall).
You can check the manual or online for a throw-distance-to-screen chart.
Say, for example, you have a 120″ screen. When you look at the chart, you'll see that one projector should be around 3m away while another is farther to get the full display.
So that's how to get the right distance.
But what about the angle?
Look for the center point of your screen/wall (divide the width of the screen/wall by 2).
Make sure the projector's lens flashes directly at that center point.
Once you get the right spot, you can start installing your projector.
4 Ways to Hang Your Projector from a Drop Ceiling
There are 4 ways to hang your projector on a drop ceiling:
Use a universal drop ceiling
Use a projector ceiling plate
Use a projector bracket
Make a DIY mount
Let's take a closer look at each one.
Universal Drop Ceiling
What's great about the universal drop ceiling is that it comes with everything you need.
CHECK LATEST PRICE ON AMAZON.COM
It has a ceiling mount that can easily attach to your ceiling.
At the center of the mount, there are adjustable brackets. (Usually, these brackets are universal, meaning most projectors can fit into them.)
The best part is that these brackets are very flexible. It can tilt -15 to +15, swivel -15 to +15, and rotate 360°.
Not only that, but you can extend the bracket legs for big projectors.
We tell you, with a universal drop ceiling, you can angle your projector any way you want.
Looking for a good universal drop ceiling? We recommend VIVO Universal Drop Ceiling Mount.
This has a 2x2 ceiling tile, universal brackets, and doesn't require any drilling.
What's more, it's made from solid steel construction. You can be sure that your projector is safe with this mount.
Check out this video of the VIVO Universal Drop Ceiling Mount:
MOUNT-VP07DP Drop Ceiling Projector Mount by VIVO
Projector Ceiling Plate
This is somewhat similar to the universal drop ceiling.
But, instead of a full ceiling mount, it's only a ceiling plate.
To install this, you need to place it on top of the area where your projector is going to be.
Then, screw the plates in place. To secure it, make sure the screws go into the studs. (If there are no studs, you might want to install one in that area.)
The next step is to make a hole in the ceiling for the pipe to go through. This pipe is what attaches to the bracket (and the bracket to the projector).
Of course, you should buy a bracket with this projector ceiling plate.
After that, it's all easy going from there to install the bracket and the projector.
Check out this video on how to install a projector ceiling plate:
Install the 25-CMS-440 Projector Mount Ceiling Suspension Plate
Projector Bracket
If the first 2 options seem like too much hassle for you, go for a projector bracket.
With these brackets, all you need to do is screw it onto your drop ceiling. Again, make sure you screw it into a stud for better security.
At the other end of the bracket, you can easily attach your projector.
A good projector bracket we recommend is AMER Projector Mount.
It's very sturdy and has excellent build quality.
Not only that, but it's also universal, meaning most projectors can fit into it. It can tilt, as well, allowing you the right angle for your drop ceiling.
Still unsure? You can check the reviews! Customers have a lot of praise for this product.
DIY Projector Mount
Don't want to spend on a projector mount?
You can make a DIY one!
To do this, you'll need:
Short screws or bolts that fit into the bottom of your projector's screw holes
A drill
3″ dry-wall screws
A thin piece of wood, plastic glass, or metal plate about 1/3 of the projector.
A small chip of wood, plastic glass, or metal plate.
Once you have all that, follow these simple steps:
Place the wood/glass/metal (whichever you choose) on the bottom of your projector. Make sure it sticks out about an inch of the back of the projector.
Drill holes on the wood/glass/metal platform to match the projector's screw holes. Drill two more in the area that sticks out.
Use the screwdriver to screw the platform to the projector.
The next step is to get your small chip/hook and drill a hole near the bottom.
Screw this chip on the front of your projector.
Grab the first dry-wall screw and drill it into your ceiling. Make sure it hits a stud.
Slide the chip/hook (now attached to the projector) onto that dry-wall screw to secure the front of the projector.
Finally, use the other 2 dry-wall screws for the platform. This will secure the back of the projector to the ceiling.
To get a better picture of this process, check out this video:
How to Build Your Own Projector Mount
It's as simple as that to make your own drop ceiling projector mount.
However, keep in mind that this DIY mount won't give you great angle flexibility.
Conclusion
Don't know how to hang your projector on a drop ceiling?
Try any of these 4 ways!
Whichever you decide to do, you'll surely enjoy the view that a ceiling-mounted projector offers.
We hope this article has been a great help!
Last update on 2022-08-19 / Affiliate links / Images from Amazon Product Advertising API.