Technology makes it easy to mirror phones on projectors quickly and cost-effectively.
Are you wondering if this works with BenQ projectors and Android phones?
Yes! It does.
Read on to learn how to connect an Android phone to a BenQ projector.
Here's a fun fact: There are several ways to do it, both wired and wireless.
How To Connect Your Android Phone To A BenQ Projector Using HDMI?
BenQ uses HDMI as the primary input interface for its projectors.
So it follows that the best way to output content from your Android phone to a BenQ projector is by connecting the phone to an HDMI port on the projector.
Fortunately, the ports on Android phones make this easy. Depending on your phone's model and year of release, the phone has a USB-C port, micro-HDMI port, or micro-USB port.
You only need to connect the phone to an HDMI adapter cable. Remember to change the projector input source to correspond to the HDMI port you're using.
USB-C to HDMI Cable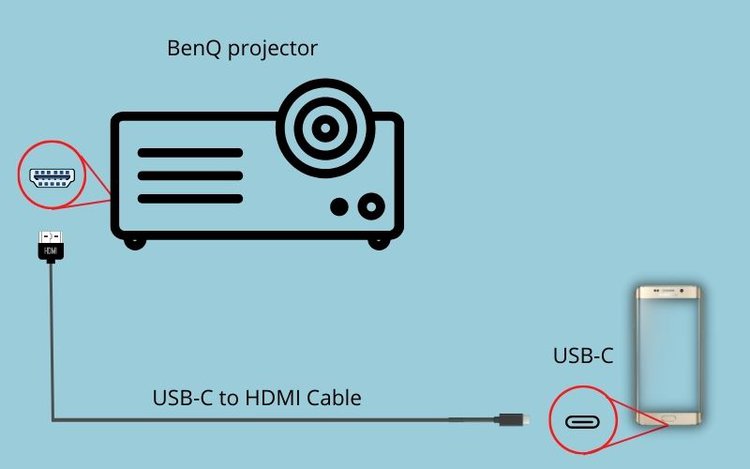 If you have a newer phone, it likely has a USB-C port. USB-C supports HDMI Alt Mode.
This means the USB Type-C connector in your phone will connect directly to the HDMI-enabled BenQ projector via cable. You only need a USB-C to HDMI cable to link the two devices.
You do not need an adapter or converter since HDMI Alt Mode carries audio and video data from the USB-C source. It then delivers this data as an HDMI signal to the HDMI-enabled projector.
Micro-HDMI to HDMI Cable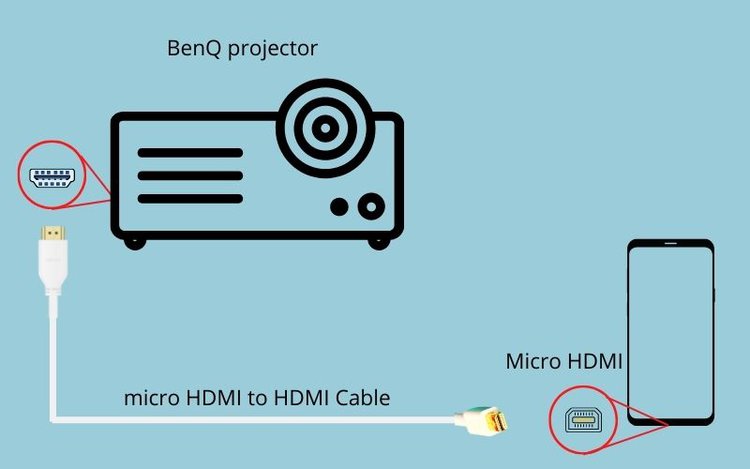 Some Android phones come with a micro (Type D) HDMI port. Type D HDMI works just like the standard Type-A HDMI you see in things like laptops, TVs, and projectors.
Any difference between the two?
Yes, the micro version of HDMI fits on smaller devices like smartphones and tablets.
The HDMI Forum came up with micro-HDMI for use on smaller devices since the Type-A HDMI connector is too big for such devices.
To connect a phone with a micro-HDMI connector to your BenQ projector, use a micro-HDMI to HDMI cable .
The micro-HDMI-to-HDMI cable is a passive cable that works like an HDMI-to-HDMI cable. But instead of an HDMI connector on each end, it has:
a micro-HDMI connector on one end
an HDMI connector on the other
Insert the micro-HDMI end into your phone and plug the HDMI end into the projector.
Turn on the devices, and you should have a connection.
Micro-USB to HDMI Adapter or Cable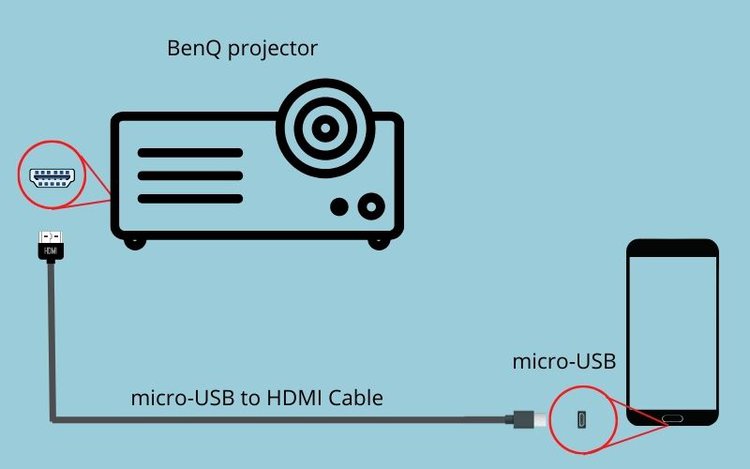 The bulk of older Android phones falls here. But this is bound to change as USB-C ports become standard in smartphones.
If your phone has a micro-USB output, you can connect it to a BenQ projector using a micro-USB-to-HDMI cable or adapter. Make sure that you choose the correct adapter for your USB version.
What does that mean?
Let's say your phone has a USB 3.0 port. You want to get a USB-to-HDMI cable that supports USB 3.0 so that you enjoy USB 3.0 transfer speed and refresh rate.
If you choose a cable that only supports USB 2.0, it will transfer files at USB 2.0 speeds.
MHL to HDMI Cable
[BenQ FAQ] Projector_Connect Mobile Device with Projector by MHL
For Android phones that are MHL-supported, you can use an MHL-to-HDMI cable. But this only works with BenQ projectors that are MHL-enabled .
If the phone or projector does not support MHL (Mobile high-Definition Link), this method will not work. So you'll not be able to connect your Android phone to the projector.
MHL is a mobile audio and video interface standard that enables the transfer of A/V files from portable devices like smartphones to high-definition (HD) display devices.
Begin by confirming that your phone supports MHL here. And contact BenQ support to check whether the projector is MHL-enabled.
If both are MHL-supported, go ahead and buy an MHL-to-HDMI cable. One end of the MHL cable connects to micro-USB and the other to HDMI. It may also come with a USB power cord.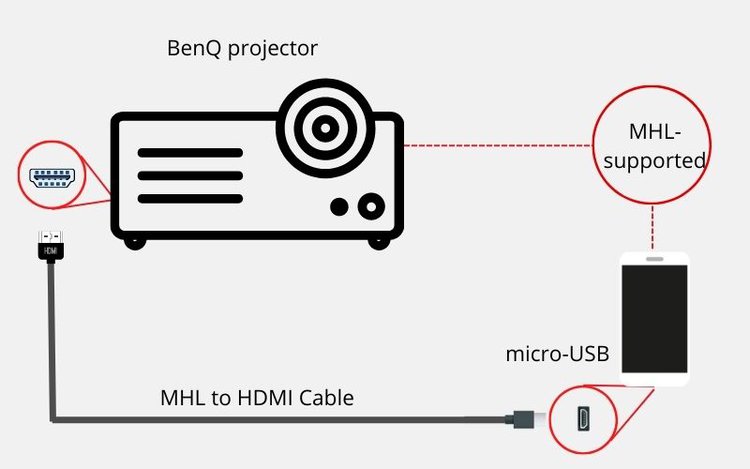 To connect the two:
Insert the HDMI end to the HDMI port on your projector.
Turn on the projector.
Select HDMI/MHL from Sources on the projector.
Plug the MHL end into the micro-USB slot on your smartphone.
If the cable comes with a power cord, plug the cord into a USB power adapter. Powering the MHL cable ensures it has enough electric energy to power the operation.
The projector will detect the phone. You should see the phone's screen mirrored on the projector screen.
You'll receive a pop-up message on the screen asking you to press AUTO on the remote for three seconds. By pressing AUTO, you activate the remote so you can use it to control the projector.
You can now use the remote control to select files on your phone or move back and forth between files.
BenQ has PC-less projectors designed to connect to a USB flash drive. But these may not be compatible with your smartphone. So your best bet is to go the USB and HDMI route.
How To Connect Your Android Phone To A BenQ Projector Wirelessly?
How to Cast & Mirror the Android Phone to BenQ Smart Home Projector? | BenQ
Sometimes, all you want is a non-messy connection. That's where wireless connections come in.
Not all BenQ projectors support wireless projection, though. Confirm with BenQ customer support that the projector you wish to buy has a wireless mirror function before you buy it.
Now that you've found a suitable projector , what wireless mirroring options do you have?
Out of the many wireless solutions available, two stand out:
Fortunately for us, both screen mirroring solutions are the brainchildren of the two brands we're dealing with here: Google and BenQ. So they're 100% compatible.
Chromecast is compatible with all Android smartphones.
InstaShow S is compatible with all BenQ projectors that support wireless mirroring.
And together, they work well.
If you have a Samsung Galaxy, you can use the Smart View screen mirroring app. It works just like Chromecast and connects to the projector in a pretty similar way.
Using Chromecast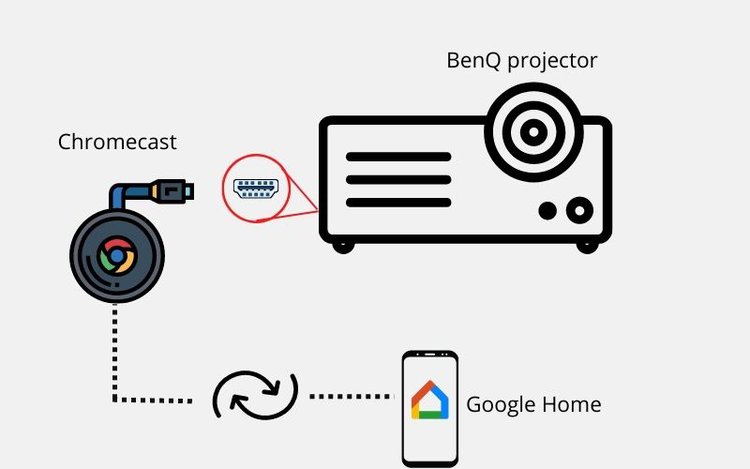 To connect your phone to the projector via Chromecast:
Plug your Chromecast into one of the projector's HDMI ports.
Install Google Home if you haven't.
Once set up, Google Home will search and detect the Chromecast. It will then ask you to connect Chromecast to your phone's network.
You can now cast files from your phone, including photos, videos, and slides. You can also share content from streaming apps on your phone.
Please note: Chromecast Ultra doesn't mirror content in the same quality as the source file. It displays the finest quality of whatever content you're playing.
As long as the projector HDMI port is 4K-compliant, Chromecast Ultra will display the mirrored content in 4K, even though your phone may not support 4K.
Using InstaShow S
[BenQ FAQ] Projector_How to do a Wireless Presentation from an Android Phone with InstaShow S
To mirror your phone using InstaShow S, connect the InstaShow Receiver Host to the projector. Then install the InstaShare app, and connect to your mobile phone's WiFi network.
The Host:
receives the files you're sharing from InstaShow S
it then sends the files to the projector
the projector casts the files on the screen
Here is the step-by-step process of connecting through InstaShare:
First, connect the Host to power.
Then connect the Host to the projector HDMI port.
Note your WiFi network SSID and password.
Install InstaShare from Play Store.
Open the app and enter the WiFi password when prompted. Then press Connect.
Once connected, you'll see options to Share Photo, Share Video, and Activate Camera.
The app will prompt you to cast videos and photos or screen mirror the phone to the display.
You can turn on the quad split screen, which allows you to share up to four different files on the projector screen.
Conclusion
You can connect your Android phone to a BenQ projector using a cable.
This cable method works with USB-C, micro-USB, and micro-HDMI ports. And the respective adapter cables go into the HDMI port on the projector.
Or you can connect to the projector wirelessly using screen mirroring solutions like Chromecast, InstaShow S, and Smart View.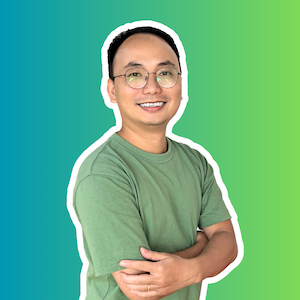 Vance is a dad, former software engineer, and tech lover. Knowing how a computer works becomes handy when he builds Pointer Clicker. His quest is to make tech more accessible for non-techie users. When not working with his team, you can find him caring for his son and gaming.