Are you constantly looking for an excellent surface to place your projector on? Are some of your viewers unable to see the info being projected?
A great solution is to purchase a projector tripod.
With a projector tripod stand, you have a flat surface that can be adjusted to hit the ideal height required for an excellent focus to produce accurate images and make the mobility of the projector easy.
In this post, we take you through how to attach a projector to a tripod and what factors you should consider when shopping around for a projector tripod stand.
Can I mount a projector on a tripod?
Whether to go for a tripod that will firmly secure your projector or risk damage by placing it on a tabletop.
Where your setup requires a tripod, your projector will have a standard-sized built-in tripod mount on the underside of the device.
Other projectors may come with a hinged case design that allows you to adjust the angle of the image.
Even before you use your tripod, test to ensure that it is stable enough for your projector. It should comfortably hold the weight of the projector.
The tripod mount should be made in such a way that it does not cover or block the cooling vents found underneath your device. Any blocked vents may cause damage to your projector through overheating.
How do you connect a projector to a tripod?
The good thing about using a tripod with your projector is that you can make adjustments if necessary to compensate for height and uneven surfaces.
With all the right tools, you can properly mount your projector on a tripod to achieve just the right angle to project clearer images.
Some of the tools you may need for a good setup include:
Mounting a projector to a tripod is a pretty straightforward process and pretty easy to do. The first step is to purchase a plate to fasten the projector to the base of the tripod. Make sure you have the right size bolt to screw in through the bottom of the tripod that it can fit in through the bottom of the mount and into the base of the tripod.
Once you have secured the screw into the base of the plate and into the projector, screw it down so that the projector and tripod plate and base are secured. Rotate the projector around the plate into the position where the weight is evenly distributed to get the best outcome.
Here is a great video that walks through the best way to mount a projector to a tripod if you want an easy to follow video demonstration
DIY Projector Tripod Stand
Do I need a tripod adapter for my projector?
Many current tripod models come with a safety net in the form of a standard adapter. Without it, a stud on the center column will be exposed which can easily scratch and damage your projector.
There are several options when it comes to adapters for your projector tripod. Quick mount adapters are highly preferred because they give you a combination of firm and reliable connections.
The convenience of a standard quick-release option can not go unnoticed. These tripod adapters blend well with heavy projectors.
Other tripod adapters come with mounts that have a threaded socket on the bottom and a three-tongued connection on the top.
Are there any universal tripods?
Yes. Some multi-function tripods available in the market can be used for different situations. A universal tripod can support devices such as laptops, recorders, and sound media DJ equipment.
Some of the standout universal tripods available in the market today include:
Plye Universal Projector Tripod Stand
This sleek foldable tripod stand can support projectors, laptops, books, music notes, and more. It features a quick and easy setup process with an angle tilt adjustment capability. With a standard plate size of 14 inches by 11 inches, it can accommodate most of the projectors in the market.
CODN Projector Tripod Stand
This sleek projector stand can be used as a laptop stand as well. It is easy to set up and has 90 degree rotation capabilities with a non-slip surface.
PVO Aluminum Adjustable Projector Tripod Stand
Made from aluminum alloy, it is solid. It is a multi-function tripod that can be used for different devices such as projectors, pads, and laptops.
Setting up a Tripod for your projector
Setting up a tripod may seem pretty simple: just extend the legs, put the projector on top, and voila! You are ready to go.
Although it may seem so, it is wise to take a more methodical approach in setting up your tripod to provide good positioning for your projector with the greatest possible stability.
Here are a few things to keep in mind when setting up a tripod for your projector to ensure you get the sharpest images possible:
Before setting up the tripod, identify where you will place it. While some grounds may be flat and ideal for the tripod, others may be tricky, requiring you to shorten or extend the feet of your tripod for it to be fully secure before placing your projector.
Ensure the tripod base is properly leveled to achieve equal distribution of weight to all three legs.
Always extend the thick leg sections of your tripod first. This is because the top sections which are the thickest and strong will help secure the tripod firmly.
All tripods have a stopping point where the legs do not open further. Fully open up the tripod legs for good stability. You will not want a situation where your tripod suddenly spreads its legs when you place a projector on it, potentially damaging your device.
Use the center column only as a last resort as it may destabilize your setup. If you have to use the center column, ensure that the base of your tripod is leveled.
Have your center post in a vertical orientation to avoid the projector falling off on the heavy side.
Secure your projector tightly to avoid potential accidents. Ensure there is no shaking of any sort.
Factors to consider when looking for a projector tripod
While you look for the ideal tripod to attach to your projector, some factors are important to consider to get the best out of your purchase. These include:
Adjustability
Consider a tripod that has adjustment capabilities. When the height is adjustable, and the plate can be tilted or rotated, you get maximum versatility.
These are important to allow you to focus your images on your screen to achieve high clarity.
Sturdiness
Get a sturdy and stable tripod to help prevent accidents and hold your projector firmly at the desired angle to project sound pictures and writings.
A quality tripod promotes long-lasting performance.
Adequate ventilation
Good projector models produce high brightness. As a result, projectors may heat up much faster than anticipated.
Therefore, the tripod you get must have a well-ventilated plate with perforations that can allow free air circulation to prevent your projector from overheating.
Portability
For optimal convenience, consider a portable tripod. A portable tripod is light in weight, compact, and can easily be folded to fit into a bag.
A portable tripod can quickly move around your projector even on uneven surfaces to achieve just the right projection angle.
Weight capacity
Tripods come with different weight capacities. However, a good tripod can support your projector's weight with much ease without wobbling.
Also, check to ensure that the tripod plate is wide enough and can comfortably accommodate the size of your projector.
Ease of set up
You probably would not want to end up with a tripod that is stressful when it comes to setting it up.
So check that the projector tripod comes complete with everything you need to set it up. Its components need not be either complicated to assemble or operate. One that comes with an instruction manual is a plus.
Conclusion
When setting up your projector, every detail counts, including where you place it. If you think a stack of books is a good enough stand, you are mistaken.
The books can topple your projector and end up causing damage.
Projector tripods hold your device firmly with minimal danger of falling and provide an elevated position with the versatility to make adjustments to the height for a better focus.
Do not be left behind by this new technology that puts your projector on a safer side.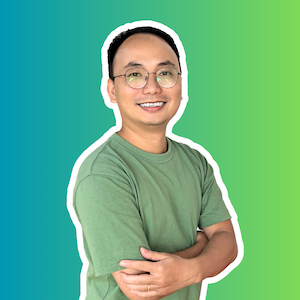 Vance is a dad, former software engineer, and tech lover. Knowing how a computer works becomes handy when he builds Pointer Clicker. His quest is to make tech more accessible for non-techie users. When not working with his team, you can find him caring for his son and gaming.