High Dynamic Range or HDR is a recent feature found in display and video-playing devices to improve video quality. Many manufacturers include this feature in their smart TVs, projectors, and monitors to offer better viewing experiences. Therefore, HDR will enhance both color and vibrancy of motion pictures due to its wide tone range.
There have been several advancements to the feature since its introduction. Over time, different formats have improved the feature and offer the best versions to consumers. Therefore, most manufacturers often upgrade the HDR format in their devices to keep up with their customers' demands.
Generally, there are five main formats of HDR currently in the market. The more recent the format, the better features it has to improve video quality. However, some formats have sub-types that are different standard versions but fall under the same category.
The formats also work efficiently in high-resolution devices, most commonly the 4K resolution. Therefore, each format will have different characteristics and qualities in operating within different devices.
How Many HDR Formats Are There?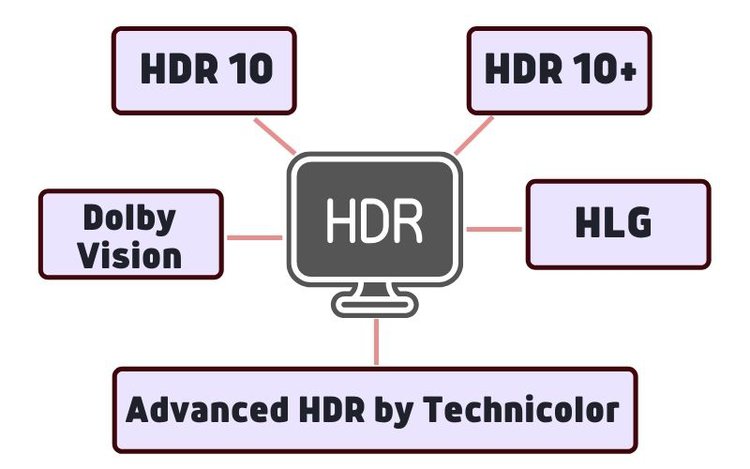 There are five different main formats of HDR that different manufacturers use. The differences mainly come from their use in different devices and how well they transmit metadata. Additionally, streaming devices like Netflix and game consoles also support different feature formats. Several high-end devices can support two or more formats of HDR at a time.
Therefore, the qualities of each format will affect its use in different devices.
1. HDR 10
HDR 10 is the original first format of HDR that was set up to begin. It is the current standard of all HDR TVs since every HDR-compatible device has this standard. It transmits static metadata, meaning digital data might be lost when moving from one device to another.
Streaming services such as Amazon and Netflix and gaming consoles are compatible with HDR 10. Therefore, it is the most common standard since it is an open-standard version that does not require an operating license.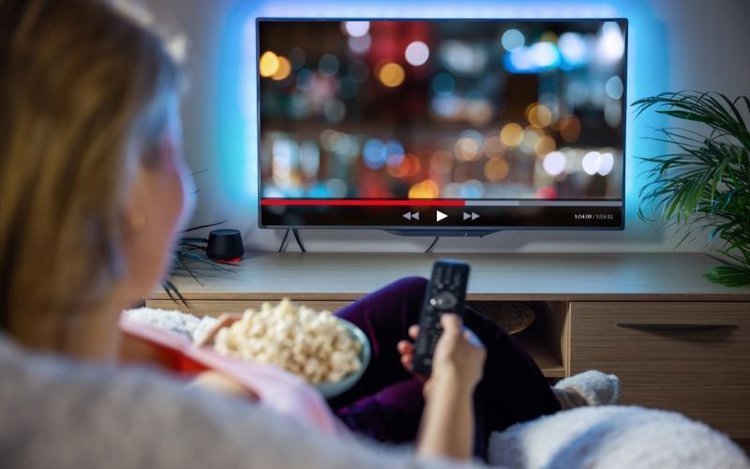 Even though it is the most common standard, it holds a much lower standard for its video quality than other standards. HDR works well with a device's brightness levels; thus, the higher the brightness limit, the better the video quality. Therefore, HDR 10 has a low video quality due to its limit of 1000-nit brightness level.
An excellent example of game consoles that use HDR 10 is PlayStation 4 Pro and Xbox Series X .
VESA introduced a different sub-type of HDR 10, which PC monitors use, known as DisplayHDR, which the PC industry uses. The most common forms of DisplayHDR are HDR 400, HDR 600, and HDR 1000, among others. Even the number that follows DisplayHDR shows the minimum peak brightness it can support.
The first gaming monitor using DisplayHDR is the Samsung CHG90 QLED monitor, which uses HDR 600.
Sale
Last update on 2023-09-24 / Affiliate links / Images from Amazon Product Advertising API.
2. HDR 10+
HDR 10+ is the standard that follows HDR 10, with its launch in April 2017 by Amazon and Samsung. Many other manufacturers, such as Panasonic and 20th Century Fox, also push for the format in many devices.
It has more advancements since it uses dynamic metadata, thus, easier to transmit and retain high-quality videos.
Also, HDR 10+ remains license-free, supporting up to 4000 nits of peak brightness at 10-bit, the same as HDR 10. An excellent example of a TV with HDR 10+ is Samsung Q70T Series QLED TV.
There is also a sub-type known as HDR 10+ Adaptive, which changes HDR picture settings according to the light intensity. The feature is mainly found in Samsung TVs that adjust the displays with HDR 10+ content.
Therefore, you can enjoy your content anytime, with color tones adjusting according to your room's light. A TV with such a feature is Samsung AU8000
3. Dolby Vision
Dolby Vision is the most current HDR, which also uses dynamic metadata. It is a premium form of technology by Dolby Laboratories, and it requires a license fee to operate. Thus, it is the most expensive format to use, limiting its use by manufacturers.
However, it is the best format of HDR in the market currently since it offers the best qualities in color depth and peak brightness. It has a 12-bit color depth with a maximum luminance of 10000 nits.
Therefore, it offers very vibrant pictures due to its wide color gamut and excellent brightness of the display devices.
Also, Dolby Vision uses dynamic metadata, ensuring digital data is not lost during the transmission of HDR content. It works well with older versions of HDMI than HDR 10 does, making it compatible with many HDMI cables.
All devices that support Dolby Vision also support HDR 10, so you will not need to choose either while viewing. Therefore, Dolby Vision transmits and broadcasts HDR and dynamic SDR content easily.
The best TV example with this format is the Sony A90J OLED TV . Some game consoles, such as Xbox Series S and X , support the format.
Last update on 2023-09-24 / Affiliate links / Images from Amazon Product Advertising API.
There is a sub-type of Dolby Vision known as Dolby Vision IQ, which works the same as HDR 10+ Adaptive. It adjusts your HDR device settings to fit the light intensity in your room, matching video quality any time of the day. An example of a TV with this format is VIZIO 70-Inch V-Series .
4. HLG
HLG, known as Hybrid-Log Gamma, is currently a newer HD format in the market. The BBC and Japanese-NHK broadcasting networks are the developers of this format to help transmit metadata similar to broadcast television.
It works by combining SDR and HDR content that HLG-compatible TVs can convert to better HDR video qualities.
Even though the format is still relatively new, most leading manufacturers are ready to incorporate it as a mainstream format.
Sale
Last update on 2023-09-24 / Affiliate links / Images from Amazon Product Advertising API.
5. Advanced HDR by Technicolor
It is the newest and least known format of HDR in the market since only LG supports it, even at a trial phase. However, it is a unique format since it can upscale non-HDR content to HDR content.
Therefore, the device can play HDR and non-HDR content, solving the issue of HDR compatibility.
Which HDR Format is the Best?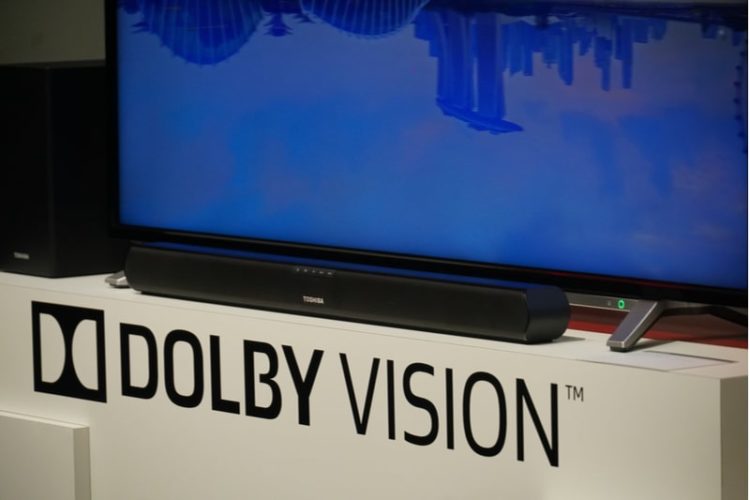 Dolby Vision is the best HDR format among all other standards in the market. It has the best features to improve video quality, from high color depth to high maximum peak brightness. However, manufacturers and streaming devices will require a license fee to operate the format, making it expensive.
HDR 10+ is the second-best format and the most popular standard since it does not require any license fees to operate. Most high-end display devices, game consoles, and streaming devices use this format.
Both formats use dynamic metadata to transmit digital data to improve video quality. Also, they each have a sub-type that adjusts video quality according to a room's light intensity.
Which is the Most Common HDR Format?
HDR 10+ is the most common format of HDR since most leading manufacturers and streaming services use this format. It uses dynamic technology for transmitting metadata even as an open, royalty-free standard. Therefore, many devices, including game consoles, are compatible with HDR10+ format while playing HDR content.
FAQs:
Is HDR 10 Better than HDR?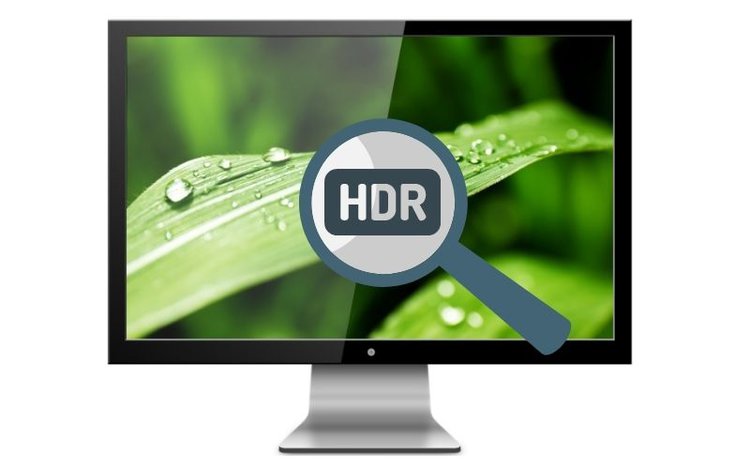 HDR 10 is the basic standard of HDR since every HDR-compatible TV uses this format for streaming videos and gaming. However, it has low standards and video quality due to its 8-bit color depth and 400 minimum brightness levels.
It also offers standard metadata, which many devices cannot support since manufacturers upgrade to dynamic technology. Therefore, its preference is less common among high-end devices' different formats and standards.
HDR 10+ has better features and more advancements than the previous HDR 10 standard due to an upgrade in qualities. Also, many leading companies use this format due to its open license-free feature and dynamic metadata. It has better video quality than HDR formats due to its 10-bit color depth and 1000 to 4000 brightness levels.
Conclusion
HDR feature offers better video qualities by enhancing image color using the brightness levels of the display device. Many manufacturers are at the forefront of using this feature to give customers a better viewing experience.
Additionally, manufacturers have improved advancements on the feature to ensure that video quality works effectively. Streaming devices and game consoles also improve their video services to incorporate HDR for viewing and gaming.
Different formats have come up to improve HDR qualities and features, making viewing experiences better on display devices. The formats work differently and offer different features for their compatible devices.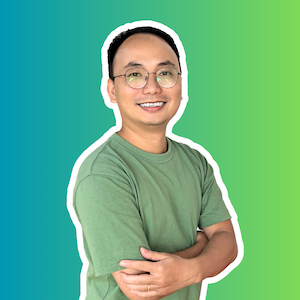 Vance is a dad, former software engineer, and tech lover. Knowing how a computer works becomes handy when he builds Pointer Clicker. His quest is to make tech more accessible for non-techie users. When not working with his team, you can find him caring for his son and gaming.