Do you have a small theatre room or small space? We know how you can get large images even at a short projection distance.
Why does anyone actually get a projector? Short answer is: to have images displayed in impressive sizes.
The size of your projected image depends on quite a lot. Most importantly, it depends on the distance of the projector from the screen.
You will get a larger image the farther your projector is from your screen. This is because light spreads wider the farther it travels.
Short throw projectors are some of the most sought-after in the market. They can project large images at a short distance.
So, how do short throw projectors work? Why are they important in projection today? This article provides the answers to those questions.
What are Short Throw Projectors?
Short throw projectors are simply projectors with low throw ratios. Before we go on, we'll explain the throw ratio.
The throw ratio indicates the width of a projector's image at a given distance.
Throw ratio is calculated thus: Throw Distance of Projector / Width of Projected Image
Projector throw ratios range anywhere from 0.2 to 2.5 (and above).
Short throw projectors are quite in demand. They make it possible for you to place your projector close to the projection screen.
Short throw projectors typically have a throw ratio between 0.4: 1 – 1.4: 1. To get an image of 100″ they need to be mounted about 1 – 3.5m from the screen.
Many new home theaters projectors come with this specification. They aim to give cinema-size images in your small space.
You no longer have to move your projector to larger rooms or settle for smaller images.
How Do Short Throw Projectors Work?
Types of Home Theater Projectors based for different Room Sizes
We know what short throw projectors do. The question is, 'how do short throw Projectors work?'
How do they project large images at a short distance? What makes them different from the rest?
There are two ways a short throw projector works. It either uses:
A high-quality lens or,
A correcting chipset
High Quality Lens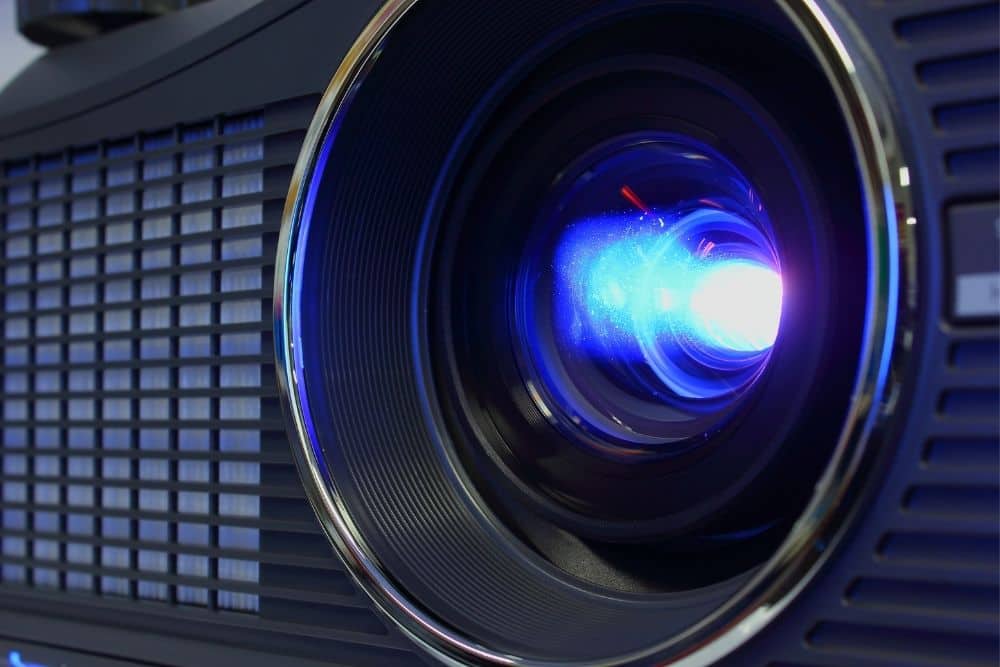 Short throw projectors with high quality lenses are known for clear images. The lens ensures pictures have clarity regardless of the short distance.
These high-quality lenses are wide-angle concave lenses. They have a short focal length of about 24-35mm.
When light beams pass through concave lenses, they do not travel far before they spread out wide and create a large image.
The shorter the focal length of the lens, the wider the angle in which the beams travel. This means an even shorter throw ratio.
There is one downside, however. These lenses do not always allow for adjustment or zooming.
Where you mount these projectors determines how the picture appears on the screen. Positioning must be precise.
Chipset with Geometry Correction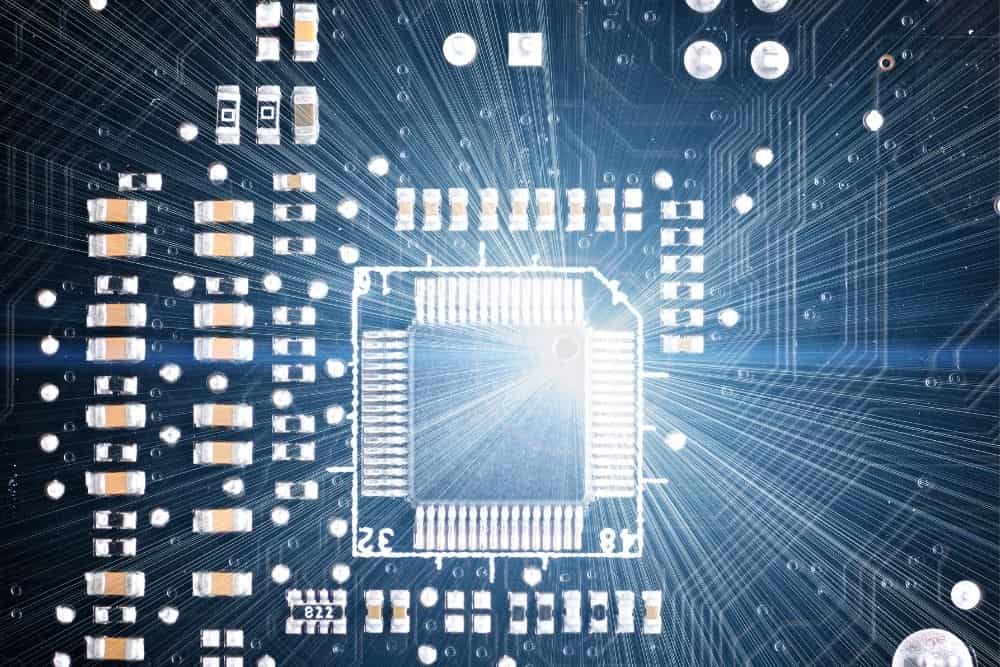 The chipset method is a bit more complex. The image passes through this chipset before it is projected out through the lens.
This chip bends the image with geometry correction. It adds a digital filter to the video signal entering the projector.
This method reduces any damage to the image.
Short throw technology is expensive. However, its long-term benefits outweigh its initial cost.
The inconveniences and challenges that come with small spaces are eliminated.
Other Projector Throw Ratios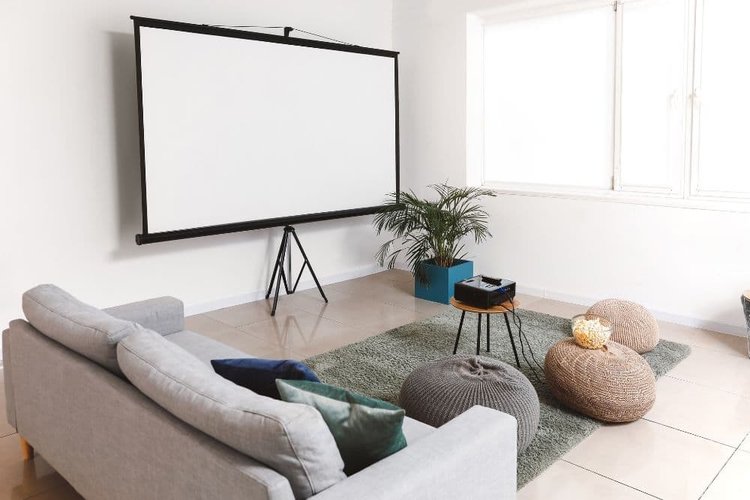 Short throw projectors are only a fraction of those available in the market. There are three other groups of projectors.
1. Long Throw Projectors
These have a throw ratio of 2.5: 1 or more. They can project images of 100″ from a distance of 6m or more.
Long throw projectors are unsuitable for small spaces. You will mostly find them in conference rooms and church halls.
They need to be in spaces where the speaker would not be in the way and cast shadows on the screen.
2. Standard Throw Projectors
Standard throw ratios range from 1.5: 1 – 2.4: 1. Standard throw projectors can create 100″ images at about 3 – 5m.
One common feature of standard throw projectors is the zoom function. Their lenses are equipped to increase or reduce the size of projected images.
Most people with sufficient living room or home cinema space go for this option. It is less expensive than short throw projectors.
3. Ultra Short Throw (UST) Projectors
These have the smallest throw ratios after short throw projectors. They are equipped for large images at super short distances.
UST projectors have throw ratios under 0.4: 1. The projectors are placed very close to the projection screens.
It can create a 100″ image from a distance of less than 1m. Awesome, right?
NB: These classifications are not rigid. The range of ratios in each group may be a little different depending on whom you ask.
Uses of Short Throw Projectors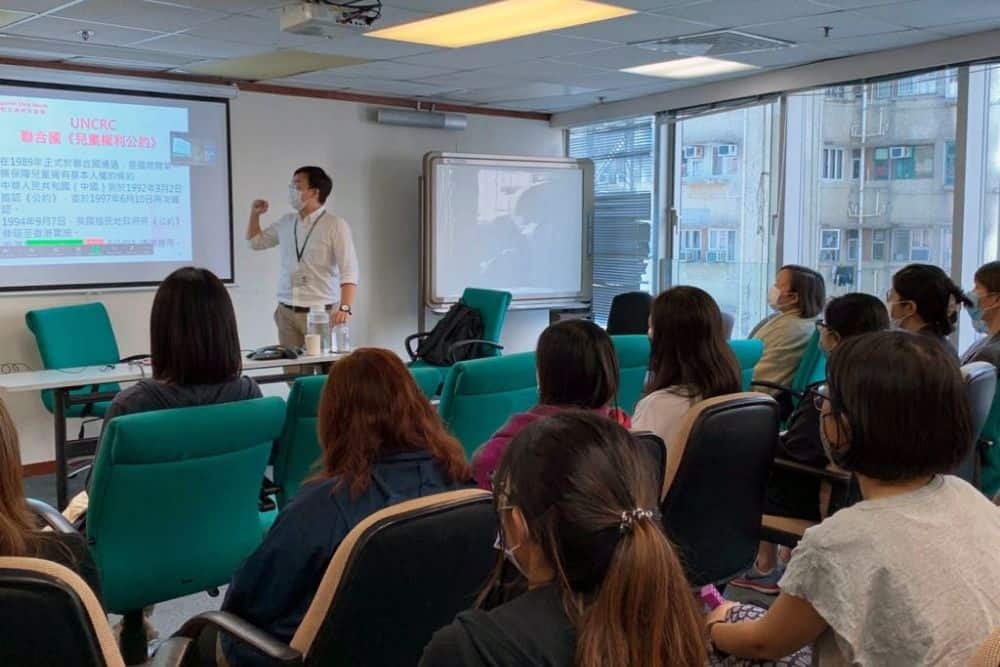 Short throw projectors are increasingly in demand. This is due to the fact that they are very useful.
In areas like apartments, school rooms, and offices, space is a major constraint. Short throw projectors are the obvious choice.
A teacher can project large size images to the classroom. The teacher can mount the projector close to the board.
This way, the teacher doesn't stand in the way of the projector to address the class. It can cause shadows to be cast on the screen.
Aside from professionals and educational institutions, other people make use of short throw projectors. They have become the choice for small home theaters.
Want to know what other specifications are good for your projector?
Check out our post: Projector Specifications Explained
Advantages and Disadvantages of Short Throw Projectors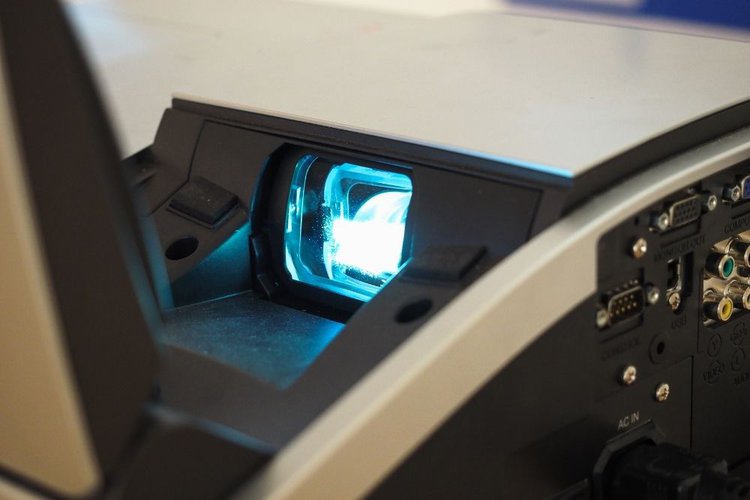 Why do people find short throw projectors desirable? Here are a few reasons:
They save room space.
You can view clear images even when the projector is placed close to the screen.
The projector is close to the screen so there is little chance of getting in the way and casting shadows.
You can install the projector close to the source devices to avoid the clutter and cost of long connection cables.
It is possible to sit behind the projector and avoid the bright light from the lens.
Images are brighter and have higher clarity. There is less interference from ambient light.
The light rays only have to travel a short way to the screen so there is little chance of the rainbow effect.
Most short throw projectors are easy to install.
They are installed close to the screen so it is unlikely that the noise from cooling fans would reach you.
You can avoid the projector's heat since you're seated far behind it.
Disadvantages:
Short throw projectors are more expensive than standard projectors.
There is little flexibility after installation. Some may not have zoom functions.
What Projector is Best for You?
The best projector for you may not be the one you like most. Short throw projectors are great, but they are not the only options.
Before choosing a short throw projector, there are a few things to consider:
Available space
Mount type
Desired Screen size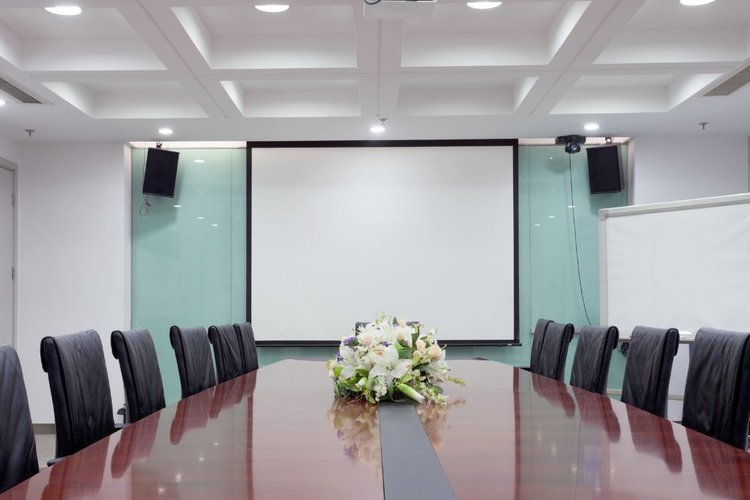 The first step is to consider the space available to you. Are you setting up in a conference room or a home theater?
Available space will help you determine what angle is best for installing your screen and projector.
You can also take measurements to know the maximum distance you can put between the projector and the screen.
How do you intend to mount your projector? Projectors can be mounted on walls, ceilings or mobile stands.
If you're up to it, you can mount your projector behind the screen. This requires that you have a screen designed for rear projection.
When you decide how to install your projector, then consider your screen size.
Read more: How to Hang a Projector Screen From the Ceiling/Wall
At this point, visualize the kind of display you want? How large do you want your screen to be?
Take measurements and decide if your desired screen can fit into the room.
Screens for home theater setups should be large enough to give a cinematic feeling. For offices, medium-sized screens are okay.
The space available + desired screen size will help you decide the best projector for you.
If you want large images in a small room, short throw projectors are your best option. In a large room, standard throw projectors work just fine.
FAQs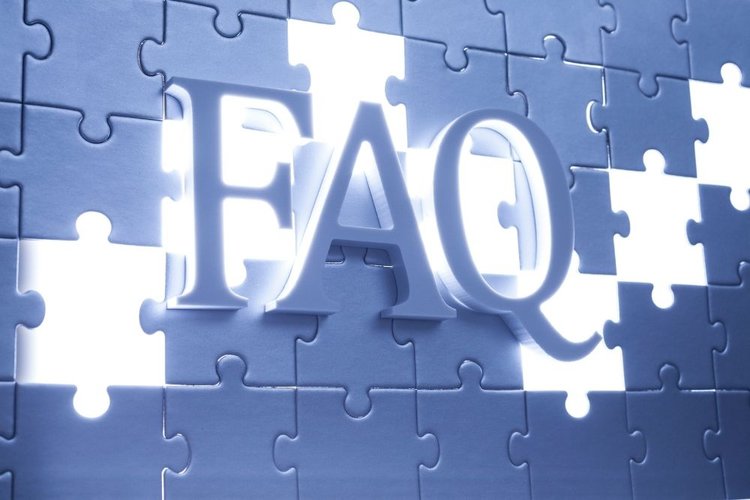 1. Is the short-throw projector better?
Short throw projectors are a better option than the standard throw because they eliminate issues concerning space.
They are also preferable to Ultra-short throw projectors for one reason: zoom capability. Some short throw projectors have this function.
However, short throw projectors are not necessary when you have a lot of space.
Standard throw projectors work just as well in large spaces. Also, they do not cost as much as short throw projectors.
This means that while short throw projectors have obvious advantages, they are only worth the investment when you have a space constraint.
2. What is the best short throw projector?
You came in asking 'how do short throw projectors work?'
Now you're wondering, 'what is the best short throw projector I can get?' We've got you covered.
VAVA 4K UST Laser TV Home Theatre Projector
Last update on 2022-12-06 / Affiliate links / Images from Amazon Product Advertising API.
This is a projector with ultra-short throw. It can display 100″ images from about 7.2″ away from the screen.
The Vava 4K projector uses a laser light source of about 6000 lumens. It projects images in high-quality display.
It has a wide range of connectivity options and a contrast ratio of 1,500,000:1.
This projector is on the expensive side. If you're looking for more budget friendly short throw projectors, check out our post: 5 Best Budget Short-Throw Projectors
Conclusion
Imagine how important a short throw projector is for today's world. Population density is increasing the need for smaller homes and living areas.
To use regular projectors in such small spaces, you would have to sacrifice some image size.
For this reason, short throw projectors have become very important. They are the way to large projections in small spaces.