Before the age of Netflix and Smart TVs, we had handy media players like the Google Chromecast.
Sure, getting a subscription for streaming services is convenient, but you can get so much more from your entertainment devices with a Google Chromecast.
For one, it allows you to "cast" your media or browser on a much larger screen. Plus, it allows automatic access to your streaming services and gaming applications.
However, when you look at the Chromecast device, you'll see that it only has an HDMI connector. Can non-HDMI users still enjoy the benefits of Google Chromecast?
Absolutely! Even if you have a non-HDMI TV or projector, you can use an HDMI adapter to connect your Chromecast to a composite, DVI, or VGA display.
To start, we'll give you a brief background of the Google Chromecast. From there, we'll give a step-by-step guide on how you can connect your Chromecast to a TV or projector without HDMI.
What is Chromecast?
Google Chromecast is a media player device that connects to a television or monitor.
It comes with an HDMI connector, so you can easily plug it into your display device.
Chromecast came into the spotlight in 2013 when Smart TVs were just gaining popularity. With a Chromecast, you can make any monitor into a "smart" TV.
What can I do on the Chromecast?
With a Chromecast, you can access streaming services like Netflix, Hulu, Spotify, HBO, and Youtube.
You can also use it to mirror media and your browser from your laptop or computer. This "casting" feature is great if you have a big presentation or a viewing party.
It's also possible to connect your Chromecast with your Facebook account. With this feature, you can watch Facebook Live videos in real-time.
Connecting Chromecast to a TV or Projector
Setting up Chromecast on a TV or projector is incredibly straightforward. To make things easy, you'll need an HDMI-compatible display.
Another thing we love about it is that the Chromecast is compatible with a lot of devices.
If you have a non-HDMI TV or monitor, there's no need to worry. You can easily connect your Chromecast to these devices with an adapter.
How to connect Chromecast with HDMI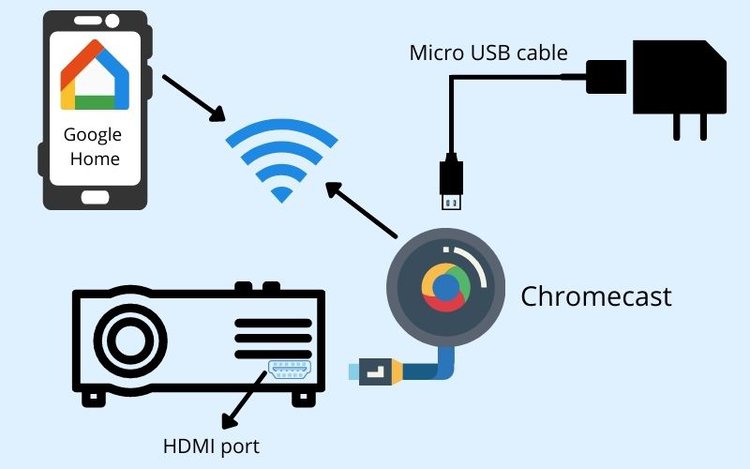 Before we get into this topic, we'll give you a brief overview of how to set up your display device with HDMI.
Plug the power adapter into the Chromecast, then into an electrical outlet.
Connect the Chromecast HDMI cable to your projector or television.
In the display settings, choose Chromecast as the input.
Download the Google Home application on your phone.
Follow the instructions to set up Chromecast and connect to your WiFi.
How to Use Google Chromecast: A 5-Minute Setup Guide
How to connect Chromecast without HDMI
If you don't have an HDMI port, you can still connect your Chromecast to your television or projector with the help of a converter or adapter.
The following will teach you how to connect your Chromecast to a VGA, DVI, and composite display device:
Chromecast to a VGA TV, Projector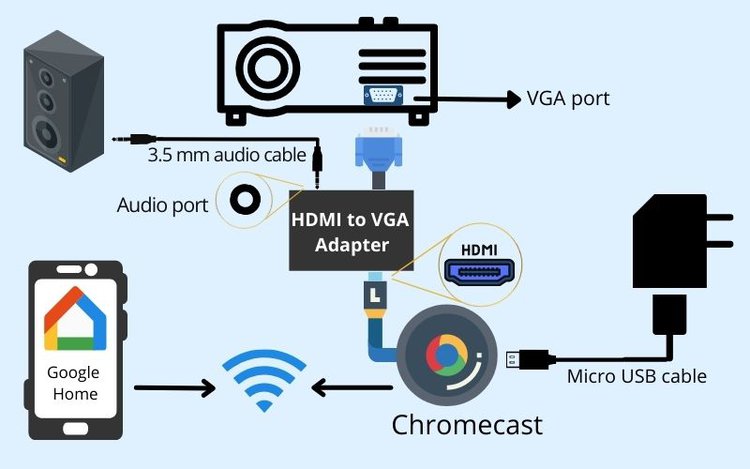 Most non-HDMI screens have a VGA input, so we'll get into this first.
To connect your Chromecast to a VGA monitor or projector, get a VGA adapter with the specifications of Female HDMI to Male VGA.
To get an idea of how VGA to HDMI adapters work, watch this video:
VGA TO HDMI Converter/Adapter I VGA to HDMI Adapter With Audio
Before you buy a VGA adapter, there are two things you need to know about.
First of all, HDMI and VGA ports use different signals. HDMI cables transmit digital signals while VGA cables transmit analog signals.
What does this have to do with your adapter? It means that your adapter needs more power to convert digital signals to analog systems.
In that case, we recommend getting a USB-powered VGA adapter to get the best results. Non-powered VGA converters might work with newer Chromecast models with high-powered HDMI ports, but it's not a guarantee.
The next thing you have to think about is audio. VGA signals only include video, so you'll need a VGA adapter with a 3.5mm audio port to connect a male-to-male cable from your TV to the adapter.
Chromecast to a DVI TV, Projector
Most DVI input displays also don't transmit audio, so it will be best to get a DVI adapter with a 3.5mm audio jack and power input .
However, these are more difficult to come by, so you can consider using an audio splitter with an ordinary DVI adapter .
You should also know that some DVI monitors connected to a computer with GeForce graphics cards allow audio pass-through. Buy an ordinary DVI to HDMI adapter and see if it allows audio.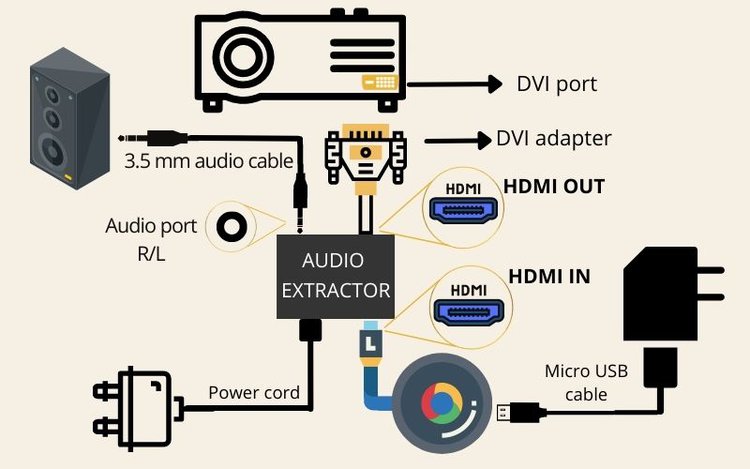 If it doesn't, follow these steps to use DVI to HDMI adapter with an audio extractor:
Plug the DVI adapter into your DVI display.
Connect one end of an HDMI cable from the DVI adapter to the audio extractor's HDMI OUT port.
Plug the audio extractor into an electrical outlet, then switch it on.
Connect your Chromecast to the audio extractor's HDMI IN port.
The easiest way to extract your audio is to get a 3.5mm male-to-male cable to transmit the audio to your speakers, TV, or soundbar.
Chromecast to RCA Display
You can also connect Chromecast to a monitor, TV, or projector with an RCA display.
You'll need an RCA adapter with:
One HDMI IN port
External power source
Some RCA cables require additional cables , while others have built-in RCA cables.
Here's how to connect Chromecast to an RCA display:
Plug the Chromecast into the RCA adapter.
Plug the RCA adapter into an electrical outlet.
Connect the RCA adapter and the monitor. Check that all RCA connections are in their corresponding ports.
Yellow: Video
White: Left channel audio
Red: Right channel audio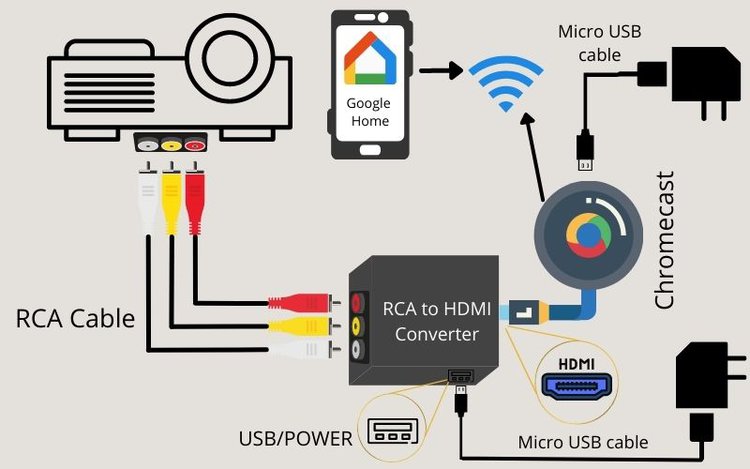 The main issue with connecting Chromecast to RCA displays is that the audio doesn't usually carry over. Sad to say that the best solution for you is to try other streaming devices that don't need HDCP, like a laptop or maybe a Roku streaming device .
Conclusion
With the help of adapters, you can connect your Chromecast to a TV or projector without an HDMI port.
Before you buy an adapter for your screen, check that all ports are compatible. It's also important that you double-check the audio support.
We hope that our instructions were helpful to you in connecting Chromecast to VGA, DVI, or RCA displays.