With the right steps and devices, making a projector smart can be a lot easier than you think. There are several ways to turn a regular projector into a smart projector; reading on you will find some of them.
If these methods are properly followed you will be able to enjoy the features of smart projectors, on a regular projector.
What is a Smart Projector?
It is a projector that can connect to the Internet. Smart projectors have their operating system interface, and they also have apps.
Think of it as a smartphone; the main difference is that your projector cannot make or receive calls, send text messages, and do other things that a smartphone can do.
Smart projectors combine their display technology with some smart integrated functions. They are usually portable projectors, which have Wi-Fi connectivity. These projectors allow you to stream content on the internet without using streaming devices like Fire stick and Roku stick. You can also view content on Netflix.
Other notable features of smart projectors include; compatibility with other smart devices, downloading of apps, and even voice recognition. Smart projectors use Alexa to recognize a voice and carry out commands. This is similar to Siri in Apple devices and Cortica for Microsoft.
Like some regular projectors, smart projectors have built-in speakers. With smart projectors, the only accessory you need alongside your projector is the projector screen; and you will be able to display contents anywhere and at any time.
But smart projectors are usually expensive. They cost more than the regular projectors. So what to do if you want a smart projector but you can't afford it? It's simple, turn your regular projector into a smart projector. There are ways to do this, and I will show you how.
How can I Make my Projector Smart?
To make your projector smart, you need another device which could either be a streaming device or a mirroring device. Some of these devices are discussed in this section.
1. Roku Stick
Last update on 2023-05-29 / Affiliate links / Images from Amazon Product Advertising API.
This is one of the best streaming devices that you can find. It is very portable and it comes with a voice remote control which allows you to control the streaming device using voice commands. The remote can also be used to control TVs.
Roku stick is easy to use; simply plug it into the HDMI port of your projector or television, then connect it to a Wi-Fi network to stream contents on the internet. It also allows mirroring of the smartphone's interface and Window devices.
Another fun thing that you can do with this device is to play games like Minesweeper and Tetris, using the remote. Roku stick supports HDR10 and Dolby Atmos, but it has no support for Dolby vision or smart assistants.
2. Chromecast
Last update on 2023-05-29 / Affiliate links / Images from Amazon Product Advertising API.
Like the Roku stick, this device also plugs into the HDMI port of your projector or TV. It can mirror the interface of smartphones and tablets, but this is restricted to only Android devices. However, for streaming of contents, it can connect to several devices, like Android, iOS, and Windows devices.
Chromecast can work with apps that are installed on the connected device: it could be games or other media apps. This device streams contents in 4K and HDR formats, providing great images with the use of fast and reliable technology.
Some of the few downsides of Chromecast are that it cannot mirror the interface of iOS devices, and it has no remote control; you have to control it via connected devices like tablets or smartphones. There is also a limit to the types of applications that it can play.
How to connect Chromecast to a projector via HDMI?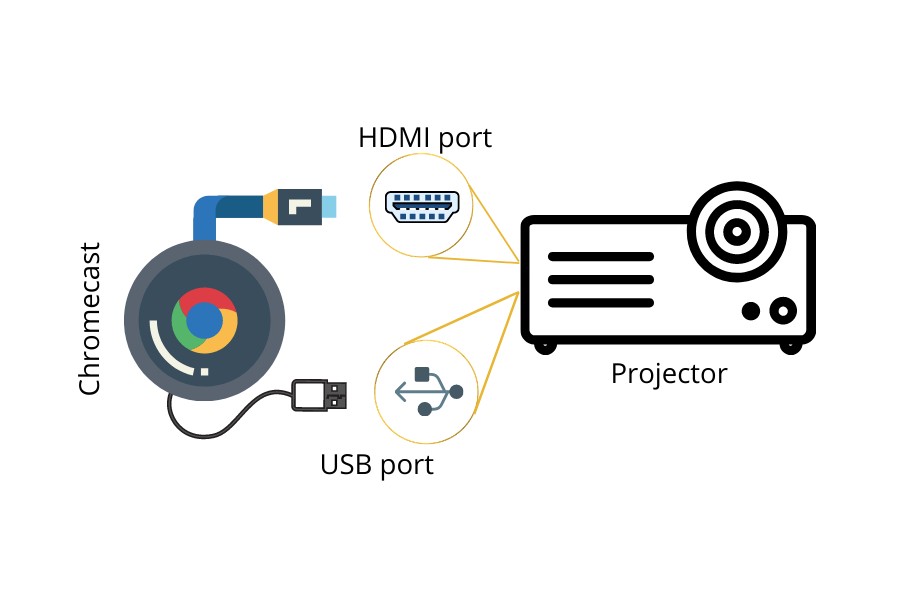 Plug in the Chromecast device into the HDMI port of your projector. Chromecast usually comes with a USB cord; use the USB cord to connect the device to a power source.
Select the HDMI input on your projector. Before you proceed, ensure that your phone is connected to the same Wi-Fi as the Chromecast device.
Open Google Home app on your phone. If you don't have it already installed, you can download it from Google Playstore.
Select Chromecast; take note of the device name that shows on the screen. A notification will pop up, click "Ok" to continue. This will link your phone to the Chromecast.
Google Chromecast: How to Connect to Projector (ALL GOOGLE CHROMECASTs)
3. Firestick
Last update on 2023-05-29 / Affiliate links / Images from Amazon Product Advertising API.
It is otherwise known as the Amazon Firestick. It has a lot of similarities with the Roku stick, and comes in two versions; the 4K version and the basic version. Fire stick supports Dolby Atmos, Dolby Vision, HDR10, HDR10+, HLG, and several other standards.
It is easy to set up; all you need is to connect the Firestick to a power adapter, then plug it into the HDMI port on your projector; enjoy a true 4K experience with this device.
It has an Alexa voice remote control that responds to voice commands; simply press the button on the remote and instruct Alexa to find a particular content of your choice.
Firestick provides a brilliant picture quality, and it works with a lightning-fast processor. However, just like the Chromecast, there is a limit to the type of app that can play on this streaming device.
Sale
2021 Apple TV 4K with 32GB Storage (2nd Generation)
Dolby Atmos for immersive, room-filling sound
A12 Bionic chip gives a big boost to audio, video, and graphics, for even better game and app...
4K High Frame Rate HDR with Dolby Vision for fluid, crisp video
Last update on 2023-05-29 / Affiliate links / Images from Amazon Product Advertising API.
This is another streaming device that works well with projectors. It is compatible with Dolby Atmos and Dolby Vision. This streaming device works with a 4K HDR technology and gives brighter and crisper images with more realistic colors.
It also supports voice commands using Siri or voice control with the remote. You will find recommendations for movies and shows, and there are games too.
Conclusion
Smart projectors are expensive, and they may be way out of your budget; but they are desirable and everyone wants them. So if there is a way to get the same smart features from a regular projector, why not try it out?
Most of the streaming devices that are discussed in this article can also serve as mirroring devices although there is a limit to their compatibility with devices. They are also available on different online stores like Amazon.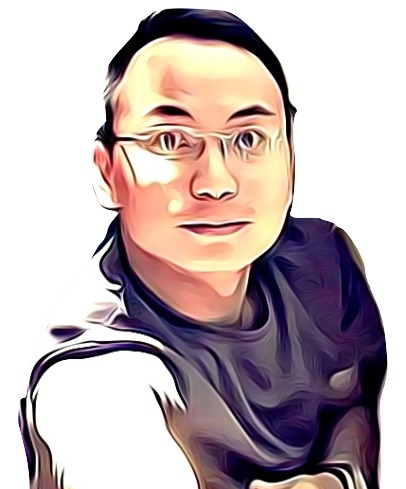 Vance is a dad, former software engineer, and tech lover. Knowing how a computer works becomes handy when he builds Pointer Clicker. His quest is to make tech more accessible for non-techie users. When not working with his team, you can find him caring for his son and gaming.