Finally, movie night is here!
The popcorn is buttered, the screen is up, the sound system is set, and the movie is ready to go.
But there's something you missed!
Here's a clue: what's the important thing you decide on when going to the theater?
That's right, where to sit.
Why is home theater seating important?
You're probably wondering why it matters. I mean, you're watching at home, just lay in bed or use the couch.
But seating does help you pay attention to the movie and feel comfortable, too!
Besides, if you're having a viewing party, the couch just isn't enough to fit everyone.
Even if you're all seated comfortably, can everyone see the screen?
Most of all, you don't want your guests to think that you're a bad host. You want them to feel right at home!
And wouldn't you want that perfect seat for watching your favorite movies?
Home theater seating ideas
There's a perfect seating arrangement for everyone, let's check them out below.
1. Solo seating
Sometimes movies are best enjoyed alone. And there's nothing wrong with that!
When you watch a movie on your own, you can focus better on the little details that you might miss when you're with a crowd.
You could place the surround sound speakers around your recliner to give you the best movie marathon you can have!
The best seat to match this would be a recliner chair, which is an easy find. Put your feet up, lay back, and relax.
It would also be a bonus to get a chair that has a massage feature. Don't forget the cup holders!
Valencia Theatre Seating Verona home theatre chair
2. Family home theater seating
Family movies are fun. They're wholesome, heartwarming, and a great way to spend time with your loved ones at home.
But how can we enhance this family bonding activity?
It's all about creating that space dedicated to watching movies together. Feeling right at home is the key here.
It would be best to get a large couch with wide seats. You can even get couch beds for ultimate coziness.
This seating is best if the TV or projector screen is positioned at a lower angle. This way your neck doesn't get stiff.
Overall, this is great for families who just want to unwind after a long day!
OUR HOME CINEMA ROOM TRANSFORMATION! BEFORE AND AFTER... AD
3. Modern home theater seating
This is for you if you want to go all out on making that home theater dreams come true.
Completely blackening out and soundproofing the room is essential for this.
You also can't forget about snacks. A mini-bar for drinks, snacks, and the obligatory popcorn machine would be a fantastic addition!
Add some fancy lighting to accent the room. This would give it that modern touch.
Seats with tons of features would be the best fit here.
Remember, if you're getting yourself that state-of-the-art entertainment system, make sure the room matches.
Home theater seats that recline, footrests, cup holders, and storage are pretty standard.
To go on another level, get ones with USB outlets so you can also charge your phones.
Don't forget the massagers, it's going to come in handy when you want to loosen up.
Some chairs already come with the theater seats with LED lights. Check out the video below!
Sale
When it's all set up, you'll never want to go to the local cinema again!
Home Theater Sofa Couch with Power Everything !!!
4. Living room home theater
The living room is great for having guests over.
You can have a few or plenty of visitors, and you might need more flexible seating to fit everyone.
For this purpose, it isn't practical to get those home theater recliners. It's best to get a long and large sofa set.
In comparison to single-seat couches, long seats are more flexible in accommodating more people.
5. Bedroom theater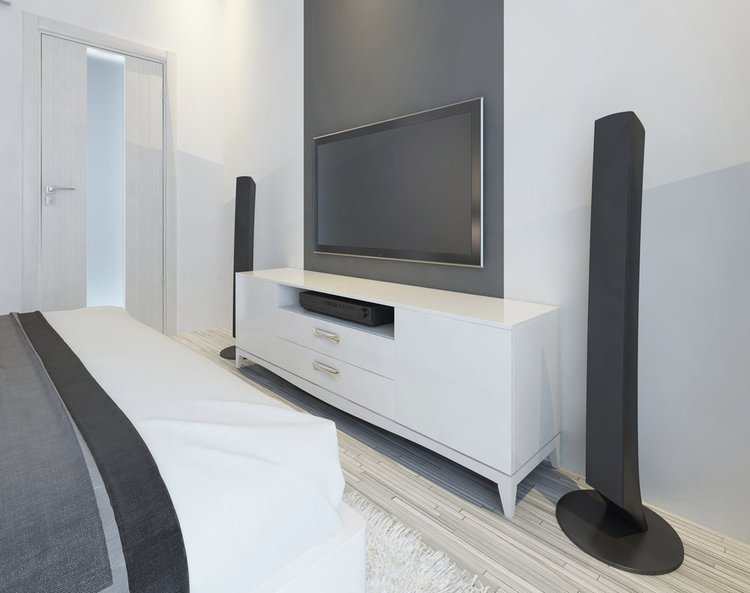 Let's admit it, many of us just watch Netflix on our laptops in bed. But it can be so much more comfortable and better.
Set up a home theater in your bedroom with the screen set low enough for comfortable viewing while you're cuddled up under the sheets!
This is perfect for those cold lazy days where you just can't be bothered to leave your room.
For this, you'll need a bed that can recline, so you can watch a new movie.
If that's not your style, a sofa bed would be the perfect solution. You can transform it into a bed when you feel like laying down.
Just check out this fantastic home theater setup below.
Tiny 9'x9' Bedroom Home Theater Tour!
6. Double theater seating
Watching a movie is the go-to date idea. Even after years of being together, a lot of couples watch films to spend time.
Wouldn't it be great if you can just create that space for both of you to watch your favorite shows anytime you want?
Getting two solo seats would be a great fit. You might want to get something that can help you sit and lay back.
Something lower to the ground would be nice so you can watch the screen nicely. There won't be any tension to your back and you can put your feet up.
Place a low coffee table in between the chairs for any snacks and drinks. After that, you can just enjoy a film or two!
7. Indoor projector theater seating
Projectors are perfect for home theaters, no matter what your budget is you can set one up in your place.
Get to know more about buying projectors here.
When it comes to what seats, it all depends on where you will be placing the projector.
If the projector is going to be fixed on the ceiling, or in front of the seats, you can choose to have recliners or sofa sets of your choice.
The key is to keep the projector screen at an eye level.
But here's the most important part to consider if the projector will be behind the seats. Make sure that it's above your heads while you are all seated.
This way, the projected image won't be blocked. For this, each row should be more elevated than the row in front of them.
Mount the projector higher behind the seats. Check out mounts and stands here.
How to Build a Theater Seating Riser: The Burke Home Theater Project
8. Affordable home theater seating
You don't need to go bankrupt just to build a home theater.
You can use whatever you have, and there are tons of seats on Amazon that are affordable.
Mount your TV lower to help you see the movie better. For a smaller TV, you can keep the seats closer to the screen.
But what seats can you have? Believe it or not, you can get yourself a recliner seat for a reasonable price. Just check out the video below.
Recliner Chair Review From Amazon: The FDW Wingback
9. DIY home theater seating
Let's get creative with your home theater! If you're a DIY enthusiast, this is going to be a fun option for you.
Making bean bags, building a day bed, or repurposing car seats would be amazing.
The great thing about DIY home theater seating is that there are no rules. It's all about self-expression!
You can even add features like cup holders! Just check out these seats below.
home cinema seating (d i y)
10. Gaming home theater seating
Gamers know what it's like to sit on a couch and feel like hours are flying by!
It's also an activity that you can enjoy on your own and with tons of friends around you.
It's best to get a seat that can help you lay back slightly so you can reduce back tension.
Also, it's best if there is nothing to block you from moving around. When it comes to gaming, you know that your body follows your controller!
A low, soft, chair with no armrests is going to be fantastic for this purpose. It should also have a longer seat so you can put your feet up!
For inspiration, take a look at this gaming room below. Note how the bean bags don't restrict the players and they also have footstools for relaxation.
But if you want to go all out, the Ficmax gaming chair would be the perfect addition to your gaming setup.
MY ULTIMATE GAMING SETUP/ ROOM TOUR!
What is the best home theater seating?
Let's admit it, the home theater seating is all about the chair. But which one is the best?
It all depends on what you plan your entertainment room to look like.
Depending on the home theater, here are three best chairs made specifically for watching movies:
1. Jummico Recliner Chair
This chair is perfect for solo home theaters and it's also an affordable choice! You can even purchase several to accommodate everyone in your family.
2. Delange Reclining Sofa for 3-seater
Sale
For those who want a home theater in their living room, this is going to be perfect.
What I like about it is that there is no divider for the seats so you can squeeze in more than 3 people.
The cup holders and plugs mean that there's no need to get up to charge or to grab a drink or snack!
3. Rocking Theater Seating
Star Delight Rocker Real Movie Theater Seating. 1 Row of 3 Chairs
Perfect home theater seating! Real, commercial, movie cinema theater seating. IN STOCK! FAST...
True rockers, both the back and seat rock! (Chairs rock back approx. 6-inches.) Lift-up, cup holder,...
Gravity-lift seat bottoms, ergonomically sculptured seat cushions. Built in lumbar support.
If you're building a dedicated home theater, this is something worth investing in.
It's just like the seats in actual cinemas, only better!
You can elevate each row higher than the other by building the risers.
There's a cupholder for each armrest, and the seats automatically flip back up when it isn't used.
No matter what home theater seating you have in mind, these three choices are practical and superior.
How much room do you need for home theater seating?
Planning to make your home cinema dreams come to life?
Here's an important tip: measurements are everything.
Before you buy the best theater seats in the market, make sure that there's enough room for it, and in between!
For a 70-inch screen, the first row of seats should be at least 140 inches. That's because we multiplied 70 by 2 (70x2).
The last row shouldn't be further than 350 inches (70x5).
Now, if you plan to have lots of seats in your home theater, you should look into larger screens. Thankfully, we've got you covered right here!
But if you aren't sure about what size the projector screen should be, this article can help you out.
Each row of seats should have a minimum of 20 inches on either side.
In between every row, be sure to leave out 20 inches to make sure you all have ample legroom!
What is the best size for a home theater room?
If you're here, you're probably wondering if that spare room in your house would be a great home theater?

For you want the recommended size, it should be about 20 ft by 15 ft. The room should also have high ceilings.
The gist is the bigger the better!
But not everyone has that space. So it's also about making the best of the space that you have!
Thankfully, you can adjust the image sizes in the settings of your TVs and projectors according to the size of the room.
How wide is a theater seat?
Theater seats are much wider than regular old chairs.
They're usually 19 to 22 inches wide, giving you lots of room to enjoy that movie marathon.
Even with a heart-raising thriller on screen, at least your chair is relaxing!
Conclusion
Home theater seating depends on your home, tastes, wants, and needs.
Again, the most important thing to remember is to measure the room, the theater, and the furniture to make sure that everything fits correctly.
If it's for family and friends, it's best to go for the living room or the family home theater setting.
But if it's for yourself, you could go for the bedroom or solo theater seating. You could even try out the double theater seating in case you want to invite a date or a friend.
Whatever you're watching, happy viewing!
Last update on 2022-07-03 / Affiliate links / Images from Amazon Product Advertising API.