If you're an aviation geek like me and have a dying urge to either get your wings or feel like you're flying high in the sky, then setting up a flight simulator with your projector is the next obvious step.
It sounds like a daunting task. Where do you start?
Today we'll break down everything you need to know about a flight simulator projector setup. Think of this as your 101 guide.
Materials Needed for a Flight Simulator Projector Set-Up
As with anything, there are several roads you can take to create the perfect simulator for your virtual adventures.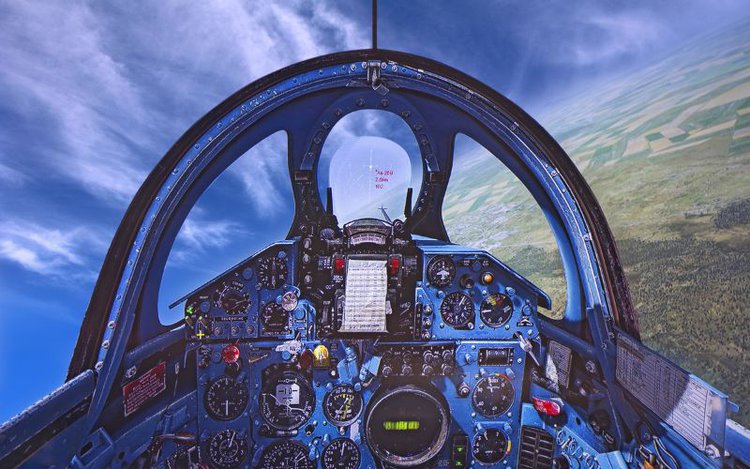 But first, here's a list of materials you'll need to create your setup.
You will need:
A projector screen (or materials to build your own)
A gaming pc
A projector (or two)
A cockpit panel and controls (optional)
A chair or comfortable seat
Pedals (optional)
Flight simulator software
Now, it's important to understand the setup is easy once you know what to do. But everyone's setup is slightly different.
If you have flight experience, you may want to create something more advanced. But beginners can also dabble in the simulation at a more modest level.
Nevertheless, to set up a flight simulator, we'll first set up our screen by building a custom frame. Next, we'll set up our flight room, install our projectors, and add the gauges.
1: Creating a Frame for Your Screen
As I previously mentioned, there are several roads you can take. You can purchase a curved projector screen , use a pricey curved monitor , perhaps three consecutive monitors , or you can create a screen yourself.
Creating a curved screen is the least expensive option. It's fun, and you can build exactly what you need.
So today, we'll discuss creating a fantastic 180-degree screen that wraps around you like a half-circle and immerses you in the flight experience. But first, we have to build a 180-degree frame for our screen.
Here's what you'll need to start this process:
Tape
Glue
A Staple Gun
Hammer
Nails
String (optional)
A pencil
A sander (optional)
Bolts
Step 1: First, we need to draw a half circle that will become the top and bottom of our frame. So, you'll need the string, pencil, tape, and your 18mm MDF boards. If your MDF board is not long enough to create a full 180-degree arch, you might need to create two 90-degree arches and then attach them together.
Step 2: Draw a half-circle onto your MDF 18mm boards. You can draw this freehand or use a string to guide the curvature of your circle. We recommend a diameter of six to eight feet.
Step 3: Start cutting out your half circle using your woodcutter.
Step 4: Now that we've created the top and bottom of our frame, we'll need to attach the left and right sides to the top and bottom to finish it using strip boards.
Bolt one strip board to the far left of the arch and another to the far right. Essentially, we've created a 90-degree angle on both sides. Bolt the bottom arch to the bottom of the strip boards on both sides.
Once the strip boards are bolted, you should have a curved frame.
Now take an extra strip board and bolt it to the middle of the frame. This will make attaching the screen easier later.
Step 5: If you created two 90-degree curves to make a full 180-degree half circle, you'll need to attach both 90-degree curves using your bolts to create the full half-circle. This is what makes it a wraparound screen.
To attach, place both 90-degree curves next to each other (so they form a half-circle) and bolt them together.
Step 6: Now, we'll take our 3mm MDF and place it on the inside of our half-circle. This will create a flat surface that will eventually become our projector screen.
The 3mm MDF is a board that's thin enough to bend without breaking.
You can use any method to attach them. However, gluing them is the best option. Nevertheless, you can staple them in place. An old hammer and nail work well too.
Whatever method you use, ensure all surfaces of your arch are as smooth as possible. Any cracks, divots, dings, or nails sticking out will show once your projector is on.
Step 7: If you want to sand down any splinters, rough edges, or simply create a smoother surface, you can do so at any time, but that's optional.
2: Paint Your Screen On
Now that we've created the perfect curved screen for our setup, it's time to paint our screen onto our frame.
Materials you need are:
Step 1: Now, we'll start with our primer. Paint a coat onto the surface of your new half-circle. It will give it a nice and clean look.
Step 2: Once the primer dries, apply a coat of your favorite projector screen paint.
You're done, and you now have an awesome wrap-around screen for your flight simulation.
We understand these instructions are a tad confusing, so here's a video representation of the above steps
D.I.Y. Cheap Curved Projector Screen- for the Flight Sim!
3: Setting Up Your Flight Room
Setting up the rest of your flight simulator depends on how advanced you want your experience to be.
Some people have a curved screen on top of a desk with a simple controller.
Others want the whole shebang. They want a fancy chair, an expansive cockpit, and a great control system.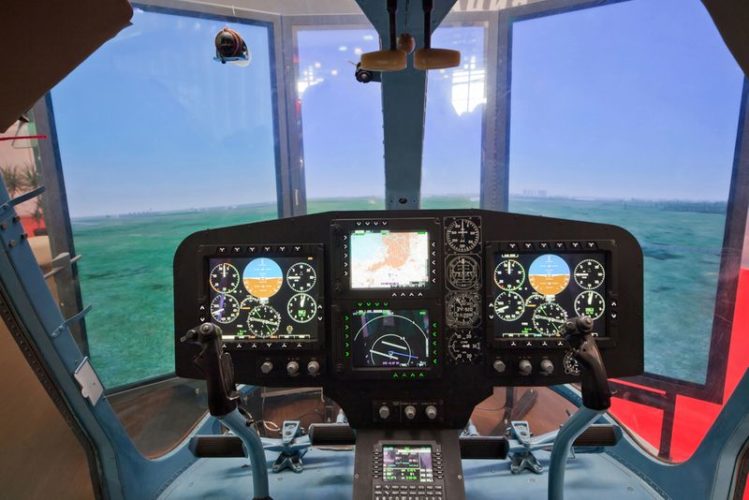 Regardless, from here on, it all depends on what level of immersion you are looking to obtain.
Let's begin.
Step 1: Take your newly constructed wrap-around screen and place it in your designated room.
Make sure you have plenty of space for all your devices.
Step 2: Set up your cockpit accordingly.
Here is where it starts to differ from person to person. Whether you're trying to replicate the cockpit of the plane you fly the most or are simply trying to have a fun experience, everyone's cockpit will differ.
However, we recommend setting up your cockpit to mirror your needs.
There are numerous options out there. For custom and advanced cockpits, check out Stay Level Avionix.
If you want the exact model you saw in the video, you can download his spec sheets and complete setup guide here.
If you're looking for a joystick for your simulation, try the Logitech G Pro Flight Yoke System .
Step 3: Gather your gaming chair or fancy flight chair like the VEVOR Simulator Cockpit and place it where you want it.
Of course, the VEVOR Simulator is fancier than most flight simulator setups. For instance, you could use a bean bag chair or no chair at all. You can even play standing up. Everyone's setup will be slightly different depending on what you want.
Step 4: An optional but added bonus is the need for pedals. We recommend the Logitech Pro Flight Simulator Pedals . They're simple but immerse you in the experience.
Step 5: Set up your computer.
If you go with a DIY screen, as we did, then this should be the most expensive component of your flight simulation.
In order to use flight simulator software, you'll need a heavy-duty gaming PC to run the high graphics with as minimal lag as possible.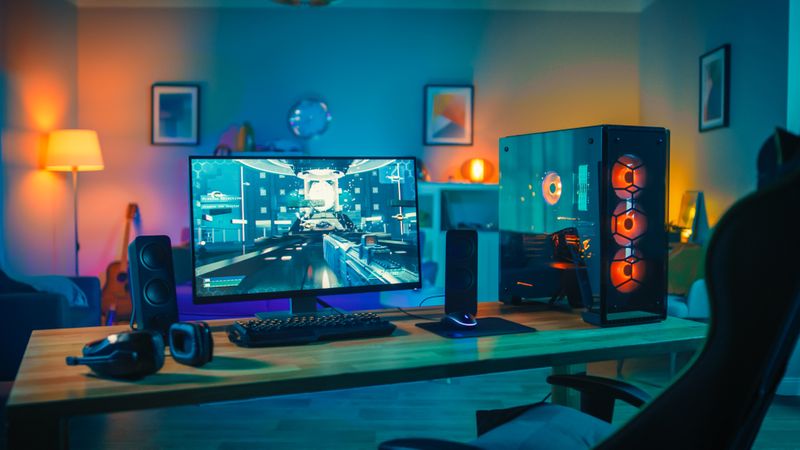 If you're unfamiliar with gaming PCs or heavy-duty computers with lots of power, here's a list of specifications you'll need to run the software required.
They are:
240x120mm Corsair Water Cooler
WIFI-6
2TB M.2 Nvme SSD
i7-12700K at up to 5.0GHz
Windows 10 or 11
Phanteks P300a Case
750 Watt power supply
32GB of DDR4-3600
Choice of RTX3070, 3070ti, or 3080 GPU
You can either have one built or shop around for something similar. But, I found that Real Sim Gear makes custom computers for this exact situation.
Setting up your PC is as easy as plugging it in and turning it on. However, buying a gaming PC takes patience and some shopping around.
Step 6: Install your software
Having a gaming PC is only part of the equation. You'll need to install the proper software that gives you those beautiful cloud-filled images.
Check out Digital Combat Simulator or X-Plane Flight Simulator .
See how Mina Morcos set up his flight simulator with this great video log.
Installed A New Flight Simulator Setup!
4: Setting Up Your Projector
If you are using a curved screen, make sure you set up your projector on the ceiling so that it's out of the way of your controls.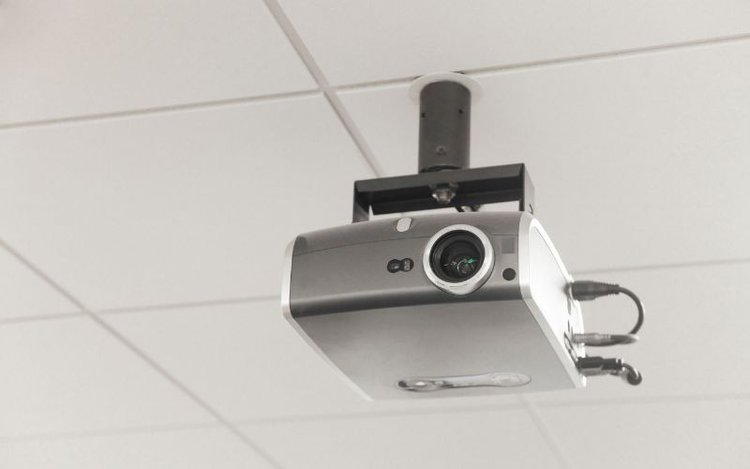 If you don't want to ceiling-mount your projector, you can opt for a short-throw projector like the ViewSonic PX706HD .
However, this setup is a little different if you decided to create your own 180-degree projector screen.
If that's the case, you'll require two projectors, preferably the same kind.
BenQ is a good place to start if you're still looking for one. They offer a line of flight simulator projectors.
Each projector must be placed on the ceiling and pointed toward the curved screen.
You need two because a projector image cannot stretch and wrap itself as much as you need it to. In our case, we will need some extra software that allows us to blend two images as well as wrap them on our screen to make a beautiful simulation.
Head on over to Fly Elise and download the Immersive Display Pro software. It will walk you through warping your image to have the best possible flight simulation experience.
And finally, don't forget to connect your projector to your high-powered PC.
5: Adding The Gauges
Some details are required for the best immersive experience.
If you need it all, and exporting the airplane gauges is extremely important to you, then you'll need additional software.
To do that, head to GitHub and download the Helios Virtual Cockpit software.
This gives you the added bonus of an altimeter (or how high you are), airspeed indicator, turn and bank indicator, speed indicator, and artificial horizon on your cockpit.
If you're interested in adding knobs and switches like a real plane would have, check out this detailed video that explains how much they cost and how many are needed.
What it Cost! - A10C Warthog Simulator (Part 1)
6: Test Drive
You thought we were finished? An essential part of the process is testing and making sure everything is connected properly.
In this case, we'll have to turn on our PC. Power up your projector and ensure all software is working properly.
If not, ensure all cables are connected correctly, all power cords are connected to working power outlets, and your computer is up and running perfectly.
As a side note, you might have to recalibrate both projectors, so they align seamlessly each time you power them on.
If everything works as it should, pat yourself on the back. You've successfully created a flight simulator with your projector(s).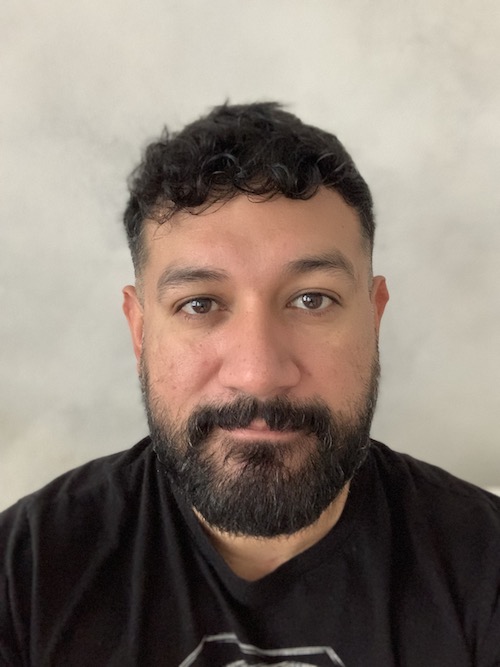 James Quintanilla is a technical copywriter. Although his experience allows him to write on many topics, he loves to focus on tech and travel. As a freelancer, James has worked on projects with Pointer Clicker, Lonely Planet, and the Travel Channel. When he's not writing or planning his next adventure, he's watching a scary movie.