The industry of audiovisual projectors is congested with renowned and notorious brands. Some start-ups and up-and-comers have entered the playing field with many of their innovations.
Here, we will talk about two of the industry's heavy-hitters.
Seiko Epson Corporation, or "Epson," is a Japanese electronics company most known for printers and projectors. We will compare the multinational company, one of the most prominent developers of projectors, to a relatively underrated one.
The Chinese global company founded by Apoll Zhong, XGIMI Technology, has been around since the early 2010s. After the release of its first smart projector in 2014, XGIMI has continued to innovate projectors in different sizes.
Let's compare these two multinational companies side-by-side to understand both their products comprehensively.
Epson Projectors Vs. XGIMI Projectors: Side-By-Side
Criteria
EPSON
XGIMI
Who They Cater To
It is a reputable name-brand option for cinematic enthusiasts or venues that need permanent AVP installations.

(home theaters, school auditoriums, workplace)

It is a renowned affordable alternative to name-brand options for cinematic enthusiasts or venues that need permanent or temporary AVP installations.

(home theaters, traveling, multi-venue presentation)

Features, Qualities, and Materials

Visuals: FullHD, UHD, 4K support and native options, 10-bit HDR, ALR, proprietary MicroLaser Array Technology, 1800-30000 Lumens, 3D options
Light Source:Lamp, Laser
Audio: External
Size Variables: Home Projectors, Portable Projectors, Laser Projectors, Large Venue Projectors
Material Composition: Zinc Carbon

Visuals: FullHD, UHD, 4K support and native options, HDR10, 60Hz MEMC, low latency, 600-2200 ANSI Lumens, 3D options
Light Source: Lamp, Laser
Audio: Built-in(Harman Kardon with DTS-HD and Dolby Digital support)
Size Variables: Home Projectors, Portable Projectors, Laser Projectors
Material Composition:Zinc Alloy

Real User Experience
Generally positive with qualms against its market value.
Generally positive regarding overall quality and value with minimal qualms.
Customer Services
Avenues:

Email
Hotline
FAQ Database

Quality:

Disappointing for an industry giant.

Avenues:

Email
LiveChat
Hotline
FAQ Database

Quality:

Unprofessional regarding refund and return concerns.
You can review their general aspects above. We will discuss each component from the table more closely below.
Let's break down which of each brand's projectors fit which variables best with an overview of your options.
Epson Projectors and Their Specifications
Epson has a broad range of options, with regular-sized projectors and their mini counterparts. The company also offers larger projectors for more significant venues such as auditoriums and outdoors.
Visuals
Epson's projectors all feature excellent brightness that holds up against external lighting better with its vast catalog.
The company's projectors also feature Ambient Light Rejecting (ALR) technology, considered an integration that helps your display automatically adjust against its surrounding environment's light levels.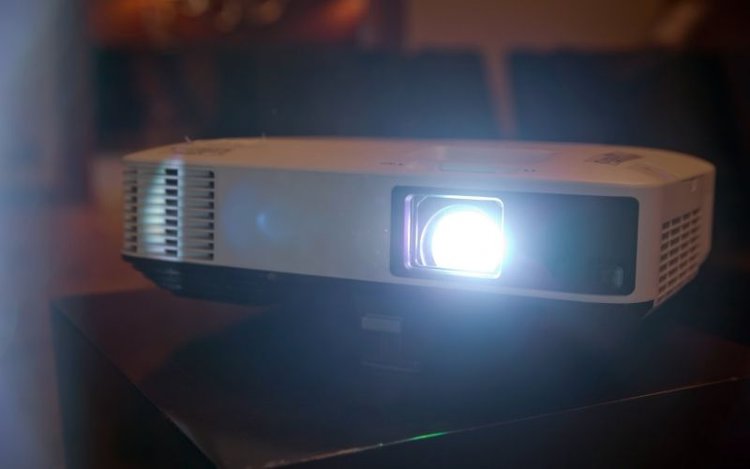 Epson's projectors vary from High-Definition, FullHD, and UHD. Its flagship projectors also claim to feature a 4K Pro-UHD integration.
We've checked this out, and as it turns out, its 4K Pro-UHD claims are somewhat more novelty than functional. Its elevation of image quality isn't proven to transcend regular 4K resolution or any display.
Nevertheless, Epson does provide users with top-quality resolution.
Audio
Its lack of a built-in audio system doesn't deter users. Projectors are commonly linked to external speakers through cables or Bluetooth.
Epson projectors have all your typical output ports for data transmission. Each projector is equipped with varying input and output ports, used to receive audiovisual content and send out audio transmission.
It's worth noting that Epson produces speakers that work best with its projectors. According to the site and reviews, you can use your own, but using Epson products in conjunction is more efficient.
Sizes and Options
Epson's home projectors, mini projectors, and pro-cinema projectors range from small, medium, and large, with hundreds of options.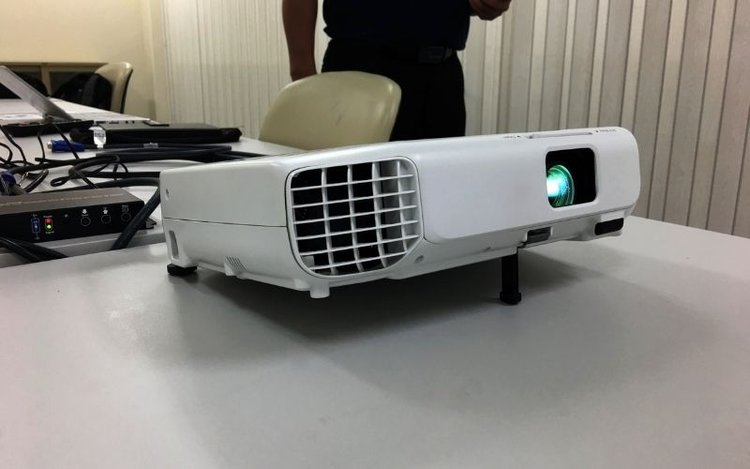 Its home projectors' average weight is around fifteen pounds, typically a medium-sized projector's weight. According to our research, here's the most revered option for Epson Home Projectors:
Epson Home Cinema 5050UB
With HDR compatibility and 4K enhancement, the Epson Home Cinema 5050UB makes a powerful addition to your home theater. Its motorized lens is an innovative advantage against other standard projectors.
Epson Home Cinema 5050UB 4K PRO-UHD 3-Chip Projector with HDR,White
4K PRO-UHD (1) Projection Technology – A new type of 4K home theater experience utilizing advanced...
True 3-Chip Projector Design – Advanced 3LCD technology displays 100% of the RGB color signal for...
Pixel-Shift Processor – Advanced pixel-shifting processor precisely controls three high-definition...
Last update on 2023-03-30 / Affiliate links / Images from Amazon Product Advertising API.
With a motorized lens and 2,600 Lumens, it is a versatile machine that provides viewers with the brightest displays in various settings. It is indisputably flexible compared to other projectors, devised with automatic adjustments to fit any surface on which it casts its display.
The 5050UB measures 20.5" x 7.6" x 17.7" and weighs 24.7lbs (11.2kg). It is often commended for its physical composition. Its functions are massive against its relatively compact size.
A drawback for some is its lack of audio out ports. However, it features Bluetooth functions, as do most soundbars and speakers. You can also link external speakers directly to the video source instead of the projector.
If you are looking for a more portable size, here's one you can check out:
Epson EpiqVision Mini EF12 Smart Streaming Platform
Arguably one of Epson's best models, the Mini EF12 has raked in critical acclaim.
At 5.3" x 6.9" x 6.9" and 4.7 pounds, the mini projector isn't what you would call a pocket projector, but it is sleek for its capabilities. The miniature projector houses powerful visuals in its compact body.
Its native resolution is 1080p or FullHD, but it can expand its display to 3820 x 2160 or 4K UHD. It also has built-in smart functions such as Android TV.
Its brightness of 1000 Lumens comes in a little lower than a regular projector but higher than its mini competitors. It can hold up against ambient lighting better than pocket projectors.
One of the Mini EF12's standout features is its audio system. Unlike most Epson projectors, the Mini EF12 is equipped with quality speakers. It has Yamaha built into its body and can fill an average room nicely.
You will still have to hook it up to larger speakers if you want a surround sound vibe. The Mini EF12's built-in audio should do fine for personal viewing or a mini get-together.
A drawback we've seen most prevalent among user reviews is its lack of 3D options and inadequate brightness. Now, users might have gotten used to Epson's typical couple thousand Lumens and expect its projectors to exhibit the same. However, 1000 Lumens is quite high for a mini projector.
Its lack of 3D options is surprising. Most projectors, these days, are equipped with the option or at least support the function in some way. Suppose you don't need 3D options, and you're happy with 4K quality 2D viewing. In that case, the EpiqVision Mini EF12 makes a great addition to your next viewing party.
Sale
Epson EpiqVision Mini EF12 Smart Streaming Laser Projector, HDR, Android TV, Movies, Family Gaming, Portable, sound by Yamaha, 3LCD, Full HD 1080p,...
Stunning Picture Quality up to 150" — Delivers an immersive viewing experience for TV shows,...
Sound by Yamaha — Custom-designed audiophile speaker system offers a powerful and emotional...
Built-In Android TV (1) — Latest Android TV interface with a simple-to-use remote – including...
Last update on 2023-03-30 / Affiliate links / Images from Amazon Product Advertising API.
If you are looking for a more permanent integration to your theater with all the perks, we think this next one is the one to beat.
Epson Pro Cinema 4050 4K Pro-UHD Projector
Now, we're talking. The Epson Pro Cinema 4050 4K Pro-UHD Projector, emphasizing PRO, is a game-changer.
Last update on 2023-03-30 / Affiliate links / Images from Amazon Product Advertising API.
While most homes have two or three projectors to fit different standards, the Pro Cinema 4050's versatility can fit more than just one mold. It delivers 2D and 3D, FullHD, and 4K with HDR10 formatting.
It uses three 1080p LCD chips to shift pixels and upscale them to achieve 4K quality imagery. It isn't "true" 4K, but a side-by-side comparison will show you there are hardly any discernable differences.
It's lighter than competing projectors on the market, space-efficient, and among the brightest projectors. With 2400 Lumens, the Pro Cinema projector can light up a room with its display. Against indoor lighting, your display can still produce crystal clear imagery. It can also hold up against brighter outdoor settings, but it can't beat out the sun.
Epson is known for having projectors with 30000 Lumens, but unless you're drawing a crowd for a stadium, anything between 1500-2500 Lumens is already exceptional. Despite its brightness, this projector exhibits little to no rainbow artifacts in its display.
Suppose you get distracted by the multiple colors on screen layering on top of each other. In that case, this projector might be heaven-sent for you. Its multi-chip utility prevents contrasting colors from creating layers. Most projectors exhibit this on their display due to brightness, contrasts, and vivid colors.
The projector also features some sophisticated setups. Its shift range, horizontal and vertical, is dynamic. You can fit this projector anywhere in the room and shift its positioning 47.1% horizontally or up to 96.3% vertically.
Its 2.1x zoom feature helps users customize their display to fit any surface better. The level of customizations users can carry out with this projector is head and shoulders above the rest.
Some serious drawbacks are its price point and lack of HLG HDR support. Hybrid Log Gamma HDR prevents breaks in an audiovisual transmission sent from live broadcasts and other streams that require the same bandwidth demands.
The Epson Pro Cinema 4050 4K Pro-UHD is an innovative machine inside a classic Epson build.
Additional Specifications
Another great component of Epson is its eco-friendly initiatives in manufacturing and transporting its products. Its materials are more environment-friendly than competitors, and they can be recycled or repurposed.
Customer Service
Sadly, this industry giant's customer service isn't the best. It's subpar at best, according to most users.
While there are many avenues where customers may direct their queries, Epson's response to each one falters. We've read rude, inconsiderate, delayed, or no response.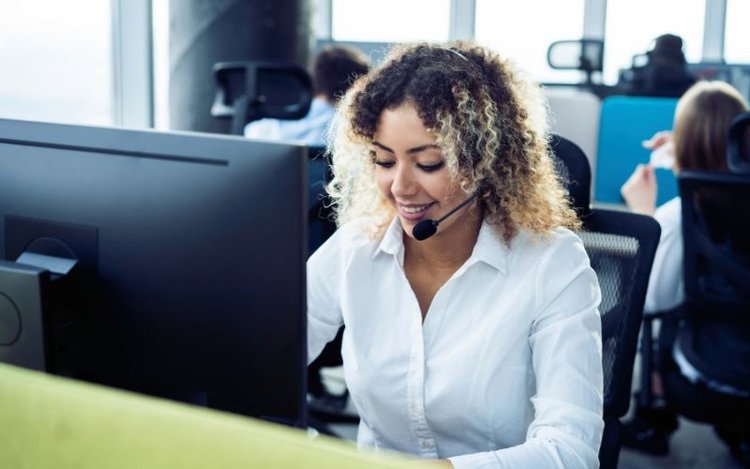 It is a deterrent for some customers to know Epson's aftersale efforts seem more like an afterthought. Representatives may listen but have ready-to-fire responses that dismay customers if customers are even heard.
You can find more of Epson's customer reviews on Trustpilot.
XGIMI Projectors and Their Specifications
XGIMI Technology was established in 2012 to pioneer a revolution in pico projectors.
After expanding to overall projectors, XGIMI has released some affordable solutions to well-known brand options.
Although XGIMI has fewer options, its projectors are some to beat.
Visuals
Like most of Epson's projectors, XGIMI comes in native 1080p resolution with 4K support and enhancement. With most of XGIMI's projectors featuring HDR10 and HDR10+ formatting.
Its refresh rate of 60Hz, supported by Motion Estimation, Motion Control (MEMC) technology, is also a key element. You don't have to worry about momentary lags that bog down images while watching fast-paced movies. Even gamers can enjoy its ability to keep up with fast-paced detailing.
Its projectors range from 600-2200 ANSI Lumens, bright enough to stand their ground against low to average lighting. Using it outdoors will hold up against moonlight but not as well against a campfire or a car's headlights. Don't even think about using it outdoors during the daytime.
XGIMI projectors used in a smaller room in school, work, or home can deliver excellent imagery. However, its most significant selling point isn't just affordable, top-quality imagery; XGIMI's built-in audio systems are impressive.
Audio
Harman Kardon is prominent in the music and sound design industry. It is equally more affordable in producing top-quality developments. While it maintains affordability, each XGIMI projector is equipped with a built-in Harman Kardon sound system.
The XGIMI and Harman Kardon partnership make a lot of sense. It helps deliver industry-leading standards to consumers at better market value. All projectors have built-in sound systems, including portable options.
Its audio can support up to DTS-HD and Dolby and fill medium-sized rooms with crisp sound. You can hook it up to your surround sound setup with no problem, but you can count on its built-in audio on the go.
Sizes and Options
XGIMI has three categories, home, portable, and one laser option. Its home projectors are smaller than average. Its laser option is as big as the company's projectors get, with an average home projector's build.
Its list of portable options is much smaller than Epson's minis but a little bigger than picos. However, its ergonomic body is portable enough to fit in your mini backpack or laptop bag.
XGIMI MOGO Pro+
They don't call this a mini.
Most reviews refer to the Mogo Pro+ as the mighty. It's David that delivers Goliath features.
Last update on 2023-03-30 / Affiliate links / Images from Amazon Product Advertising API.
It measures around 5.8" high with a 3.9" depth and width and weighs around 1.98lbs (0.9kg). In one of the most compact bodies sits powerful audiovisual functions.
Its 1080p resolution can cast a display of up to 76" without compromising image quality. It's packed with sharp contrasts and vivid colors available in 3D. 3D options aren't a standard in portable projectors, so you won't find many with them, making Mogo Pro+ even more special.
However, at 300 ANSI Lumens, we're left wanting just a little more. Its display won't hold up against your average indoor lighting and falter in delivering quality resolution. Still, its detailing is impeccable in dark-lit rooms.
Its features are smart built-in functions such as streaming platforms (even HBO Max) and Google Assist. Its battery life is also one to beat, lasting up to an average of three hours, the length of cinematic movies with breaks in between.
The miniature projector has Harman Kardon built into its body with audio you can hear from opposite room ends. However, if you're looking to cater to a bigger audience, the next one might be for you.
XGIMI Aura 4K Short Throw Laser Projector
A permanent integration you can make to your home theater is XGIMI's newest flagship product. Its first laser projector, the Aura 4K Short Throw Laser Projector.
Sale
Last update on 2023-03-30 / Affiliate links / Images from Amazon Product Advertising API.
It's considerably smaller in stature than its competitors. Some argue that it's around the size of an average home projector, which allows users to transport it from their home to their holiday destination.
The XGIMI Aura measures 5.49" x 23.86" x 15.79". It weighs 24.2lbs (11kg).
While you would have to find a proper case for it, the Aura is an UltraHD TV you can take anywhere. Its dimensions are nowhere near the mass of TVs that give you 150" of 4K content.
Its detailed displays come in 2400 Lumens with quick pixel-shifting and exhibit fewer rainbow artifacts or lagging. Its light source, unlike most projectors, is built to last the Aura's lifespan. We've done the math, and that's around seventeen years with the average four-hour screen time. That's over 25,000 hours of active use.
Its Harman Kardon audio system supports DTS-HD and Dolby sound. You can effectively hear its audio around a small auditorium or function room. It can fill up your home theater just fine, but you still have the option to link it to external sound systems through Bluetooth and cables.
A drawback users have often called out is the Aura's lack of image customizations. You can't tweak the display as much as you could an Epson projector. The Aura is a short-throw projector which might explain the lack of shift range.
Customer Service
XGIMI Technology is a lot like Epson in this regard. Multiple avenues for customers to direct concerns with no amenable response from any.
Electronic companies may be notorious for poor customer service due to their representatives lacking product knowledge. However, reports from unsatisfied customers range from "mean, uncompliant, disconcert, disregarding, and unhelpful" are inexcusable.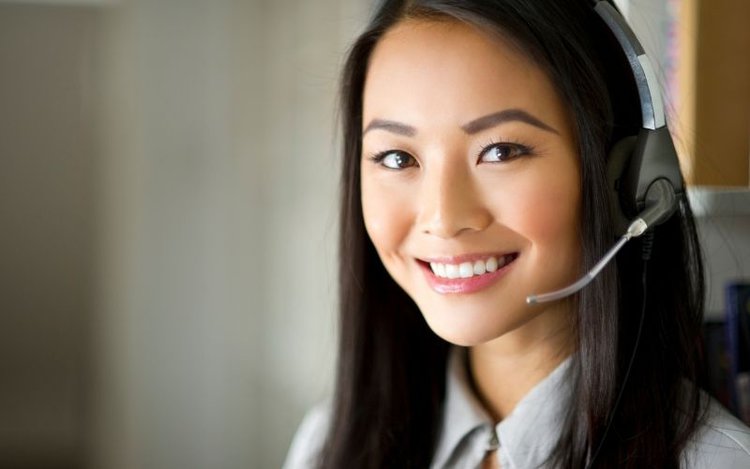 You can find more of XGIMI's customer reviews on Trustpilot.
Both Epson and XGIMI need to work on their in-house customer service.
Pro-tip: buy from a licensed retailer. They should cater to your queries better. They get the items wholesale, and electronics companies should pay them more attention than individual buyers.
Additional Specifications
The company's use of Zinc Alloy in its products allows its items the lightweight users enjoy. Even in bigger masses, its projectors are often lighter than most.
Zinc Alloy is a light yet robust metal. It provides users with sturdy products that are easier to transport and carry on the go.
Pros & Cons: Epson Versus XGIMI
In case you don't have more time to dedicate to reading, here's a quick pros and cons guide.
BRAND
PROS
CONS
Epson

Variety of options
Prominent brand
Choices between luxurious and affordable options
More accessible worldwide

Options often offer the same range
No reliable built-in audio
It can be unnecessarily expensive
Bad customer service

XGIMI

More affordable
Holistic specifications
Innovative visuals
Outstanding built-in audio
Ergonomic hardware

Isn't a well-known brand
Tightly limited options
Inaccessible to other countries
Bad customer service
Final Verdict
Both Epson and XGIMI produce great projectors. Where one company excels, the other doesn't falter but comes in at a lower standard.
Epson provides users with vast options. However, it produces higher-priced equipment than XGIMI's minimal options. You can find an Epson projector that suits your needs best or choose from XGIMI's fewer general selections.
Where Epson is more customizable, XGIMI is more holistic in its general audiovisual components. Each company's strength is uniquely their own here. Epson allows users to customize their pick from various options. At the same time, XGIMI has already anticipated the market's general needs and built projectors to suit them best.
Epson isn't as affordable as XGIMI. XGIMI isn't as prominent as Epson. The difference in price points plays a significant factor and its approach to audio and ergonomy.
XGIMI has continuously pushed industry-leading standards, and Epson has achieved longevity in an ever-evolving market.
While the winner is for you to decide, our team unanimously voted for XGIMI projectors against Epson. It will still depend on your taste, but we can agree on how much efficiency plays into all matters.
For this reason, XGIMI's innovations in ergonomy and affordability make its projectors harder to resist.
Price points aren't the most negligible factor in deciding between electronic devices either. Still, XGIMI's innovations toward powerful yet handy devices are what win us over.
XGIMI's more portable projectors provide users with top-quality imagery. They are pioneering a new era of projectors with equally adequate audio.
We know it isn't easy to choose between a prominent brand and a phenom in the making. However, we think you should take a look at XGIMI projectors.
If Epson is your old and reliable choice, they are nothing if not those things. Epson is deeply rooted in the market and has earned its reputation. There's nothing wrong with going with a comfortable choice.
We hope this helps you decide on what projector suits your needs better.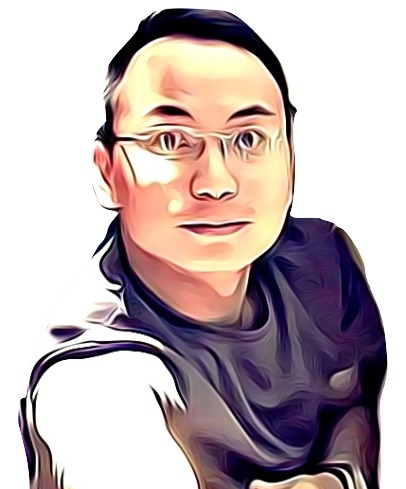 Vance is a dad, former software engineer, and tech lover. Knowing how a computer works becomes handy when he builds Pointer Clicker. His quest is to make tech more accessible for non-techie users. When not working with his team, you can find him caring for his son and gaming.