Wondering whether PowerGain, the projection screen material from Elite Screens, is a worthy buy?
Well, let's explore all there is to learn about the material, and as you compare PowerGain to other screen materials, you can decide if it is right for you.
What is Elite Screens PowerGain Material?
Elite Screens PowerGain material is a textured, multilayer pearlescent polyvinyl chloride (PVC) projector screen material made for use in rooms with ambient light.
It works best in spaces where you can't fully control the ambient lighting, so rooms with plenty of natural light—large windows, sunroof, the patio, etc.
PowerGain comes with black backing, a thick layer of material on the underside that blocks light from penetrating and interfering with the image quality.
Because of this backing, you can place the screen against something like a window, and it won't affect the contrast of the images displayed.
With a 120-degree view angle (60 degrees on each side) and 1.8 Gain, PowerGain offers a balance between brightness and viewing angle.
What does this mean?
It means you can sit up to 60 degrees to the side of the screen and still enjoy the same brightness and image quality you would get if you sat at the center or directly in front of the screen.
By projector screen standards, 60 degrees is considered a wide viewing angle, so PowerGain scores a point on this.
The manufacturer says PowerGain yields the best results when used alongside high resolution-low output DLP projectors.
Not to mention, the material supports 4K Ultra HD, HDR, and 3D. So you can play or stream 4K content without any hitches.
Does Projector Screen Material Matter?
Yes, the material used to make a projector screen matters.
The image reflecting from the screen back to the eyes can look different depending on aspects like:
Color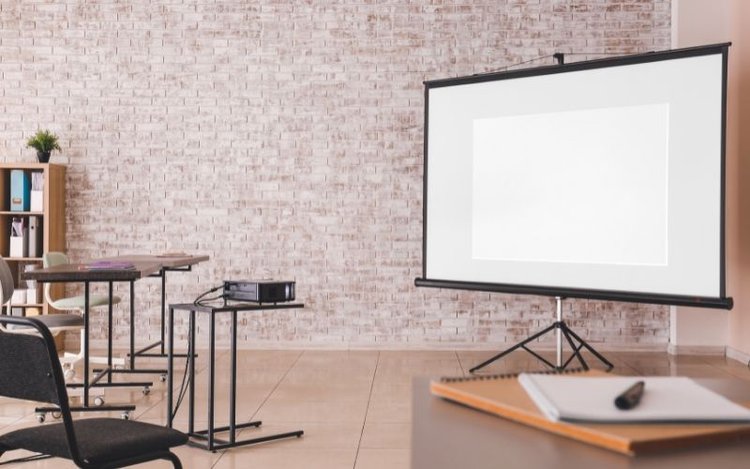 The color of the screen material determines how much light the screen reflects.
Bright-colored screens, such as white and very light grays, reflect most of the light hitting their surface and absorb black hues. As a result, the black on images is not visible on the screen, and there's low contrast in images.
By contrast, dark-colored screens like black and darker grays produce high contrast, which brings out the details in images, leading to better picture quality.
So on a white screen, images appear brighter than they look on a black screen. And, with or without ambient light, a black screen produces better contrast than a white screen.
Texture
A screen with a smooth texture produces smooth images, while a rough finish could cause artifacts, reduce the contrast, and lower the image quality.
Acoustic transparency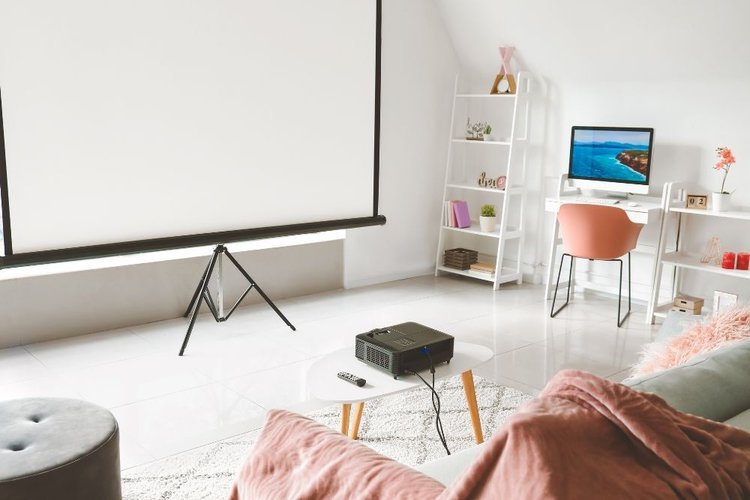 Does the material allow sound waves to pass through it? This determines where you place your speakers.
If the material blocks sound, you can't place speakers behind the screen since sound won't pass through to the other side of the screen.
On the other hand, if it's an acoustic material, you can place speakers behind the screen since sound can penetrate the screen.
Design
A lot goes into making any screen material. Its design and finishing determine how the image appears on the screen.
For example:
Does the material have layers to help it disperse ambient light from different locations? Multilayered screens are often suitable for use in diverse lighting conditions.
Is it seamless? Because as the seams on the material age, they tend to reflect on the screen right along with the image when you light up the screen.
What is the Best Screen Material?
There is no "best" projector screen material—to mean that one material is superior to all others.
Each screen material is suited for a given environment, and therefore, you can argue that each material is best for a specific set of lighting conditions or venue.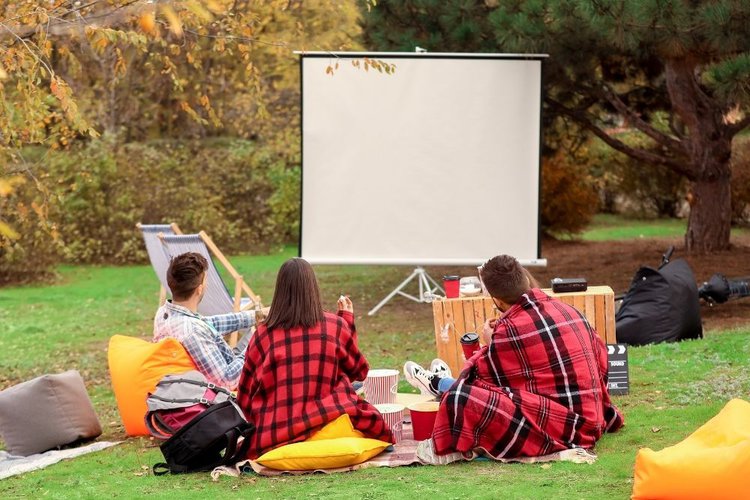 Metal screens have a high gain and are the preferred choice for commercial theaters and cinema halls.
Most have reflection and antilight effect add-ons, which boost contrast and enhance image brightness. But they also require delicate care in cleaning.
Glass beaded and glass fiber screens combine high gain and excellent contrast to produce lifelike images.
The glass fiber can be on the surface or bottom of the screen. The positioning of the glass determines the level of brightness, contrast, and gain the screen offers.
Fabric screen materials are also popular, the most popular of these being polyester, vinyl, and cotton. Often, these screens feature a backing and a rubberized core to help control light, thus enhancing picture quality.
You can watch this video to get a sense of what's available on the market. It gives a thorough breakdown of projector screen materials from Elite Screens.
✰ Selecting the Right Elite Screens Screen Material For Your Home Theater
Is PVC Good for a Projector Screen?
PVC is a good choice of projector screen material.
For one, it's affordable and widely available. That alone makes it an ideal option for home use.
Many PVC materials have a transmission gain close to 1.0. So they support wide viewing angles.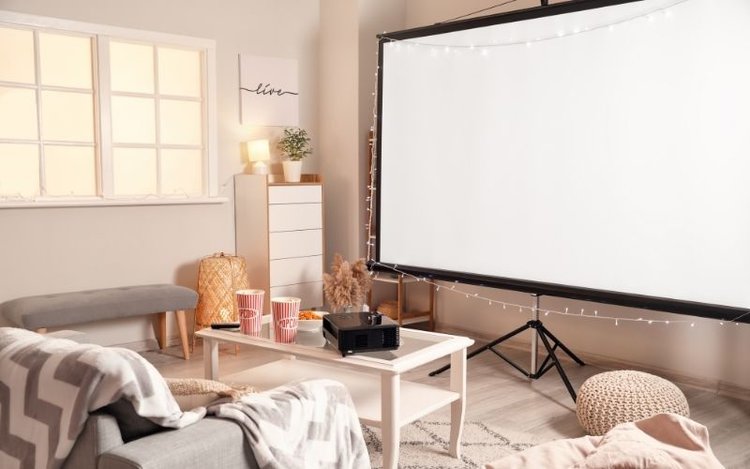 For better picture quality, PVC screens usually have a backing on the backside to block light from penetrating and interfering with the picture brightness.
Some PVC screens are suitable for both indoors and outdoors. These have outstanding brightness, contrast ratio, and resolution to counter the ambient light of the surrounding open space.
Most PVC screens are UV-resistant, anti-static, moisture-proof, and mold-proof, qualities that contribute to the screen's durability. They are also easy to clean and easy to maintain.
FAQs:
1. Can a White Sheet be Used as a Projector Screen?
Yes, you can use a white sheet as a projector screen. The sheet functions just like a white screen would.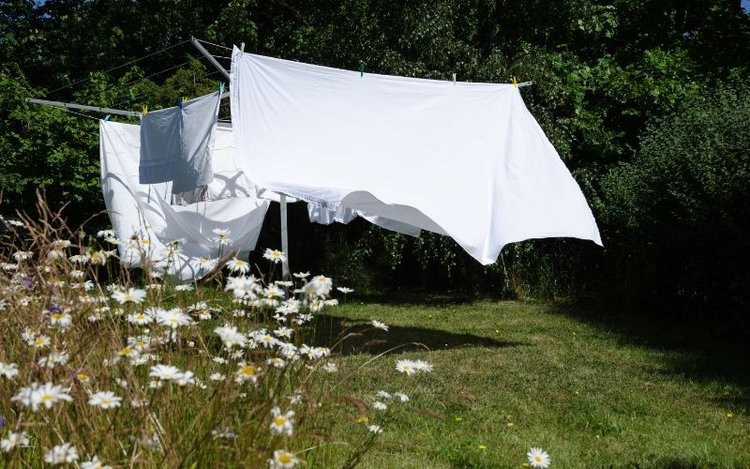 To get the best results, choose a fabric that is non-wrinkly because wrinkles on the sheet will distort images.
You want the fabric to be as straight and smooth as possible; this way, it doesn't distort the images you're projecting.
Stretchy materials tend to be wrinkle-free; use one of these if you have it. When placing the sheet over your chosen screening frame, stretch it out, ensuring it doesn't form creases.
Some materials you can use are blackout cloth, cotton and cotton blends, linen, nylon, polyester, spandex, and most synthetic fabrics.
If you have a white bed sheet or white blackout curtains, you can use them to improvise a cloth screen. But most of these materials are readily available in fabric stores and are affordable.
Use the sheet in a room with minimal ambient light to get the best results.
Remember that the sheet does not have special effects to help with light absorption and reflection, nor does it have a backing to block light penetration.
So, if you use it in spaces with lots of ambient light, the image may look extremely washed out.
You can counter this by folding the sheet in half to make it thicker and a little light proof. You can also place a dark fabric or object like sheet metal or wood to block light filtration.
2. Is Black or White Better for a Projector Screen?
It depends on the environment where you're using the screen. In some situations, white is better and, in others, black is the better choice.
White screens are preferable in darker rooms and spaces with little ambient light.
When used in a room with plenty of ambient light, a white screen reflects a lot of the light hitting it, leading to poor contrast. As a result, image details are not as sharp as they should be.
Secondly, as the white screen reflects light, images will be visible from all angles, so it doesn't matter whether you're seated in front of the screen or to the side.
But this only works when the room is dark. If you have oodles of ambient light, the images on the screen will appear washed out.
Unlike white screens, black screens absorb light instead of reflecting it. Therefore, they are a better choice in spaces with ambient light.
They also create higher contrast, making the different colors on images more visible.
But there is one challenge: since the black screen does not reflect light, you only get a clear view of the image if you're seated directly in front of the screen.
If you're seated on either side, you won't have a clear view of the screen.
Conclusion
Elite Screens PowerGain material is designed for spaces with uncontrolled ambient light.
There is no right or wrong type of projection screen material, but there is a projector screen material for every venue.
That's because each material responds differently to varying lighting conditions.
PVC is a good material choice for indoor and outdoor projection.
Its most notable properties include a high contrast ratio, average gain, and a low possibility of hot spotting.
You can use a white or black screen to project images, but each gives varying results in different lighting conditions.
A white screen works best in a dark space with little or no ambient light, while a black screen is the best choice for a room with uncontrolled ambient light.
When you want to improvise a projector screen on the go, use a white sheet. It won't give you the best home theater experience, but it works when other options are unavailable.