ViewSonic has made a name for itself in the electronics space for creating high-quality monitors and displays. But did you know they make projectors as well?
Most people know about Sony, Optoma, LG, and others in the projector space, but ViewSonic tends to be overlooked. Should they be, or have we all been sleeping on this well-respected brand?
Let's dive in and see what makes ViewSonic projectors worth your money and if they can compete with the aforementioned high-end projector brands that are out there.
Does ViewSonic Make Good Projectors?
Yes, ViewSonic makes good projectors.
There are a ton of factors that go into answering a question like this, but overall, they make great hardware.
Let's take a look at some areas where ViewSonic excels, from picture quality to build quality and everything in between.
Image Quality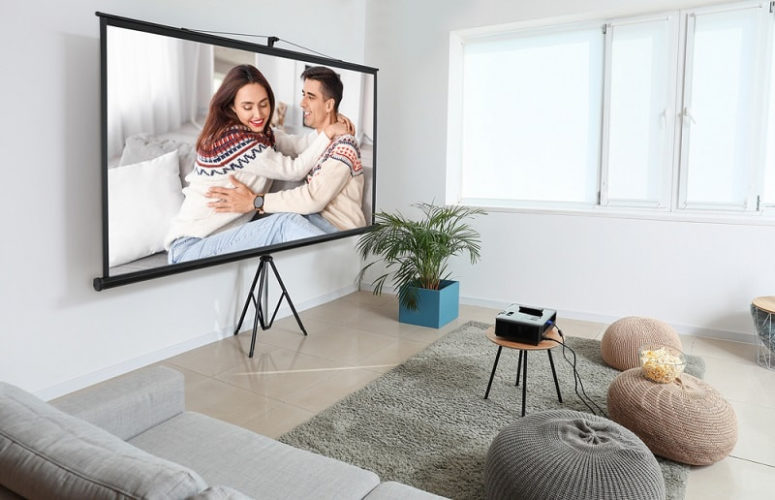 With projectors that range the spectrum from 720p up to 4K, ViewSonic projectors are always going to be competitive no matter what class projector you are searching for.
Believe it when I say they are not going to fall behind competing projectors that are in the same price category. ViewSonic knows a thing or two about outstanding image quality.
Build Quality
This is an area where ViewSonic does a fantastic job. While most projectors on the market have a ton of plastic, some plastic just feels "cheap." ViewSonic projectors, while also mainly plastic, have a more robust feel that gives you some peace of mind.
If you are buying a budget projector, you normally don't expect full cinema quality in the build materials. However, ViewSonic does better than the competition here, especially the off-brand models you can find on websites such as eBay.
Customer Service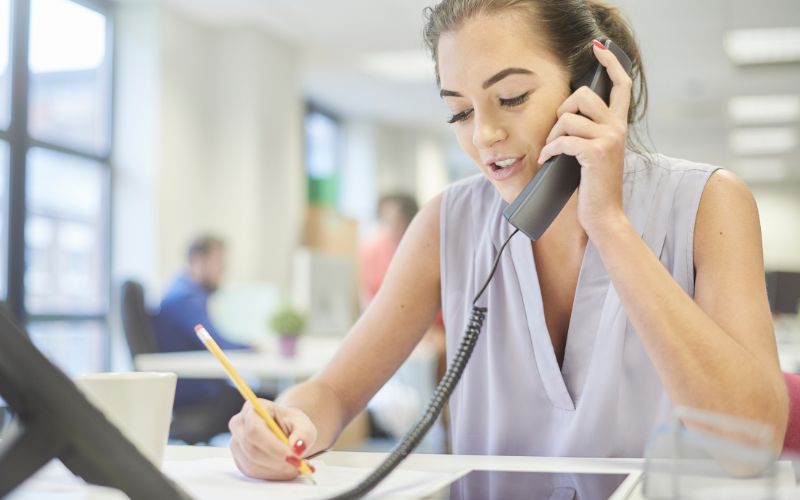 If you end up having an issue with your shiny new ViewSonic projector, picking up your phone and calling their customer support line is going to get your issue resolved rather quickly. Simply contacting their customer service will solve all their problems. What more can you ask for?
Price
The main area where ViewSonic crushes the other "big brand" competition is in the value of their projectors. They are on the low end of the price spectrum when it comes to quality projectors.
This means ViewSonic is possibly the greatest brand for projectors in terms of price-to-performance, which is a huge area to win in when it comes to consumer trust.
Who are ViewSonic Projectors For?
Now that we have talked about what makes ViewSonic projectors a good choice, let's take a look at what you can use them for. They are quite versatile, but they work the best in the following three areas.
Businesses/Offices
If you are looking for a projector for your meeting room, ViewSonic makes some fantastic projectors that can fit the bill. When buying a projector for business, it doesn't need to be fantastic at showing video, but rather text and images.
This sets them apart from the normal home theater projector. Buying the lower resolution business class projector (ViewSonic PA503S ) will not only save you money, but it will also make your presentations look great!
Schools
Schools have similar needs to businesses and offices. They mainly use projectors for text-based documents and images.
Given this, the office projector class from ViewSonic is going to be the best bet here. And that same ViewSonic PA503S projector would be fantastic for teachers on a budget.
Home Theater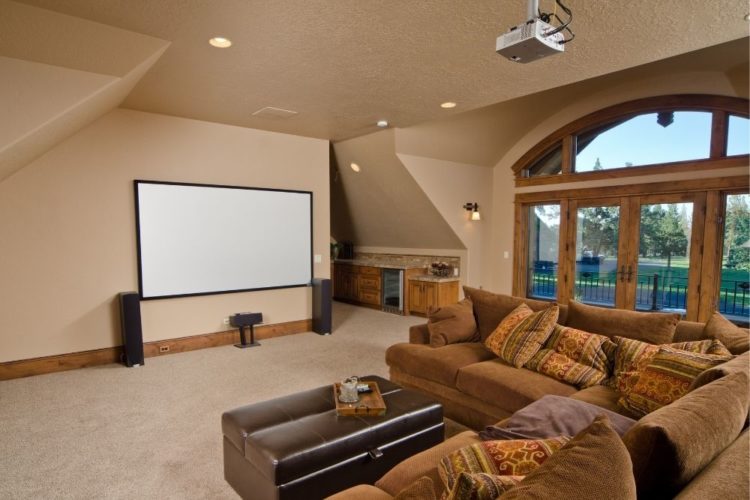 This is the one area people think of when projectors are brought up, and ViewSonic has some fantastic projectors for your home theater setup. While they may not be as recognizable as other brands, like LG or Samsung, they should be just as well-known.
ViewSonic can compete in resolution, giving you crisp 4K movie goodness, as well as brightness. These are the two main aspects of a good quality projector and they are top-notch in both categories.
Good ViewSonic Projectors on the Market
Budget Projector – ViewSonic M1 Mini Projector
Portable projectors have gained popularity in recent years as people love to take their content on the move. ViewSonic entered this market with the M1 Mini projector.
Last update on 2022-12-07 / Affiliate links / Images from Amazon Product Advertising API.
This small projector is perfect for connecting to your phone and showing that special video to your family and friends. If you aren't in need of the most high-quality, 4K UHD projector, pick up something like the M1 to get the job done.
The best news of all when it comes to this projector is that it is extremely affordable. Unlike most projectors out there, you won't be shelling out thousands of dollars for this piece of tech.
The low price doesn't mean a decrease in quality, however. This tiny projector is built like a tank! You won't feel like it is a cheap plastic toy when you hold it in your hands, which is a huge plus for this price range!
Pros:
Budget price
Ease of use
Durable
Cons:
Low brightness of only 120 lumens
Business/School Projector – ViewSonic PS600W Short Throw Projector
If you own a business or are a teacher in a school, there is a good chance you have a projector in your office or classroom. ViewSonic's PS600W short throw projector is a great choice for anyone in this category.
Last update on 2022-12-07 / Affiliate links / Images from Amazon Product Advertising API.
The great part about this projector compared to normal projectors in this class is the short throw ability. You only need about four feet of distance to project a 120-inch image.
The short throw feature is not all this projector has to offer, however. It also features 3,700 lumens of brightness at four feet of distance, giving you a bright image even in a lighted room.
You will also get a whopping 15,000 hours of lamp life out of this projector, saving you money on lamp replacements. While buying a bulb for a projector doesn't seem like a huge expense, having to replace them often can definitely add up.
The last major key here is the three-year warranty provided by ViewSonic. If your product is defective or malfunctions ViewSonic will help you get it back up and running with their US-based customer support team.
Pros:
Short throw
Long lamp life
Decent brightness
Cons:
Lower resolution of 1200×800
High-End 4K Projector – ViewSonic X100-4K Projector
The high-end projector market has names you may know: Sony, Optoma, LG, etc. ViewSonic decided to create a 4K projector with high-end features, but do so at a very reasonable price.
This projector gives you a full 4K image. The videos that are produced from the ViewSonic X100-4K projector are as crisp as projectors that are much more expensive, and it doesn't skimp on colors either.
Last update on 2022-12-08 / Affiliate links / Images from Amazon Product Advertising API.
The projector has 125% Rec 709 color space, giving you deep and beautiful colors that will make your movies jump off the screen. While the overall brightness isn't the best, the deep colors help hide this a bit.
Speaking of brightness, the top brightness of this unit is 2,900 lumens. While this is a decent brightness in comparison to cheaper models, you will still want the room you are using it in to be as dark as possible in order to get the best image possible.
Pros:
Beautiful colors
Great price for features
Wonderful built-in Harman Kardon speakers
Cons:
Not the brightest projector
How to Get the Most out of Your ViewSonic Projector
So you just picked up a shiny new ViewSonic projector, and you want to get the absolute best out of it in your home theater. Let's take a look at a few things you can do to take your home theater setup to the next level!
Blackout the Room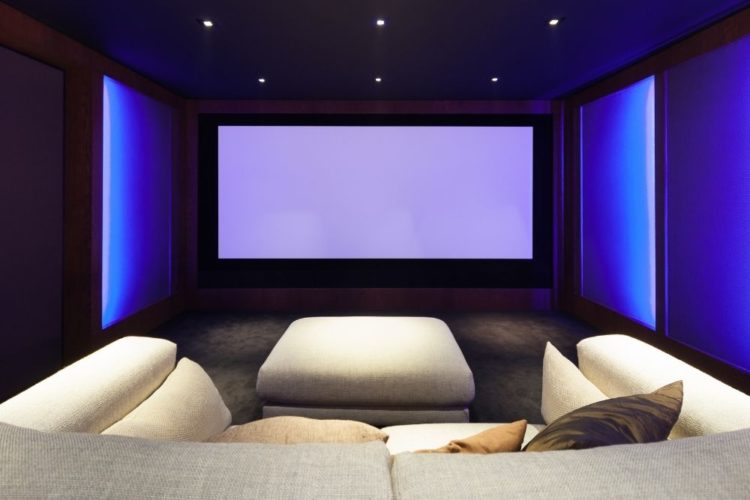 The absolute best thing you can do to give your projector the perfect environment is to ensure there is no light in the room when using it. This will allow the projector's image to be as bright as possible without washing out.
You can cover windows with blackout curtains, paint (such as black plastic dip black plastic dip), or opt for some blackout film . Any of these things will help, and combining them will give you the best result.
Buy a Quality Screen
You don't even technically need a screen to project an image. A flat white wall will work, but by projecting on a blank wall you are not going to get the best out of your projector.
Picking up a screen made of materials specifically created to receive a projected image will vastly improve your image quality. These materials will increase the contrast, color depth, and sharpness of your movies.
Surround Sound
While some projectors have built-in speakers, none will be as good as a dedicated surround sound setup. Buying powerful speakers can turn your home theater from a decent night of movie watching into a cinema-level experience.
If there is one upgrade that you can make that is profound, it is the addition of surround sound. This trumps the other options (though only slightly), as it will take you from feeling like you are listening to a TV to like you are eating popcorn at your local movie theater.
User Reviews
Let's highlight some of the awesome things people are saying about these products on Amazon. The high praise for ViewSonic projectors is a real testament to the quality of their products.
ViewSonic M1 projector:
One of the main things people love about the M1 is its compact size.
It includes a full-size HDMI port, so no adapters are needed.
The budget price is another huge plus people are raving about.
ViewSonic PS600W:
Many report the projector as being simple to set up.
Seems to work extremely well with Apple products.
A hot choice for golf simulator setups.
ViewSonic X100-4K:
Users are raving about the sharpness of the image of this projector.
The Harman-Kardon speaker is also a huge positive being reported.
Another point of high review by users of this projector is the deep colors.
Other Projectors to Consider
ViewSonic is just one of many projector companies that are providing good quality products in this space. Below are some of their competitors, and some of the features they bring to the table that make them unique.
LG
Last update on 2022-12-08 / Affiliate links / Images from Amazon Product Advertising API.
LG has really been crushing it in the projector market for a while, especially in the short-throw space. Their short-throw projectors are seen as some of the best in the world because they can get an amazingly crisp image while only having the projector a few inches from the wall.
Optoma
Last update on 2022-12-08 / Affiliate links / Images from Amazon Product Advertising API.
If you value build quality and longevity over everything, Optoma is the projector brand you should seriously consider. Their projectors are known for being built like tanks and can last for years and years without issue.
Epson
Last update on 2022-12-07 / Affiliate links / Images from Amazon Product Advertising API.
If you want insanely good colors, Epson deploys their 3LCD technology that will blow you away. This technology gives you 100% RGB colors at all times, so no ugly washed-out colors here!
Conclusion
In a sentence to wrap it all up for you: ViewSonic makes very good projectors that often come in at a very competitive price point.
While there are other options out there that have more name recognition in the projector space, you would do yourself a disservice by not checking out what ViewSonic has to offer. They may just surprise you!