Netflix is beginning to feature more anime shows and is even starting to roll out a few of its own. Still, its options are largely limited.
Sometimes, you just want your ultra-niche Japanese anime, complete with subtitles.
You're interested in getting a FireStick, but will you be able to download and watch anime-streaming apps like Crunchyroll on it?
If so, how? Is Crunchyroll free?
Keep reading to find out!
Does Fire Stick Have Crunchyroll?
Yes, Fire Stick has Crunchyroll.
The Fire Stick's app store features thousands of apps, including Crunchyroll.
So, you'll definitely be able to download and watch it on your Fire Stick or Fire Cube.
What Is Crunchyroll?
Crunchyroll is an anime streaming service.
If you're anything like me, you struggled for years to find a safe website to watch anime on. Many streaming websites out there are illegal, and feature endless pop-ups and inappropriate ads which makes watching your favorite anime an utterly frustrating task.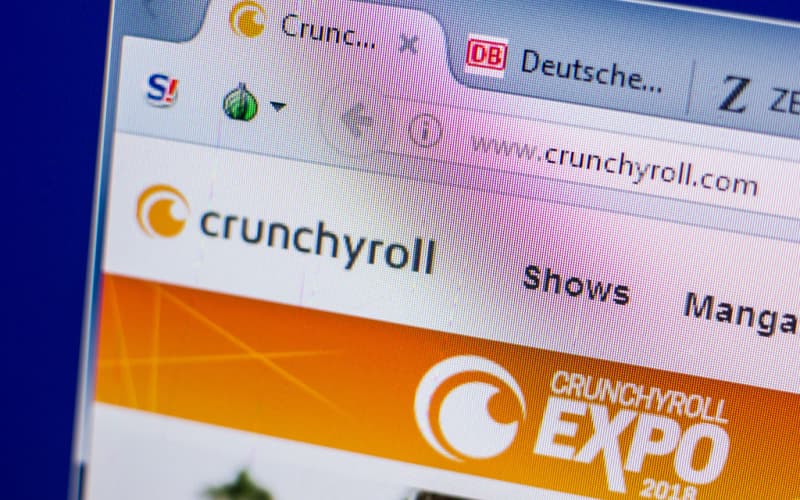 Crunchyroll offers lots of free ad-supported anime. Their website is safe to use and isn't going to install malware onto your device or bring up adult entertainment ads.
With a paid subscription, you can also access their large manga library, which you can read on your laptop, phone, or tablet.
In essence, Crunchyroll is every anime nerd's dream come true.
How To Install Crunchyroll on My Fire Stick?
Install Crunchyroll on your Fire Stick in a few simple steps!
The Crunchyroll app is available on all Fire Stick versions, so all you have to do is download it from the app store.
Let's learn how!
Step 1: Go to your Fire Stick's Homepage by clicking your remote's Home button (marked by an image of a house).
Step 2: Open the Appstore. You can also click on Find to immediately begin searching for apps.
Step 3: Search for Crunchyroll , either by using your remote's voice command feature or the on-screen keyboard.
Step 4: You should see Crunchyroll appear. Click on the app's logo once to see more information. Then, use your remote to navigate to and select Download. Once it's downloaded, go ahead and open the app.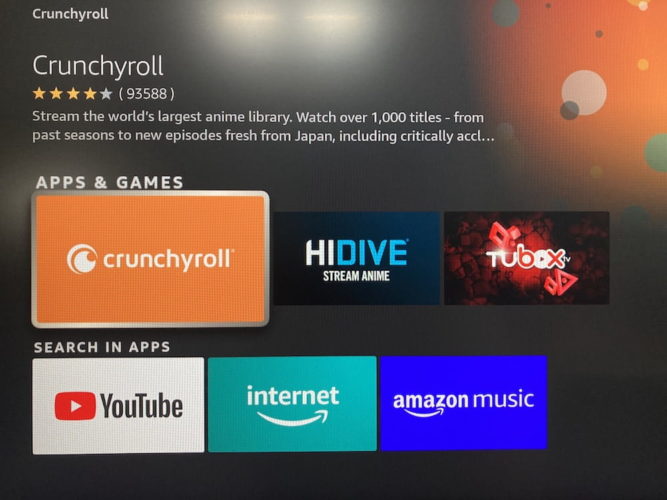 Step 5: Login into your Crunchyroll account, which can be free or paid.
Step 6: Get ready for a long night of safe anime streaming!
Is Crunchyroll Free?
Yes, there is a free version of Crunchyroll.
You can absolutely use Crunchyroll for free, but you will not be able to access all of their content.
Crunchyroll recently updated their terms of service to put up a paywall for simulcasts, or weekly episodes. This means that you won't be able to tune in every Friday for the latest episode of your favorite anime.
You will also have to watch ads, as their free tier is supported by ad revenue. There are four ad breaks per episode, with each ad lasting anywhere from 15 to 30 seconds.
To know which episodes are free, look for thumbnails without a small, gold crown in the bottom right corner.
New, trending shows tend to be behind a paywall, while classic older anime, like Naruto, is free.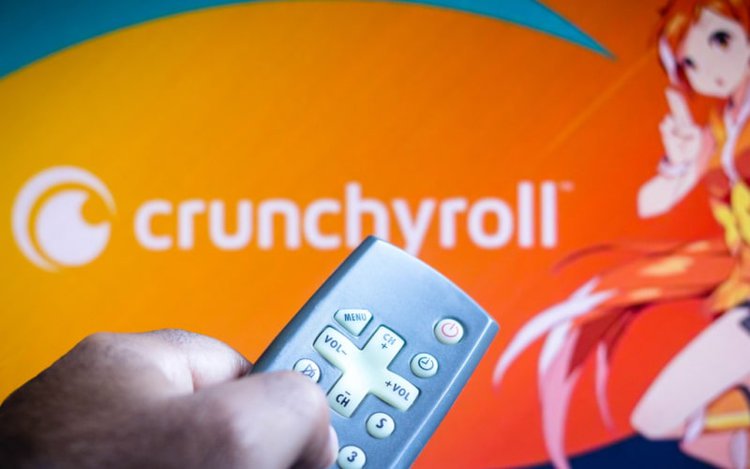 If you do want to pay for Crunchyroll, you can choose between three payment plans.
Fan is the cheapest tier and gives you access to all of Crunchyroll's anime and manga library without ads. You can also see new episodes only an hour after they've been released in Japan.
Mega Fan (1-Month) includes everything Fan has, with the addition of offline viewing and the ability to watch Crunchyroll content on up to four devices at once.
Mega Fan (12-Month) is just like the 1-month version, except it's 16% cheaper as you're committing to a year-long subscription.
So, you can always download and use Crunchyroll for free in the beginning, then purchase a subscription later if you want to watch premium content or get tired of sitting through long ad breaks.
Why Isn't Crunchyroll Working on My Fire Stick?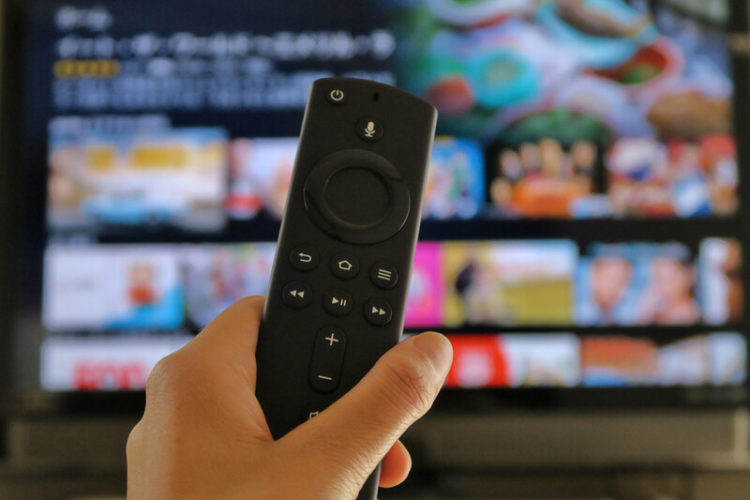 There are a few reasons why your Crunchyroll app may not be working.
It's not uncommon for Fire Stick apps to glitch. Luckily, there's usually a simple explanation and solution.
Let's go over what to check if your Crunchyroll app is freezing, randomly closing, buffering, or not opening.
Your Internet Connection is Weak
Crunchyroll, and all other streaming apps, require a very fast internet connection. So, if the app is functioning correctly but the videos are buffering or freezing, your internet connection may be too slow.
Since Fire TV Cubes have a built-in ethernet port, they natively support a wired internet connection, which is usually stronger and more reliable.
If you want to use a wired internet connection on any of the other Fire Stick models, you will need to purchase an Ethernet adapter, like the Cubicideas Ethernet Adapter with USB Power Supply Cable.
Last update on 2023-10-01 / Affiliate links / Images from Amazon Product Advertising API.
First, plug your Fire Stick into your TV's HDMI port. Then, plug the Ethernet adapter's micro USB cable into your Fire Stick's micro USB port.
Connect the Ethernet adapter to a wall outlet. Then, plug your router's Ethernet cable into the adapter's Ethernet port.
You can also try connecting your Fire Stick to a mobile hotspot, which may be faster than your Wi-Fi. Please note that this isn't suggested for users with limited mobile data plans, as streaming uses high amounts of data.
The Cached Data in Full
The Crunchyroll app's cached data may be full. Luckily, it's easy to clear.
Go to Applications under your Fire Stick's Settings. Then click on Manage Installed Applications.
Next, click on Crunchyroll from the list of apps installed on your device. Scroll down to the bottom of the list and select Clear Cache.
You can also click Clear Data, though note that this will log you out of your Crunchyroll account, so make sure you remember your login credentials!
The short video below clearly explains how to erase any app's cached data on your Fire Stick.
Amazon Fire TV: How to Force Stop, Clear Cache, Clear Data on Apps
The App Must Be Updated
Your Crunchyroll app may have some pending updates that are preventing it from working smoothly.
To update your Crunchyroll app, go to Settings, then Applications. Hover over the Crunchyroll app's thumbnail, but do not select it yet.
Find your remote's kebab menu button, marked by three vertical dots. In the kebab menu, click on More Info. Select the Update option and allow your Crunchyroll app to download and install any updates before trying to use it again.
Your Fire Stick Must Be Restarted
Have you ever restarted your computer because your browser was running so slowly? This same logic applies to Fire Sticks, as they may need to be rebooted to improve their functionality.
Head to My Fire TV in your Fire Stick's Settings. Then, click on Restart. You will need to click Restart again in the confirmation pop-up window.
You can also reboot your Fire Stick by disconnecting it from power and your TV's HDMI port for a few seconds before plugging them back in.
Watch the video below to see how to restart, or soft reset, a Fire Stick. This method will work for all Fire TV versions.
How to Soft Reset Amazon Fire TV Stick Max?
The App Must Be Reinstalled
If you've tried all of the above solutions and have noticed that the rest of your Fire Stick apps are working correctly, you may need to reinstall the Crunchyroll app.
It's possible that something went wrong when you first installed the app, causing it to glitch while you're using it.
Go to your Settings, Applications, then Manage Installed Applications. Select the Crunchyroll application icon.
You will see an Uninstall option. Click on it to remove the Crunchyroll app and all of its data from your Fire Stick.
To reinstall the app, download it from your Fire Stick's Appstore. You will need to reinsert your login credentials once the app has been installed.
Watch the video below demonstrating how to uninstall and then reinstall apps on your Fire Stick.
How to Uninstall Apps from Amazon Fire TV Stick | Remove Apps from Firestick
Wrapping Things Up
Fire Stick does have Crunchyroll. It can be downloaded from the Fire TV Appstore the same way you'd download any other streaming app.
There is a free version of Crunchyroll, though you will not be able to watch all of their anime shows or read all of the manga. There are also lots of ads, which can disturb your viewing experience.
Instead, you can pay for one of their subscriptions, all of which remove ads and give you access to all of Crunchyroll's anime and manga.
If your Crunchyroll app isn't working, try checking your internet connection, clearing the cache, updating or reinstalling the app, or restarting your Fire Stick.
What's your experience watching Crunchyroll on a Fire Stick? Let us know in the comments below!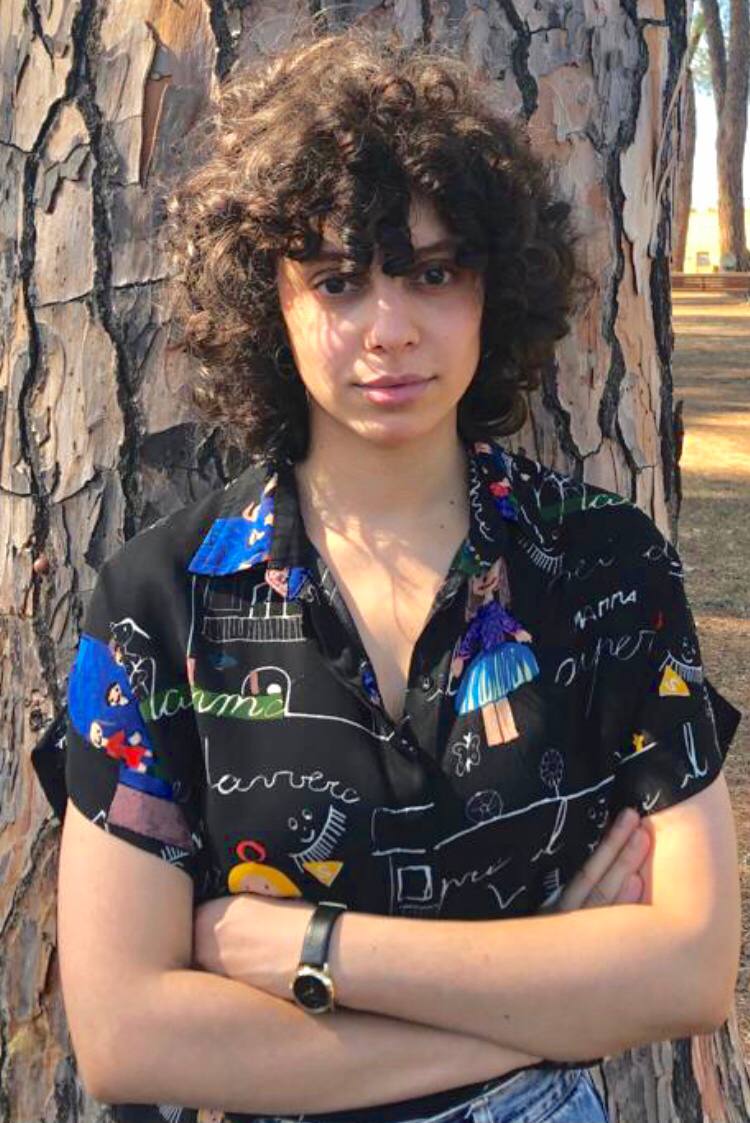 Yesenia Achlim is a technical copywriter and editor with a focus on AV equipment. She aims to break down complicated topics and make technology accessible, no matter your technical expertise. When she's not teaching you how to replace a projector lamp, you can find her reading and baking.