When you get a PS4, you might not be able to start playing right away.
Because you need to connect the PS4 to a display to enjoy your games.
But what do you do when your display only has a VGA input port? Does the PS4 even have a VGA output port?
We have found that the PS4 doesn't have a VGA output port, but it does have an HDMI output port.
This means to connect it to a VGA display, you need an adapter that can transform the HDMI signal to the VGA signal. Sound complex?
Read on below to learn more.
Does the PS4 Have a VGA Port?
No, the PS4 doesn't have a VGA port.
This is likely due to VGA using an analog video signal since the PS4 doesn't have any analog video ports.
Analog video signals are increasingly unpopular for devices like video game consoles, PCs, and laptops. Although, they are still common in displays like TVs or monitors.
This difference between the ports of a video signal generator and a video signal receiver can sometimes be a problem when you need to connect the two.
What Video Ports Does the PS4 Have?
As of 2021, the PS4 only has one type of audio-visual output port: HDMI.
It also has an optical S/PDIF output port for surround sound audio, if you want to have a fully immersive gaming experience.
How Do I Connect My PS4 to a VGA Monitor?
Using an HDMI-To-VGA Adapter and an HDMI Switch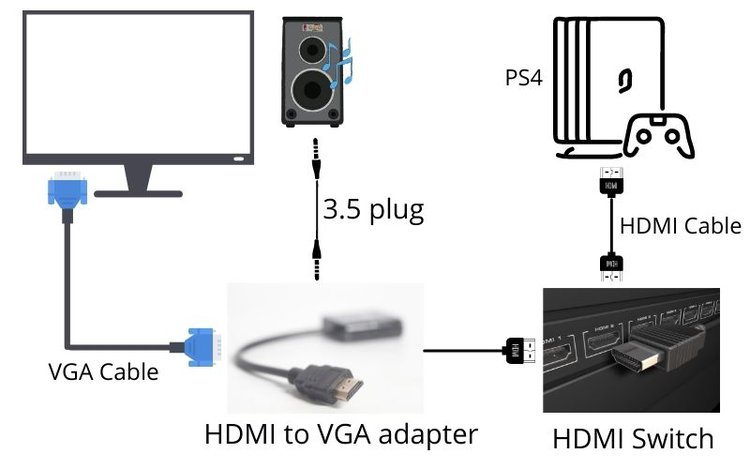 To connect your PS4 to a VGA monitor, you follow these steps:
Connect your VGA cable to your VGA monitor
Connect your PS4 to the HDMI Switch with an HDMI cable

Plug one end of the HDMI cable into the HDMI Output port in your PS4.
Plug the other end into the HDMI Switch (at the HDMI Input port).

Remember to power your HDMI Switch, PS4, and VGA monitor.
Now you can plug the HDMI-To-VGA Adapter into the HDMI Switch (the HDMI end –> the HDMI Output port)
You can also connect an external speaker to the HDMI-To-VGA Adapter using a 3.5 audio cable (as in the image above)
This should now work for you!
The reason why this method work is because the PS4 has a low-powered HDMI output port.
This means that the video signal would not be strong enough to go through the wires and be adapted from HDMI to VGA without an external power source.
The HDMI Switch supplies more power to the HDMI output port.
It can also depend on the length of your wires since a video signal requires more power to travel a longer distance.
Another demo video is below:
How to Connect the PS4 Slim to a VGA Computer Monitor or VGA TV
Should I Use VGA Ports for Gaming?
To see if you should use VGA ports for gaming, let's take a look at VGA, HDMI, DisplayPort, and DVI ports.
1. VGA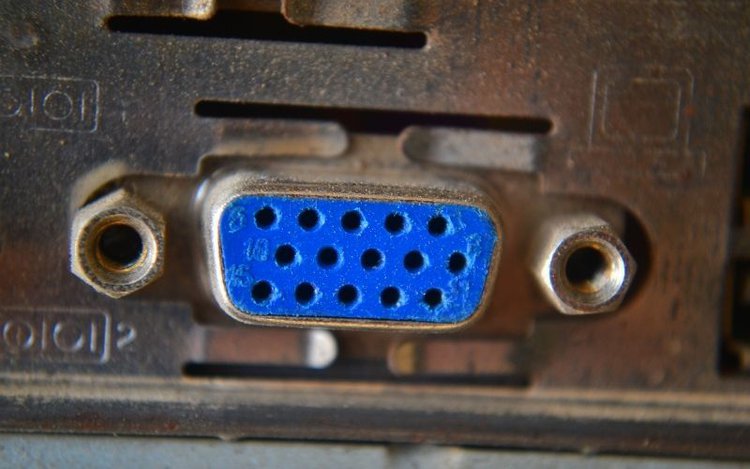 VGA quickly became popular when it first came out in 1987, since analog video signals were the norm back then.
However, in the decades since, digital video has begun to replace the analog video.
This is because analog video signals tend to deteriorate from factors like connection, magnetic and electric fields, and the length and quality of a video cable.
VGA in particular is limited in resolution, with its maximum being 2048 by 1536 pixels.
It also doesn't carry audio, which is why you may have to use the optical S/PDIF output port if you convert the PS4 HDMI signal to VGA.
2. HDMI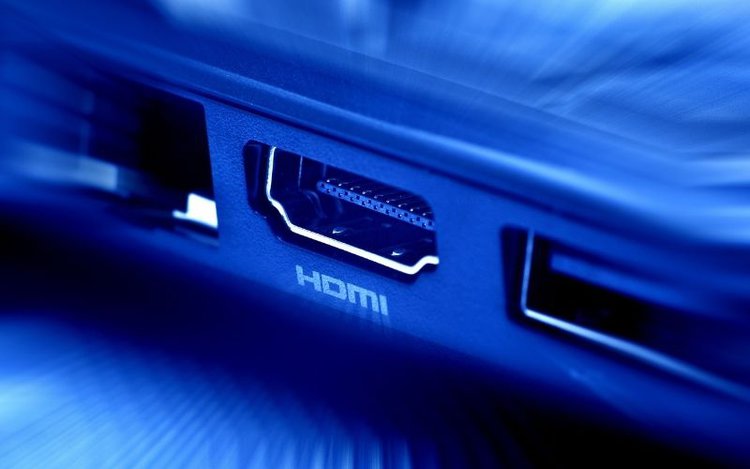 HDMI is a standard when it comes to digital video ports, and it's able to support higher resolutions such as 2K, 4K.
It's more resistant to interference than VGA, and it carries both video and audio.
3. DisplayPort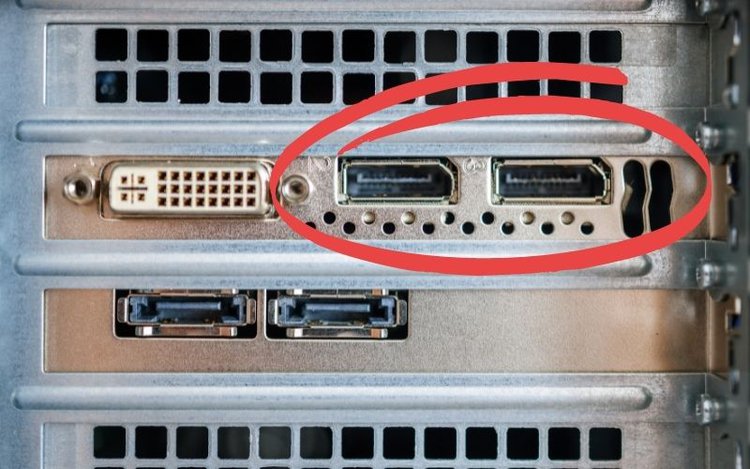 DisplayPort is a digital video port specifically made for computers and monitors.
It can support resolutions up to 3840 x 2160 pixels, and it can carry audio.
If you want to daisy-chain monitors, you can also use DisplayPort as long as it's version 1.2 or higher.
4. DVI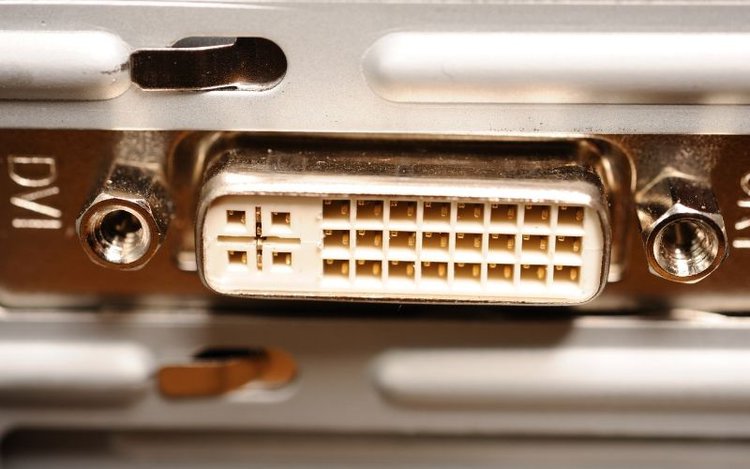 DVI is another common digital video port, but its resolution can vary greatly depending on the equipment.
Most DVI ports can support resolutions up to 1920 by 1200 pixels, and some dual-link DVI ports can support higher resolutions.
DVI can sometimes carry audio, but that also depends on the equipment.
So Which Video Port Is Best for Gaming?
In general, digital video ports are considered best for any type of media.
And for gaming specifically, HDMI is the most convenient since it carries both audio and video. It can be used for a wide variety of devices, and it can support high resolutions, no matter what brand you buy.
Conclusion
The PS4 doesn't have a VGA port. It only has an HDMI port for video, and an optical S/PDIF port for audio.
To connect your PS4 to a VGA monitor, you need to use an HDMI-To-VGA Adapter and an HDMI Switch.
If you have to choose between VGA and a digital video port, you should use the digital video port.
And if you have several digital video ports to choose from, we recommend using HDMI since it supports high resolutions, video signals, and audio signals.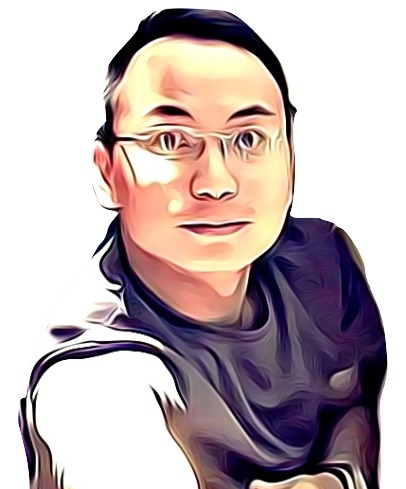 Vance is a dad, former software engineer, and tech lover. Knowing how a computer works becomes handy when he builds Pointer Clicker. His quest is to make tech more accessible for non-techie users. When not working with his team, you can find him caring for his son and gaming.