How exactly are people getting around the clutter that comes with wired connections?
Projectors have become very popular these days. They are used for both recreational and official purposes.
The large display can turn a simple office into a mini-conference room. You can also turn a room into a beautiful movie theatre.
Just like TVs, setting up projectors demands some connections be made. However, having wires littered about on the floor can be very annoying.
To avoid all those wires, one has to make a projector wireless. You may be wondering, "do projectors have Bluetooth?"
This article holds the answer to that question. Find out if your projector has Bluetooth connectivity and what it can be used for.
Projectors and Bluetooth Connectivity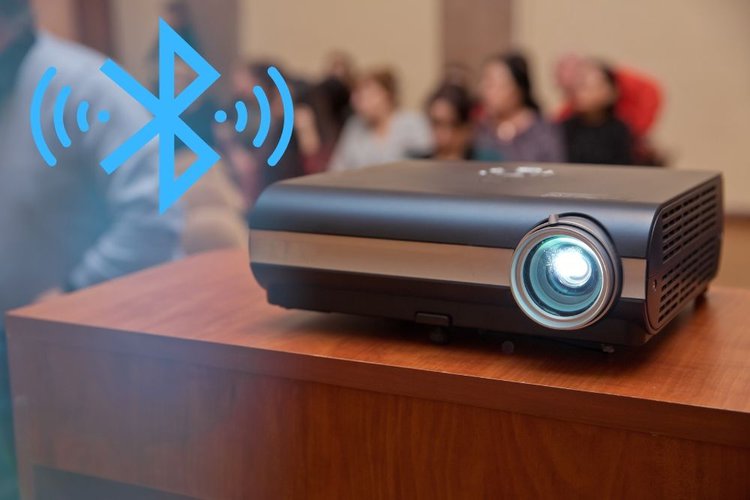 Connecting your other devices to your projector can be a chore.
Having so many cables plugged into different ports can be confusing. Other problems include shock hazards and distance between devices.
However, some projectors come with features that allow you to connect to another device wirelessly.
The Bluetooth function happens to be the most common.
There are projectors with built-in Bluetooth access. There are other projectors that do not possess this feature.
Projectors without built-in access can still make use of a Bluetooth connection. You only need to procure a Bluetooth adapter.
The Bluetooth adapter allows you to connect your projector to other Bluetooth compatible devices. It creates a connection without any cables.
You can get a Bluetooth adapter from any store that deals in computer hardware. You can also check out the following adapters:
Bluetooth Adapter for PC,Techkey USB Mini Bluetooth 5.0 EDR Dongle for Computer Desktop Wireless Transfer for Laptop Bluetooth Headphones Headset...
ZIIDOO Bluetooth 5.0 Transmitter and Receiver, 3-in-1 Wireless Bluetooth Adapter,Low Latency Bluetooth Audio Adapter for TV,Car,Home Stereo System
Bluetooth Adapter for PC,Techkey USB Mini Bluetooth 5.0 EDR Dongle for Computer Desktop Wireless Transfer for Laptop Bluetooth Headphones Headset...
ZIIDOO Bluetooth 5.0 Transmitter and Receiver, 3-in-1 Wireless Bluetooth Adapter,Low Latency Bluetooth Audio Adapter for TV,Car,Home Stereo System
What is the Bluetooth Connection Used For?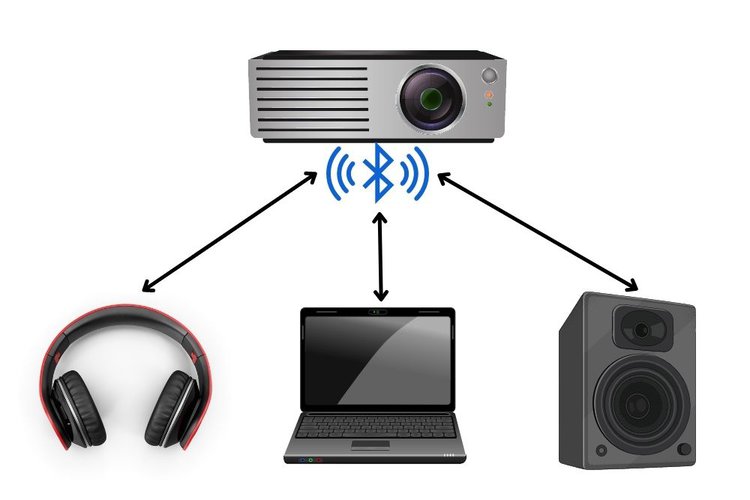 It is possible to connect your laptop and projector via Bluetooth. However, you cannot stream videos over Bluetooth.
This is because Bluetooth does not have enough bandwidth for real-time screen cast.
To transmit video signals, you can use a wired HDMI/VGA connection.
Today's projectors come with built-in Bluetooth connectivity for sending audio to external speakers or headphones.
Projector sound quality can be good. However, most people prefer to use external speakers or headphones to receive audio.
With Bluetooth, these devices can be connected to your projector easily, and without the clutter of wires.
When connected to a laptop, Bluetooth projectors can also receive audio signals. Some of them can double as Bluetooth speakers.
Earlier we mentioned that Bluetooth connection helps cover distance between devices. This is true.
However, it has its limitations with distance too. Different classes of Bluetooth have different limits to their signal strength.
The class of a Bluetooth device depends on its maximum power output. The higher the power output, the longer its range.
Transmitting devices with class 1 Bluetooth have a range of 100m. Devices with class 2 Bluetooth have a range of 10m.
You can connect two Bluetooth devices of different classes. However, they will default to the range of the lower class.
Other things can shorten the range of your connection. These include the position of the device, and interference.
Bluetooth Enabled Projectors and What They Are Good For?
Most modern digital projectors come with built-in Bluetooth for audio transmission.
This feature is especially common in mobile projectors and smart projectors.
Bluetooth connectivity has the benefit of ease and tidiness. It is good for situations where the devices are not permanently installed.
Bluetooth enabled projectors are good for presenters that are always on the road. They are also good for outdoor events like camping trips.
They make mobility easier. They also eliminate the stress of carrying cables along for connecting to audio devices.
The BenQ GV1 Wireless Mini Portable Projector is a good example.
The projector comes with Bluetooth and Wi-Fi connectivity options. It is specially designed for convenience and portability.
The Bluetooth allows wireless connection to audio devices during projection.
The BenQ GV1 functions as a Bluetooth speaker when connected to other media devices like a laptop.
Some digital projectors support image transmission via Bluetooth. However, this option often comes customized specifically for the model.
These projectors are good for those whose PCs don't have matching ports. They are also good for meetings with multiple presenters.
Presentation materials can be transmitted using Bluetooth technology. It saves time that would be wasted plugging and unplugging cables to switch devices.
How To Connect Projectors To Other Devices Via Bluetooth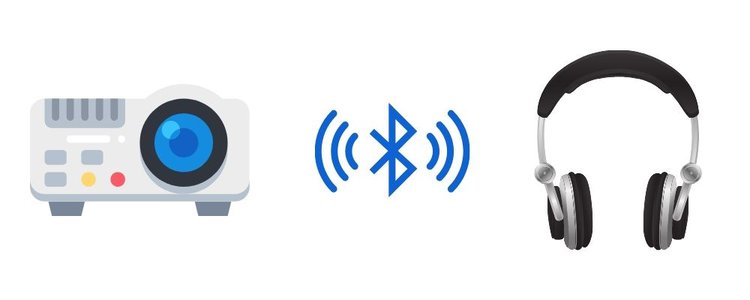 Connecting your projector to other devices via Bluetooth should be easy. If you find it challenging, consult the projector's manual.
Here's our guide on how to connect your projector to your speakers/headphones via Bluetooth:
Step 1: Turn on the pairing mode on your Bluetooth speaker or headphones.
You can do this by pressing down the power button, or any button with the Bluetooth symbol.
Step 2: Turn off other Bluetooth devices that are not in use.
Step 3: Find the Bluetooth settings in the projector Menu.
Use the instructional manual to easily navigate the projector menu and find this option.
Step 4: Select the speaker on the projector's menu.
If more than one device is listed as available, make sure you select the right one.
Step 5: If a confirmation prompt pops up, confirm the pairing.
After this process, the projector and speakers will pair up automatically. Then you can enjoy your wireless audio experience.
When using a Bluetooth adapter, the process is much the same.
Bluetooth adapters are plugged into your projector's audio jack or HDMI port. Next, they are paired with other Bluetooth devices.
They receive audio or image signals and transmit them to your projector. The adapters can also send audio signals from your projector to other Bluetooth devices.
Conclusion
Projectors have been widely adopted in both offices, businesses and various homes.
Bluetooth connectivity is an important projector specification. Do not miss out on it when you purchase a projector.
Choose one with a built-in Bluetooth function. Consider the ease, convenience, and flexibility it will bring to you.
If you already have a projector without Bluetooth, it's not a lost cause. All you have to do is purchase a Bluetooth adapter.
Last update on 2022-08-19 / Affiliate links / Images from Amazon Product Advertising API.