Most modern media is consumed through the HDMI interface. Whether it's a TV, projector, laptop, or DVD player, HDMI is the best way to display high-definition video and audio.
However, there are still a lot of devices that use older connection ports and pathways, like VGA.
You might have an old VGA TV or monitor at home, but your source device only supports HDMI. Is it possible to use HDMI instead of VGA?
In this article, let's discuss the difference between HDMI and VGA in terms of:
Signal
Input speed
Capabilities
Applications
Price
Compatibility
From there, we'll give you a step-by-step guide on how to use HDMI instead of VGA.
Connecting HDMI to a VGA display is possible with the help of a converter. You can connect the VGA adapter and use HDMI to view VGA displays.
Let's get started!
What is HDMI?
HDMI or High Definition Multimedia Interface is used to transmit digital video and audio signals via a single port and cable.
It's the most popular interface used in Blu-Ray, game consoles, and DVD players to display high-definition content with resolutions of 1920 x 1200.
What is VGA?
VGA or Video Graphic Array is also a popular video interface used to transmit analog signals. Older versions of projectors and monitors will most likely be compatible with VGA.
Unlike HDMI, VGA does not support audio signals.
HDMI vs. VGA
To give you an idea of whether it would be best to use HDMI instead of VGA, we'll give you a side-by-side comparison of HDMI vs. VGA.
| | | |
| --- | --- | --- |
| | HDMI | VGA |
| Capabilities | Audio and video connection | Video connection only |
| Signal Quality | High-definition digital signal | Analog signal |
| Input Delay | More likely to experience lag | Less lag, but image quality is lower |
| Applications | Best for gaming and streaming | Suitable for basic presentations |
| Compatibility | Supports many signal converters | Compatible with most older displays |
| Price | More expensive | Affordable |
Capabilities
VGA cables only transmit video signals, unlike HDMI, which carries both audio and video through one connection.
This means that you'll have to do extra measures to get audio when converting HDMI to VGA. You'll need an HDMI to VGA converter with a 3.5 mm audio jack.
Signal Quality
HDMI cables transmit digital signals while VGA transmits analog data. What does this have to do with video quality?
With analog devices, less information is being transmitted compared to digital signals. This means that video quality is negatively affected by VGA cables.
To add to this, VGA signal quality starts to break down when the cable is four feet long.
So if you choose to use a VGA converter that's connected via an HDMI cable and a VGA cable, you can expect video quality to go down a few notches.
You should also know that more power is needed to convert digital signals to audio signals. You will need a VGA converter with a power adapter.
While there are basic HDMI to VGA converters without audio and power capabilities, it might not work for all VGA displays.
When it comes to HDMI, they're more durable and promise excellent connections even for standard cables.
Input Delay
Delays with input generally affect how long a signal is displayed and how long an action (such as pressing a button) will take to respond.
VGA cables experience fewer delays because no post-processing is required. While quality isn't the best, lag time decreases.
If you're considering using HDMI instead of VGA, expect some lagging especially if you're using an adapter.
Applications
VGA cables were the norm before HDMI was introduced. You'll still see a lot of laptops, computers, projectors, and monitors today with a reliable VGA connection.
However, HDMI connections are now preferred because of their superb image quality, audio-video compatibility, and faster response time.
HDMI is the preferred connection for streaming and watching movies as it offers the best resolution, colors, and surround sound. If you're mainly using your display device to watch movies, we recommend that you ditch the VGA screen and go with an HDMI connection.
It's also the preferred cable used for gaming because it offers much higher refresh rates than VGA.
Compatibility
HDMI cables aren't compatible with VGA ports, and vice versa –– VGA cables aren't compatible with HDMI ports.
To use one with the other, you'll need a converter/adapter plus separate cables to display audio and video. When replacing VGA with HDMI, you'll generally need:
One VGA adapter
One VGA cable
External power source
Audio jack and sound system
Price
When it comes to price, VGA cables are generally less expensive because demand isn't too high. You'll also find a lot of VGA cables online, so access to one won't be an issue.
If you're planning to use HDMI instead of VGA, expect cables to be on the pricier side. However, you'll be guaranteed better quality and both audio and video capabilities.
Take note that HDMI cable prices will also depend on the type, length, and manufacturer. There are standard HDMI cables, but you can also get premium HDMI cables to support 4K.
If you're planning to use an HDMI device on your VGA display, VGA converters are relatively affordable, and you can also find them online.
4K HDMI Cable 6.6 ft, iVANKY High Speed 18Gbps HDMI 2.0 Cable, 4K HDR, 3D, 2160P, 1080P, Ethernet - Braided HDMI Cord 32AWG, Audio Return(ARC)...
Amazon Basics VGA to VGA PC Computer Monitor Cable - 10 Feet (3 Meters)
4K HDMI Cable 6.6 ft, iVANKY High Speed 18Gbps HDMI 2.0 Cable, 4K HDR, 3D, 2160P, 1080P, Ethernet - Braided HDMI Cord 32AWG, Audio Return(ARC)...
Amazon Basics VGA to VGA PC Computer Monitor Cable - 10 Feet (3 Meters)
HDMI to VGA Adapter Guide
If you're planning to use an HDMI connection instead of VGA, you'll need to know how to use a VGA adapter.
Sale
An HDMI to VGA adapter is a straightforward way to get HDMI digital signal from your laptop or desktop and convert it to analog so you can view it on a screen or projector that uses VGA input.
Here are the steps:
Connect one end of your VGA adapter to your HDMI-compatible device.
Use a VGA cable to connect your adapter to the VGA display.
Plugin the VGA power adapter.
Use a 3.5mm male-to-male audio cable to connect to your sound system.
Conclusion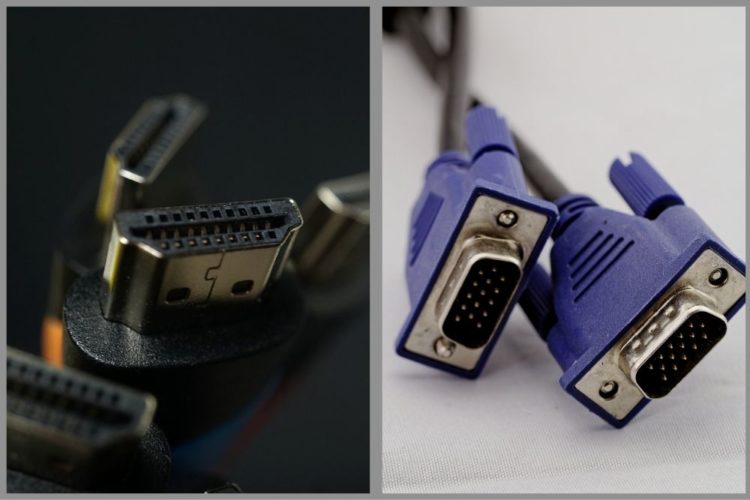 While HDMIs have stolen the spotlight as the best way to display high-definition audio and video content, VGAs are still widely used today and compatible with many devices.
For the best video quality and audio compatibility, HDMI is the best choice for you. Gamers and movie fans will agree!
If you're after a basic display on a limited budget, a VGA cable will do the trick.
Other times, you may need to convert your HDMI signal to support a VGA display. In that case, you'll need a VGA adapter with a power cable and an audio jack.
Let us know if you decide to make the switch from VGA to HDMI!
Last update on 2022-08-07 / Affiliate links / Images from Amazon Product Advertising API.