If you have AV equipment at home, you may be wondering what's the best way to display your video and audio signals.
Generally, the best way to display audio and video signals is through a single HDMI cable. Simply put, if your display output has an HDMI port, you don't need to make any other connections.
However, some older TV sets or monitors don't support audio transfer via HDMI cable. You may also want to connect your display set to another surround sound speaker.
In either case, you can use a tandem of:
HDMI cable for the video signal
Optical cable for the audio signal
In this article, we'll discuss how to use your HDMI and optical audio cable at the same time.
Before anything else, let's find out a little more about HDMI and optical cables.
HDMI vs. Optical Cable: What's the difference?
To make life simple, it would be best to choose either an HDMI cable or an optical cable depending on your needs. Connecting your HDMI and optical cable at the same time should be the last resort.
To help you figure out which is the best option, we'll give you the basics of HDMI and optical cables:
HDMI Cable
HDMI cables are the gold standard when it comes to transmitting high-resolution audio and video signals.
If your device has an HDMI port, we recommend that you go with this option instead of connecting with an optical cable. They're convenient because you only need a single cable to transfer both signals to your display device.
HDMI is relatively affordable and easily available online.
We'd recommend the iBirdie 4K HDMI cable since it's compatible with many optical audio-supported devices, including TVs, gaming consoles, PCs, and laptops.
If high – speed connection is your priority, go with the iVanky 2.0 HDMI cable . The high-speed cable can offer up to 18 Gbps transfer speeds.
Optical Cable
Unlike HDMI cables, optical cables have limited functionalities.
For one, Optical cables do not transmit video signals. Apart from that, the audio signals optical cables transmit aren't of the best quality.
However, there are some good quality optical audio cables in case your display doesn't have an HDMI port.
iVanky digital optical audio cable is compatible with most surround sound audio systems, game consoles, and Blu-ray players.
However, if you'd like to get a bang for your buck, we recommend getting the AmazonBasics Optical. It comes in a lightweight durable design that's also widely compatible with most devices.
Can you use HDMI and optical cable at the same time?
Frustrating as it is to say, the only answer to this question is "it depends."
We can't give you a single answer right away because successfully using an HDMI and optical cable at the same time will depend on your devices and their features.
Even though both HDMI and optical ports may be available on your display, most monitors and televisions won't allow you to use them at the same time.
Some models will automatically detect the last cable you connected, while other displays will allow you to choose which chord to use. In other words, it means that you won't be able to use both cables at the same time.
Alternatively, some TVs and monitors allow users to transmit audio and video signals through separate cables. In this case, you can use your HDMI cable for video signals and the optical cable for audio signals.
If you're not sure if your display device will allow you to use both optical and HDMI cables at the same time, the best course of action would be to check the user manual.
Additionally, you should know that no device is likely to transmit audio signals to two devices at the same time. For example, you won't be able to get audio from both your television and your sound system simultaneously.
What to do if HDMI and Optical cable isn't allowed?
Say your monitor or TV doesn't allow you to use both HDMI and optical cables at the same time. Thankfully, it's still possible to transmit audio signals from your device with the help of an audio extractor/splitter.
Using an audio splitter is an easy way to use amplifiers and receivers without HDMI ports.
Audio splitter functionalities come in handy when:
Most audio splitters will allow you to separate the media's audio without negatively affecting video or audio quality.
To get your money's worth, we recommend getting the Avedio Links HDMI Audio Extractor .
You can enjoy Full HD and 4K video resolution while audio is split into a soundbar, sound system, or amplifier.
This device allows users to extract digital HDMI audio through three audio modes:
The Avedio Links HDMI Audio Extractor is also widely compatible with most HDMI devices including Smart TVs, monitors, projectors, Blu-ray/DVD players, PS4, and Xbox.
Three Easy Steps: How to use HDMI and Optical cable simultaneously
Before proceeding with these steps, check if you can directly plug in an HDMI cable and optical cable to your output devices. If audio isn't split, proceed with the following steps:
To play audio and video on separate devices, you'll need an HDMI cable, an optical audio cable, and an audio splitter.
Plug in and turn on your video display device, soundbar/sound system, and audio splitter into an electrical outlet.
Connect your source device and the audio splitter with an HDMI cable.
Connect your soundbar/sound system and audio splitter with an optical audio cable.
In three steps, you can enjoy HD video resolution and extract your audio without compromising audio quality.
A video from Youtube to instruct is recommended.
How to connect soundbar to TV with HDMI and Optical Cable instead of HDMI ARC!
Conclusion
You may be wondering if it's possible to connect both HDMI and optical cables.
If your source device and display device support HDMI, we recommend sticking with this connection as it offers the best audio-video quality.
However, if your main display device doesn't support audio output or if you'd like to use a separate sound system, you can use an HDMI audio splitter.
An HDMI audio splitter will allow you to use a different sound system to play audio while a different device plays your video.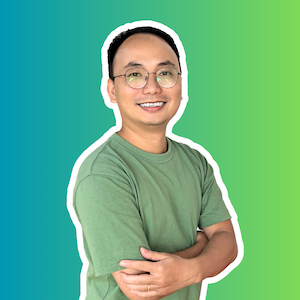 Vance is a dad, former software engineer, and tech lover. Knowing how a computer works becomes handy when he builds Pointer Clicker. His quest is to make tech more accessible for non-techie users. When not working with his team, you can find him caring for his son and gaming.