Whether you're gaming or working from home, having a dual display for your computer significantly improves your productivity and efficiency. But can you use DisplayPort and VGA at the same time for dual monitors?
In this article, we answer common questions about dual displays and the connectors used to power them. Keep reading for more details.
Can you use DisplayPort and VGA at the same time?
How To Setup Dual Monitors with HDMI And VGA 2020
In a word: Yes.
You can use DisplayPort and VGA at the same time to connect two monitors to your PC. However, you should make sure that your motherboard is up for that type of work.
Some motherboards don't have the capabilities necessary to power two monitors. Thus, forcing a dual display on a motherboard without the right features can lead to issues and even damage.
We highly recommend that you get a high-end graphics card to support your dual display setup. That way, power can be easily distributed between the motherboard and the card.
How do I use dual monitors with VGA and DisplayPort?
The first step to using both VGA and DisplayPort to connect two monitors is by checking your computer's graphics card to determine compatibility.
How To Check How Many Monitors Your Graphics Card Can Handle
To do that on PC, simply:
Go to "Settings" on your computer
Select "Display" from the options
Click on "Multiple Displays"
Here, you'll find your graphic card's multiple display capabilities. If it shows you it can support more than one connection at a time, then using both a VGA and DisplayPort to connect two screens should be possible.
However, if it shows you that it can only support one, even if you have multiple connection ports on your computer, a dual display wouldn't be possible.
Connecting a computer monitor to VGA
How To Connect A Monitor To A Computer With A VGA Cable-Desktop Computer Basics
Once you've determined your PC's compatibility, you can start connecting your monitors to your desired ports.
To use a VGA connection for your dual display, perform the following steps:
Take your VGA cable and connect one end to your monitor and the other to your GPU.
Plug in both devices into a power source and turn them on.
Some computers can detect when a VGA connection has been established. In that case, you won't need to do anything but wait for your computer monitor to reflect your computer display.
However, if your computer doesn't automatically detect your external display, here's what you can do:
Go to "Settings" and select "System"
Look for the tab that says "Display" and open the menu
Scroll down to "Multiple displays" – you should see the name of your monitor in this tab
If you don't see your device, click "Detect" beside the "Detect other display" option
Wait for your monitor to appear then click on the name to connect
Connecting a computer monitor to DisplayPort
To connect your monitor to your computer's DisplayPort, here's what you should do:
Get your DisplayPort cable and plug either end into its appropriate port (one in the monitor and one in your GPU)
Make sure that both ends are secured before plugging your devices into a power source. Turn on and wait for your devices to start up.
Your computer should automatically detect when a DisplayPort connection is used in the system. So, your computer screen should be reflected on your second monitor as soon as a connection is established.
If nothing happens or if your monitor screen stays blank even after plugging in the DisplayPort cable into the right port, then do the following:
Go to "Settings" then "System"
Select "Display" and look for "Multiple displays"
Press the "Detect" button beside the option that says "Detect other display"
Wait for your monitor name to appear. Click on in and wait for the monitor to reflect your computer display on-screen.
How do I change the monitor display settings for dual monitors?
Customizing the settings on multiple monitors is easy on a PC. Here's a quick guide on how you can change the resolution, display style, and other settings on multiple monitors:
Adjusting monitor resolution
Windows 10 - How To Change Screen Resolution and Size
Depending on the graphics card you have, some computers will let you adjust your screen resolution on individual displays. To do this, simple:
Go to "Settings" on your computer and select "System"
Look for "Display" and on the next page, click on "Advanced display"
You'll find a tab that says "Select a display to view or change settings" and beside it will be a dropdown box
Click on the display that you want to change.
Look for the "Display resolution" tab and click on the dropdown menu
Select the resolution that you want to use for this specific display
You can repeat this process with the rest of the monitors connected to your PC.
Changing monitor display style
How to set up multiple monitors on Windows 10 | Microsoft
Windows has several display styles that you can choose from:
You can extend a display (in other words, extend the area of your main screen to another screen).
You can duplicate a display (repeat the image shown on your screen).
You can also choose to show only 1 or show only 2.
To switch between these settings, you need to:
Go to "Settings" and look for "System"
Click on "Display" and scroll down to where it says "Multiple Displays"
The options to "extend display," "duplicate display," "show only 1," and "show only 2" will appear. Click on the option that best suits your needs.
Click "Apply" to save your changes.
You should now see the changes appear on your secondary monitor.
Final Thoughts
Having dual monitors can help you increase productivity and efficiency, regardless of the activity, you're performing. If you're wondering if you can connect two monitors to your PC using both a VGA and DisplayPort connection, this article should answer all your questions.
We hope you take the time to go over each of the instructions carefully so you don't run into any issues in the process. Furthermore, we highly encourage that you check your computer specs and features to make sure that it's capable of handling two monitors.
If not, your best bet is to buy a stronger graphics card and motherboard.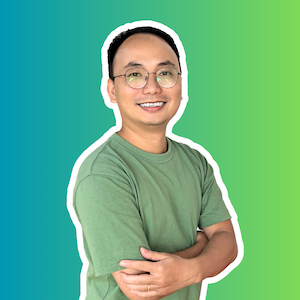 Vance is a dad, former software engineer, and tech lover. Knowing how a computer works becomes handy when he builds Pointer Clicker. His quest is to make tech more accessible for non-techie users. When not working with his team, you can find him caring for his son and gaming.