A choice between watching shows on TVs or mobile phones/tablets is no choice at all. Most people prefer to stream their favorite shows on big screens.
There are many options to help you enjoy a big-screen display and one of these options is "Screencasting."
Screencasting sends movies or songs wirelessly to your smart TV, directly from the streaming apps on your device. Yes, you can cast to a Sceptre TV!
This article will show you how to cast on your Sceptre TVs. Don't worry; we have something for both smart and dumb TVs!
Do Sceptre TVs Have Chromecast Built-In?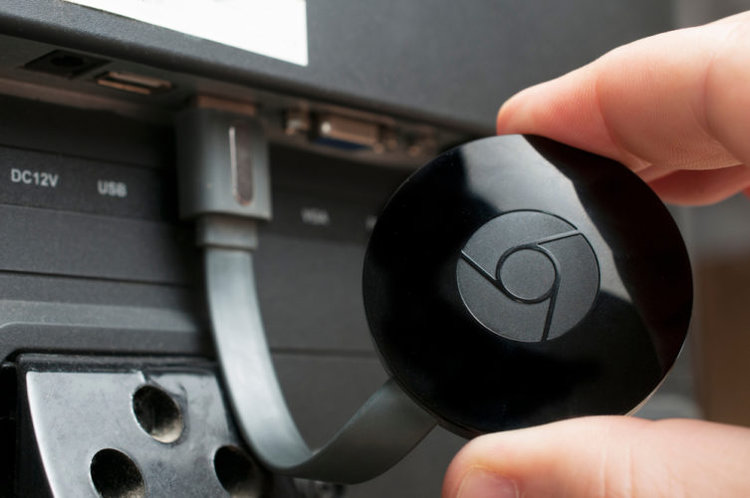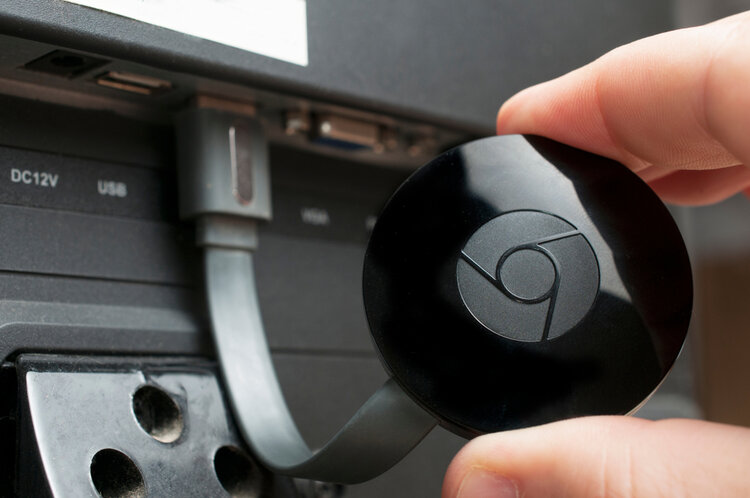 Yes, most smart Sceptre TVs have built-in Chromecast functionality. One of them is the Sceptre A322BV-SRC .
Chromecast is a Google-supported technology that allows users to cast content from phones and PCs onto more giant screens. You can use this technology as a built-in feature or a small Chromecast streaming dongle.
A Sceptre TV with a built-in Chromecast receives video and audio signals from streaming apps on your phone through a straightforward process which we'll explain below.
How To Cast to a Sceptre TV?
Depending on the model of your Sceptre TV, you may use either of two screencasting methods:
Casting with built-in Chromecast
Casting with Chromecast dongle
Smart Sceptre TVs almost assuredly have built-in Chromecast, while non-smart (dumb) Sceptre TVs need a little "support" from the streaming dongle.
In the following sections, we'll show you how to use the screencasting feature on your Sceptre TVs — smart or not!
1. Casting from a Phone To a Smart Sceptre TV (Using Wi-Fi)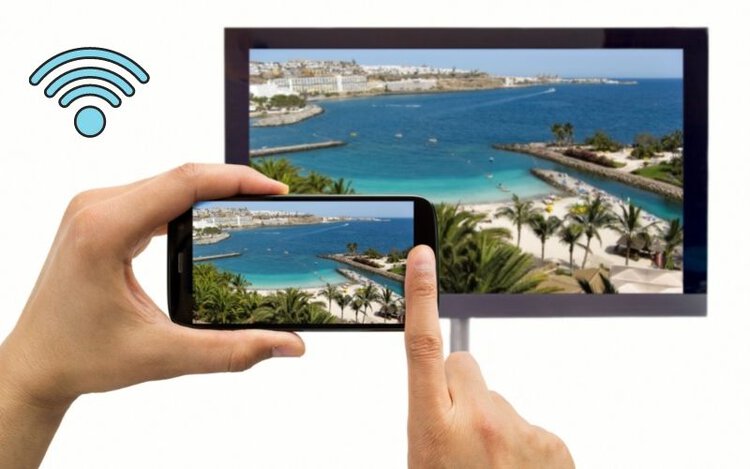 Casting will be easy if you have a smart (Android) Sceptre TV. The first thing you need to do is connect your TV and phone to the same Wi-Fi network.
Let's guide you through the process.
Connecting your smart Sceptre TV to a Wi-Fi network
Step 1: Plug your TV into a power outlet and power it on.
Step 2: On the Home screen, go to the "Settings" icon on the top right corner, and click on it.
Step 3: In the Settings menu, click open the "Network & Internet" option.
Step 4: Scroll down and activate the Wi-Fi option (using the slider button).
Step 5: Scroll through the "Available Wi-Fi Networks" and choose your network.
Step 6: If you receive the prompt to enter a password, do so with your TV remote.
Once you complete these steps, your TV will connect automatically to your Wi-Fi network.
Steps to casting from your phone to your Smart TV
Step 1: Connect your Smart TV to the same Wi-Fi network as your source device. (Process above)
Step 2: Open the streaming app you intend to cast your content from (i.e., Netflix).
Step 3: Find and click on the "Cast" button in your streaming app. This action will display a list of available receivers, including your smart TV.
Step 4: From the list, select the name of your Sceptre TV.
Step 5: The Cast icon will change color, indicating that the connection is successful and your phone is now casting to your TV.
2. Casting From a Phone To A Dumb Sceptre TV
As we mentioned earlier, you can still cast from your phone to non-android Sceptre TVs. However, in this case, you'll need a Chromecast streaming dongle.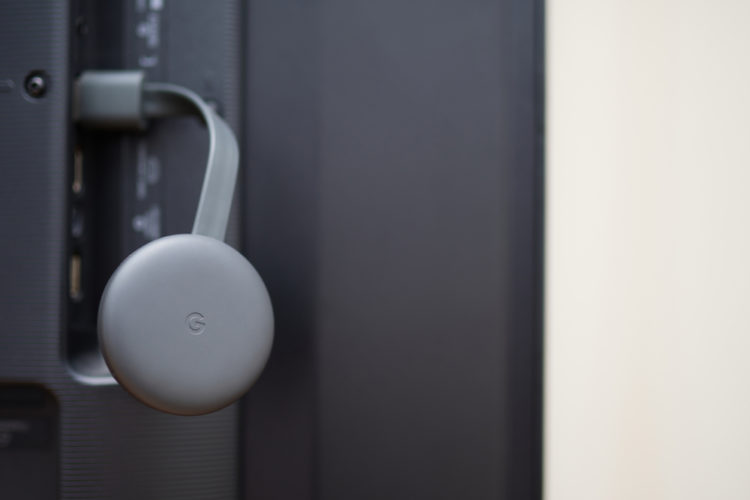 Why the distinction?
Well, dumb TVs do not have in-built Wi-Fi connectivity or streaming apps. Hence, you need dedicated streaming devices to provide these functions.
You can connect streaming devices to your TV through the HDMI port. Several streaming devices support casting to dumb TVs (i.e., Roku stick and Amazon fire stick), but we'll stick with the Google Chromecast dongle.
Materials needed for casting to dumb Sceptre TVs
1/ Google Chromecast Dongle: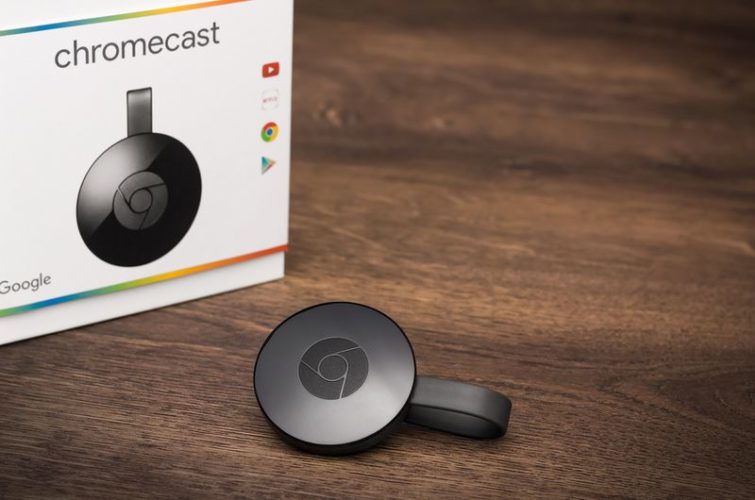 This is a dedicated streaming device introduced by Google. It can stream content from a connected device — like your phone — to your TV through a wireless connection.
2/ HDMI Port: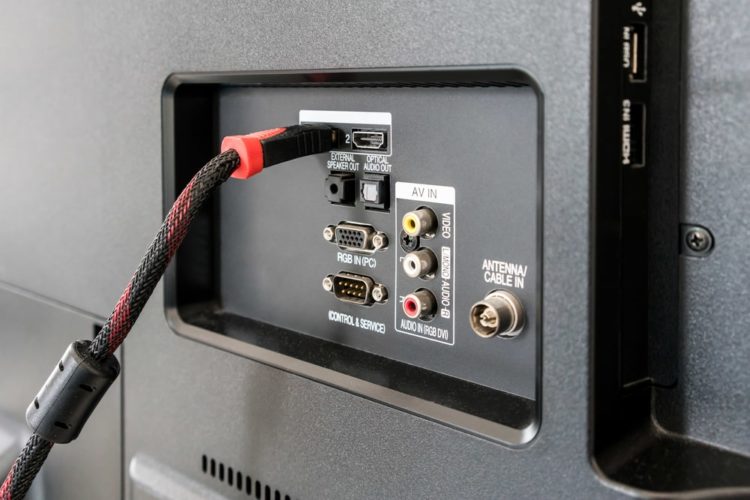 HDMI is the standard connectivity option for digital display devices, so most modern TVs and monitors come with this port. You will connect your Chromecast dongle to the TV via this port.
PS: Don't have HDMI? You can connect your Chromecast to TVs and Projectors without HDMI ports! Click on the link for more details.
3/ Power Source:
The Chromecast streaming device does not come with an in-built battery. You need to connect it directly to a USB power source to stay powered on.
4/ Google Home App: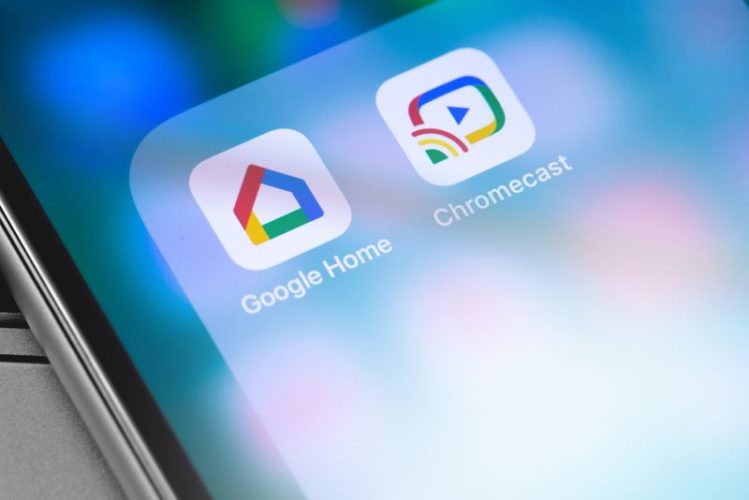 This app is like a hub that helps you set up and control multiple Google-supported devices, including the Chromecast dongle. You can download this app from the Play Store.
5/ Wi-Fi Network:
The Wi-Fi network provides a wireless link between your phone (source device), the Chromecast dongle plugged into your TV and the internet.
Steps to casting from your phone to a TV with a Chromecast dongle
How To Set up Chromecast - Google Chromecast Setup - How To Use Cast Connect to Wifi & TV
Step 1: Plug the Chromecast dongle into your TV's HDMI port.
Step 2: Connect your Chromecast device to a power source using a USB power cable.
Step 3: Turn on your TV and leave it for a while (40 – 50 seconds) to pair with the Chromecast dongle.
Step 4: Set your TV's input source to HDMI (If there are multiple HDMI ports, set it to the specific one you're using for your Chromecast).
Step 5: When your TV detects your Chromecast, a prompt will pop up indicating that there is no internet connection.
Step 6: Open the Google Home app on your mobile device and permit it to turn on your phone's Wi-Fi and location.
Step 7: Google Home will automatically detect and set up a connection with your Chromecast device (this may take a few minutes).
Step 8: A code will pop up on your phone and TV screen when they connect. Confirm that both codes are the same and tap "YES" on your phone screen.
Step 9: On the next page, Google Home will ask you to select the location of your Chromecast device in the home (living room, bedroom, kitchen, etc.). Select the appropriate option and tap the "Next" button.
Step 10: Select your Wi-Fi network from the list on the next page. If there's a password prompt, input the password and tap the "NEXT" button.
Step 11: Wait until you see the "Connected" status indicator and allow Google Home to link your Chromecast account.
Step 12: Open the app you want to stream movies from and tap the "Cast" icon. Select the casting location and wait for your Sceptre TV to display your phone screen.
Conclusion
Screencasting is one of the most convenient ways to watch movies on your TV. It also allows you to use your phone for other tasks without interrupting your stream session.
Don't worry about having smart or dumb TVs. Casting works on dumb TVs with a streaming stick like the Amazon fire stick or Google Chromecast dongle.
We hope you can set up Chromecast on your Sceptre TV using our guides in this article. Cheers!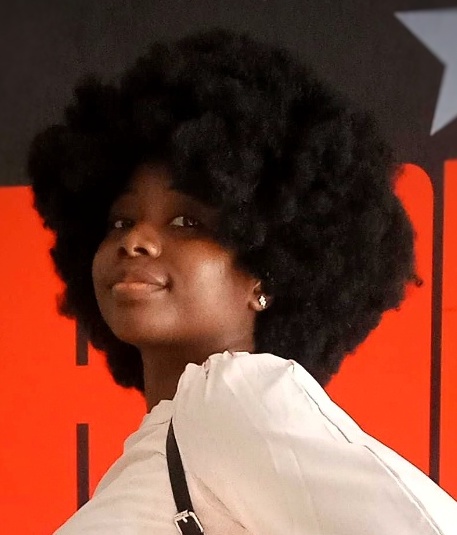 Gabriella 'Diogo is a content writer with a vested interest in tech hardware and equipment. She shares her knowledge and processes in an easy-to-grasp, lighthearted style. When she's not testing or researching device performance, you'll find her writing short stories or rewatching episodes of her favorite sitcoms.