If USB and HDMI rule the wired connections space, Bluetooth and Wi-Fi reign supreme in the wireless domain.
Although cables are not the most convenient way to link two electronic devices, they are arguably the most reliable.
Most importantly, they are non-interfering. In other words, you can plug USB and HDMI cables next to each other without a problem.
The same, however, cannot be said about wireless connections. Does that imply Bluetooth and Wi-Fi impinge on each other? Or are they relatively immune?
Let's go over their basics and understand how much trouble they cause each other if they do.
Bluetooth and Wi-Fi: A Brief Overview
Bluetooth and Wi-Fi (Wireless Fidelity) are popular wireless technologies used in homes and offices.
Unlike Wi-fi, Bluetooth is not an acronym. The name is supposedly borrowed from Harald Bluetooth, a Danish king from the 10th century.
Bluetooth helps share data between Bluetooth-enabled devices. Wi-Fi, on the other hand, assists a device(s) connect to the internet without wires.
Wi-Fi requires a router to send the signals wirelessly. Bluetooth doesn't require any discrete tool. But you'll need an adapter if the devices trying to connect do not support Bluetooth natively.
Wired headphones, for instance, can be made wireless or Bluetooth-capable using a receiver like this Comsoon Bluetooth 5.0 Receiver.
Sale
Last update on 2023-05-29 / Affiliate links / Images from Amazon Product Advertising API.
Bluetooth's transmission rate is usually a megabit per second or two, although the latest versions offer an improved range, reliability, and slightly improved speeds. Wi-Fi can reach speeds of up to 1 Gbps or more.
Bluetooth is short-range (up to around 30 feet, in the case of Class 2). Class 1 and Class 3 Bluetooth have a maximum range of 328 feet and around a meter, respectively. Bluetooth headphones are usually Class 2.
Wi-Fi can cover a considerably bigger expanse—usually up to 150 feet (2.4 GHz) or 50 feet (5 GHz).
Here is a table listing some fundamental differences between the two wireless standards.
| | | |
| --- | --- | --- |
| Particulars | Bluetooth | Wi-Fi |
| Standard | IEEE 802.15.1 | IEEE 802.11 |
| Frequency range | 2.400 to 2.483 GHz | 2.4 to 5 GHz |
| Transmission speeds | 1 to 2 Mbps | Max of more than a Gbps |
| Number of devices | 7 | 250 |
Note:
Although Bluetooth can support up to seven or eight devices simultaneously, only one can be active at a time on most connections.
The maximum range of the respective standards mentioned above is theoretical. Those numbers could drop considerably in real-world use, thanks to walls, ceilings, floors, and other obstacles affecting the range.
Can Bluetooth Interfere with Wi-Fi?
Yes, Bluetooth interferes with Wi-Fi if you're using the 2.4 GHz wireless internet band. Bluetooth uses the same 2.4 GHz band (2400 to 2483.5 MHz).
The 2.4 GHz band is relatively standard or unlicensed. Several devices capable of wireless functionality or emitting radio signals use the frequency band.
Microwave ovens and audio-video devices (baby monitors, wireless speakers, wireless microphones, etc.) use the same band, and it's entirely possible Wi-Fi or Bluetooth machines could get entangled with them too.
What Happens When Bluetooth and Wi-Fi Signals Clash?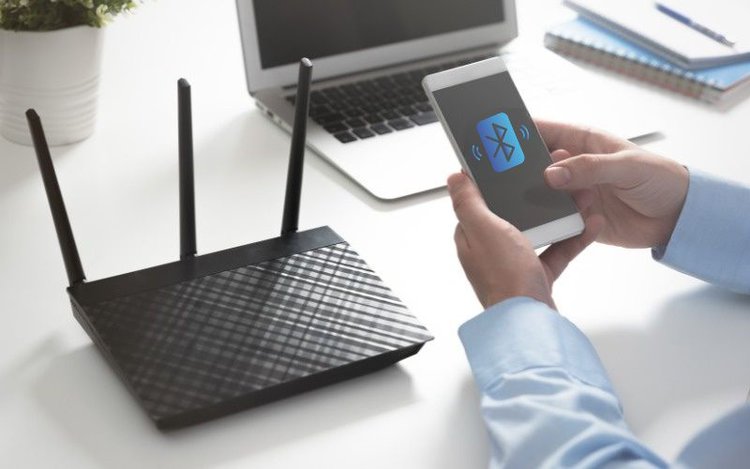 Loss of signal or hampered performance is possible if the respective wireless technologies' data packets collide.
Your Wi-Fi or Bluetooth performance will become slow; the range could drop. Wireless keyboards, mice, headphones, or other devices will disconnect frequently or try to re-establish the link often.
Bluetooth audio devices could skip tracks, reduce/boost volume by themselves (highly unlikely in the real world, however), etc.
Speed isn't Bluetooth's USP. When near a robust Wi-Fi signal, the speed will dip further. You could notice the same when sending a photo or file.
Adaptive Frequency Hopping
The Bluetooth Special Interest Group (SIG) developed the adaptive frequency hopping (AFH) feature to lessen the above-mentioned interference concerns.
The technique overcomes interference by continuously monitoring the environment and finding a clear transmission route whenever an intrusion is suspected.
Bluetooth accomplishes this by quickly dividing the band into smaller channels and hopping between them when sending packets.
The short-range wireless tech dynamically tracks noisy and congested channels to avoid them for data transmission and decrease interference. The remapping process also entails limiting the total number of channels Bluetooth uses.
By the way, Bluetooth signals are weaker compared to other wireless devices since they deal with small-area connections.
Depending on the Bluetooth class, the signals measure from one milliwatt to up to 100 mW in power, which determines the Bluetooth operating range.
| | | |
| --- | --- | --- |
| Class | Max. Power | Range |
| 1 | 100 mW | 100 meters |
| 2 | 2.5 mW | 10 meters |
| 3 | 1 mW | 1 meter |
Source: Laird Connectivity
The Bluetooth signals create a little, discrete bubble of connected devices that do not intrude upon other wireless devices.
That, however, still doesn't guarantee zero interference with Wi-Fi or other wireless devices or connections.
How to Prevent Bluetooth and Wi-Fi Interference?
Although Bluetooth is natively designed to mitigate interference, it may not always be practical. Making some changes manually can help improve the situation or eliminate all concerns.
1. Switch to 5 GHz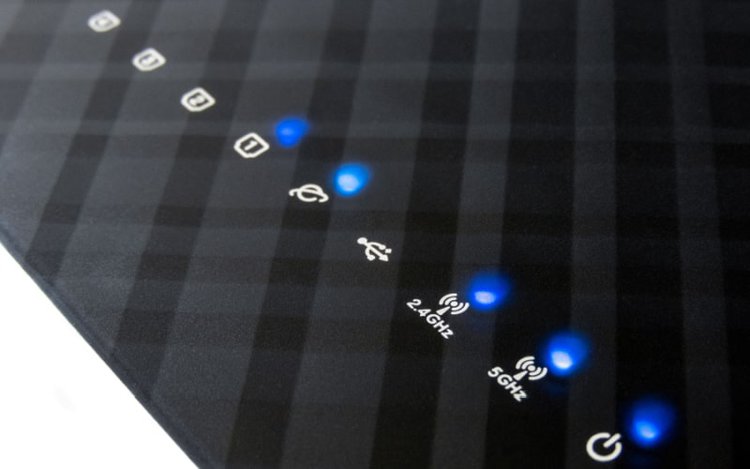 Change your router's Wi-Fi band from 2.4 GHz to 5 GHz to ensure little to no chances of interference.
The 5 GHz frequency band is comparatively less congested as it's relatively new, resulting in greater data throughput speeds and less interference.
The following are the steps to effect the change (the procedure could differ between routers):
Find your router's default gateway/IP address.
(The IP address is usually mentioned somewhere on the router itself, or you could find it by running the "ipconfig" command in the Command Prompt window. The address adjacent to Default Gateway is the IP address of your router.
Here's a video showing how to open a Command Prompt window in different ways:
How to Open Windows Command Prompt in Windows 10
If you're using a Mac, open the System Preferences setting. Next, head to Network. Navigate to Advanced and then TCP/IP. The address adjacent to Router is your router's IP address.)
Type the IP address in the URL bar of your computer's browser.
Enter your router user ID credentials (username and password) to gain access to your router's settings. It's usually "admin" for both, which you can customize later (recommended).
Head to Network and click on the Wireless (5 GHz) setting. Click on the check box next to Enable the setting if it isn't already.
If the box is already selected, click the Wireless (2.4 GHz) option and uncheck it to disable the band. If left enabled, it will be available for your computer or phone to connect to when finding the 5 GHz band becomes tricky.
Here is a video demonstrating the above steps:
Change Wifi Band of any router (2.4Ghz/5Ghz) | 2-minute instant Tutorial
It also shows how to change the user ID and password to access your router's settings and find your router's IP address if you're on Windows.
If you're on Windows, you can set the device to prefer the 5 GHz band. Here are the steps:
Press the Windows/Start button and the X key on your keyboard to pull up the Quick Link menu.
Click on Device Manager. In the window that pops up next, expand Network adapters.
Right-click on your Wi-Fi adapter and then click on Properties.
In the tiny window, click the Advanced tab and select Preferred Band under Property.
Expand Value and select Prefer 5 GHz band or 5 GHz only option.
Click the OK button to save the setting.
Here is a video showing how to fiddle with the Network adapters setting and more:
How to change from 2.4GHz to 5GHz
2. Change the 2.4 GHz Channel
The 2.4 GHz band has 14 channels. Not all are available in all regions. And out of the 14 channels, only three are non-overlapping: 1, 6, and 11.
In territories outside the U.S., channels 1, 5, 9, and 13 could be non-overlapping or help eliminate adjacent-channel or cross-channel interference.
If there's considerable activity on a particular Wi-Fi channel near a frequency Bluetooth uses currently, there's more scope for interference and performance issues.
To confirm or assess the Wi-Fi channel situation, use third-party apps such as Wi-Fi Analyzer and Netspot.
Changing your 2.4 GHz band to either of the three channels mentioned above will help avoid interference with Bluetooth.
Non-overlapping Wi-Fi channels mitigate this possibility as they offer a wider divide between Bluetooth and Wi-Fi frequencies, reducing interference likelihood.
To change the 2.4 GHz channel, type in the router's IP address and log into its settings page. From there, you can change the Wi-Fi channel.
There's no standard procedure. The steps will vary with routers. Contact your router manufacturer to learn more.
Here's a video showing how to change the wireless channel on your router. It's old but still relevant:
How to Change Your Wireless Channel
By the way, 5 GHz band channels do not overlap, or it has 24 non-overlapping channels.
3. Turn Off Wi-Fi or Keep Distance
If buying new, more capable devices is out of the question, don't use Bluetooth with an active Wi-Fi connection around or vice-versa.
Another easy alternative is not to use your Bluetooth devices close to your Wi-Fi router.
Since cordless phones, microwave ovens, wireless speakers, etc., also use the 2.4 GH frequency, maintaining distance from them will help too.
If moving the router is possible, do so. The closer the router is to the receiving device, the lesser the possibility of Bluetooth signals messing with it.
The Wi-Fi signal will be strong enough to trump other signals crossing by.
4. Unpair and Pair the Devices Again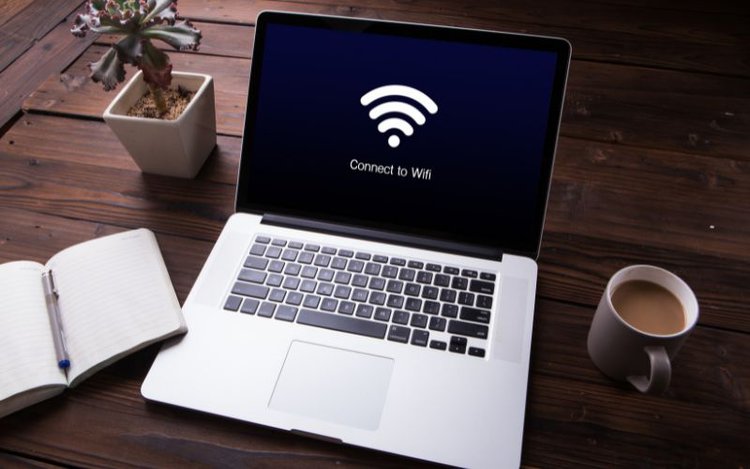 If none of the above measures help, disconnect your Wi-Fi and Bluetooth devices and connect them again. This is akin to restarting a device.
At times, connection resetting could decrease or eradicate interference problems. Also, restart your router.
A reboot may also help download and install pending updates. Old software could be playing spoilsport or be incapable of efficiently sidestepping interfering signals.
While at it, check and update your Bluetooth and Wi-Fi drivers to enhance compatibility and decrease interference.
5. Enable Bluetooth Co-existence on Router
Some routers have a Bluetooth Coexistence feature in the settings. This feature has two modes: Enabled and Pre-emptive.
"Enabled" makes the router and Bluetooth device take turns using the 2.4 GHz band and its available channels. However, this can slow your internet connection as they only take turns.
"Pre-emptive works" by telling the Bluetooth device about which 2.4 GHz band channel the router is using so that the Bluetooth device will avoid that channel.
However, some users claim this mode does not make a difference if the Bluetooth device does not cooperate with the router.
Watch this video to learn more:
Bluetooth | WiFi Coexistence !
If your router does not natively support this feature, you can install the FreshTomato firmware on it. However, not all routers support this firmware. To install the firmware, follow this link.
Open Source Router Firmware - Fresh Tomato
If your router supports the feature, here are the steps to enable Bluetooth Coexistence:
Find your router's default gateway/IP address. This is commonly found on the router itself.
On your computer, open a browser and enter the IP address on the URL bar.
Log into your router using the username and password found on the router.
Under Advanced Settings, select Wireless.
Select the Professional tab.
Set Bluetooth Coexistence to Enable or Pre-emptive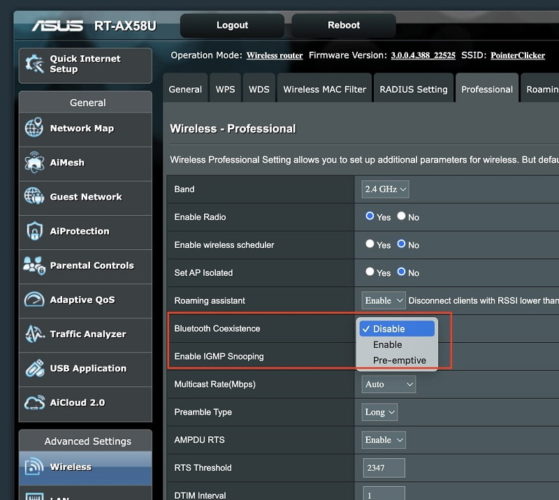 Note: The above steps may differ based on the router model.
6. Use Latest Bluetooth Peripherals
If your Bluetooth device is old or outdated, such as versions 1.0 or 2.0., switch to devices using the latest Bluetooth version.
Bluetooth 5.0 is among the recent versions. You should find it in most of the latest smartphones, tablets, wireless speakers and headphones, laptops, etc.
Besides negotiating interfering signals better, the latest Bluetooth also runs more efficiently, provides improved battery life, etc.
If sound quality matters, you'll appreciate Bluetooth LE's ability to transmit high-quality audio without power sacrifices.
A Wi-Fi extender or repeater could also help enhance your Wi-Fi network's signal and decrease interference by positioning the Wi-Fi source further from the Bluetooth device.
Conclusion
Although Bluetooth and Wi-Fi can misbehave when close to each other, they are robust enough to withstand those obstructions and continue doing their jobs.
They have error-correcting and checking mechanisms built in. The communication protocols can also request the resending of corrupted packets when needed.
When signal interference is registered, there's invariably a slowdown in data transmission rates since more packets require resending.
In extreme scenarios, such as placing a smartphone with Bluetooth enabled near an operational microwave oven, communications may cease entirely.
Long story short, Bluetooth and Wi-Fi coexist pretty well. But if there's a collision or your wireless devices are hampering each other, employ the preventative measures discussed above.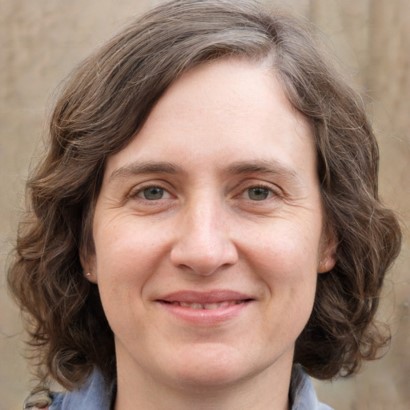 Catherine Tramell has been covering technology as a freelance writer for over a decade. She has been writing for Pointer Clicker for over a year, further expanding her expertise as a tech columnist. Catherine likes spending time with her family and friends and her pastimes are reading books and news articles.