Outdoor movie nights, game nights, music nights; these are some of the things that you can use a projector for outside.
This article is a complete guide on how to use your projector outside. But before we go into details, I'll show you some outdoor projectors that you can use.
How to set up a projector outside
Check the detailed steps on how to set up your projector outside, in this video.
Can a projector be left outside?
It is not advisable to leave your projector outside for long. Although projectors can be used outdoors, no projector is designed to be set up permanently outside.
Environmental factors like rain, sunshine, dew, or snow can destroy the projector quickly. The device should be kept away from extreme weather conditions so it can work for a long time.
A projector may have all the needed quality for outdoor use, but when it is left outside for a prolonged period it gets damaged.
You can only make use of it for some time outside, then return the projector inside when you are done.
Are projectors any good outside?
Yes, projectors are good outside, although this is largely dependent on the projector that you are using. For a projector with a good level of brightness, you will get a good image when projecting outdoors. The image quality is also important.
On the other hand, a projector with a low brightness level won't be very good. The images will be faint, and you will hardly see anything. Projectors like this are often limited to dark areas. If at all you want to use them, it will only be at night, and not during the day.
You can have a movie night on a cool evening, and if your projector is bright enough, you can do that during the day. Find an area, away from the sun, mount the projector screen and start watching movies.
Can you use an indoor projector screen outside?
You can use an indoor projector screen outside. There is nothing wrong with having one projector screen for both indoors and outdoors use. However, you need to consider the type of projector screen that you are using and the mode of installation.
Sheet projector screens are not suitable for outdoor use during the day although they can still project images well at night. They are best suited for indoor use. However, projectors like the Manual projector screen and Folding frame projector screen can be used both indoors and outdoors.
It is almost impossible to move a permanently installed projector screen outside especially if it is already fixed on the wall. Projectors like the fixed frame projector screen are usually permanently fixed. They are stretched out, and they cannot be retracted back into their casing. A painted projector screen on the wall is also permanent. They can only be used indoors, except you paint another screen outside.
While projectors like the Tripod projector and the Floor pull-up projector screens are portable. They can be carried to and from the house depending on where they are needed.
Can my projector screen get wet?
Whether your projector screen will get wet or not, depends on the material that it is made of. A projector screen that is made from a white sheet will definitely get wet if it gets in contact with water.
However, there are waterproof projectors like the Quikscreen projector screens; they are 100% waterproof. Projectors like this do not get wet. Another waterproof projector screen is the Relee projector screen, you can get it right below.
Last update on 2023-01-28 / Affiliate links / Images from Amazon Product Advertising API.
For projectors that are not waterproof, you shouldn't keep them wet for too long. If it starts to rain while you are using the projector screen, fold it up and wait till it stops raining. Be sure that your projector screen is not wet while you fold it up. Allow it to get dried before you fold it up and keep it.
Can outdoor projectors work in daylight?
Outdoor projectors can work in daylight. This is because they have a high brightness level, and can stand the light interference in the daytime.
They also have a good contrast ratio; this makes the image quality better. So if you have an outdoor projector be ready to enjoy amazing projections at any time of the day.
How many lumens do you need for an outdoor projector?
A projector's brightness is usually measured in lumens, and this varies in different projectors, thus making each projector suitable for use at different times of the day and in different areas.
For an outdoor projector, you need a high lumen; it is like choosing a projector to be used in the daytime. An outdoor projector should have at least 2500 lumens brightness.
Note that this is the minimum. There are projectors with higher lumens, but you should not go below 2500 lumens. A lesser lumen means that the image won't be as bright as it should.
However, if you are only using an outdoor projector at night, you can go for a projector with a lesser lumen, but not too low.
Features of an outdoor projector
Know that not all projectors can be used outdoors. The reason is that an outdoor projector should have certain features that make it suitable for that particular purpose. Some of these features include:
Portability
You will be moving the projector into and out of the house, so yes, it has to be portable, small-sized, and lightweight.
Other devices will be needed when setting up the projector outside, so moving the projector out should not take all your time and energy.
Sound
Be sure that your projector has a good sound. If it has built-in speakers, check the watt in the product description. You will be using the projector in an open space, which means the sound should be loud enough for everyone present to hear.
It is not compulsory for the projector to have an extremely loud built-in speaker; a decent watt will do, you can improve the sound by connecting soundbars to the projector.
Durability
An outdoor projector should be durable. Since it will be moved around regularly, it should be durable for such handling. Check the durability of the projector. The more durable it is, the longer and better you will enjoy the projector.
An outdoor projector should also have water resistance; It should be a waterproof, dustproof, and mud-proof projector. You need a projector that will function well irrespective of the weather condition.
Brightness
Know that there will be light interference. When you are using the projector indoors, you can close the curtains to restrict the light from coming in, but this is not possible outside. So your projector should have enough brightness to overcome this light interference.
It should also have a good contrast ratio and image resolution. All these contribute to how well you will enjoy whatever you're watching on the projector.
Now, below are some of the outdoor projectors that you can choose from.
Outdoor projectors
Viewsonic X10-4KE
Last update on 2023-01-28 / Affiliate links / Images from Amazon Product Advertising API.
It is a 4K ultra HD resolution projector that uses the latest solid-state LED technology. It is a smart projector that streams movies and shows from the internet. The projector also works with Google Assistant and Amazon Alexa.
It has a brightness of 3500 ANSI lumens and can project for up to 20,000 hours. This is a portable projector, and it can connect to various devices. The image resolution is 3840×2160p and the image size is about 300 inches.
TMY projector
Sale
Last update on 2023-01-29 / Affiliate links / Images from Amazon Product Advertising API.
This is a portable outdoor projector with 5500 lumens brightness. The contrast ratio is 4000:1 and the Native Resolution is HD 1280×720. It is easy to install and can project an image size of about 220 inches.
It has built-in dual stereo speakers for improved sounds. It is compatible with different devices and has a lamp life of 60,000 hours.
LG CineBeam HU80KSW
Last update on 2023-01-28 / Affiliate links / Images from Amazon Product Advertising API.
It is a 4K HDR projector with a brightness of 2500 lumens, a lamp life of up to 20,000 hours, and a contrast ratio of 150,000:1.
The projector is compatible with streaming apps such as Netflix and YouTube. It has an image size of about 150 inches. It also has 7watts built-in speakers and a 7watts stereo.
BenQ TH685
Last update on 2023-01-28 / Affiliate links / Images from Amazon Product Advertising API.
It has 3500 ANSI lumens brightness, a resolution of 1080p, and an image size of more than 100 inches.
It has an integrated 5 watts speaker which comes with an equalizer. The projector is compatible with several streaming devices and game consoles.
Optoma GT1080p short throw projector
Last update on 2023-01-29 / Affiliate links / Images from Amazon Product Advertising API.
A short-throw projector that has a brightness of 3800 lumens; it projects bright images irrespective of the amount of in the area.
This Optoma projector has an image resolution of 1920×1080 and a contrast ratio of 50,000:1. The image projected can be as large as 120 inches, and because it is a short-throw projector, it gives a large image at a short distance.
It has a built-in 10 watts speaker. It is portable and easy to install, compatible with Chromecast and several other devices.
Conclusion
It's so much fun using a projector outside. It's like bringing the cinema into an open space where you can enjoy the cool breeze and ambiance of your environment.
An outdoor movie is never a bad idea especially if you need some time to get over the stress of work or to simply enjoy a great moment with friends. If you have never used your projector outside, I guess this is a good time to start.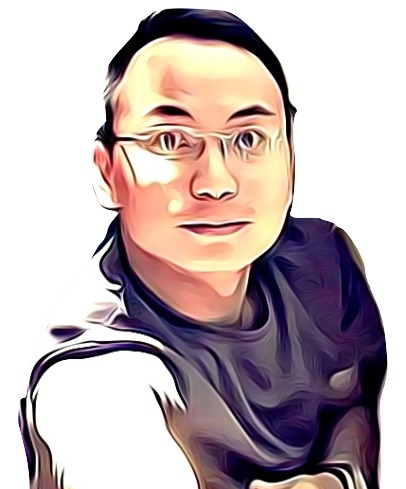 Vance is a dad, former software engineer, and tech lover. Knowing how a computer works becomes handy when he builds Pointer Clicker. His quest is to make tech more accessible for non-techie users. When not working with his team, you can find him caring for his son and gaming.