Projectors have become all the rage for home entertainment systems, especially short-throw projectors. Why? Because it provides a large, high-resolution picture and takes up half the space!
Normally, a 4K resolution would be limited to that of an 80-inch flat screen that takes up half of your wall. That's assuming your living room (or wherever you want to be entertained) has that kind of space available.
If you don't have that much space, don't feel bad. That's the case for most of us.
This is where short-throw projector screens come in! And lucky you, we've narrowed down your search to the three best screens for short-throw projectors available.
First, let's dive into a little bit about short-throw projectors, shall we?
What Is A Short-Throw Projector?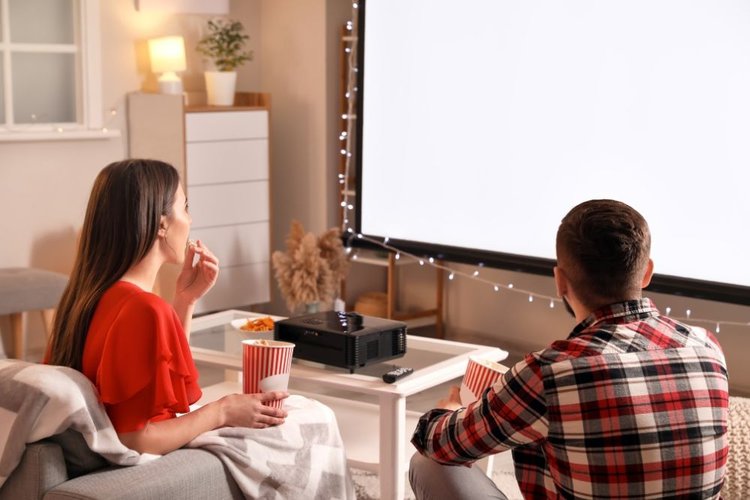 If you came to this article looking for recommendations on the best screens for short-throw projectors, then chances are you already know what a short-throw projector is.
If that's the case, this will be quick.
Basically, a short-throw projector is a small projector that only requires a 3- to 8-foot throw distance between itself and the screen. There's also an ultra-short-throw projector that requires a distance as little as 0 to 3 feet.
They use wide-angle lenses and mirrors to keep the distance small, and laser technology to create quality pictures in even the brightest rooms- like family rooms!
Alright. Now that we've briefed you on the projectors, let's get to the good stuff. The screens.
Do You Need a Special Screen?
The short answer is yes, you will need a special screen for a short-throw projector. Especially if it's a UST (ultra-short-throw projector).
Why? Because short-throw projectors use a system of wide-angle lenses which is how they make a large, clear picture. Not all screens possess the right characteristics to work with this system.
There are two general types of screens that are specifically designed to accommodate the short throw.
ALR Screens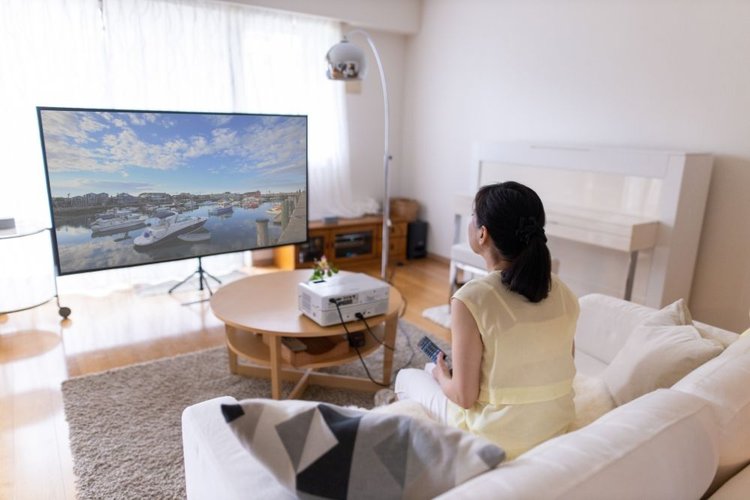 "ALR" stands for ambient-light rejection screen. "What the heck does that mean?"
Yeah, I asked the same question.
An ambient-light rejection screen actually absorbs some of the ambient light in the room and/or redirects some of it away from the viewing area, depending on where it's coming from.
So, it doesn't reject, it absorbs…
Correct! But for some reason "ambient-light absorbing and reflecting screen" didn't make the final cut.
To reduce the amount of light in the room, the first option is to close all the curtains and shut all the lights off (duh) but that doesn't always do the trick.
Also, if you're having the gang over to watch a football game, a completely dark room might set the wrong tone. So let an ALR screen do the job for you!
To break it down even further, there are two types of ALR screens to consider: angular-reflective or retro-reflective.
Again, what the heck does that mean?
Angular-reflective just means the angle at which the light hits the screen is the same as the angle at which the light is reflected.
Retro-reflective means it reflects light back toward its source—or, more specifically, it reflects light from the projector back toward the projector and the viewers while absorbing light from other angles.
How do I know which one to choose?
Both types of ALR screens scatter much less of the projector's light to the sides than regular projector screens. They add less light pollution to darkened, dedicated theaters.
However, retro-reflective ALR screens tend to have a relatively narrow viewing angle, which means that viewers must be close to the center of the screen to see the best image quality. Also, they can be prone to hot spots and speckling.
So, we say angular-reflective for the win.
UST Screens
USTs (ultra-short-throw) are perhaps the most popular and best option for short-throw projector screens.
They work to direct the projector's light from below out into the viewing area while absorbing and redirecting much of the ambient light away from the audience, leaving a clear and bright image for all to enjoy.
Many include multiple layers, including layers of angular-reflective material as well as optical and absorptive microscopic beads, to improve the viewing angle and redirect and/or absorb ambient light from the sides.
Basically, they absorb the most ambient light between the two, so even the brightest room in the house can be the entertainment center.
That explains why people everywhere are switching from flat-screen TVs to USTs. Great picture in any light without taking up the same amount of space!
Keep all this information in mind while you're on the market and it will guide you on your buying journey.
Don't worry, we're about to give you more insight on choosing which screen to buy.
How Do I Know What to Look for in A Screen?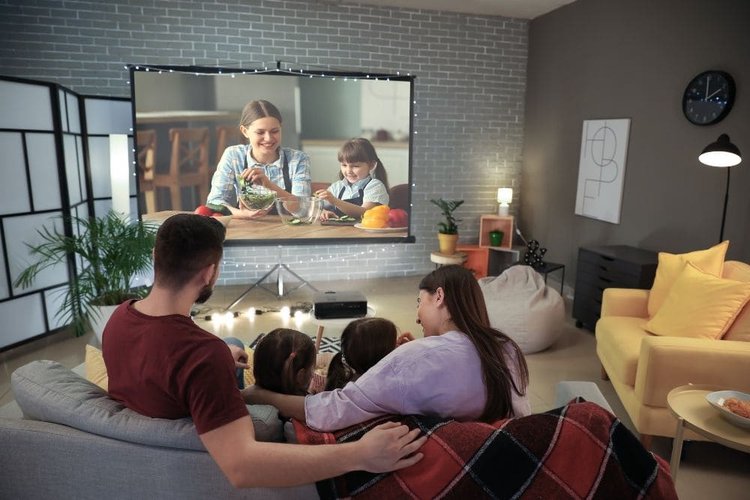 This will be the easy part considering we already researched and selected the three best screens for short-throw projectors.
First and foremost, you need to decide how short of a throw you want the projector to have. Will you go with the short throw of 3 to 8 feet? Or will you decide you want the ultra-short-throw of 0 to 3 feet?
That will narrow down your search tremendously. Now, what do you look for? What special features should be included when you make your purchase?
The second most important thing you need to look for is the screen size.
Remember, short-throw projectors require specific screens for optimum functionality. The model projector you're looking at will determine how many inches your screen needs to be to maintain the sharp picture.
Finally, you need to think of the kind of portability you want.
Short-throw projector screens aren't usually the retractable kind because the rolling will disrupt the special layers within that give such an incredible visual quality. That being said, mounted screens are the most popular.
Now that you know the specifics, we want to let you know that ALR screens are typically used when you want a longer distance, or throw, between the projector and the screen. They are short-throw projection screens, but if you figure out whether or not you want an ultra-short-throw then you can use this information as your buying guide.
Now the moment you've all been waiting for…
Top 3 Best Screens for Short-Throw Projectors
Here's three you will definitely want to check out:
Drum roll, please…
1. VAVA ALR Projector Screen
This 4K Ultra HD screen is made specifically for ultra-short-throw projectors to provide a large-screen and ultra-wide viewing display for a show-stopping home entertainment center.
Yes, you can have the 4K resolution with a 100" screen! It's also a fixed frame, which is perfect for anyone looking to mount their screen to the wall.
Not to mention, it's easily assembled. It has a foldable frame with one fixed side to make set-up a breeze.
If you're looking for a screen to replace a big and bulky flat-screen TV, then we highly recommend you go with VAVA.
2. Elite Screens Aeon CLR
Elite Screens has this fixed frame screen that uses innovative StarBright CLR (Ceiling Light Rejecting) material. That means it gives your short-throw projector a boost of brightness by washing out even more ambient light!
It's also a 100" screen but includes a 180-degree viewing angle so everyone in the family (or if you're throwing a party) can spread out across the room and get the same great experience.
Added bonus: They include an LED kit with the screen to add a color-changing halo effect in the background!
3. VIVIDSTORM
We've bumped up the size with this option! VIVIDSTORM offers a 120" screen with 8K and 3D properties. It's another promising option for that home theatre you've been dying to install.
However, if you're not looking for a screen of that size, they offer the same product in sizes as small as 96 inches.
It allows for a longer throw projection, so if you're in the market for a 3-to-8-foot projection distance then this is the perfect choice, but it's pretty versatile. They claim this screen is compatible with different sorts of projectors.
Each of these screens has a ton of great properties that will appeal to a lot of customers looking for the best screen for short-throw projectors. We highly recommend you take a look for yourself.
That's All, Folks…
Let's do a little recap of everything we went over today:
What a short-throw projector screen is.
What kinds there are.
What you should look for when you're in the market for one.
The top three choices we want you to know about.
Take everything we've covered today along with you and your buying journey.
Harness the power within this information. Stand tall. Face your fears.
March into that store with confidence! Well, that might be difficult since you can find all of these products on Amazon. But you get the point!
Remember… finding the best screens for short-throw projectors doesn't have to be a difficult process!
Last update on 2021-12-05 / Affiliate links / Images from Amazon Product Advertising API.