Creating a home theater requires a lot of patience and education. Apart from purchasing a projector and picking a theater space, you also have to choose a projector screen. However, you want to make sure it's the best projector screen for 4K since you've purchased a 4K projector.
So how do you pick a great 4K projector screen?
To make it easy we're going to show you which 4K projector screens we think are best. But, we'll also give you some insight into what to look for when purchasing a screen.
IN A HURRY? HERE ARE OUR TOP PICKS
Last update on 2022-09-30 / Affiliate links / Images from Amazon Product Advertising API.
5 Best Projector Screens for 4K Resolution
With many options for 4K projector screens around, it's easy to get lost. Moreover, understanding what you're looking for becomes a task on its own.
So we decided to take it upon ourselves to show you a few projector screens that are fantastic for 4K projectors.
We should mention up front that the screens we're going to talk about are just screens. They're not screens with stands. None of the projectors below are inflatable or one-step installations.
So when it comes to the best projector screen for 4K, how do you pick? Let's look at our top 5 projector screens below.
1. JWST Projector Screen
Last update on 2022-09-30 / Affiliate links / Images from Amazon Product Advertising API.
The JWST is a thoughtfully made projector screen. Rest assured that this screen has a lot of quality.
To start with, this screen comes in multiple sizes ranging from 100 inches to 180 inches, depending on the projector and dimensions you need.
The screen itself is thick. It has three different layers for maximum quality imagery. The top layer is a premium PVC composite resin that's environmentally friendly.
The PVC resin is treated with an optical pattern that reflects light evenly, which means your HD movies and 4K resolution is seen throughout every inch of the screen.
However, it also creates a wrinkly-free material.
For further light absorption, it has a second polyester material underneath. However, it also contains a third, black backing that does not allow light to escape, ultimately giving you a near-perfect image.
The result is something you must see.
Apart from its three layers, the PVC composite material gives it a projection that lets you scrub and clean directly onto it to get any stains out.
The viewing angle is 160 degrees, which means that you can see the movie even if you're seated on the side. Even though you can watch 4K movies on the JWST, it's also 3D-ready.
The JWST comes with 38 grommets installed around the screen with a black border. The package also contains two ropes, four nails, 40 hooks for each grommet, and two extra ones just in case, one user's manual, and a storage bag to pack it up neatly.
So, if you're installing your screen in a high wind environment, you have the tools to help.
A Few Things We Love
We love how light the screen is. With all materials included, it weighs a total of nine pounds.
The screen folds up neatly to the size of a laptop. This allows you to carry it anywhere, including a backpack.
It comes with a carrier bag, so you can fold it and put it in your bag.
The JWST is one of the most straightforward 4K projector screens to install. It's very intuitive with its hooks, ropes, and grommets.
One Thing We Don't Like
Even though it's wrinkle-free, don't be shocked to see that it has creases and wrinkles upon opening the package. It might be frightening, but it all goes away as soon as you stretch it.
JWST Projector Screen Reviews
The JWST projector screen has a high rating across users. However, when it comes to individual reviews, it seems most people love it, and some have a few complaints.
When it comes to the positive reviews, everyone raves that the JWST is a great screen for your 4K projector. Users also love the size you get for the price.
The fact that it comes with building materials is a huge plus for most people.
However, most users are unhappy when they open the package because the screen is full of creases and wrinkles. Although most people stretch it and leave it in the sun for a few hours, some users say it will not get the creases out.
Nevertheless, the user experience is a positive one.
2. TOWOND 4K Movie Projector Screen
The TOWOND projector screen is made with 4K and HD and 3D in mind. It comes in 120 inches and 150 inches.
The surface material is made of thick polyester fiber to give it a smooth and wrinkle-free appearance. It's also soft to the touch.
Polyester is a good material for screens because it allows them to stretch easily. However, you can also clean it using a dab of soap and water.
Nevertheless, the TOWOND 4K screen gives you that clear image you're looking for in a screen.
The package includes the screen, 18 hooks, two ropes, and one drawstring backpack for easy storage.
A Few Things We Love
The viewing angle is 160 degrees wide. In other words, if you're in a room full of people and you're watching it from the side, the image remains clear.
We love how easy it is to install. It comes with everything you need, and it only takes minutes to fasten tightly.
The TOWOND is portable, washable, durable, and lightweight.
This 4k projector screen weighs about 9 ounces, which is great for taking to work, a friend's house, or anywhere you want.
One Thing We Don't Like
The TOWOND projector screen is not as thick as we would like.
TOWOND 4K Projector Screen Review
The TOWOND 4k projector screen is another highly rated screen on Amazon.
Although the rating is high , most reviews are great. Some users struggle with a few notable nuances. For example, the TOWOND screen doesn't come with instructions. Many users are not okay with that.
It appears that other users do not like that it comes in a folded package that gives it deep creases. Most users agree that ironing it several times is a must.
When it comes to visuals, most users are happy. However, a common complaint is that it's too thin, making it look flimsy if it's not adequately stretched.
So when it comes to the overall reviews and rating of the TOWOND, many users are happy with their purchase and agree that it gets the job done.
3. Mdbebbron Projector Screen
Last update on 2022-09-27 / Affiliate links / Images from Amazon Product Advertising API.
Like the last two screens we mentioned, the Mdbebbron projector screen is a 4K screen. It comes with two ropes and 20 adhesive hooks, so you don't have to punch any holes in your walls.
It's made with polyester material that allows it to stay wrinkle-free. The screen is very lightweight. Folding it and putting it away is very easy.
Although this projector is intended for 4K quality movies, it's also great for office presentations, schools and conferences.
It is 120 inches long diagonally for a wide movie-viewing experience.
A Few Things We Love
The Mdbebbron projector screen is double-sided, so there's no confusion about which side is the right side. Both sides are great for your movie.
Removing stains from the fabric is easy. Scrub the affected area with some soap and water
It comes with a packing bag for easy storage.
The Mdbebbron is apartment-friendly with adhesive hooks. There's no need to worry about holes in the walls.
One Thing We Don't Like
It comes with nails, adhesive hooks, and double-sided tape for your convenience. And, even though that's a great bonus, the double-sided adhesive hooks don't stick so well when the screen is stretched too tight.
Mdbebbron Projector Screen Reviews
The Mdbebbron projector screen has over 21 thousand reviews and ratings. Even so, the ratings on this 4K projector screen remain high.
But, that's not to say this product goes without controversy. Some users don't like the screen. Others didn't like the sturdiness of the hooks causing them to downgrade the ratings of the Mdbebbron projector screen.
One user stated that a white wall is better than the Mdbebbron projector screen.
The users who liked the Mdbebbron say that it's worth the money they paid for. It looks great, and it's easy to set up.
The one common theme around users who loved the screen is that they already had a specific area for the screen. These users also regaled that movie night was a success!
4. STR-169120 Silver Ticket
Last update on 2022-09-27 / Affiliate links / Images from Amazon Product Advertising API.
The Silver Ticket projector screen sounds fancy, like a high-quality home theater screen. And, it is!
The Silver Ticket is a 4K high definition home theater screen. It comes with two 3/8 inch, heavy-duty aluminum frames covered in light-absorbing fabric to create a beautiful border.
The assembly is a little more complex than other screens, but it's worth it. With six metal pieces, a tension rod, screws, small round hooks, and PVC pipes to extend the material, this is probably the best manufactured 4K screen you'll get.
Although building the frame takes a few minutes, you'll be glad you did it.
This is the only screen in our list that has a frame you have to build. However, the quality is so great we couldn't leave it out. The screen itself also contains a slight tint of color that makes the images pop a little more. But don't worry that color is almost nonexistent, which doesn't distract from any movie-viewing experiences.
The STR-169120 Silver Ticket is just a gorgeous screen that looks professionally made for the price you pay.
A Few Things We Love
The Silver Ticket 4K screen comes with a black backing to help with picture quality.
The manufacturers made sure to give you high-quality and sturdy materials to build it, and we love that. The frame gives it an extra sturdy feel and allows the screen to stretch, removing any wrinkles.
Even though it comes with many pieces, it's relatively easy to build.
The top and bottom mounting brackets allow a secure horizontal adjustment.
One Thing We Don't Like
Because it comes with a heavy-duty frame, hanging the screen requires two people.
Silver Ticket Reviews
The Silver Ticket is one of the best projector screens for 4K around. Many users are happy with the results and compare it to 4K screens that are 10 times more expensive. Therefore, users agree that it's a high-quality product for a relatively low price.
When it comes to negative reviews, it seems to focus on mounting the screen. It appears once the screen is complete, mounting the screen to your wall is more challenging than you think.
However, even with the more complex building instructions, users are surprised it was easier to build than they previously thought.
5. JKJOO Projector Screen
Last update on 2022-09-30 / Affiliate links / Images from Amazon Product Advertising API.
The JKJOO Projector Screen is a 4K and HD screen. The screen is made with milk silk and given a reflective coating to allow bright colors and details to bounce off your projection.
The screen is wrinkle-resistant and folds easily for storage purposes.
You have a black border that helps with imagery. It's built with tough material to allow it to hold its shape longer than other screens. However, the border contains 18 metal holes to install hooks, ropes, brackets, or nails.
Still, the package comes with two five-meter ropes, 18 adhesive hooks, and 20 pieces of double-sided tape for your convenience.
Installation is easy with the JKJOO.
A Few Things We Love
The JKJOO projector screen is easy to clean, but the best part is that it's also machine washable.
The JKJOO is wrinkle-free but one of the few screens that's truly wrinkle-free. In other words, there's no need to iron the screen upon opening.
Although the polyester fabric is excellent for screens, this screen is made of smooth elastic silk, which gives it an edge over others.
One Thing We Don't Like
The JKJOO screen is 120 inches, but you don't have other sizes to choose from.
JKJOO Projector Screen Reviews
At the moment, the JKJOO projector screen is perfectly rated on Amazon. It appears that every user who's left a review loves the JKJOO.
Users all agree that you get a lot for what you pay for.
Users also agree that cleaning it is simple, and packing it is as easy as folding it.
So far, each user who left a review recommends the JKJOO for your 4K movie-viewing experiences.
4K Projector Screen Buyer's Guide
Now that you've seen our list of best 4K projector screens, you're wondering how to pick the best projector screen on your own.
Don't worry. We're going to show you our criteria for choosing an excellent screen for your new 4K projector.
Thickness
Many projector screens are thin, flimsy, and sometimes see-through. That's not a bad thing but opt for thicker material if you're looking for better quality.
Many projector screens are made of wrinkle-resistant polyester that's stretchy and smooth to the touch. Polyester is an excellent material. However, some projector screens have multiple layers that give them their thickness.
Black Backing
A black backing isn't standard. However, a black backing creates a thicker screen which makes it sturdy.
A black backing also provides better picture quality. It allows all light absorption into the screen so it can adequately bounce off the screen. Therefore the image looks brighter and sharper with a black backing.
If you're looking for a good 4K projector screen and see one with a black backing, that's a good screen to consider.
Sturdy Material
When picking a 4K projector screen, the screen must be sturdy. However, you also want to make sure the materials it comes with are sturdy as well.
Even if you're just purchasing a screen, be aware of its thickness, its stability, and the material it's made of.
If you look at the screens we mentioned above, some come with very hardy frames.
Ratings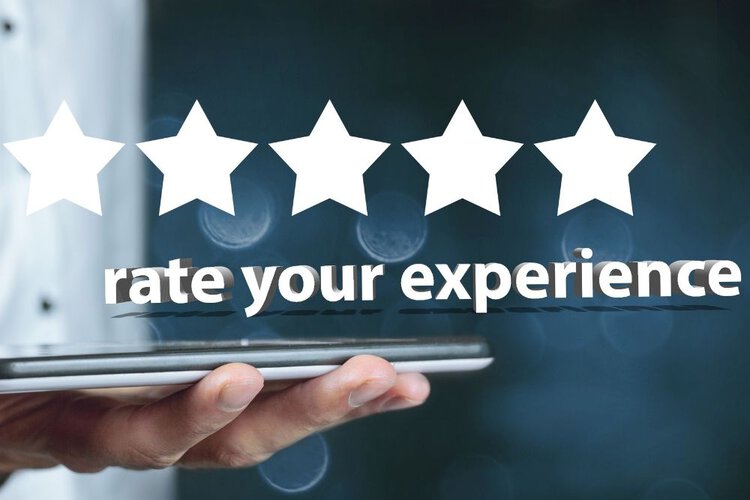 Although sometimes it's hard to read through reviews, it's essential to read them if you're purchasing a quality product.
Reading the reviews gives you a sense of how great the overall product is.
However, the reviews also give you a sense of the product's problems versus petty remarks users give.
If the reviews are mostly negative, stay away from that product. On the contrary, if reviews are mostly excellent, then this is a product to consider buying.
Let's Wrap it Up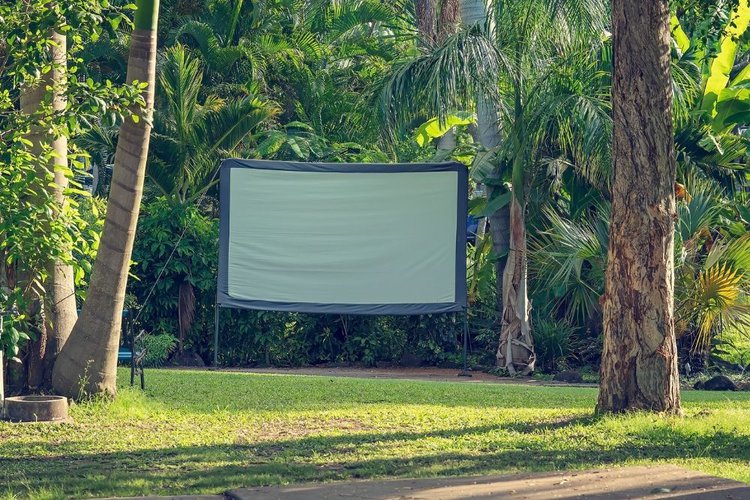 We hope you enjoyed our list of the five best projector screens for 4K resolution projectors.
We gave you five great screens in our list, some with gorgeously made materials and others with sturdy frames. However, each screen is intended for proper 4K and HD resolution projectors for that perfect evening.
We also introduced you to some essential criteria for choosing a good projector screen on your own. With all this education, you have the guidance for picking a great 4K projector screen on your own.
So let's start shopping around because we have some quality products to find!